10 reasons why Karnataka must be on your bucket list
Karnataka is a state that offers everything to everyone and hence has a tag line 'One state, many worlds'. Famous for its breath-taking landscapes and being one of the safest states to travel, especially for solo travelers, this state impresses all kinds of travelers. It is my home state and I have traveled here extensively.
And each time I travel within the state, I find new things to see and explore. Recently, I wrote a post on the 10 places to see in Karnataka and all the tourist places to see in Karnataka. In this post, I would like to highlight the 10 reasons why Karnataka must be on your travel bucket list.
PIN for later reference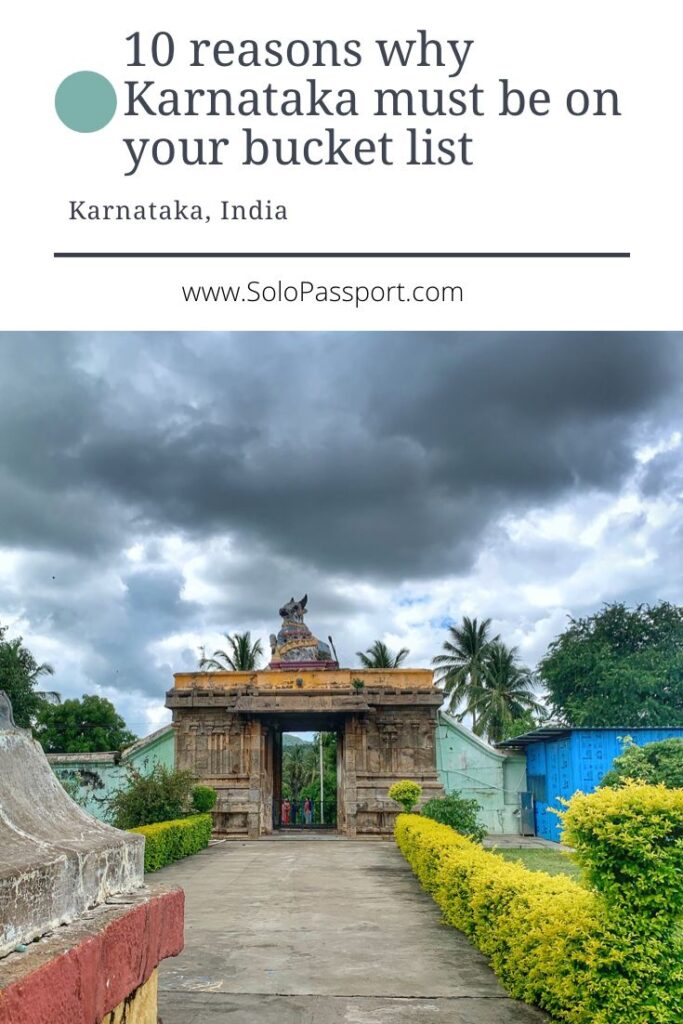 This article may contain affiliate links. For full information, please see our affiliate disclaimer here.
10 reasons why Karnataka must be on your bucket list
Reason 1 – We have rich history and heritage
Karnataka has a long and rich history. Its history goes back to the Old Stone age, which is based on the discoveries and evidences found, that includes hand axes and cleavers. There have been evidences of connections between ancient Karnataka and Indus Valley civilization circa. 3300 BCE.
Over the centuries, Karnataka state has had a series of kingdoms and rulers. Starting from the Nanda Empire prior to the third century BCE, the state then had rulers from Mauryan empire, followed by Satavahana rulers for four centuries. Later, the state was then led by Kadambas and the Western Gangas dynasties. These dynasties were also the first ones to use Kannada in administration.
Then came the Badami Chalukya, the Rashtrakuta and the Western Chalukya empires. In the 11th century, the state was occupied by the Chola empire, eventually coming under the Hoysalas in the 12th century. Vijayanagara empire took power in the 14th century. The chieftain of the Vijayanagara empire, Kempe Gowda I, founded Bangalore and built a Bangalore Fort and established Bengaluru Pete.
Karnataka was taken over by the Bijapur Sultanate and then by the Mughals in the 17th century. After the death of Tipu Sultan, also known as the Tiger of Mysore, the state came under the British Raj in 1799.
To experience and see the history come alive in Karnataka, definitely visit and spend a few days at Hampi.
Reason 2 – We have tigers and abundant wildlife
Karnataka's forests have 10% of the tiger population and 25% of the elephant population present in India. Not just the tigers and the elephants, the forests of Karnataka are home to many species of animals, birds and reptiles. There are leopards, black panthers, crocodiles, King Cobras, Malabar giant squirrels, monkeys, deer, wild dogs and many more. The best way to see these beautiful wild animals is by taking a jeep safari, operated by the forest department at the national parks and wildlife sanctuaries.
The state animal and bird of Karnataka are Indian elephant and Indian roller respectively.
Karnataka has 5 national parks and tiger reserves, 19 wildlife sanctuaries and many bird sanctuaries. And each of these have distinctive and abundant flora and fauna. Some of the national parks, tiger reserves, and wildlife and bird sanctuaries are:
Kudremukha National Park.
Nagarahole National Park.
Malai Mahadeshwara wildlife sanctuary.
Kokkarebellur Pelicanry.
Reason 3 – We have spectacular temples
Known for its various styles of architecture, the temples in Karnataka are stunning and showcase the styles of architecture in various periods. Some of the notable architecture styles are Hoysala, Chalukya, Vijayanagara, and Dravidian architectures. All the temples in Karnataka have common and key features:
Nandi, the vahana (vehicle) of Lord Shiva is at the entrance and symbolises the start of the divine place.
Kalyani (a pond) with sculpted steps.
Gopura (tower with gods and goddesses) marking the entrance to the temple.
Garbha Gudi (sanctum) where the main deity resides.
Vigraha (idol) of the main deity.
To read and know about different temples in Karnataka, refer the section - Temples of India.
Reason 4 – We are home to one of the biggest technology hubs in the world
With many Information Technology (IT) parks and companies, Bangalore is rated as one of the biggest technology hubs in the world. The city is the IT capital and is called the Silicon Valley of India. It is divided into three zones, spread across major areas such as Electronic City, Outer Ring Road, Whitefield, and Bannerghatta Road, and is home to approximately 200 software companies. And as per the 2020 survey, these IT companies employ around 1.5 million employees.
If you are in Bangalore just for a day, then refer my one day itinerary in Bangalore.
Reason 5 – We are home to the best beaches
Home to many beautiful beaches, Karnataka has around 300 kilometres of coastline, spanning between three districts, Udupi, Uttara Kannada and Dakshina Kannada. The beaches are pristine and in fact two of these beaches, Padubidri in Udupi and Kasarkod in Uttara Kannada, have been rated as the blue flag beaches.
Karnataka's coastline is called Karavali and is along the eastern shore of Arabian Sea and western side of South India. There are many watersports activities, such as scuba diving at Netrani Island (Murdeshwara), parasailing, surfing, kayaking and water scooter rides, that you can do at some of these beaches.
Reason 6 – We have dense forests
Around 20% of Karnataka's geographical area is made up of forests. There are various types of forests in Karnataka:
Evergreen and semi-evergreen forests – These are found on the western slopes of the Western Ghats. And they maintain their green foliage throughout the year.
Moist deciduous forests – These are found on the eastern slopes of the Western Ghats and are mainly dominated by Sal and Teak trees.
Dry deciduous forests – These are found on the leeward side of the Western Ghats. The trees thrive in the warm climate and have tall trees.
Scrub and Thorny forests – These forests are found on parts of the Deccan Plateau. The trees are thorny, spiny and have dry grassland.
Un-wooded forests – These are high-altitude grasslands and forests.
Reason 7 – We produce one of the best coffees
Karnataka dominates coffee production in India by producing 71% of coffee. Chikkamagaluru and Coorg are the main sources of the coffee production. The main varieties of coffee produced in the state is Robusta and Arabica. We are very fond of our coffee, especially the filter coffee, and when you are in Karnataka definitely try out the filter coffee.
If you are a coffee and a food lover, then you will enjoy my Bangalore's food guide.
Reason 8 – We have a stretch of the Western Ghats
Known as Sahyadri, meaning the mountain of patience, the Western Ghats are a mountain range on the western side of South India, starting from Gujarat to Kerala. It is also called as the Nilgiris locally. Stretching over 1600 kilometres, the mountain ranges are rich in flora and fauna. With an average elevation between 900 and 1600 metres, the mountains have amazing and adventurous trekking trails, and wildlife habitats.
Located in Chikkamagaluru district, Mullayyanagiri mountain is the highest point in Karnataka. The mountain gets its name from the sage Mulappa Swamy, who is believed to have meditated on the peak.
Do you want to explore the hills around Bangalore? There are some lovely hills that can be trekked. Refer 14 one day treks around Bangalore.
Reason 9 – We have magical hill stations
Karnataka boasts of some of the best and beautiful hill stations, that provide mesmerising landscapes throughout the year. For nature lovers and adventure seekers, there are many homestays and retreats at these hill stations that help you soak in the beauty of nature and wildlife. Some of the amazing hill stations are:
Coorg.
Chikkamagaluru.
Sakleshpura.
BR Hills.
Agumbe.
Kemmanagundi.
Reason 10 – We have amazing waterfalls
Karnataka is said to have more than 50 notable waterfalls. These waterfalls are a great sight, especially just after the monsoon season. Some of these waterfalls go up to 260 metres in height and the most popular waterfalls in the state are Jog falls (Shimogga), Abbey falls (Coorg), Shivanasamudra falls (Mandya), and Hebbe falls (Chikkamagaluru).
Bonus reason – We have the most friendly and caring people
The people of Karnataka are known to be nice, simple, down to earth, approachable and friendly. They usually care for all the tourists and travelers and hence the state is one of the safest states in India where solo travelers can easily navigate around. I have had the best experiences in this state, where some of the people have gotten out of their ways to help me.
Closing Notes
I am sure after seeing these reasons, you are surely convinced that Karnataka must be on your travel bucket list. The state is one of the most beautiful states in India and is a perfect place for everyone, from people loving nature to the people loving art and culture.
Why do you love Karnataka? Let me know in the comments below.
How can you support me?
You know how much I love coffee, so you can buy me coffee – Buy me Coffee!
Or you can purchase from one of the below travel resources without any extra charge to you.

Travel Resources
Click to book your flight on Skyscanner.com
Click to book your accommodation on Stay22
Click to book a comprehensive travel insurance on Safety Wing
Click to book your tours and travels on Viator or GetYourGuide
If you liked this article and if it was helpful in your planning or traveling, do share, tweet, or pin this post.

Follow me on Instagram | Facebook | YouTube | Twitter | LinkedIn
Do you have a question? Or want any suggestions, and tips for travels, hikes and scuba dives? Use the Subscription box below to sign-up and get updates by email.
PIN for later reference