Things to do in Dandeli (2023)
Did you know that Africa continent is not the only one to have wild life safaris? Indian forests have spectacular jeep safaris too where you can see wild animals in their natural habitat. Each forest is unique and it provides a great way of seeing the wild animals up close in their home.
Every holiday planned in India has always had a few days at the forests as I am in love with Indian forests. As part of our yearly end of the year holiday, my friend and I decided to head to Dandeli. In this post, you will find the things to do in Dandeli.
PIN for later reference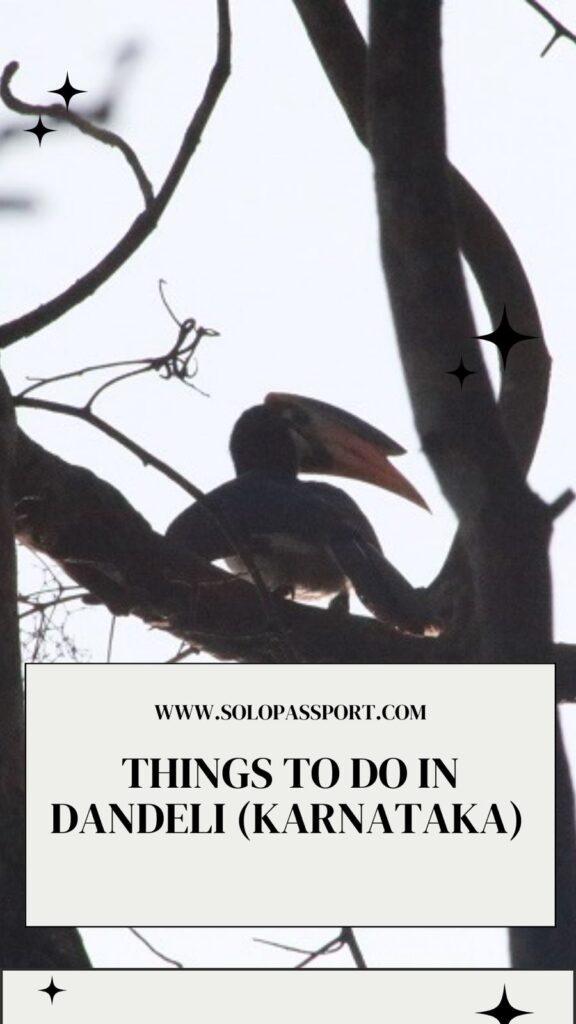 This article may contain affiliate links. For full information, please see our affiliate disclaimer here.
Disclaimers:
The prices mentioned in the post are valid only at the time of publication. Ensure to check the booking websites for up to date information and prices.
Opinions and views expressed solely mine and are unbiased. If the post is a collaboration, then they are specifically mentioned.
Ensure to check the relevant websites for up to date information on COVID protocols.
For any adventurous activities, please note that there is a risk that can be dangerous. Ensure to read the terms and conditions with individual agencies recommended and do them at your own risk.
For visas, it is best to see the embassy website for any changing rules.
About Dandeli
Dandeli is a town in the Uttara Karnataka district in the Western Ghats in the southern part of India. The forest of Dandeli is a natural habitat for wildlife, that includes tigers, black panthers, leopards, elephants, sambar deer, spotted deer, gaurs, and sloth bears. It is the second-largest wildlife sanctuary in Karnataka and was designated as the tiger reserve. The forest is also has a rich variety of birds and reptiles.
The other forest that you can visit in Karnataka is the Bhadra Wildlife Sanctuary.
How to get to Dandeli?
Unfortunately, there are no direct flights or trains from Bangalore to Dandeli.
Airport – The closest airport is at Belgaum and there are frequent flights operated by IndiGo that fly between major cities and Belgaum. The airport is around 90 kilometres from Dandeli.
Train – The train runs from Bangalore to Hubli, which is an overnight journey. Trains can be booked at IRCTC website. And a cab/taxi or a car is required to reach from Hubli to Dandeli, which takes about 1.5 hours each way.

We took a train from Bangalore and then a cab to reach Dandeli.
Note: Ensure to ask the staff at your stay. Sometimes they arrange for pickups from the train station at Hubli.
Road – The distance between Bangalore and Dandeli is around 478 kilometres and the driving takes about 8 hours. Even though this is the quickest and easiest way to reach Dandeli, it does involve a lot of driving.
Bus – There is a direct bus from Bangalore to Dandeli and it takes about 10 hours. Buses can be booked at Red bus website. This is best for an overnight journey.
Best Time to visit Dandeli
The best time to visit Dandeli is during winters and summers which is from October to May. The summers especially make it easier to spot the wild animals. And the best place to spot the animals is near the water bodies as animals come over to drink water during the day.
Even though rainy season makes it hard to spot wild animals, the forests look extremely pretty and amazing during the rains.
Where to stay in Dandeli?
There are plenty of resorts and home stays in Dandeli. They cater for all kinds of travelers including the budgeted travelers. I can recommend the below accommodations for your stay at Dandeli.
Kali Wilderness Camp
Operated by the Jungle Lodges, Kali Wilderness Camp is my favourite places to stay at Dandeli. The camp is located on the banks of River Kali and provides an amazing stay options, including standard and special rooms, and tents that are between nature. Their bookings are based on various packages that include stay, food and activities.
I stayed at this camp during my second visit and I must say that the service provided was excellent. The local food, that is part of the package, is fresh, tasty and delicious. And the best part of this camp was that it is along the River Kali and it provides a great view of the river from the property. Also, the staff is very friendly and approachable.
Be careful of the fresh water crocodiles as there are crocodiles in the river. The locals say that they have never harmed any humans.
Kulgi Nature Camp
Just outside the Dandeli Wildlife Sanctuary is the Kulgi Nature camp. The camp provides glamping stay amidst the dense trees and nature. They have around 12 glamping tents that is perfect for adventurous souls that required adrenaline.
The camp also provides a variety of activities, including trekking, rock climbing, jungle safari (even at nights) and many more. They also arrange for a video that gives the information about Dandeli and the conservational activities that are conducted.
I stayed here during my first visit to Dandeli and I had an awesome time. The local food served to us was extremely delicious and authentic. Even the staff that attended us were very friendly and nice.
Contact number: +919900917123
Whistling Woodsz
Spreading across 7 acres, Whistling Woodzs is another great option. Located closer to the rafting place near River Kali, Whistling Woods is a luxury resort where guests can enjoy variety of stay options, namely Premium Cottages, Tree houses and twin cottages. And the prices vary based on the option you select. The property has many different activities from jungle walks to kayaking. They also arrange for their own private rafting tours.
Things to do in Dandeli
I suggest staying in Dandeli for about 4 to 5 days as there are plenty of things to do in this beautiful city.
All of the activities can be arranged and booked through any of the hotels or resorts.
White water rafting on River Kali – One of the must-do activities in Dandeli is the White Water Rafting. This is for all the adrenaline seekers as the rafting that is on River Kali has 10 rapids with a scale of 3+ rapid. The cost of the rafting starts from INR 1000 per person and is totally worth it. I have done the rafting here twice and both times it was a memorable experience.
The other places where you can do white water rafting in India are Rishikesh and Zanskar in Ladakh.
Forest jeep safari at Dandeli National Park – Even though it is difficult to spot wildlife in Dandeli because of the dense forest cover. Costing about INR 600, the jeep safari is a good way to explore the abundant flora and fauna of the forest.
Coracle boat ride on River Kali – This is another must-do activity in Dandeli. The coracle boat ride provides an amazing opportunity to see the freshwater crocodiles and many species of water birds.
Bird Watching – Dandeli is home to many species of birds. It is famous for the Indian Hornbills and they can easily be spotted along at any water bodies or in the forest.
Sinteri Rocks – It is one of the beautiful places that have amazing rock formations with underground river systems. It also has lots of beehives.
Note: The current of the water is high and dangerous and hence swimming is prohibited.
Ullavi caves – The caves are said to be 3.6 billion years old. This is an awesome half a day trip and is done in combination with the Sinteri Rocks. The cliff of the caves is said to be around 1000 feet high and there are 1000 steps to reach the base of the caves.
Kavala caves – Formed in the pre-historic times, these caves are made up of volcanic origins. There are around 375 steps to reach the caves and these are the best place to see the stalagmite formations of rocks.
Is it safe for solo female travelers?
Dandeli is extremely safe for solo female travelers. The staff at the camps and resorts are very friendly and they take good care of their guests. If traveling alone, I would arrange all my activities with the stay.
Even though Dandeli is very safe relatively, I would suggest that like any other place, it is best to take precautions especially at nights and trust your instincts. And do not venture into the forests alone as it is illegal and there are wild animals in the forests.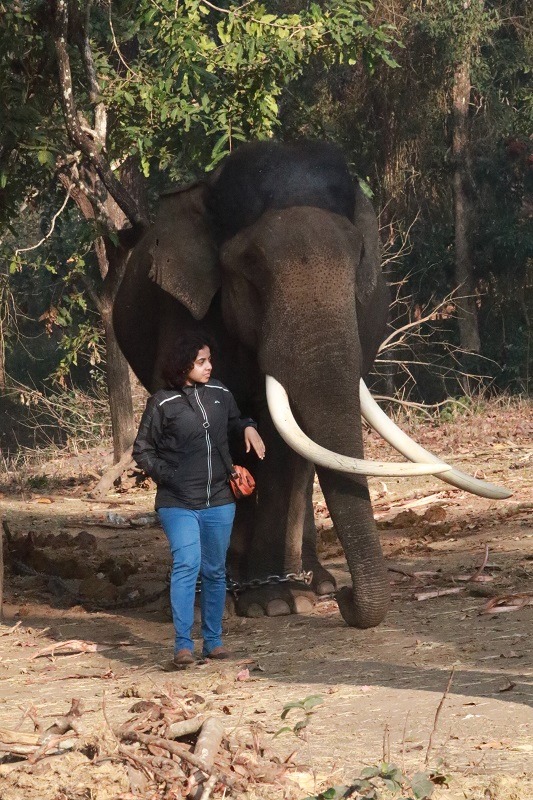 Closing Notes
Dandeli remains as one of my most favourite places in Karnataka. I have already been there twice and I still crave to visit that place again. The place makes a very good weekend getaway and has so much to offer. I suggest everyone visiting this stunning forest.
How can you support me?
You know how much I love coffee, so you can buy me coffee – Buy me Coffee!
Or you can purchase from one of the below travel resources without any extra charge to you.

Travel Resources
Click to book your flight on Skyscanner.com
Click to book your accommodation on Stay22
Click to book a comprehensive travel insurance on Safety Wing
Click to book your tours and travels on Viator or GetYourGuide
If you liked this article and if it was helpful in your planning or traveling, do share, tweet, or pin this post.

Follow me on Instagram | Facebook | YouTube | Twitter | LinkedIn
Do you have a question? Or want any suggestions, and tips for travels, hikes and scuba dives? Use the Subscription box below to sign-up and get updates by email.
PIN for later reference