Red Earth Kabini | One of the best resorts at Kabini
Kabini has and will always be one of my favourite places to visit in Karnataka. It is the best kept secret in finding the wildlife, especially the tigers and the rare black panthers. I have been to Kabini twice and each time I have fallen in love with the forests and the people.
After spending a night with friends at JLR Kings Sanctuary in Nagarhole, I headed to Kabini to spend a couple of more days alone by the forest. And this time around, I was lucky to have stayed at Red Earth Kabini resort.
This article may contain affiliate links, meaning if you decide to make a purchase via my links, I may earn a commission at no additional cost to you. For full information, please see our affiliate disclaimer here.
Disclaimers:
The prices mentioned in the post are valid only at the time of publication. Ensure to check the booking websites for up to date information and prices.
Opinions and views expressed solely mine and are unbiased. If the post is a collaboration, then they are specifically mentioned.
Ensure to check the relevant websites for up to date information on COVID protocols.
For any adventurous activities, please note that there is a risk that can be dangerous. Ensure to read the terms and conditions with individual agencies recommended and do them at your own risk.
For visas, it is best to see the embassy website for any changing rules.
About Kabini
Connecting Nagarhole, Rajeev Gandhi and Bandipur national parks, Kabini is part of the Nilgiri biosphere and is a heaven for wildlife enthusiasts. Known for its safaris, forests and beautiful resorts, Kabini is one of the expensive destinations in Karnataka. The river is named after Kabini and is one of the entrances to Nagarhole Tiger Reserve.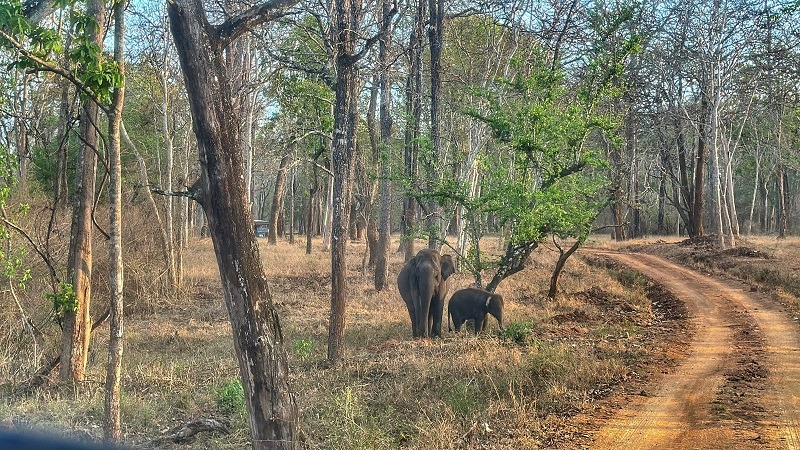 The best time to visit Kabini is between the months of October and May as the weather is warm and dry. You need at least 2 days in Kabini to explore everything that the place has to offer.
About Red Earth Kabini, One of the best resorts at Kabini
Location: Begur village | Guest Rating of 8.5/10 on Booking.com
Located in Begur village of H.D. Kote Taluk, the Red Earth Kabini resort is one of the best resorts at Kabini. Being a 3 star resort, the Red Earth Kabini resort offers a comfortable and homely stay to their guests.
There are very few properties that take measures and steps towards being eco-friendly and sustainable. Giving back to the community must be part of every property and Red Earth Kabini ensures that. They believe that the locals and the community come first. Some of the things that they have done to ensure that they are eco-friendly, sustainable and responsible are:
Around 96% of their workforce are from the local villages.
Cottages built are from the red mud that they dug while excavating the site.
Products used at these cottages are eco-friendly. They try to minimise the usage of plastic.
Food produce are sourced from locals and they encourage organic products.
Work closely with an NGO Sambramma that is reviving dying folk art and culture.
Support an NGO Nilgiris Wayanad Tribal Welfare Society (NWTWS) that works in the field of education, health and community development in the forested areas.
Run a school for 300 tribal children.
Organise regular medical camps with Swami Vivekananda Youth Movement.
| Pros | Cons |
| --- | --- |
| Located between plantations and nature | Private transportation (such as cabs) to the resort can be expensive |
| Eco-friendly, sustainable and responsible tourism | There is no public transportation close to the resort |
| Employed staff are from local villages | |
| Food is delicious | |
| Makes you feel home | |
| Have their own jeeps for safari | |
| Do not charge extra money for the cameras during safari if you use their jeeps | |
Cottages at Red Earth Kabini
Red Earth Kabini has 22 cottages that are aesthetically built with open air jacuzzi, walk in area, spacious room and a sit out amidst nature. One of the unique factors of these cottages is that they are built using the red mud which was found when the site was excavated.
All of their cottages come with an outdoor jacuzzi.
Note: The hot water for the jacuzzi is available only in the evenings between 6 PM and 9 PM.
Booking and Cost
The bookings can be easily done either through online mode or by calling the resort. Prices of these cottages vary depending on the meals included, and they start from Rupees 25,000+ (excluding GST) per night.
Click here to check prices and availability on Booking.com
Ambience and Hospitality at Red Earth Kabini
The staff at the resort will always greet you with a broad smile. They are friendly, trained and very professional. Each one of them was great and approachable. While staying at the resort, there was not one instance where I had a problem or an issue with anything or any staff member.
The resort is created to provide a very relaxed holiday to the visitors. Each cottage is thought through and has a homey feeling to it. The décor and the ambience is designed to calm you down, and to enjoy your vacation thoroughly. There are gardens in the resort with various colourful flowers and plants. You also have farm animals gazing around and you can hear the sounds of the forest and birds at all times.
Restaurant and Lounge Bar at Red Earth Kabini
The resort has a restaurant named Poshini and a lounge bar known as Wetland.
Poshini provides beautiful and delicious food catering for Indian, Asian and Continental food. They offer tea/coffee, buffet breakfast, lunch and dinner. The Hi-tea with snacks are provided by the backwaters of River Kabini so the guests can enjoy a pleasant evening watching the backwaters and the birds around the area.
Lounge Bar called Wetland provides amazing cocktails and drinks where the guests can wind down and relax. The bar is around pretty lilies, that add the colour of pink around the area and make it look like a scene out of a fairy tale.
Amenities at Red Earth Kabini
Each cottage comes with a flat screen television, air conditioning, tea/coffee maker, private open air jacuzzi, welcome drink and RO drinking water bottles. They also have a mini bar with drinks and snacks section at the cottage that are chargeable.
At the resort, they have a huge outdoor swimming pool and a spa called Zvaanshi. Apart from these, they have free Wi-Fi accessible from anywhere around the resort and the rooms. Since the Wi-Fi is secured and reliable, the resort makes a perfect workcation destination which in fact is what I did.
Curated Experience(s) at Red Earth Kabini
Land and Boat Safaris
The resort arranges for both land and boat safaris. These safaris are at extra charges.
Land Safari – The resort has two jeeps where the guests are taken inside the Nagarhole tiger reserve for land safari. You can also choose to go in a canter (van).
Boat Safari – The resort also arranges for boat safari on the backwaters of River Kabini. This is great to see the crocodiles from up close.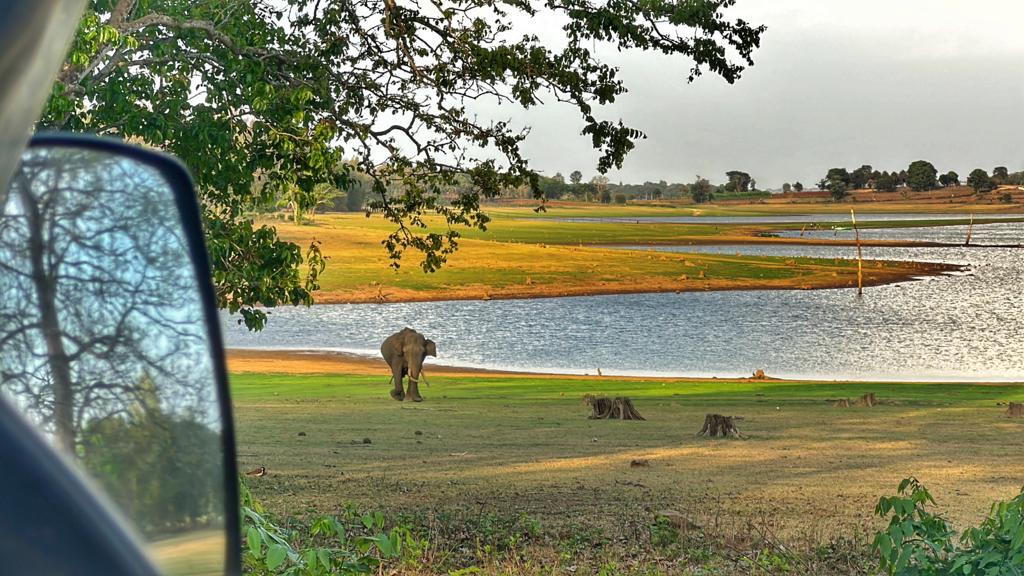 The safaris are conducted twice a day:
Morning 6:30 AM to 9:30 AM.
Evening: 3:30 PM to 6:30 PM.
Below are the prices for the land and boat safari:
| Safari type | Adult (INR) | Child (INR) |
| --- | --- | --- |
| Land safari (jeep) | Rupees 2600 | Rupees 1700 |
| Land safari (canter/van) | Rupees 2100 | Rupees 1700 |
| Boat safari | Rupees 2100 | Rupees 1700 |
Safari cost
If you are carrying a DSLR, then there are additional charges if you go with Jungle Lodges and Resorts (JL&R). You are sent with JL&R only if the resort do not have too many people for safari.
0 to 70 mm lens – Rupees 300 + Tax
70 mm to 200 mm – Rupees 600 + Tax
200 to 500 mm – Rupees 1300 + Tax
500 mm and above – Rupees 1800 + Tax
The resort charges extra for transportation to the gate of national park and back, this is applicable only if you are going with JL&R:
Cost of return transport between resort and entrance of national park (distance of 20 kilometres): Rupees 1600.
Bird watching
The resort is built between the plantations and the nature. These plantations and trees attract a lot of birds. During my visit, I spoke to one of their naturalists, and he mentioned that around 40 species of birds have been identified and recorded in the resort. There is also a bird watching tour conducted every morning to see these colourful and chirpy birds.
Coracle ride on backwaters
As the resort is located next to the backwaters of River Kabini, the resort can easily arrange for coracle rides on the backwaters. These rides can be booked at the front desk and they run everyday between 9 AM and 3 PM.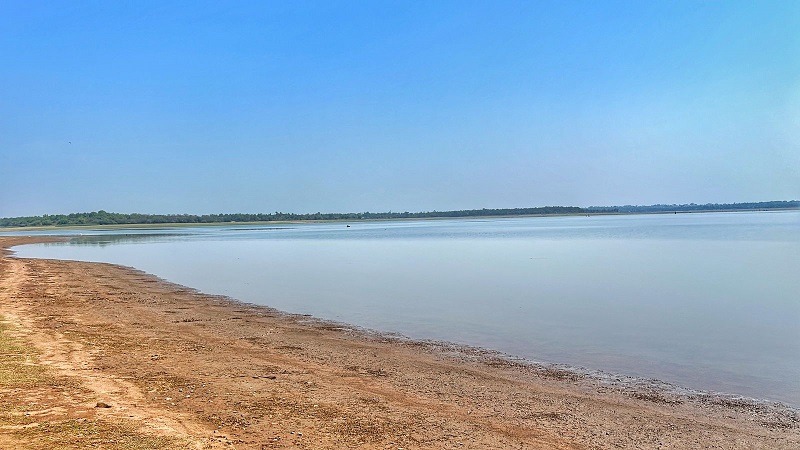 Village tours
The resort arranges for village tours everyday at 11 AM. This is a great opportunity to interact and learn about the local villagers and their way of living.
How to get to Red Earth Kabini?
By air
The closest domestic airport is in Mysore and international airport is in Bengaluru.
Mysuru domestic airport is around 65 kilometres from the resort. Air India and Indigo operate from Mysore domestic airport and there are direct flights between Mysore, and Hyderabad, Chennai and Goa.
By road
The distance between Bangalore and Red Earth Resort is around 215 kilometres and by road, the journey takes up to 4 hours. The route is towards Mysore Road and it has toll roads. You need to take the national highway and then a state highway to reach the resort. Condition of the roads are very good, except for a bit in the state highway which is muddy and patchy.
By public transportation
Train – The closest train station is in Mysore and there are many trains between Mysore and Bangalore. You need to either take a bus or a cab from Mysore to the resort.
Buses – There are buses between the below stops and Mysore. You can arrange for a transportation at extra cost to be picked up from one of these bus stops.

Sargur – A local town which is around 25 kilometres from the resort. You need to get down at the handpost (KSRTC bus stop). There are Volvo buses between Sargur and Mysore.
Mananthavady – This is the most preferred and closest one to the resort. You need to get down at Antharsanthe which is just 6 kilometres from the resort. If the driver can stop at Tasty restaurant, then it is even better as it is very close to the resort.
H.D. Kote – This is around 18 kilometres from the resort. You need to get off at the handpost.
Red Earth Kabini Frequently Asked Questions (FAQ)
Q: Where is Red Earth Kabini located?
The resort is located in Begur village of HD Kote Taluk of Karnataka. It is about 20 kilometres from the entrance to the Nagarhole national park.
Q: How far is Red Earth Kabini from Bangalore?
The resort is around 215 kilometres from Bangalore and it takes about 4 hours to reach by road.
Q: How do we get to Red Earth Kabini?
The best way to get to the resort is:
Drive on your own (easiest option).
Take a bus to one of the below destinations and then arrange for transport from the resort (extra cost):

Sargur (alight at Handpost).
Preferred option: Mananthavady (alight at Abtharasanthe or Tasty restaurant).
H.D. Kote (alight at Handpost).
Q: What are the different kinds of cottages available at Red Earth Kabini?
The resort has 22 cottages that have an open air jacuzzi and a sit out area.
Q: What are the charges for the cottages at Red Earth Kabini?
The prices for the cottage starts from Rupees 25,000+ (excluding GST) per night.
Q: How do we book the cottages at Red Earth Kabini?
You can book the cottages either on online or by calling the resort.
Q: Does the resort have reliable Wi-Fi?
Yes, the resort has a secure and reliable free Wi-Fi. It is accessible at all places, including the cottages.
Q: What are the amenities available at Red Earth Kabini?
The resort has the below facilities:
Huge outdoor swimming pool.
Pool bar.
Lounge bar.
Spa.
Q: What are the experiences that you can get at Red Earth Kabini?
The resort has many activities that keep their guests, including the children entertained during their stay. Some of the experiences to name are:
Yoga by the pool.
Art class.
Cookery classes.
Photoshoots.
Land safari.
Boat safari.
Guided bird watching tour.
Romantic candle night dinner.
And many more.
Note: Most of these experiences are for extra charges. Ensure to check at the front desk for prices and availability.
Q: Do they have their own jeeps for safari?
Unlike other resorts that depend on Jungle Lodges and Resorts' jeeps for safari, the Red Earth Kabini resort has two own jeeps which are used for land safaris.
Q: Are pets allowed at Red Earth Kabini?
Yes, pets are allowed at the property. The resort itself is home to two beautiful dogs, Zoey and Helen, which are super friendly and cute.
Q: Are unmarried couples allowed at Red Earth Kabini?
Yes, unmarried couples are allowed.
Contact information of Red Earth Kabini
Official website: Red Earth.
Address: Badane Kuppe ,Via Antharasante, Near Hosmalla , HD Kote Taluk, Mysore, Karnataka 571114.
Contact number: +91 (0) 7090714061.
Safety for Solo Female Travelers
I traveled alone to Red Earth Kabini and I must say it was one of the resorts where I have felt the safest. The staff members were very nice and extremely friendly. They never for once made me feel uncomfortable in any way. I highly suggest staying at this resort if you are traveling alone.
Closing Notes
The Red Earth Kabini resort is surely one of the best resorts at Kabini and the best thing about it is that the prices are still affordable when compared to the other resorts in the area. They also have their own jeeps for safari which makes it very convenient for the guests. If you are looking for a great stay in Kabini, then your answer is Red Earth Kabini.
Would I visit Red Earth Kabini again? Absolutely! I loved my stay here and I will not think twice if I have to visit this property again.
Note: This post is written in collaboration with Red Earth Kabini. But the views and the opinions expressed are honest and unbiased.
How can you support me?
You know how much I love coffee, so you can buy me coffee – Buy me Coffee!

Or you can purchase from one of the below travel resources without any extra charge to you:
Travel Resources
Book your flight on Skyscanner.com or Trip.com
Reserve your accommodation on Stay22
Buy comprehensive travel insurance on SafetyWing and WorldNomads
Book your tours and travels or purchase tickets on Viator or GetYourGuide
For a universal SIM card, use DrimSim
If you liked this article and if it was helpful in your planning or traveling, do share, tweet, or pin this post.

Follow me on Instagram | Facebook | YouTube | Twitter | LinkedIn
Do you have a question? Or want any suggestions, and tips for travels, hikes and scuba dives? Use the Subscription box below to sign-up and get updates by email.
PIN for later reference