Weekend getaway to Bandipur National Park
Visiting the dense forests and taking safari trips are my favourite things to do in India, especially in Karnataka. The forests are close to Bangalore and they make the perfect weekend getaways from the city. Bandipur National Park is easily accessible from Bangalore and makes it an amazing outing over the weekend. It is one of those beautiful dense forests where one can spot many wild animals.
You can also visit the Satyamangalam wildlife sanctuary as it is another beautiful forest that is mostly untouched and protected.
PIN for later reference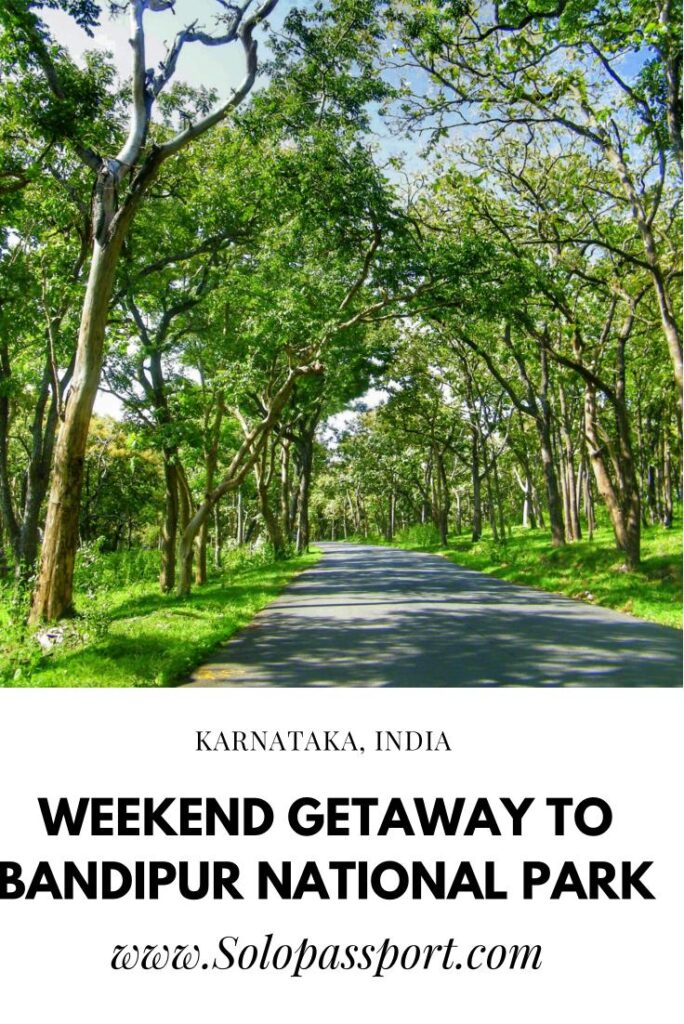 This article may contain affiliate links. For full information, please see our affiliate disclaimer here.
About Bandipur National Park
Bandipur National Park, a tiger reserve, is located in Karnataka state of India. It has the second highest population of tigers in the state. The park is surrounded by Nagarhole National Park, Mudumalai National Park and the Wayanad National Park.
Originally known as Venugopala Wildlife Park, the Bandipur National Park was once a hunting ground for the King of Mysore but has now been converted into a protect national park of India. Located in the Gundlupet taluk of Chamrajnagara district, the park is part of the Nilgiri Biosphere Reserve.
The best time to visit Bandipur National Park is between the months of March and September. The monsoon season is between July and September and forests look stunning during the rains. Opening timings for the park is between 6:30 AM and 8:30 PM everyday. Note the park is usually closed in case of heavy rains. Also, make sure to check with the forest officials as vehicles are not allowed inside the forests between 6:30 PM and 6:30 AM everyday because of the movement of wild animals.
How to get to Bandipur National Park?
Flights
The nearest airport is at Mysore. The Mandakalli airport is a domestic airport that serves 7 flights. One of the flight operators is Air India. One can take a taxi or a local bus to Bandipur National Park from the airport, which is around 80 kilometres.
Driving
Bandipur National Park is just around 80 kilometres from Mysore. The road trip only takes an hour and 30 minutes or two hours. The route has toll roads.
Bandipur National Park is about 220 kilometres from Bangalore. And the journey by road takes around 4 hours and 30 minutes. The route is towards Mysore.
Bandipur National Park is a great stopover while visiting Ooty.
Public transportation
There are a few ways one can reach Bandipur National Park via public transportation:
Take a KSRTC run bus from Bangalore (Majestic bus stop is the main bus stop) to Mysore. And then catching a bus to Bandipur National Park. Most buses going to Ooty stop at Bandipur National Park. The distance is about 80 kilometres and takes around two hours.
Take a bus from Bangalore to Ooty that stops at Bandipur National Park. This is a direct bus and you do not have to stop or change at Mysore.
You can take a train from Bangalore to Mysore and then take a bus to Bandipur National Park. The train timings and availability can be found on IRCTC website.
Note: The fares for the local buses will need to be paid by cash only.
Stay at Jungle Lodges in Bandipur National Park
I absolutely love staying at Jungle Lodges. Even though the stay is a bit expensive, but the room, service and food at Jungle Lodges are amazing and totally worth it. Also, because the property is managed by the government, the guests are given the first priority for safaris.
Things to do in Bandipur National Park
Visit Himavad Gopalaswamy Betta
The highest point of the Bandipur National Park is on the hill Himavad Gopalaswamy Betta. There is a Hindu temple at the top of the hill. One can park their vehicles at the base of the hill and then taking a KSRTC bus to the top. The cost is about INR 20 per person and the timings to visit the temple are between 8 AM and 4 PM.
No body is allowed to stay on top of the hill, near the temple, after the closed hours because of the wild animals.
Safari at the national park
The number one thing to do when visiting Bandipur National Park is taking a safari. The safari runs everyday from 6:30 AM to 9 AM, and from 3:30 PM to 5:30 PM and are usually for one hour long. Best time to go for the safari is in the morning. The fare and duration depends on the type of vehicle you take (see below table).
Note: The prices may have changed.
| | | | | |
| --- | --- | --- | --- | --- |
| Vehicle type | Can accommodate | Safari fee | Entry fee | Duration |
| Tata Safari | 4 seater | INR 4000 | INR 250/per person | 120 minutes |
| Camper | 9 seater | INR 4500 | INR 250/per person | 120 minutes |
| Gypsy | 6 seater | INR 3000 | INR 250/per person | 120 minutes |
| Bus-Adult | per person | INR 100 | INR 250/per person | 120 minutes |
| Child | per child | INR 50 | INR 125/per person | 90 minutes |
Up to date information can be found at the Safari ticket counter
Note: Wild animals are in the wild and all the times, it cannot be controlled as to which animals can be spotted. It is all about
Safety for solo female travelers
Karnataka is relatively safe for solo female travelers. However, note that Bandipur National Park is a dense forest with tigers and other wild animals. Also, the place can become very isolated quickly after sunset. I definitely do not suggest traveling alone, especially at night.
Are you new to solo traveling? Or do you have questions about solo traveling? Read frequently asked questions about solo traveling.
Closing Notes
Bandipur National Park is truly one of the most prettiest forests in Karnataka. It is close to Bangalore and can easily be reached via public transportation. Bandipur surely makes a lovely weekend getaway from Bangalore.
Do you love forests? Especially the forests in Karnataka? Then you may want to visit the B R Hills as well.
How can you support me?
You know how much I love coffee, so you can buy me coffee – Buy me Coffee!
Or you can purchase from one of the below travel resources without any extra charge to you.

Travel Resources
Click to book your flight on Skyscanner.com
Click to book your accommodation on Stay22
Click to book a comprehensive travel insurance on Safety Wing
Click to book your tours and travels on Viator or GetYourGuide
If you liked this article and if it was helpful in your planning or traveling, do share, tweet, or pin this post.

Follow me on Instagram | Facebook | YouTube | Twitter | LinkedIn
Do you have a question? Or want any suggestions, and tips for travels, hikes and scuba dives? Use the Subscription box below to sign-up and get updates by email.
PIN for later reference