Gir National Park Travel Guide (2023)
Being a cat lover, I love anything from the domestic cats to the big wild cats. I love taking safaris and visiting the forests just to get a glimpse of these beautiful big cats in the wild. Even though I have not seen a tiger in its natural habitat till date, I have been fortunate to spot the leopards and the lions. During my first travel to Gujarat, I ensured that the Gir National park was on the itinerary as I really wanted to see the lions.
PIN for later reference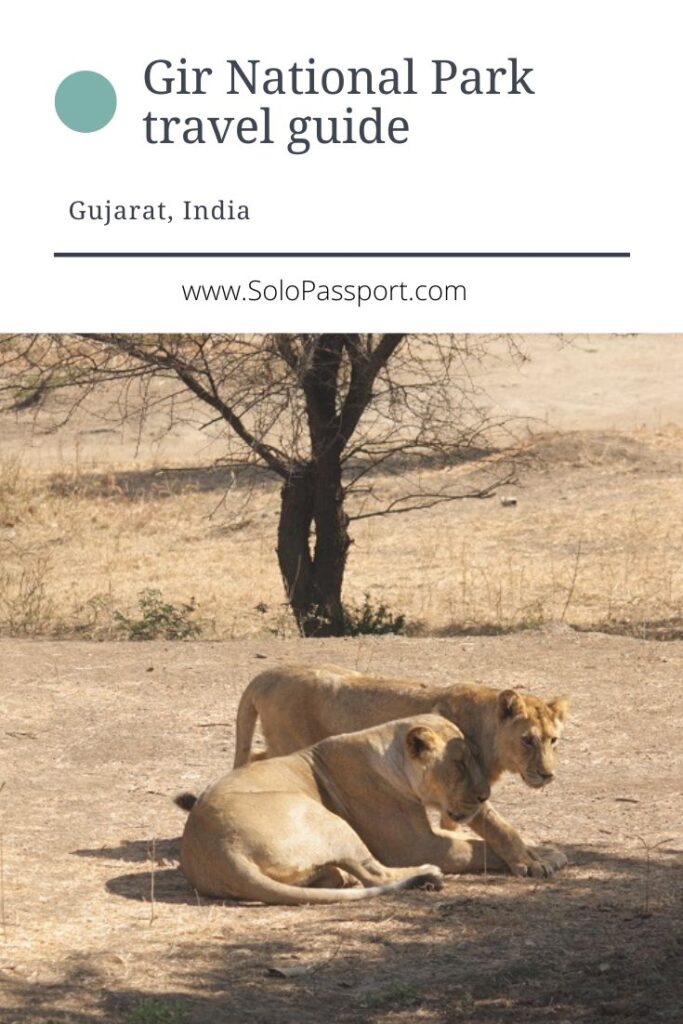 This article may contain affiliate links. For full information, please see our affiliate disclaimer here.
Disclaimers:
The prices mentioned in the post are valid only at the time of publication. Ensure to check the booking websites for up to date information and prices.
Opinions and views expressed solely mine and are unbiased. If the post is a collaboration, then they are specifically mentioned.
Ensure to check the relevant websites for up to date information on COVID protocols.
For any adventurous activities, please note that there is a risk that can be dangerous. Ensure to read the terms and conditions with individual agencies recommended and do them at your own risk.
For visas, it is best to see the embassy website for any changing rules.
About Gir National Park
Famous for its Asiatic lions in its natural habitat, Gir National park is a wildlife sanctuary in Gujarat state of India. Established to protect lions, it is the only place in India that has lions. Apart from the lions, there are crocodiles, jackals, eagles, owls, vultures, pythons and many other animals and birds. The Gir National park is also known as Sasan Gir.
According to 2022 survey, there are around 600 lions in the Gir national park.
The best time to visit the Gir National park is during the winter season (between November and March). Summer time (between April and May) are also good for wildlife spotting as the animals come out in the open due to the heat. Note that the park is closed between the months of June and October.
You need at least 2 to 3 days at Gir National park. If you are a wildlife enthusiast, then try staying at the national park for at least 4 to 5 days. There are resorts (Woods at Sasan resort and The Gateway hotel) and lodges (Gir birding lodge) at the Gir national park.
The Statue of Unity is around 470 kilometres from Gir National park and you can extend your trip to Gir National park to stay at Ekta Nagar.
Safari at Gir National Park
Gir National park offer different types of safaris depending the area the visitors want to visit.
Gir Jungle trail safari.
Devalia safari park. Note that the Devalia safari is closed every Wednesday.
Kankai safari Gir.
There are various timeslots for the safaris. For Gir jungle trail safari, there are three safaris during the day: two in the morning and one in the evening. Note the timings differ based on the season. And it is very easy to book the safaris online. The Gir jungle trail safari cost around INR 4700 for a jeep. It can accommodate around 6 people.
The early morning and evening safaris are best. There are higher chances to see the wildlife.
The morning light is also best for taking good wildlife pictures. Ensure to switch off the flash while taking pictures.
Do not litter in the jungle.
Be quiet during the safari as it is a wildlife zone.
How to get to Gir National Park?
Airport – The closest airport to Gir national park is Rajkot, which is around 168 kilometres from the national park.
Train – Junagadh and Veraval railway stations are the closest train stations to Gir national park and these railways stations are well connected to the major cities in Gujarat. Up to date information can be found in IRCTC website.
Driving –

Ahmedabad is around 340 kilometres from Gir National park and the journey by road takes about 7 hours 30 minutes.
Veraval is around 65 kilometres from Gir national park and the journey by road takes about less than 2 hours. Somnath temple, one of the 12 Jyotirlingas, is one of the main attractions inVeraval.
Junagadh is just 70 kilometres from Gir National park and the journey by road takes about 2 hours.
Where to stay at Gir National Park?
The Gir National Park has plenty of accommodation options. They cater for all kinds of travelers, from budgeted to luxurious travelers. Some of the recommendations you can consider are:
Safety for solo female travelers
Gir national park is very safe for solo female travelers. Make sure to stick to the trails and rules of the national park. As it is a national park, there will be wildlife and it is best not to walk around alone at undefined trails. Also, be careful and cautious, especially at night.
Are you traveling solo for the first time? Do you have a lot of questions? Or do you want to travel solo but are not sure where and how to start? Read frequently asked questions about solo traveling.
Closing Notes
Gir National park is one of the amazing places in India and it is totally worth visiting and spending a few days there. I highly recommend taking the safari to see these beautiful Asiatic lions in the wild.
Have you seen lions in the wild? Where did you see them? And what was your favourite memory of them? Let me know in the comments below.
How can you support me?
You know how much I love coffee, so you can buy me coffee – Buy me Coffee!
Or you can purchase from one of the below travel resources without any extra charge to you.

Travel Resources
Click to book your flight on Skyscanner.com
Click to book your accommodation on Stay22
Click to book a comprehensive travel insurance on Safety Wing
Click to book your tours and travels on Viator or GetYourGuide
If you liked this article and if it was helpful in your planning or traveling, do share, tweet, or pin this post.

Follow me on Instagram | Facebook | YouTube | Twitter | LinkedIn
Do you have a question? Or want any suggestions, and tips for travels, hikes and scuba dives? Use the Subscription box below to sign-up and get updates by email.
PIN for later reference