5 reasons why Statue of Unity must be on your bucket list
I must confess that I underestimated the Statue of Unity. My impression of this humongous statue changed once I saw it and I was awed by the engineering and the detailed work that had been done in creating this magnificent marvel. After seeing it from up close, I highly suggest having the Statue of Unity (SOU) on your bucket list while visiting Gujarat.
Read - 10 reasons why you need to visit Gujarat.
PIN for later reference
This article may contain affiliate links. For full information, please see our affiliate disclaimer here.
Disclaimers:
The prices mentioned in the post are valid only at the time of publication. Ensure to check the booking websites for up to date information and prices.
Opinions and views expressed solely mine and are unbiased. If the post is a collaboration, then they are specifically mentioned.
Ensure to check the relevant websites for up to date information on COVID protocols.
For any adventurous activities, please note that there is a risk that can be dangerous. Ensure to read the terms and conditions with individual agencies recommended and do them at your own risk.
For visas, it is best to see the embassy website for any changing rules.
About Statue of Unity (SOU)
Standing tall at 182 metres, the Statue of Unity is the World's tallest monument. Located in Ekta Nagar of Gujarat state facing Sardar Sarovar Dam, the statue depicts Bharat Ratna Sardar Vallabhbhai Patel. Remembered as the 'Iron Man of India', Sardar Vallabhbhai Patel was an Indian statesman and he served as the first deputy Prime Minister of India from 1947 to 1950. He played an important role in India's independence and dreamt of an united nation, called Ekta in Hindi language.
Opened on 31 October 2018 and inaugurated by the Honourable Prime Minister of India Narendra Modi, the Statue of Unity was designed by Indian sculptor Ram V. Sutar. The monument is constructed on Sadhu bet, an artificial river island.
Facts about Statue of Unity
The Statue of Unity was dedicated on Sardar Vallabhbhai Patel's 143rd birth anniversary.
The statue was built in a record time of 57 months (15 months for planning, 40 months to build and 2 months for handing over).
To showcase the unity from all over the country, around 5000 tonnes of iron was collected from farming implements and soil from villages across the country. The collected iron was used in the construction of the structure.
The statue rises higher than the previous record holder of world's tallest monument, the Spring temple Buddha in China.
There is a viewing platform in the statue where visitors can get panoramic views of the dam. The viewing platform is built in such a way that it is placed at the heart of the statue.
The viewing platform is located on 45th floor and the lifts take the visitor to the 45th floor in just 38 seconds.
Approximately 2000 crores is the total cost of the project.
5 reasons why Statue of Unity must be on your bucket list
There are plenty of reasons why Statue of Unity must be on your bucket list. But I will list down the top 5 that will convince you to put the SOU on top of your bucket list.
Reason 1 – Because SOU is World's tallest monument
The previous record holder of the title World's tallest monument was the Spring temple Buddha in China's Henan province. This was surpassed by the Statue of Unity and the structure is taller by 54 metres. It reaches nearly 50 stories tall and is sitting on a three-tiered base. The statue can be seen from anywhere within the 7 kilometres radius.
Did you know that Statue of Unity is 2.5 times bigger than the Statue of Liberty?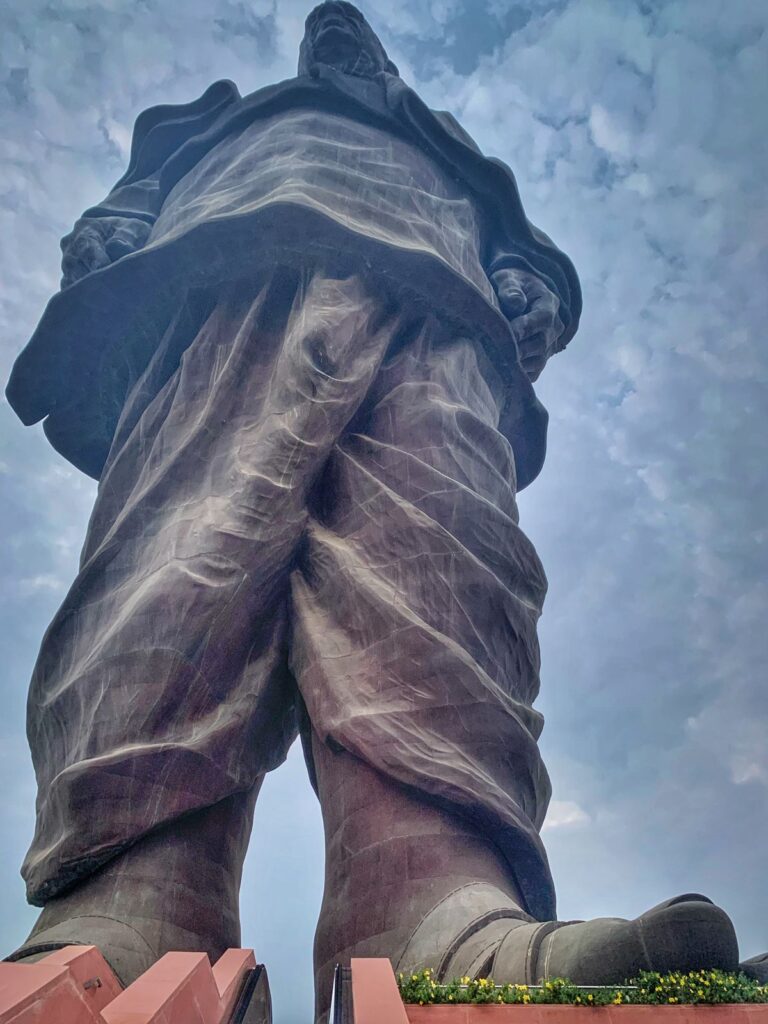 Reason 2 – Because SOU is an architectural marvel
The Statue of Unity was designed and planned by Michael Graves Architecture and Design (MGA) and built by Larsen and Turbo (L&T). There were many architectural and engineering considerations that were taken into account while building the statue. The statue can withstand 6.5 Richter scale earthquakes and winds up to 290 kilometres per hour. It took more than 3000 workers and 250 engineers for the completion of the project. The core of the statue has been built using 210000 cubic metres of cement, 6500 tonnes of structural steel and 18500 tonnes of reinforced steel.
Reason 3 – Because SOU is India's pride and a tribute to India's hero Sardar Vallabhbhai Patel
The Statue of Unity depicts Sardar Vallabhbhai Patel, India's Iron Man. He played a key role in integrating India into one united nation. Under the British rule, there were around 565 self-governing princely states and Sardar Vallabhbhai Patel demanded that these states be part of one India. He is also called as the 'Unifier of India'.
Did you know that Sardar Vallabhbhai Patel was also instrumental in the creation of the All India Services?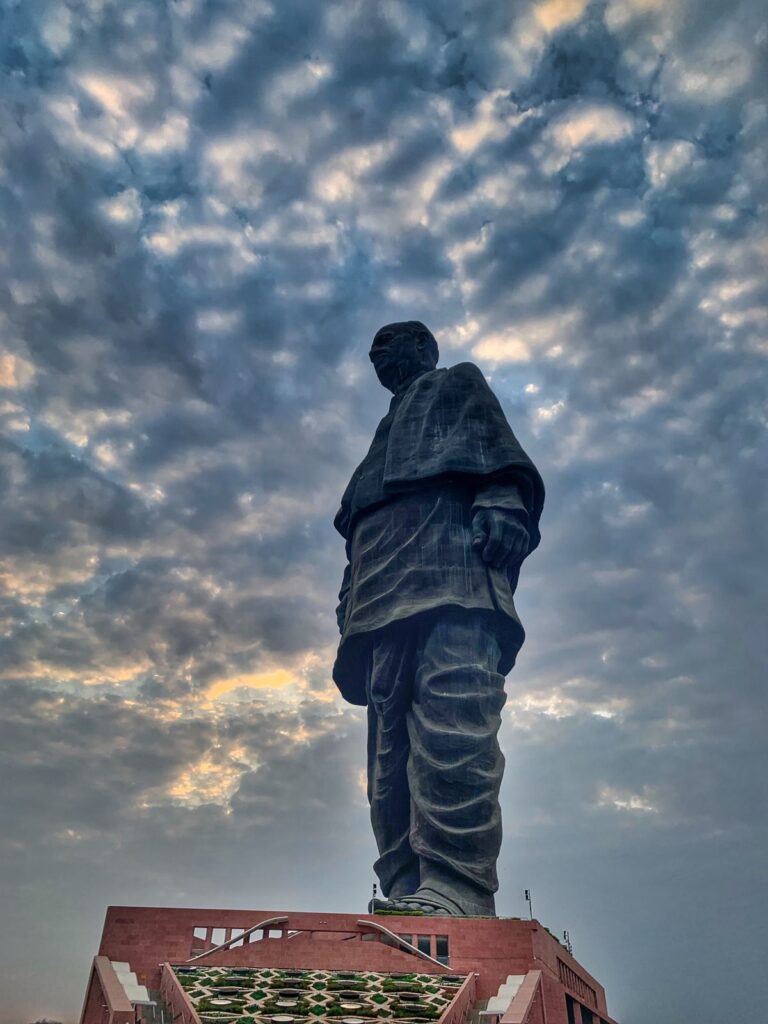 Reason 4 – Because SOU has provided employment to local and tribal women
I was impressed when I saw that Ekta Nagar has provided employment to the local and tribal women of the area. There were so many opportunities that were created where women were trained and upskilled to become independent and do a certain job. The local commute is done on pink electric vehicles that are run only by women.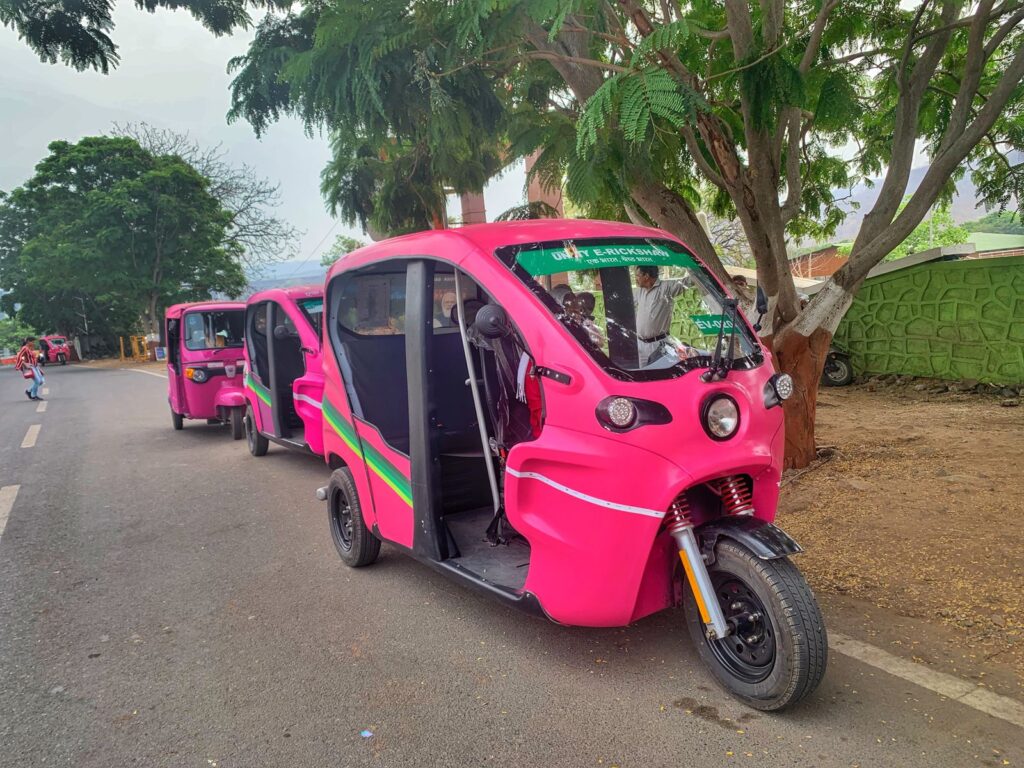 Reason 5 – Because SOU has one of the best laser, light and sound show in the world
I have seen plenty of laser, light and sound shows around the world and I must admit that the light and sound show in Statue of Unity was one of the best and is a world class standard. The laser, light and sound show showcases the life and struggle of Sardar Vallabhbhai Patel and how he changed and fought for India's unity. The story narration and the detailing is absolutely brilliant.
How to get to Statue of Unity?
The Statue of Unity is located in Ekta Nagar of Gujarat state. It is easily accessible by road and public transport.
Airport – The nearest international and domestic airport is at Vadodara. And the airport is around 90 kilometres from the Statue of Unity. Most of the airline providers operate from Vadodara International airport.
Drive – The distance between Ahmedabad and Statue of Unity is around 200 kilometres and by road, the journey takes up to 3 hours 30 minutes.
Train – Ekta Nagar has a railway station of its own and has connectivity from major cities and towns in Gujarat. More information on trains and routes can be found on IRCTC website.
Bus – There are frequent buses between cities/ towns and Vadodara that are run by Gujarat State Road Transport Corporation (GSRTC). And one can change the bus at Vadodara to reach Statue of Unity.
Visitor Information
Statue of Unity
The Statue of Unity is open everyday except Mondays between 8 AM and 6 PM. It is best to pre-book the tickets and they can be purchased online on SOU Tickets website. You can also purchase tickets from the ticket counter (Update: The ticket counters are closed due to COVID). Note: All attractions are ticketed and visitors need to have a valid ticket to enter.
There are a few things that one can do at Statue of Unity.
The statue has a viewing platform on the 45th floor and there are two lifts that take the visitors from ground to 45th floor in just 38 seconds.
There is also a museum in the statue dedicated to Sardar Vallabhbhai Patel and his freedom struggles.
A must see in the laser, light and sound show that happens at 7:00 PM every night except on Mondays.
And do not forget to take the Ekta cruise to see the statue from waterfront. The cruise is 7 kilometres long and have various time slots during the day. It is best taken during the sunset.
Ekta Nagar
The Statue of Unity is surely one of the main attractions but there are many more adventures that the visitors can indulge in. Ekta Nagar offers plenty of things to the tourists and is perfect for any kind of traveler. Be it luxury or adventure, the area has everything. A few of the activities one can do are:
Visit the Valley of Flowers and the Glow Garden.
Take a ride on the Ekta cruise to get panoramic views of the dam and river.
Be amazed at the Butterfly Garden.
Learn about the medicinal plants at Arogya Van.
See the various plants, trees and soil from all seven continents at Vishwa Van.
Be adventurous and go on a River Rafting or Zipline trip.
Shop at Ekta Mall that has stores for each state in India.
Safety for solo female travelers
The Statue of Unity is very safe for solo female travelers. It is constantly monitored and everyone's safety is taken care of. However, be cautious at night and know your surroundings especially after getting down from the cruise while returning.
Note: I was part of the bloggers and influencers travel meet organised and hosted by Gujarat Tourism and hence I did not travel to SOU alone.
Closing Notes
I highly recommend visiting Statue of Unity at least once when you are in Gujarat. It is an amazing attraction and has a national significance. I would love to go back and explore the area more and stay there for a longer period of time.
Have you visited Statue of Unity? What did you love about it? Let me know in the comments below.
How can you support me?
You know how much I love coffee, so you can buy me coffee – Buy me Coffee!
Or you can purchase from one of the below travel resources without any extra charge to you.

Travel Resources
Click to book your flight on Skyscanner.com
Click to book your accommodation on Stay22
Click to book a comprehensive travel insurance on Safety Wing
Click to book your tours and travels on Viator or GetYourGuide
If you liked this article and if it was helpful in your planning or traveling, do share, tweet, or pin this post.

Follow me on Instagram | Facebook | YouTube | Twitter | LinkedIn
Do you have a question? Or want any suggestions, and tips for travels, hikes and scuba dives? Use the Subscription box below to sign-up and get updates by email.
PIN for later reference