Cellular Jail: Echoes of Freedom's Struggle in the Andamans (2024)
One of the most emotional places I have visited is the Cellular Jail. It is a witness to the sufferings of many of our freedom fighters and soldiers who went through hell in the name of fight for freedom. When I visited Cellular Jail the first time around, I did not realise the importance and significance that much. But when I visited the second time around, it was a very touchy and a sentimental experience.
PIN for later reference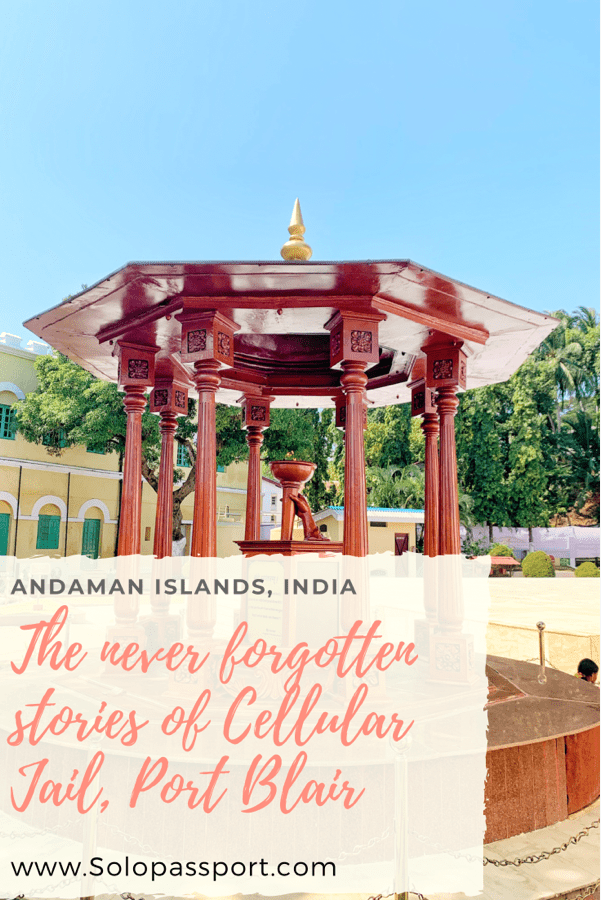 This article may contain affiliate links, meaning if you decide to make a purchase via my links, I may earn a commission at no additional cost to you. For full information, please see our affiliate disclaimer here.
Disclaimers:
The prices mentioned in the post are valid only at the time of publication. Ensure to check the booking websites for up to date information and prices.
Opinions and views expressed solely mine and are unbiased. If the post is a collaboration, then they are specifically mentioned.
Ensure to check the relevant websites for up to date information on COVID protocols.
For any adventurous activities, please note that there is a risk that can be dangerous. Ensure to read the terms and conditions with individual agencies recommended and do them at your own risk.
For visas, it is best to see the embassy website for any changing rules.
Andaman and Nicobar Islands Travel Resources
For Best Hotel Deals in Andaman and Nicobar Islands, use Booking.com or Goibibo
For Hostels in Andaman and Nicobar Islands, use HostelWorld
Use Skyscanner or Trip.com to get affordable flight tickets to Andaman and Nicobar Islands
Viator and GetYourGuide are your best tour operators
Rentalcars and Discover cars are the best agencies to rent out cars at lowest prices
For comprehensive travel insurance, use SafetyWing or WorldNomads

Travel Blogs:
One Week in Andaman and Nicobar Islands
Travel Guide to Havelock Island
Scuba Diving in Havelock Island
Travel Guide to Neil Island
Scuba Diving in Neil Island
Plan Your Visit to Chidiya Tapu
One Day Trip to Baratang Island
One Day Trip to Ross Island from Port Blair
Never Forgotten Tales of Cellular Jail
One Day Trip to Jolly Buoy Island from Port Blair
Reasons To Skip North Bay Island
About Cellular Jail
Also known as Kala Paani (Black waters in Hindi language), Cellular Jail was a colonial prison in Port Blair of Andaman and Nicobar Islands. It was also called Kala because black represents death.
The prison was a prison for political prisoners (Indian freedom fighters) that was used by British Government to deport all the freedom fighters whom they considered as criminals. It is considered as the temple for freedom fighters.
Hire a guide to know about the stories. The guides are available at the entrance of Cellular Jail.
The freedom fighters were subjected to many cruel and physical torture. They were locked up with metal rods and many lost their lives because of the cruelty.
Stories of The Never Forgotten Heroes
There were many freedom fighters, not just the ones mentioned below, who made history and gave their life for our nation. They were the prisoners and inmates at Cellular Jail and had huge contribution for freeing India. During my visit, I learned that there were many prisoners who were not given any recognition by Independent India for their struggles and fights.
Mahavir Singh
Mahavir Singh was the son of Kunwar Devi Singh. Born in 1908 in Uttar Pradesh, Mahavir Singh was an active member of Hindustan Socialist Republican Army. Hindustan Socialist Republican Army was a revolutionary organisation that was formed by Ram Prasad Bismil, Sachindra Nath Bakshi, Sachindranath Sanyal and Jogesh Chandra Chatterjee.
Mahavir Singh was arrested and deported to Cellular Jail for the Lahore Conspiracy case. In the jail, he participated in the first hunger strike in May 1933. Due to the brutal force feeding, he breathed his last.
Sachindranath Sanyal
Co-founder of Hindustan Socialist Republican Army, Sachindranath Sanyal was an Indian revolutionary who was born in 1893 in Varanasi. He was arrested and deported to Cellular Jail because of the Benaras conspiracy case. In 1920 in the wake of victory of Britain, British government released many prisoners including Sachindranath Sanyal. Even after his release, he continued fighting for the freedom. He mentored other freedom fighters like Bhagat Singh and Sukhdev.
Yogendra Shukla
Another co-founder of Hindustan Socialist Republican Army, Yogendra Shukla was born in 1896 in Bihar. For 5 years between 1932 and 1937, Yogendra Shukla was a prisoner in Cellular Jail. He was imprisoned in many jails and due to the long years of prison life, he was seriously ill and breathed his last in 1960.
Vinayak Damodar "Veer" Savarkar
Born in 1883, Vinayak Damodar "Veer" Savarkar was an Indian activist and politician. He was arrested and deported to Cellular Jail for two charges, the Nasik conspiracy case and under code 121-A against King Emperor conspiracy. He was sentenced for life imprisonment for a total of 50 years. Savarkar breathed last in 1966 in his residence in Bombay.
Batukeshwar Dutta
One of the freedom fighters who were not recognised by Independent India was Batukeshwar Dutta. Born in 1910 in West Bengal, Batukeshwar Dutta was an Indian independence fighter and a revolutionary. He was a member of Hindustan Socialist Republican Association. He was sentenced to life imprisonment and sent to Cellular Jail because of the Central Assembly Bomb case. In 1965, he died due to long illness in New Delhi.
Booking for Cellular Jail
Visiting Cellular Jail is a very popular tourist attraction in Port Blair. The Cellular Jail (not the light and sound show) is open in two time slots; 9 AM to 12:30 PM and 1:30 PM to 4:45 PM. There is a very minimal entrance fee of INR 30 per person for Indian and INR 100 per person for Foreign nationals. The ticket can be purchased at the entrance of the jail and the ticket includes the visit to the Jail museum.
Jail museum
Cellular Jail museum is a very important place within the Cellular Jail complex. It has the stories and the artefacts depicting the lives of the prisoners. The museum is definitely a must visit and a great place to learn about Indian history.
Light and sound show
The light and sound show is a show where an old tree in the Cellular Jail tells the tales of the prisoners and the sufferings they went through. It is narrated in Hindi and English languages. Usually, the bookings for light and sound show (costing INR 300 per person) gets sold out pretty quickly. Hence, I highly suggest advance booking your visit. There are two ways to register for the light and sound show:
Advance booking on Andaman Tourism website.
Booking at the entrance. Even though there are steps clearly mentioned (as shown in the picture below) at the entrances, the booking is a tedious and lengthy process, especially considering that the island does not have very good Wifi network.
How to Get to Cellular Jail?
The Cellular Jail is around 8 kilometres from Port Blair city and the best way to get there is by road. Port Blair has many taxis and auto rickshaws. Make sure to haggle with the auto drivers as they do tend to charge more and the autos do not have the metre. For one way, we hired an auto rickshaw and while returning, we walked back to our hotel.
Closing Notes
My visit to Cellular Jail was an eye-opener. It gave me a glimpse of all the sufferings that our nation's freedom fighters went through so we could breathe in free India. I advise everyone visiting Andaman islands to pay their respects and visit this amazing temple.
How can you support me?
You know how much I love coffee, so you can buy me coffee – Buy me Coffee!

Or you can purchase from one of the below travel resources without any extra charge to you:
Travel Resources
Book your flight on Skyscanner.com or Trip.com
Reserve your accommodation on Stay22
Buy comprehensive travel insurance on SafetyWing and WorldNomads
Book your tours and travels or purchase tickets on Viator or GetYourGuide
For a universal SIM card, use DrimSim
If you liked this article and if it was helpful in your planning or traveling, do share, tweet, or pin this post.

Follow me on Instagram | Facebook | YouTube | Twitter | LinkedIn
Do you have a question? Or want any suggestions, and tips for travels, hikes and scuba dives? Use the Subscription box below to sign-up and get updates by email.
PIN for later reference