Travel Guide | Havelock Island/Swaraj Dweep
Have you ever pictured yourself where you are at a clean beach sipping a Pino Colada watching a spectacular sunset? Of course, you have! All of us have. And this is exactly what you can expect at Havelock Island in Andamans. The beaches are very picturesque and it is one of the beautiful islands I have ever seen.
Andaman Islands also has Neil Island. It is another island that is lovely and a must visit. Read travel guide to Neil Island.
PIN for later reference
This article may contain affiliate links. For full information, please see our affiliate disclaimer here.
About Havelock Island
Havelock Island, now known as Swaraj Dweep, is one of the islands which is part of Andamans Islands in India. It is part of the South Andaman district. The island is around 40 kilometres from the capital city of Port Blair.
According to Wikipedia, Havelock Island is named after a British General, Sir Henry Havelock. It was renamed to Swaraj Dweep in December 2018, as a tribute to Subhash Chandra Bose.
Getting to Havelock Island
By Air
Pawan Hans Helicopters Limited have seaplanes between Port Blair and Havelock. The flight time is about 20 minutes.
The flights are available only on Monday, Wednesdays, Thursdays, and Saturdays.
By Ferry or Boat
There are government-operated ferries and private cruises between Port Blair and Havelock. The travel time by private cruise is about 2 hours and costs around INR 3050.
The government-operated ferries are cheaper but takes longer time.
Ensure to book the ferry/cruise in advance as Adamans is a very popular tourist destination and is generally booked out.
Best time to visit
The best time to visit Havelock Island is during winter season, which is between the months of December and February as the climate is cool and pleasant during these months. During summer season, it is extremely hot and I would not recommend traveling during that time.
Phone network and Internet
Phone network – Only Airtel and Vodafone networks work. I had Jio and it did not work at all.
Internet – Even though theoretically data (Airtel and Vodafone) is intermittent, I would say that they do not work on Havelock Island. Some resorts do provide Wifi but they are either extremely slow or most times they do not work.
Transportation within the island
Motorbikes are the best way to travel around the island. One needs to have a valid licence to hire a bike. This needs to be shown at the bike hire centre before picking up the bike. For 24 hours, the cost to rent a bike (excluding fuel/petrol) is INR 500. I rode the bike after 8 years and it surely was amazing fun. The traffic is very low when compared to mainland India.
Ensure to note down all the scratches on the bike before picking it up.
Wearing a helmet is a must even for a pillion rider.
Petrol prices are not included in the cost. They are additional and they are expensive at the bike hire centre when compared to the petrol bunks.
The island also has taxis, they can be used to travel between the ferry drop point and the resorts. The cost of a one-way taxi ride is INR 300.
Ensure to haggle with the taxi driver.
Important Information
Supermarkets and shops
There are plenty of shops and supermarkets to buy groceries and water. The water is cheaper at the supermarket when compared to buying them at the resort.
The water bottles are available only in 2 litre bottles.
Wildlife
There are sea snakes and crocodiles on the island. So please be careful as to where you step and walk around. It is best to avoid Mangrove forests.
Place to stay on Havelock Island
There are plenty of resorts on the island. And some of these resorts are along the beach and have a part of the beach in their backyard. I stayed at White Coral Beach Resort which was also along the beach. The stay was good and comfortable. I also loved their towel art.
Review | White Coral Beach Resort (Havelock Island)
Staff – Even though the reception staff was not that friendly, the remaining room service staff were very good. They were more friendly and nice.
Room – The room was spacious and clean. They were well maintained.
Location – The resort was around 15 to 20 minutes from the ferry point. The resort had a beach in their backyard.
Food – The food is good, even though it is very oily. The food is reasonably priced.
Wifi – Even though they had Wifi, the Wifi did not work very well for me.
Things to do in Havelock Island
Scuba Diving
Number one thing that I would recommend doing at Havelock is to go scuba diving. The water is absolutely amazing. It is very clear and warm – a perfect condition to dive. Most of the beginners are taken to the Nemo Reef. As the name suggests, Nemo Reef is famous for the clown fishes, which are famously known as Nemos. I loved this dive site even though it was very crowded with all kinds of divers, especially beginners. The marine life is spectacular and there is so much activity happening underwater. The cost of one dive for a beginner is quite cheap, ranging from INR 2500 to INR 3500.
Another island to scuba dive in Andaman islands is at Neil Island. The water is amazing in Neil island and it has some of the best dive sites.
There are around 40 dive centres on Havelock. I went with Havelock Divers, also known as Nemo Divers. I completely enjoyed diving with them. The dive staff here are experienced and most importantly very patient with the new divers. The cost for beginners was a little more than INR 3500 but was totally worth it.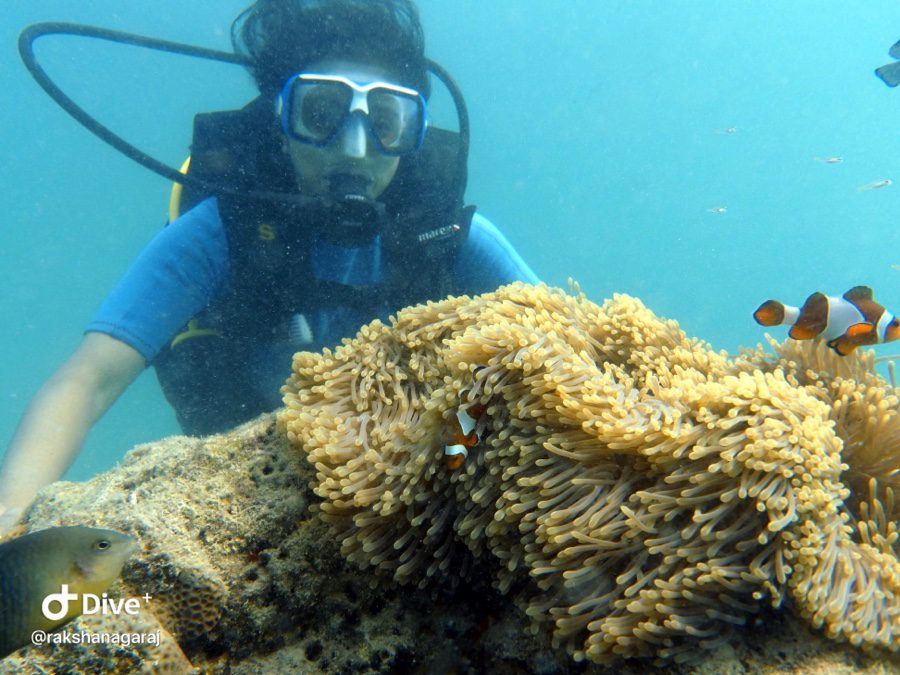 Sunset at Asia's cleanest beach – Radhanagar beach
Havelock is not all about scuba diving. It is also a place to relax and unwind. It is a place to enjoy the beauty nature has to offer. Radhanagar Beach, also commonly known as Beach number 7 by the locals. The beach is a white sand beach with clear waters, which is perfect for a postcard picture. It is definitely the highlight of Havelock Island and was my most favourite place on Havelock.
The beach is also a place to witness the dramatic sunset.
Sunrise at Kala Pathar beach
Kala Pathar beach is a perfect place to witness the sunrise. The beach is a stretch with big black rocks with white sand and pristine blue waters. Kala Pathar beach is also known as Beach Number 5 among locals.
The Kala Pathar beach has a piece of wood where there are no black rocks and this makes a perfect picture with the beach.
Watch corals at Elephant Beach
Elephant Beach is famous for its corals. Sea walking is an activity that is a must at Elephant beach. There are two ways to reach Elephant beach:
By Boat – The boat ride takes about 20 minutes from the main Havelock jetty to Elephant Beach.
By Road – There is a public bus or one can ride a bike to this place. One has to trek between the parking point and the beach.
Interact with locals
The local islanders are very friendly. The kids are extremely cute and friendly. It is surprising to see the way they adapt to nature so well. The island has sea snakes and crocodiles, irrespective of those the islanders do not stop living their lives and enjoying them. So definitely interact with them and listen to their stories.
Closing Notes
Havelock island remains as one of my most favourite islands in the world. It is very pretty and an absolute delight. If the island had good wifi or internet, I would have made the island home for at least a few months.
How can you support me?
You know how much I love coffee, so you can buy me coffee – Buy me Coffee!
Or you can purchase from one of the below travel resources without any extra charge to you.

Travel Resources
Click to book your flight on Skyscanner.com
Click to book your accommodation on Stay22
Click to book a comprehensive travel insurance on Safety Wing
Click to book your tours and travels on Viator or GetYourGuide
If you liked this article and if it was helpful in your planning or traveling, do share, tweet, or pin this post.

Follow me on Instagram | Facebook | YouTube | Twitter | LinkedIn
Do you have a question? Or want any suggestions, and tips for travels, hikes and scuba dives? Use the Subscription box below to sign-up and get updates by email.
PIN for later reference
Also read