Scuba diving in Havelock Island
Scuba diving in Havelock island has definitely spoilt me. It has set the standards and bars so high that any dive has to be really wonderful for it to come close to Havelock island. The dives were absolutely awesome. The warm and clear water with plentiful marine life is what you get when you dive in Havelock island.
Are you visiting Andaman and Nicobar islands for the first time? Refer my travel diaries for all the tips, ideas and itineraries.
PIN for later reference
This article may contain affiliate links. For full information, please see our affiliate disclaimer here.
Where is Havelock island?
The Havelock island is one of the islands in South Andaman district of Andaman and Nicobar islands. Officially known as Swaraj Dweep, this island is truly a spectacular place to discover the underwater world. Not just scuba diving, there are many activities that one can do at Havelock island and have a great vacation.
The best time to visit Havelock island is during the winter season (between the months October and February). I dived in January and the temperature of the water was around 27 to 28 degrees centigrade. And always dive in early morning so the water is not too hot and also so you are done by noon for other things to do on the island.
Scuba diving in Havelock island
Diving in Havelock island was a dream. The conditions for diving was perfect and what every diver dreams of. Warm water with stunning visibility and even more better underwater life. I could not have asked for anything better.
You should also consider diving at Neil island as it is another island that has the best dive sites.
Dive sites
When I was in Havelock island, I dived at two different sites. One was a shore dive at Nemo Reef and the other was a boat dive at Tribe gate. Both were absolutely stunning and were surely two of the best dives I have dived till date.
Nemo Reef
Havelock island is surrounded by stunning coral reefs. The most famous one among the dive centres is the Nemo reef. Nemo reef has plenty of clown fish colonies and hence the name of the dive site. During my dive at Nemo reef, I saw around 5 kinds of clown fishes in its natural habitat. This dive site has to be my favourite dive site ever because of the number of fishes I spotted.
Dive logistics
Type of dive: Shore dive.
Dive site: Open sea.
Wet suit required: Yes, but just 2 mm as the water is very warm (around 28 degrees centigrade).
Depth: Around 9 metres.
Visibility: 7 to 8 metres. Note: The visibility mainly depends on the condition of the sea on that particular day.
Ideal for: Beginners. Many dive centres take the new divers for diving here at Nemo reef. It is very popular for introductory dives.
Current: Nil.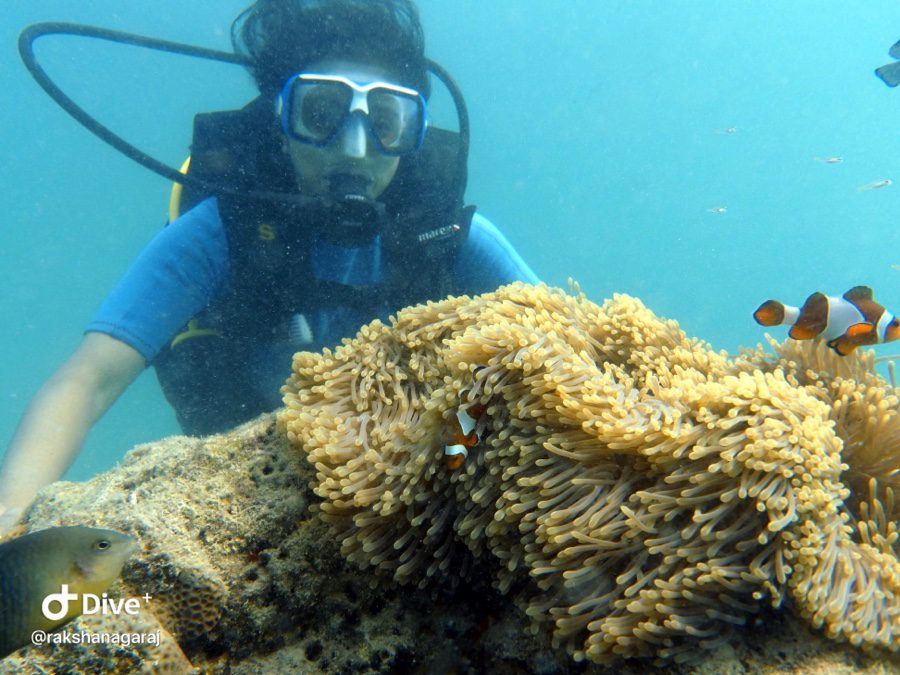 Tribe gate
I did my second dive at the Tribe gate. The dive site had lovely sculptures spread around and it was truly a city underwater. There was also a jeep underwater and it was pretty cool. The current underwater was mild and so I really enjoyed diving at this site.
Dive logistics
Type of dive: Boat dive. The boat ride was just around 5 to 10 minutes from the shore.
Dive site: Open sea.
Wet suit required: Yes but 2 mm is sufficient as the water is really warm (the temperature was around 28 degrees centigrade).
Depth: Around 13 to 14 metres.
Visibility: About 5 to 7 metres. Note: The visibility mainly depends on the condition of the sea on that particular day.
Ideal for: Open water certified divers and above.
Current: Mild to Moderate.
Dive centre
Havelock island has plenty of dive centres. I was told that there were as close to 40 dive centres on the island. I went with Havelock divers, also known as Nemo divers. And I think that was the best choice. My dive buddy Darius was amazing and so passionate about the marine life. I have never met anyone who was so thorough in identifying fishes.
Contact details
Phone numbers: +91 7477777880, +91 8328777757.
The dive centre is open between 6 AM and 7 PM every day.
Cost
The cost for beginner divers for a shore dive (introductory with a dive master or an instructor), the cost is around INR 2500 to 3500 and for a boat dive, the cost is around INR 3500. Make sure to ask for discounts while diving and the dive centres do decrease the price as there is so much competition on the island. Refer the individual website for up to date prices and availability.
Note: I am a PADI certified diver and hence my dives were cheaper than the beginner dives.
Marine life
The marine life at both the dive sites were abundant. The dive sites are perfect for spotting small fishes, especially Nemos (clown fishes). I have never spotted and seen so many fishes during my dives. There were many clown fish colonies, parrot fishes, honeycomb groupers, puffer fishes, squids, cuttlefishes, moray eels, butterfly fishes, banner fishes and many more.
I did not see any big guys while diving in Andaman islands! No sharks or whales but I did see a sting ray and a turtle when I dived in Neil island.
Closing Notes
I had a great time diving in Havelock island. The water, corals and the underwater world was just too mesmerising and I would go back any time in a blink of an eye if given a choice. I highly suggest diving in Havelock island if you want a pleasant experience diving.
Have you dived at Havelock? Let me know in the comments below.
How can you support me?
You know how much I love coffee, so you can buy me coffee – Buy me Coffee!
Or you can purchase from one of the below travel resources without any extra charge to you.

Travel Resources
Click to book your flight on Skyscanner.com
Click to book your accommodation on Stay22
Click to book a comprehensive travel insurance on Safety Wing
Click to book your tours and travels on Viator or GetYourGuide
If you liked this article and if it was helpful in your planning or traveling, do share, tweet, or pin this post.

Follow me on Instagram | Facebook | YouTube | Twitter | LinkedIn
Do you have a question? Or want any suggestions, and tips for travels, hikes and scuba dives? Use the Subscription box below to sign-up and get updates by email.
PIN for later reference