Travel Guide to Neil Island/Shaheed Dweep
The thing with Andaman islands are that every island is better than the previously visited one. And Neil Island does not stay back in the race of being the most beautiful island. Neil Island, now known as Shaheed Dweep, is one of the most amazing islands in the South Andamans district. It lies about 35 kilometres from the capital city of Port Blair.
According to Wikipedia, Neil Island is named after a British Brigadier General, James Neil. It was later renamed to Shaheed Dweep in December 2018, as a tribute to Subhash Chandra Bose.
Did you know that the names of the beaches on Neil Island are named after the characters from the mythological story Ramayan?
PIN for later reference
This article may contain affiliate links. For full information, please see our affiliate disclaimer here.
Getting to Neil Island
By Air
Helicopters run between Port Blair and Neil Island. The flight time is about 20 minutes.
The flights are available only on Tuesdays.
By Ferry/Cruise
There are government-operated ferries and private cruises between Port Blair and Neil Island. The travel time by private cruise is about 2 hours.
The government-operated ferries are cheaper but take longer time.
We took a private ferry from Havelock Island and the travel time between Havelock and Neil Island is around one hour.
Private Ferry Operator: Makruzz 3.
Class: Economy.
Cost: INR 2678 for 2 people.
Ensure to book the ferry/ boat in advance as Andamans is a very popular tourist destination and all the ferries generally booked out pretty quickly.
Best time to visit
Very similar to Havelock Island, the best time to visit Neil Island is during winter season, which is from December to February, as the climate is cool during these months. During summers, it is extremely hot and I would not recommend traveling to Andamans during the summer season.
Phone network and Internet
Phone network – Only Airtel and Vodafone networks work. Jio does not work at all.
Internet – Even though theoretically data (Airtel and Vodafone) is intermittent, I would say that they are non-existent on Neil Island. Some resorts do provide Wifi but they are either extremely slow or most times they do not work at all.
Transportation within the island
Motorbikes are the best way to travel around the island. One needs to have a valid license to hire a bike. This needs to be shown at the bike hire centre before picking up the bike. For 24 hours, the cost to rent a bike (excluding fuel/ petrol) is INR 600. The traffic is very low when compared to mainland India.
Ensure to note down all the scratches on the bike before picking it up.
Wearing a helmet is a must even for a pillion rider.
Petrol prices are not included in the cost. They are additional and they are expensive at the bike hire centre when compared to the petrol bunks. There are fuel stations on the island.
The island also has taxis, they can be used to travel between the ferry drop point and the resorts. The cost of a one-way taxi ride is INR 100 to 150.
Ensure to haggle with the taxi driver.
Important Information
Supermarkets and shops
There are plenty of shops and supermarkets to buy groceries and water. The water is cheaper at the supermarket when compared to buying them at the resort.
The water bottles are available only in 2 litre bottles.
Wildlife
There are sea snakes on the island. So please be careful as to where you step, especially at nights. It is best to avoid the beaches after sunset.
Place to stay on Neil Island
There are plenty of resorts on the island. And some of these resorts are along the beach and have a part of the beach in their backyard. My friend and I stayed at Silver Sand Beach Resort. We were upgraded to a cottage and I must say that it was absolutely beautiful. The cost of one room (Neil Panorama) with 2 meals included was about INR 18254.
Note: Be careful of the sea snakes while walking in the resort after sunset.
Review | Silver Sand Beach Resort (Neil Island)
Staff – The staff were friendly and nice. They were approachable and attended us at all times.
Room – The room was spacious and clean. They were very well maintained. Like I said earlier, we were upgraded to one of the cottages.
Location – The resort was around 10 minutes from the ferry point. The resort had a beach in their backyard.
Food – The food is not good. I would give it a miss.
Wifi – Even though they had Wifi at the reception, the Wifi did not work very well for me.
Things to do in Neil Island
Scuba Diving
Number one thing to do at Neil Island is to scuba dive. The water is absolutely clear, warm and amazing. It is ideal for scuba dives with the visibility is about 15 metres, absolutely stunning and perfect condition to dive.
There are many dive centres on Neil Island. I went with India Scuba Explorers and I enjoyed diving with them. The dive staff were experienced and I had a great time.
One of the coolest things about diving with them was that they dived at a dive site that had not been explored by any other diving agency. The marine life at this unexplored dive site was absolutely breath taking. I saw a sting ray, turtle and a few more rays.
Sunset at Lakshmanpur beach
This is the highlight of Neil Island. We were told that the sunset here was outstanding and one cannot miss seeing the pretty ending of the day. Unfortunately, we could not witness this beauty as we saw the sunset at the Natural Bridge.
Sunrise at Sitapur beach
Sitapur beach is a perfect place to witness the sunrise. The sun rising from the horizon along the beach is something to die for and is totally worth getting up at 4 AM.
The beach is also considered as the Edge of the World. Also, this beach is one of the best places to make local friends.
Glass bottom boat ride
Even though we did not take the glass bottom boat ride, we were told by the locals that it is totally worth it. The rides are conducted at Bharatpur beach. Bharatpur beach is also a perfect beach to go for a swim.
Watch corals at Natural Bridge
Also fondly known as Howrah Bridge, this Natural bridge is a beautiful path to witness different kinds of corals. The corals are dead and are washed up near the path. I was told by a local guide that one can see clown fish colonies from the bridge. Unfortunately, we did not see any clown fishes but we witnessed the sunset on one of the days at the natural bridge.
Note: Be careful of the sea snakes after sunset.
Indulge in local food
There are plenty of restaurants serving local food on the island. I suggest visiting Garden View and Holiday Inn restaurants.
Do try the potato curry at the Garden View restaurant.
Safety for Solo female travelers
I would say that Neil Island is relatively safe. Even though I traveled with a friend of mine, I would still vouch that this island as a good destination for solo female travelers. Having said that, like any other place, ensure to take appropriate precautions while traveling alone and trust your instincts.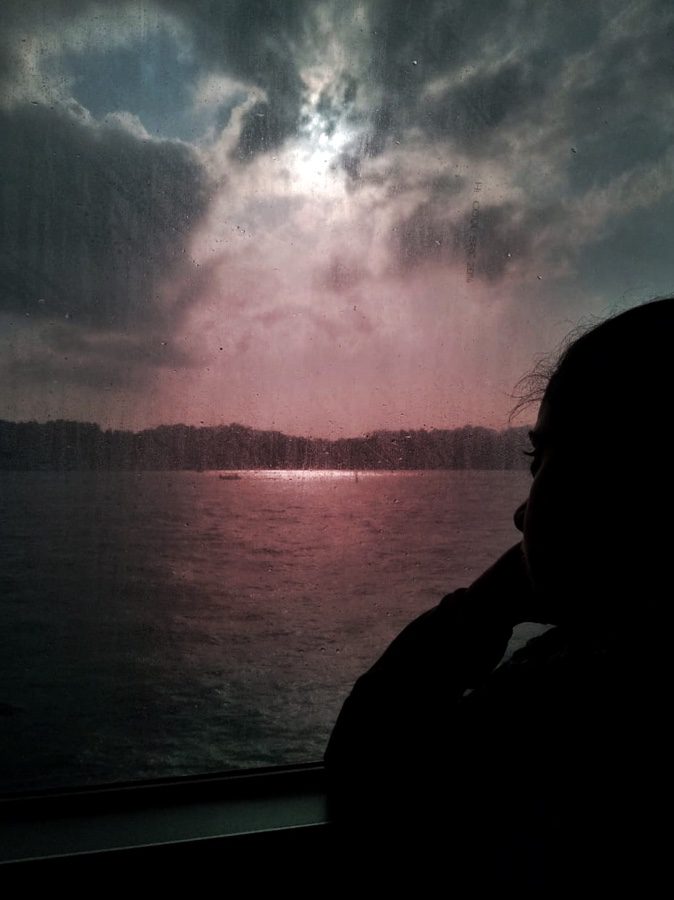 PIN for later reference
Also read