Plan your visit to Chidiya Tapu
A must visit place when visiting Port Blair is Chidiya Tapu. It is a place to see the spectacular sunset on the island. I visited this place when I was in Andaman and Nicobar islands the first time around, with my mother. And it surely was one of the prettiest places I saw during my trip.
Are you visiting Andaman and Nicobar islands for the first time? Then start by reading my travel diaries from Andaman islands.
PIN for later reference
This article may contain affiliate links. For full information, please see our affiliate disclaimer here.
About Chidiya Tapu
Situated in the southern tip of South Andaman, Chidiya Tapu is covered with dense forests, especially mangrove trees. It is one of the most popular places in Andaman islands as it is close to Port Blair and a lovely place to see the glorious sunset. Chidiya in Hindi means bird and as the name suggests Chidiya Tapu is a place to spot Andaman islands' local birds.
Established in 2001, the Chidiya Tapu biological park was set up to conserve the flora and fauna on the island. There is an entrance fee of INR 20 per person and INR 10 per child to enter the biological park and the park is open between 6 AM and 7 PM. The best time to visit the Chidiya Tapu is either in the morning or during sunset. Also, be careful of the crocodiles, snakes and jelly fishes. There are signs everywhere that display where to go and where not to.
How to get to Chidiya Tapu?
Chidiya Tapu is around 30 kilometres from Port Blair and by road, the journey takes about 30 minutes. The best way to visit Chidiya Tapu is by hiring a taxi or a bike. We hired a taxi that was suggested by our hotel and it cost us around INR 500 for a few hours.
Things to do at Chidiya Tapu
Even though Chidiya Tapu is very famous for its sunset, there are still other things one can do while visiting the area. One needs at least 2 to 3 hours. A few of them include:
Hike the Munda Pahad mountain. The hike is an easy hike and usually takes less than one hour. If you are planning to do the hike, make sure to visit Chidiya Tapu in the morning.
Ensure to hire a local guide for hiking as they know the area best.
Visit the Munda Pahad beach. The beach is one of the beautiful beaches in Andaman islands.
Spot the local indigenous birds. Ensure to take your camera to capture some of the colourful birds. Unfortunately, I did not see too many birds during my visit.
Scuba diving and snorkeling. I have not dived in Chidiya Tapu but I did scuba dive in Neil and Havelock islands.
There were no toilet facilities when I visited Chidiya Tapu a few years ago. I am not sure if this has changed now.
Safety for solo female travelers
Even though I traveled with my mom and not alone, I felt Andaman islands in general was very safe, including the solo female travelers. I never had any issues whatsoever and all the people I interacted were very friendly and warm. However, like any other place in the world, be cautious and know your surroundings, especially at nights and at isolated places. Also, Andaman islands are known for crocodiles, so be careful as to where you go and step.
Are you new to solo traveling? Do you have questions about solo traveling? Read frequently asked questions for solo traveling.
Closing Notes
If you have time in Port Blair, I highly recommend visiting Chidiya Tapu. It is truly one of the beautiful places around the island and a lovely place to catch sunset. But if you do not have sufficient days on your vacation, then you can skip visiting Chidiya Tapu as there are other islands that are truly amazing and breath-taking.
Have you visited Chidiya Tapu? Let me know in the comments below.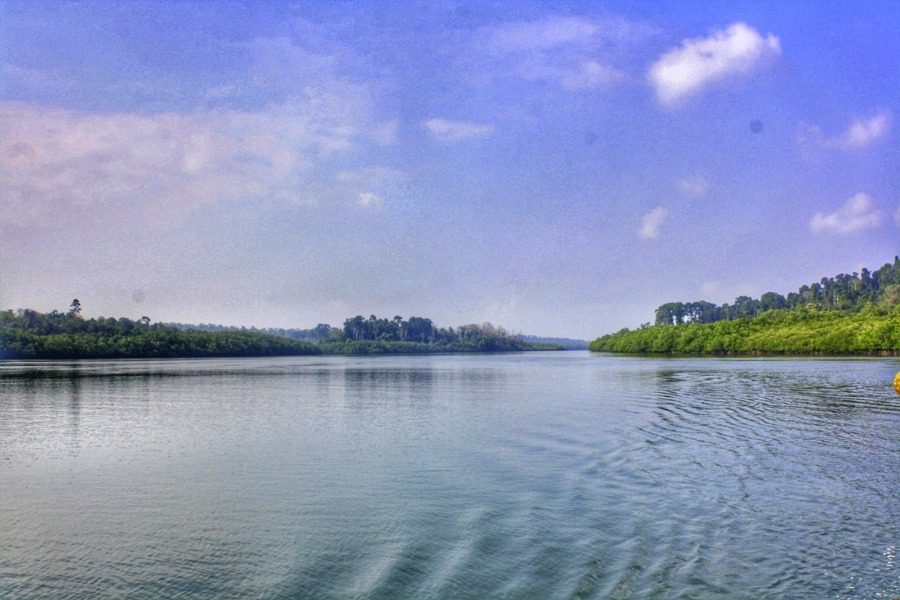 How can you support me?
You know how much I love coffee, so you can buy me coffee – Buy me Coffee!
Or you can purchase from one of the below travel resources without any extra charge to you.

Travel Resources
Click to book your flight on Skyscanner.com
Click to book your accommodation on Stay22
Click to book a comprehensive travel insurance on Safety Wing
Click to book your tours and travels on Viator or GetYourGuide
If you liked this article and if it was helpful in your planning or traveling, do share, tweet, or pin this post.

Follow me on Instagram | Facebook | YouTube | Twitter | LinkedIn
Do you have a question? Or want any suggestions, and tips for travels, hikes and scuba dives? Use the Subscription box below to sign-up and get updates by email.
PIN for later reference