One day trip to Baratang Island
I visited Baratang island, with my mother, during my first visit to Andaman and Nicobar islands. It was an island that was suggested by a local and I think a one day trip from Port Blair was totally worth it. Baratang island is a very interesting place where one can see a completely different aspect of Andaman islands.
Are you visiting Andaman and Nicobar islands for the first time? Then start with my travel diaries to get the ideas, tips and itineraries.
PIN for later reference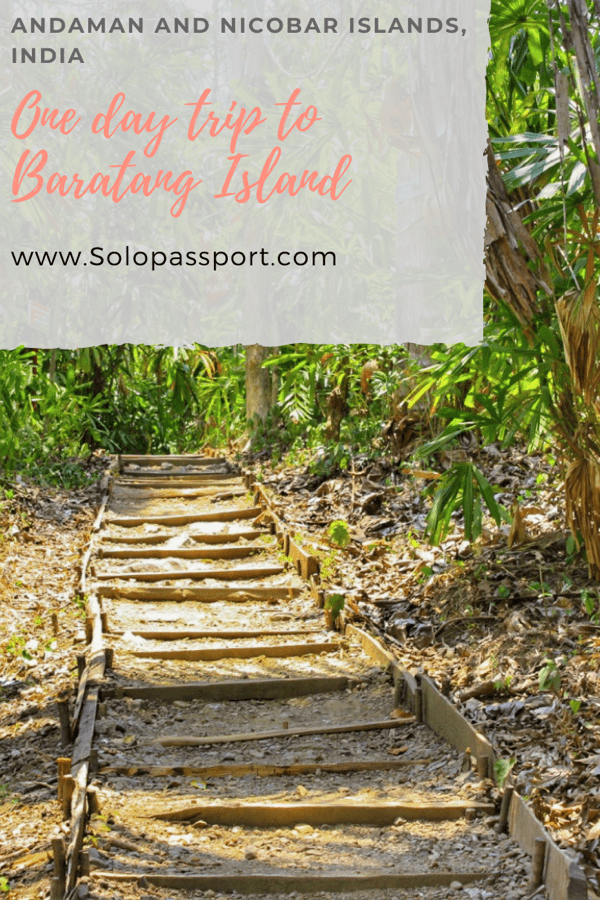 This article may contain affiliate links. For full information, please see our affiliate disclaimer here.
Where is Baratang Island?
Located in the North and Middle Andaman districts, the Baratang island constitute twelve villages with around 5000 inhabitants, mainly by the Jarawa tribes. The Jarawa people are the local indigenous people of Andaman islands.
Note: One cannot interact with the Jarawa people as it is not allowed by the government. When we were traveling by taxi to Baratang island, we saw one tribal person by the side of the highway. But unfortunately, no photographs or interaction was allowed.
Famous for its spectacular beaches and mangrove forests, the Baratang island is also known as Ranchiwalas island. Towards the end of nineteenth century, British sent the Ranchi refugees as labourers to Baratang island to cultivate crops. The labourers settled on the island and made new lives for themselves.
How to get to Baratang island?
Baratang island is accessible by a boat from Middle strait jetty. The Middle strait jetty is around 90 kilometres from Port Blair and by road, the journey takes about 2 hours one way.
There are bus services between the Jetty and Aberdeen Bazaar in Port Blair and the bus journey takes around 2 hours 30 minutes. The fare (which is minimal) needs to be paid by cash and ensure to take the exact change.
The easiest way is also to hire a taxi for the day, where the taxi driver stays with you for the entire day and that way the return journey is covered too. The cost of the one day taxi is around INR 2000.
While you are in Port Blair, make sure to visit the Cellular Jail and hear the stories of our freedom fighters.
Things to do at Baratang Island
Baratang island is popular for its natural and unique things to see. But a few things to remember before visiting Baratang island are:
The only way to get to Baratang island is by a boat. There are speed and local boats available. The speed boat cost around INR 750 per person.
The prices may be outdated and ensure to check with individual providers for up to date prices.
Taxis can be hired from the hotel reception as they are usually trust worthy.
The best time to visit the Baratang island is during the winter season (between the months of October and February). I definitely would not suggest visiting the islands during the summer season as it is extremely hot.
Be careful of the crocodiles, especially at mangrove forests. Keep your hands safe and inside the boat and do not keep your hands near the water.
There is no entrance fee to visit Baratang island.
Wear comfortable shoes as there is a bit of walking around on the island.
The Baratang island is closed on Mondays.
Talk to the locals and get some insight.
There are a few shops on the island where one can purchase lemon juices and some local fresh or packaged food products. Ensure to carry cash to purchase these food items and drinks.
Take sufficient water.
Limestone cave
The Limestone cave at Baratang island is one of the largest and deepest caves discovered by humans. Formed by compression of deposits over millions of years, the cave is made up of sedimentary rock called limestone that was originally at the bottom of the ocean. Limestone deposits have different textures and are easily dissolved by rain water.
If possible, hire a local guide to explain you the rock formations.
Mud volcano
One of the unique things you will see in Baratang island is the mud volcano. Till I visited this island, I did not even know there was something called mud volcano.
The mud volcano is created using the natural gases emitted by the decaying organic matter underground. As the gas pushes the mud upwards, it deposits and hardens the ground above. And as the mud oozes and spills out, it grows in size and forms a miniature volcano which is called as the mud volcano.
Some of the things I learned about the mud volcano after my visit were:
Difference between a regular and mud volcano is that the regular volcano erupts molten rocks, chemicals and ash where as mud volcano erupts gases and mud.
Mud volcano is cold.
The mud volcano has no medicinal benefits and it destroys the vegetation and anything that is in its zone.
The outflow of regular volcano is called lava where as the outflow of mud volcano is called mud flow.
Mangrove forests
Baratang island is home to some amazing mangrove forests. The mangrove trees have small air roots called pneumatophores or aerial roots and they extend upwards from underground roots. During the low tides, these small air roots suck up air and transport it to the lower and living root tissues.
Did you know that the fruits of Mangrove forests are called Vivipores? Some are smooth, pointed and long. They fall vertical and float in the water for certain distance till they are held by mud, which leads to a new generation of a mangrove tree. How fascinating is that!
Closing notes
One day trip to Baratang island from Port Bair is a must for sure. Visiting this side of Andaman islands is a completely different experience than just seeing the pretty and clear beaches of the islands. I highly recommend visiting the Baratang island.
How can you support me?
You know how much I love coffee, so you can buy me coffee – Buy me Coffee!
Or you can purchase from one of the below travel resources without any extra charge to you.

Travel Resources
Click to book your flight on Skyscanner.com
Click to book your accommodation on Stay22
Click to book a comprehensive travel insurance on Safety Wing
Click to book your tours and travels on Viator or GetYourGuide
If you liked this article and if it was helpful in your planning or traveling, do share, tweet, or pin this post.

Follow me on Instagram | Facebook | YouTube | Twitter | LinkedIn
Do you have a question? Or want any suggestions, and tips for travels, hikes and scuba dives? Use the Subscription box below to sign-up and get updates by email.
PIN for later reference