One week in Andaman and Nicobar Islands
Who would not dream of having an amazing vacation at islands or a beach? The islands that are surrounded by pristine and clear blue water? A holiday or a travel at any of the islands in Andaman and Nicobar Islands gives you exactly that. I have been to Andaman islands twice and I am still craving to go back there again and spend more number of days exploring the islands and the underwater world. The second time around I spent one week in Andaman and Nicobar Islands.
PIN for later reference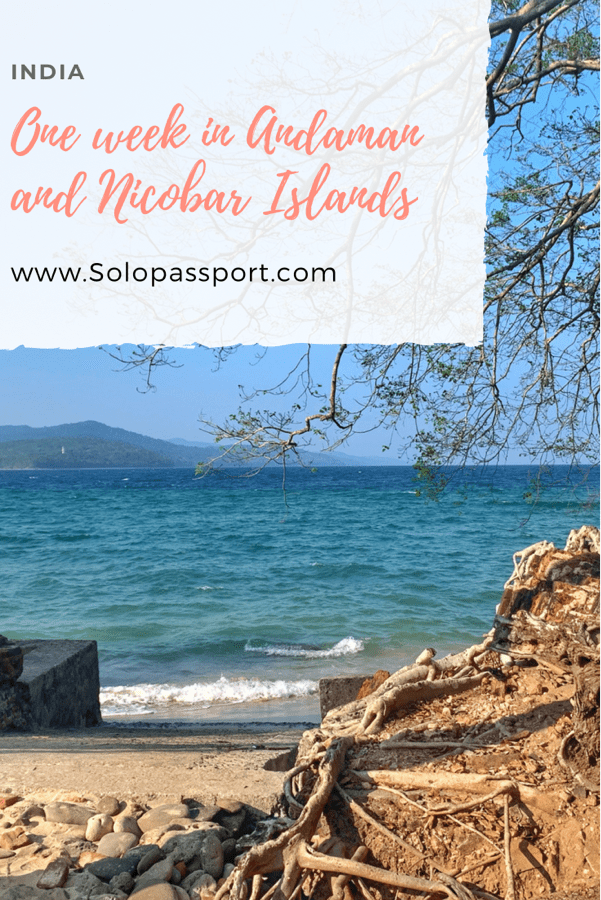 This article may contain affiliate links. For full information, please see our affiliate disclaimer here.
Where is Andaman and Nicobar Islands?
Andaman and Nicobar Islands is a union territory, divided as two groups of islands in India. Consisting of 572 islands, out of which only 38 inhabited, the islands are located on the intersection of Bay of Bengal and Andaman Sea. Port Blair is the capital city of the islands. As it is part of India, Indians can freely visit Andaman islands.
The islands are also home to many tribes including the Sentinelese people, an untouched tribe in the world. It is believed that the Sentinelese people are the only people who have not reached beyond the Old Stone age level of technologies. There are documental evidence that the earliest inhabitants lived on the island some 2200 years ago.
One cannot visit Nicobar islands as most of the islands are isolated and are not habited. Special permits need to be obtained and getting permits from the Indian government to visit Nicobar islands is very difficult.
The best time to visit the Andaman islands is during the winter season (between the months of October and February) as the weather is pleasant and cool. I highly recommend not visiting the islands during the summer season as it is extremely hot and dry and you will not enjoy your vacation or time on the islands.
Andaman Islands have a lot of islands and things to do. Even though it requires a lot of days, I suggest 7 to 10 days vacationing to unwind and relax. As I mentioned earlier, I have been to Andaman Islands twice and both the times it has been for 7 days each.
How to get to Port Blair?
Port Blair is the gateway to Andaman and Nicobar Islands. The city is well connected, by direct flights, with cities such as Bangalore, Chennai, Kolkata, New Delhi, Mumbai and Vishakapatnam. Air India, Go Air, and Spice Jet are a few of the flight providers and the flight journey takes about 2 to 3 hours. The cost of return flights from Bangalore is around INR 11,000 per person.
There are also ferries operated by The Shipping Corporation of India Ltd. that run between Chennai, Kolkata and Vishakapatnam, and Port Blair. The ferry takes about 3 to 4 days.
Transportation on the islands
The islands have buses that go between places and the cost of traveling on buses is very cheap. But the best way to travel around the islands is either by hiring a car or a motor bike. There are very few taxis on the islands and there is no Uber or Ola cab services yet. The motor bike costs about INR 500 per day and that does not include the fuel and the motor bike needs to be returned with full tank fuel. Port Blair also have auto rickshaws to travel around.
Andaman Islands to consider visiting
Andaman islands have many more islands than the ones listed below. However, these are some of the beautiful islands that can be accommodated in one week itinerary.
Havelock Island
Officially known as Swaraj Dweep, Havelock island is in the South Andaman district. It is named after British General, Sir Henry Havelock. This island is surely my most favourite island from all the islands I visited.
Further read - Travel guide to Havelock Island.
Neil Island
Officially known as Shaheed Dweep, Neil Island is also in the South Andaman district. It is known for its spectacular beaches and coral reefs. The island was named after British Brigadier General, James Neil. After Havelock Island, Neil island is my next favourite island to visit.
Further read - Travel guide to Neil Island.
Ross Island
Officially known as Netaji Subhas Chandra Bose Island, the Ross island is an island in the South Andaman district. It is just around 3 kilometres from Port Blair and has historical ruins. The island is an abandoned British settlement.
Further read - One day trip to Ross island from Port Blair.
Jolly Buoy Island
Part of Mahatma Gandhi Marine national park, the Jolly Buoy island is famous for its coral reefs. The water is very clear and one can easily see the corals and the marine life from the boat. To visit Jolly Buoy island, one needs to take a permit from the Andaman government. Also, this island is open for visitors only 6 months and the remaining 6 months, the other near by island Red Skin island is open for tourism.
Further read - One day trip to Jolly Buoy Island from Port Blair.
North Bay Island
The North Bay island is visited along with the Ross island as one single trip. It is very popular island for tourism as there are many activities to be done on the island. Because of its popularity, the island is over crowded with people. Of all the islands, the North Bay island is my least favourite island.
Further read - 3 reasons why North Bay island is not worth visiting.
Baratang island
The Baratang island is an island with natural wonders in the North and Middle Andaman districts. It makes a great one day trip from Port Blair. This is an island where one can see a different side of the Andaman islands.
Further read - One day trip to Baratang island.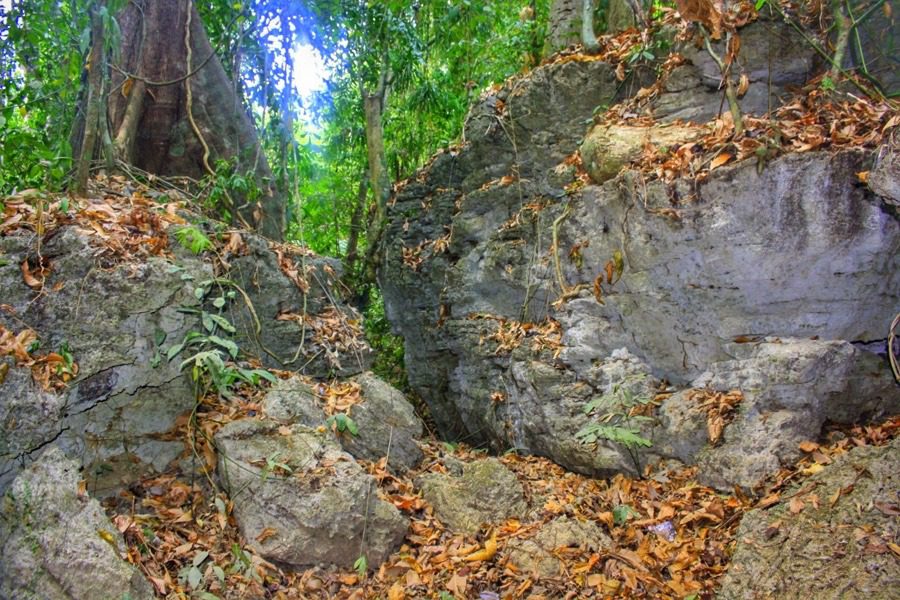 One week in Andaman and Nicobar Islands
A few things to note before visiting Andaman and Nicobar islands:
Only some of the islands in Andaman islands can be visited.
Internet is intermittent to non-existent. Even though some hotels and resorts provide Wifi connections, but it is either extremely slow or does not work.
Airtel and Vodafone networks work on the islands. I had Jio and it was completely useless as the network did not work at all.
There are super markets on the islands from where water and basic things can be purchased.
Day 1 – Port Blair and Havelock Island
After landing in Port Blair, immediately head to take a ferry to Havelock island. Havelock island is just around 40 kilometres from Port Blair and the ferry journey takes about 2 hours.
On the same day, ensure to hire a motor bike and explore the main streets of Havelock island.
For the night, I suggest staying at one of the beach resorts. We stayed at White Coral Beach Resort.
Day 2 – Havelock Island
In the morning, explore the underwater world by scuba diving. Havelock island has been one of the best places where I have dived in the world. The water was warm and the visibility was amazing. We dived with Havelock divers, also known as Nemo divers. The dive was a shore dive at Nemo reef. Diving with Havelock divers was amazing and I highly recommend them.
In the evening, head to Radhanagar beach for the mesmerising sunset. The Radhanagar beach is also one of Asia's cleanest beaches.
Day 3 – Havelock Island and Neil Island
In the morning, see the sunrise from Kala Pathar beach. I assure you that you will not forget this amazing sunrise ever in your life!
Head to Neil island by taking a ferry. Neil island is around 30 kilometres and the ferry journey takes about one hour.
In the evening, explore the local streets of Neil island.
Again, the island has many pretty resorts. We stayed at Silver Sand beach resort, which was the best stay on Andaman islands.
Day 4 – Neil Island
Start your day really early and head to Sitapur beach for sunrise.
After sunrise, make sure to explore the blue waters by scuba diving or snorkelling. Scuba diving at Neil island was breath-taking and I saw so much of marine life. I dived with India Scuba Explorers. The staff were friendly and a cool bunch. I really enjoyed diving with them.
In the evening, watch the sunset at Lakshmanpur beach.
Day 5 – Neil Island
If you loved diving on this island, I suggest heading for another dive again. If you wish to do something else, then there are other water sports and glass bottom boat ride at Bharatpur beach.
In the evening, watch the sunset at Natural bridge. Be careful of the sea snakes at the beach.
Day 6 – Neil Island and Port Blair
In the morning, take a ferry back to Port Blair. Port Blair is around 35 kilometres from Neil Island and the ferry journey takes about 2 hours.
If you plan to visit Jolly Buoy island, take the permit on this day from Andaman and Nicobar islands tourism office.
Visit the Anthropological museum in Port Blair. Established in 1975, the museum has amazing collection of handicrafts, arts, local crafts and stories of tribes. There is an entrance fee of INR 20 per person and the ticket can be purchased at the entrance.
A must do in Port Blair is to visit the Cellular Jail and learn about our nation's history. Make sure to visit the light and sound show in the jail.
Alternatively, you can visit Chidiya Tapu to catch the pretty sunset.
Port Blair has many hotels for all kinds of travelers. We stayed at Hotel Shompen Port Blair.
Day 7 – Port Blair
On this day, there are a number of options. Either take a day trip to Jolly Buoy island or visit Ross and North Bay islands. Alternatively, you could also visit Baratang island.
I am biased towards Jolly Buoy island as the island is untouched and protected.
Take the flight back to main land on the next day.
Expenses
All prices are in Indian rupees (INR) and is per person.
| | |
| --- | --- |
| Category | Amount (per person in INR) |
| Bike hire | 1100 |
| Cab charges | 350 |
| Ferry charges | 5671 |
| Flight tickets | 11149.5 |
| Food | 3895 |
| Miscellaneous | 4000 |
| Scuba dive | 7000 |
| Sightseeing, day tours and entrance tickets | 1785 |
| Stay | 23988 |
| Grand Total | INR 58938.5 |
Safety for solo female travelers
One of the safest places to travel in India is in Andaman islands. People are very friendly and usually mind their own business. However, be careful at nights as the places get very isolated quickly after dark. Also, Andaman islands are known for sea snakes and crocodiles so know where you go and step, especially after sunset.
Closing Notes
I am in love with Andaman islands and I do hope to get back some day to stay there for a longer period of time. When visiting India, I highly suggest visiting Andaman islands and enjoy an exotic location.
How can you support me?
You know how much I love coffee, so you can buy me coffee – Buy me Coffee!
Or you can purchase from one of the below travel resources without any extra charge to you.

Travel Resources
Click to book your flight on Skyscanner.com
Click to book your accommodation on Stay22
Click to book a comprehensive travel insurance on Safety Wing
Click to book your tours and travels on Viator or GetYourGuide
If you liked this article and if it was helpful in your planning or traveling, do share, tweet, or pin this post.

Follow me on Instagram | Facebook | YouTube | Twitter | LinkedIn
Do you have a question? Or want any suggestions, and tips for travels, hikes and scuba dives? Use the Subscription box below to sign-up and get updates by email.
PIN for later reference