Top 10 Places to See in Kolkata (2023)
Kolkata is surely an emotion and has many reasons why the city of Kolkata should be on your bucket list. It is a beautiful city that is stuck back in time. It reminds me of a slow motion movie, shot in the 80s. I absolutely adore Kolkata as I have made some amazing memories there. In this post, you will find the top 10 places to see in Kolkata.
PIN for later reference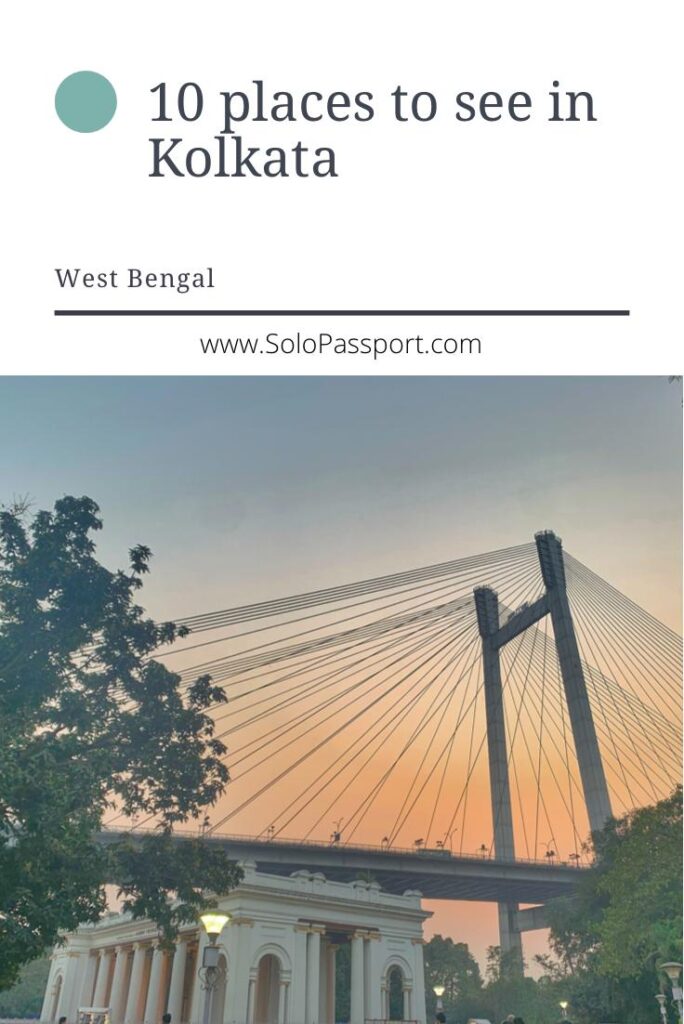 This article may contain affiliate links. For full information, please see our affiliate disclaimer here.
Disclaimers:
The prices mentioned in the post are valid only at the time of publication. Ensure to check the booking websites for up to date information and prices.
Opinions and views expressed solely mine and are unbiased. If the post is a collaboration, then they are specifically mentioned.
Ensure to check the relevant websites for up to date information on COVID protocols.
For any adventurous activities, please note that there is a risk that can be dangerous. Ensure to read the terms and conditions with individual agencies recommended and do them at your own risk.
For visas, it is best to see the embassy website for any changing rules.
About Kolkata
Kolkata is the capital city of West Bengal state in India. The city is the land of Rabindranath Tagore. Formerly known as Calcutta, the city is located between Hooghly River and Bangladesh. Known for its art, including the Pattachitra paintings, and culture, Kolkata has plenty of things to offer.
The best time to visit Kolkata is between the months of October and March as the weather is pleasant. During summer (April and May), the temperature can go up to 40 degrees Centigrade. And during the rainy season (June to September), Kolkata experiences heavy rains.
Are you short on time? Read 4 things to do in Kolkata.
Even though I would love to stay in Kolkata for a longer period of time, I still suggest visiting this city for 4 to 5 days to see everything that the city has to offer. But if you have only 3 days in the city, then here is the perfect 3 days itinerary of Kolkata.
10 places to see in Kolkata
Kalighat temple
Dedicated to Goddess Kali, the Kalighat temple is one of the 51 Shakti Peethas. Kalighat represents the site where Sati's toes of the right foot have been fallen. Even though the temple was referred in the 15th century, the current form is only 200 years old. The image of Kali in the temple is unique and the present idol was created by two saints, Atmaram Brahmachari and Brahmananda Giri. The name Kolkata is said to be derived from the word Kalikata devi of Kalighat temple.
One of the other Shakti Peethas is the Madurai Meenakshi Amman temple in Tamil Nadu, which was my favourite and an absolutely stunning temple.
Kalighat temple is open between 5 AM and 2 PM, and between 5 PM and 10:30 PM.
There is lot of crowd in the temple. In spite of paying INR 100 per person to the local priests for special darshan, you end up standing in a queue that is jam packed where people are shoved and pushed.
Be prepared to shell out a lot of money. The priests at the main garbagruha (place where the deity is) are only there to extort money out of you. They even stand right in front of the goddess so the devotees pay them money (at least INR 100) to see the goddess. Since I did not pay any money, I only got a glimpse of the goddess.
Photography is not allowed in the temple.
The temple has a place for animal sacrifices so be prepared as it is very disturbing.
Mother house
The Mother house is the head quarters of the Missionaries of Charity. Founded in 1950, the Mother house's single purpose is to selflessly service towards the underprivileged and poor. It is the last resting place of Mother Teresa as she was buried in the tomb inside the house. Visitors can offer prayers at the tomb. The house also has a small museum that is dedicated to Mother Teresa's minimalistic way of living and life.
Entrance fee: FREE.
Timings: Everyday between 8 AM and 12 PM, and between 3 PM and 6 PM.
Photography is not allowed in most parts of the house.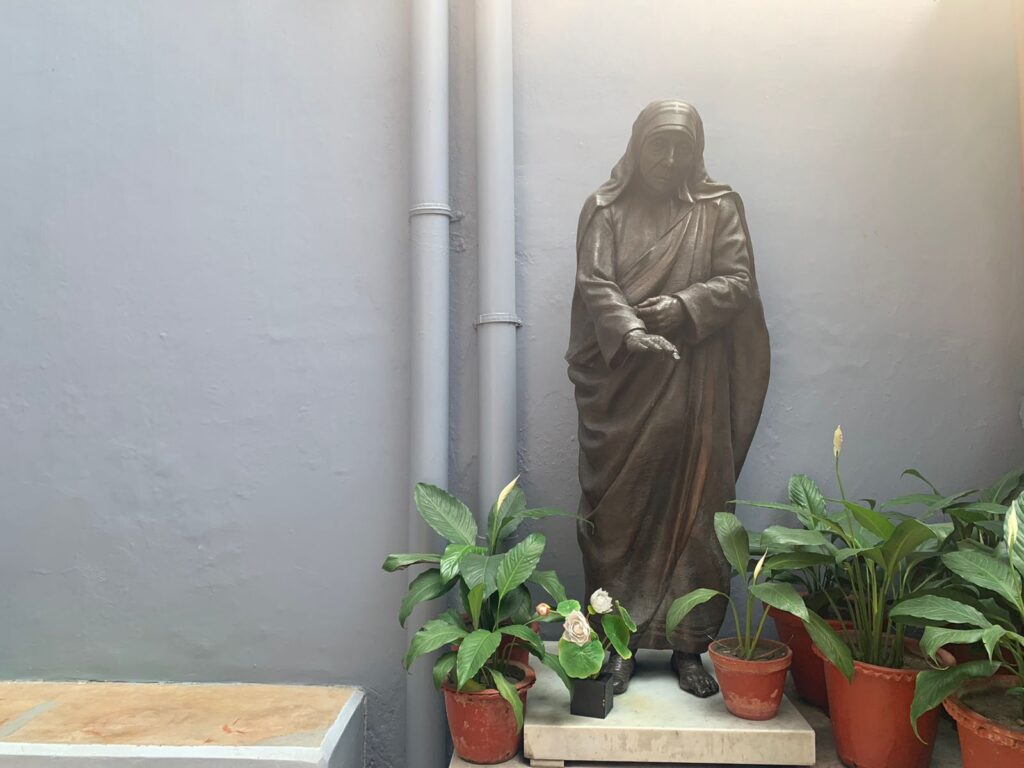 Subash Chandra Bose museum
Netaji Bhawan is the Subash Chandra Bose museum, which is also a memorial and research centre to Netaji Subash Chandra Bose. The house was built by Bose's father in 1909. Bose escaped from house arrest in Netaji Bhawan in 1941 and fled to Berlin. The museum has artefacts of Netaji's life and belongings.
Entrance fee: INR 10 per adult for Indian nationals.
Timings: Tuesday to Sunday between 11 AM and 4:30 PM. But the ticket counter closes at 4:15 PM.
Photography is not allowed inside the house.
Victoria memorial
Built between 1906 and 1921, the Victoria memorial is a large marble building dedicated to Queen Victoria. The building is now a museum with 25 galleries. One of these galleries have a painting of Raja Sri Thanjavore Madhava Rao painted by the famous Raja Ravi Varma. There is a beautiful garden in front of the memorial that cover 64 acres and is a great spot for watching the sunset.
Entrance fee: The entry fee is different for garden and museum. The museum is INR 50 per adult for Indian nationals.
Timings: Garden is open everyday between 6 AM and 6 PM and the museum is open Tuesday to Sunday between 10 AM and 6 PM.
Photography is allowed.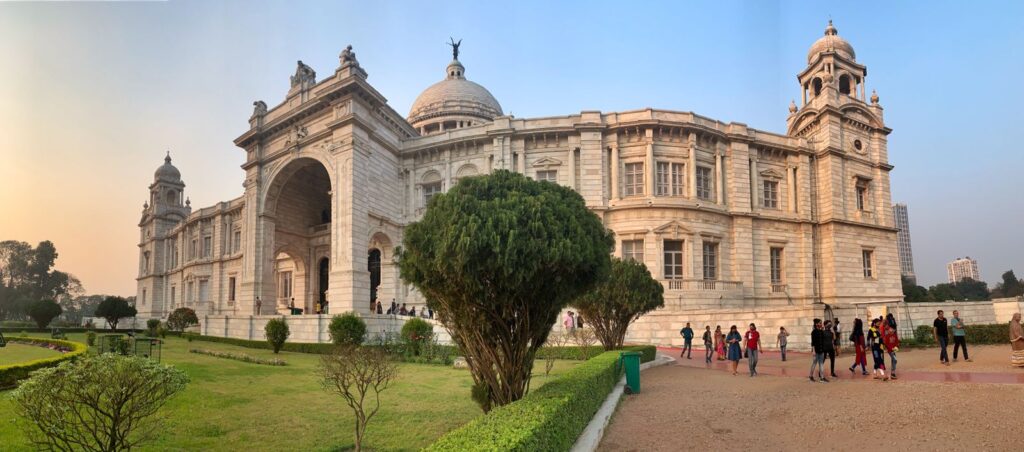 Howrah bridge
Commissioned in 1943, the Howrah bridge is over the River Hooghly. The bridge is one of the four bridges on the River Hooghly. Spanning for 5.75 kilometres, the Howrah bridge was the sixth longest cantilever bridge in the world according to 2013 stats. The bridge serves as the gateway to Kolkata.
Entrance fee: Free.
Timings: All day everyday.
Photography is allowed.
James Princep ghat
Located on the banks of River Hooghly, the James Princep ghat was built in 1841 during the British Raj. The ghat was built in memory of Anglo-Indian scholar James Princep. The monument is rich in Greek and Gothic inlays. It is one of the oldest recreational spots of Kolkata.
Did you know that one of the songs from Parineeta (Bollywood movie) was shot on the ghats?
Entrance fee: Free.
Timings: All day everyday. Sunsets are the best time to visit the ghats.
Photography is allowed.
There are lot of street vendors near the ghats.
Indian museum
One of my favourite museums in Kolkata is the Indian museum. The Indian museum was found in 1814 by Asiatic Society of Bengal. It is the ninth oldest museum in the world and the oldest museum in India. The museum is home to plenty of artefacts that date back to 1st and 2nd century. It also has rooms for other artefacts such as a mummy all the way from Egypt and coins that were used in various civilisations.
Entrance fee: INR 50 per adult for Indian nationals and INR 500 for foreign nationals.
Timings: Tuesday to Sunday between 10 AM and 5:30 PM.
Photography is allowed but there is a cost of INR 50 for mobile and INR 100 for DSLR. Group photography is not allowed.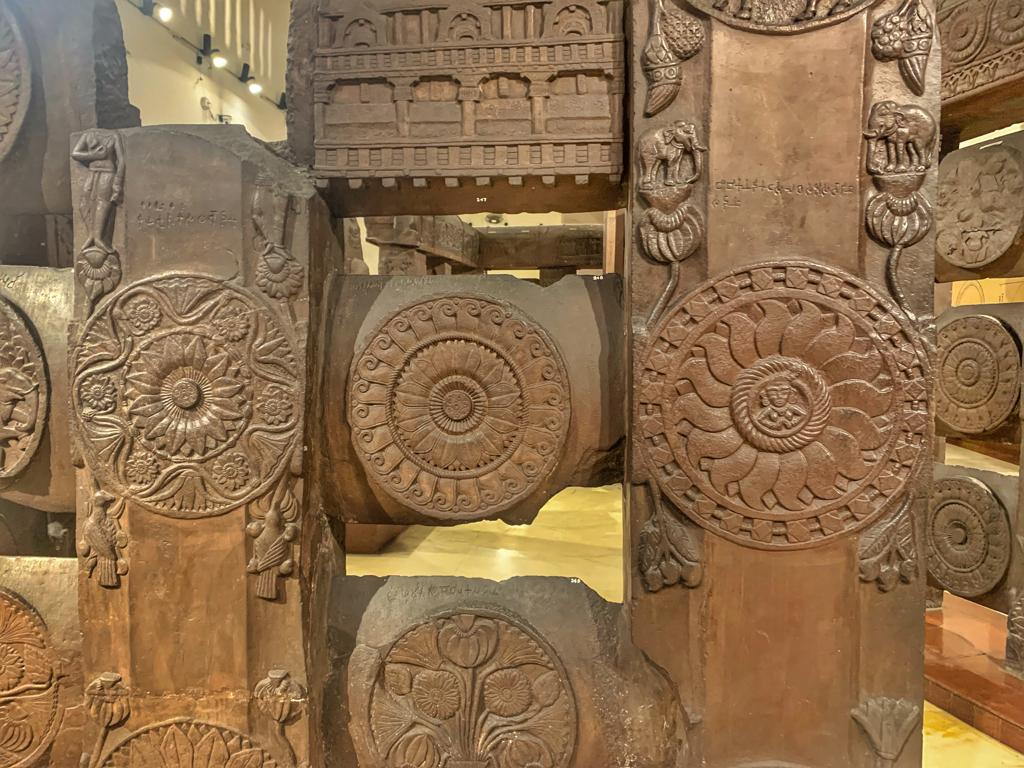 Dakshineshwar Kali temple
Built in 1855 by Rani Rashmoni, Dakshineshwar Kali temple has the main temple dedicated to Kali known as Bhavatarini standing on the chest of Shiva and another twelve shrines dedicated to Shiva. The temple is in navaratna (nine spirals) style of Bengali architecture.
Entrance fee: Free.
Timings: Everyday between 6 AM and 12:30 PM, and between 3:30 PM and 8:30 PM.
Photography is not allowed inside the temple.
Eden gardens
Established in 1864, Eden gardens is a cricket stadium in Kolkata. It is the oldest and second largest stadium in India. The stadium stretches over 50 acres and it can accommodate over 60,000 people.
You cannot go inside the Eden gardens unless there is a cricket match and you have purchased a ticket to attend the match. If you wish to visit the Eden gardens when there is no match scheduled, then you must take permission from Cricket Association of Bengal (CAB).
Kumartuli
Kumortuli or Kumartuli is a potter's town in the northern part of Kolkata. It is known for production of all clay statues and pots. All the statues for festivals in Kolkata are created at Kumartuli. You can walk around the streets of Kumartuli and observe the potters at work.
Entrance fee: Free. However, during the Durga puja, the potters may ask for money to take pictures and walk around the streets.
Timings: It is open all day everyday. But it is best to visit during the mornings.
Photography is allowed.
Stay at Kolkata: The Sonnet
Located in the Salt Lake city, The Sonnet is a 4 star hotel that provides great comfort to its guests. It is an awesome place to stay and it is conveniently located in the city centre next to a metro station. The rooms are spacious and clean. And it has an inhouse restaurant that serves delicious food.
How to get to Kolkata?
Kolkata has an international airport, Netaji Subash Chandra Bose International airport. The airport has connectivity to all cities in India and abroad. SpiceJet and Indigo airways are the affordable airlines for domestic travel.
Kolkata also has a very good train and bus connectivity with all cities and towns in India. Up to date information about trains can be found on IRCTC website.
If you have more time and want to visit one of the places around Kolkata, then you can consider ISKCON at Mayapur.
Safety for solo female travelers
I found Kolkata to be very safe for solo female travelers. Everyone minded their own business and I did not have any issues whatsoever when I traveled alone throughout the city. However, like any other place, be cautious, especially at night.
Closing Notes
I am in love with Kolkata and I do not mind visiting the city over and over again. The city is just so beautiful and every corner looks straight out of a movie. I think Kolkata must be on everyone's list while visiting India.
Have you been to Kolkata? What did you love about the city? Let me know in the comments below.
How can you support me?
You know how much I love coffee, so you can buy me coffee – Buy me Coffee!
Or you can purchase from one of the below travel resources without any extra charge to you.

Travel Resources
Click to book your flight on Skyscanner.com
Click to book your accommodation on Stay22
Click to book a comprehensive travel insurance on Safety Wing
Click to book your tours and travels on Viator or GetYourGuide
If you liked this article and if it was helpful in your planning or traveling, do share, tweet, or pin this post.

Follow me on Instagram | Facebook | YouTube | Twitter | LinkedIn
Do you have a question? Or want any suggestions, and tips for travels, hikes and scuba dives? Use the Subscription box below to sign-up and get updates by email.
PIN for later reference