Meenakshi Amman Temple, treasure of Madurai
I had heard so much about the Madurai Meenakshi Amman Temple. Everybody raved about the religious significance and the architecture of the temple. I like visiting temples because of the architecture and the history they have. And recently on my way back from Kodaikanal, I visited Madurai just to see the gem Madurai Meenakshi Amman temple.
PIN for later reference
This article may contain affiliate links. For full information, please see our affiliate disclaimer here.
About Meenakshi Amman temple
Dedicated to Goddess Meenakshi, avatar of Goddess Parvathi and God Sundareshwara, avatar of Lord Shiva, the Meenakshi Amman temple is located on the banks of River Vaigai in Madurai city of Tamil Nadu state. The temple is one of the 51 Shakti Peethas and is an ancient temple mentioned in the 6th century CE texts of Tamil Sangam literature.
Did you know that Meenakshi Amman temple was nominated as one of the New Seven Wonders of the World?
Meenakshi is derived from the words mina and akshi which means fish and eyes respectively. According to a local story, Meenakshi got her name because she is the ruler of fish.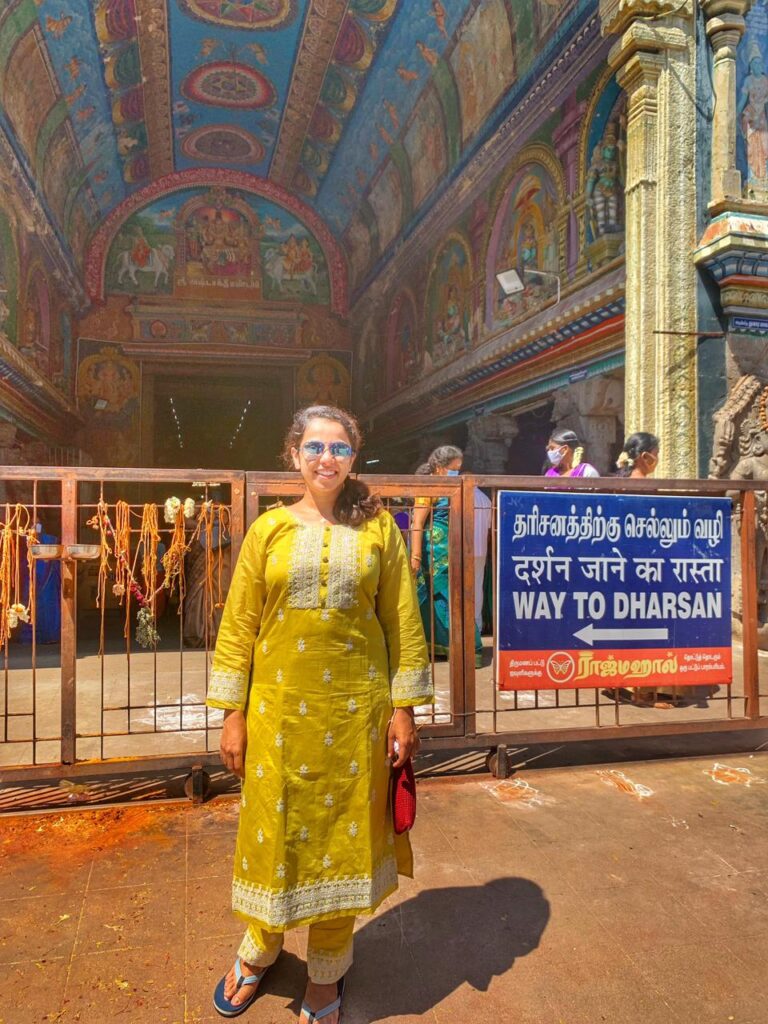 The temple is open everyday between 5 AM and 12:30 PM and between 4 PM and 9:30 PM. But the best time to visit is in the mornings.
No electronic items are allowed inside the temple. There is a locker where one can deposit mobile phones, cameras and ear phones for INR 10 per locker.
Wear appropriate clothing as it is a religious temple. There is no dress code as such but short and revealing clothes are not allowed.
One can hire a government affiliated guide for INR 300 per person. The tour with the guide takes about 2 hours.
Everyone is allowed inside the temple including the non Hindus.
There are no parking spaces available. One needs to park on the streets that are about 5 to 10 minutes walk from the temple.
History and stories of Meenakshi Amman temple
The temple has gone through a series of changes and renovations. Initially, the Madurai Meenakshi Amman temple was built by King Kulasekara Pandya. The King was also a poet and he composed a poem on Goddess Meenakshi called Ambika Malai. Maravarman Sundara Pandyan I then expanded the temple by building the Gopuram. Maravarman Sundara Pandyan II further expanded the temple by building the Chitra Gopuram. After 1595, the temple was renovated and rebuilt by Kumara Krishnappar. There were further more renovations and reconstructions by Tirumala Nayaka. The temple also has efforts of reconstruction by Vijayanagara Empire rulers, Vishwanatha Nayakar and other rulers.
According to legend, King Malayadwaja Pandya and his wife Kanchanamalai performed Yajna seeking for a son. Instead of a son, a 3 year old daughter with three breasts was born from the fire. Lord Shiva intervened and informed the parents that the daughter be treated like a son and when she meets her husband, she would lose the third breast. The parents followed the advice and when the King crowned her as the next successor, the girl meets Lord Shiva and loses her third breast. She also takes her true form of Meenakshi.
The marriage of Meenakshi and Lord Shiva is a huge event with all the gods and goddesses gathered. Lord Vishnu, believed to be the brother of Meenakshi, gives her away at the wedding. Every year, during the months of April and May, there is a festival called Meenakshi Tirukalyanam Festival that is conducted to celebrate the wedding of Meenakshi and Lord Shiva. The festival lasts for 10 days.
Things to do at Meenakshi Amman Temple
The 6-hectare temple complex has two main temples, one for Meenakshi and the other for Sundareshwara. There are many sculptures (around 33000 sculptures) and things to see inside the temple. However, some of the key highlights and notable things to observe are:
Two temples dedicated to Meenakshi and Sundareshwara.
Green parrot sitting on Meenakshi's right hand.
Massive sculptures of Meenakshi and Lord Shiva in the form of Natraja.
Hall of Thousand Pillars where each pillar is carved with many beautiful sculptures.
Kalyani (pond) called The Golden Lotus Pond or Porthamarai Kulam.
Golden Lotus in the pond.
Four entrances of the temple facing all the four cardinal directions.
How to get to Madurai?
Flights
Madurai city has an airport. The airport is just 10 kilometres from the main city. It is very well connected to all the major cities in India. Indigo is the popular airline provider that has nonstop flights to Madurai.
Driving
Madurai has very good connectivity by road. The distance from Bangalore is about 430 kilometres and from Chennai is about 460 kilometres.
Public transportation
There are trains and buses between major cities and Madurai. There is a Madurai junction railway station where one can easily get trains to. Up to date information on trains can be found on IRCTC website.
Stay at Madurai – The Gateway Hotel by Taj
With peacocks roaming around in the backyards and with stunning views of Madurai city and temple from the balcony, the Gateway Hotel by Taj is one of the best and luxurious places to stay in Madurai. It is a 5 star hotel, situated very close to Madurai city. The staff, rooms and the food was very nice. I loved staying at this property.
Cost: INR 10856 per room.
Safety for solo female travelers
Madurai is very safe for solo female travelers. The people are nice and usually mind their own business. However, like any other place in the world, be cautious especially at night. Also, if you are driving around then be extra careful as the city is extremely crowded and does not follow too many traffic rules.
Closing Notes
The Madurai Meenakshi Amman temple is one of the best temples I have ever visited in my life. I absolutely fell in love with the architecture and the stories of the temple. The huge sculptures and the detailing behind them is something that cannot be put in words. If you have less time in South India and you want to just visit one temple, then Madurai Meenakshi Amman temple is the one.
How can you support me?
You know how much I love coffee, so you can buy me coffee – Buy me Coffee!
Or you can purchase from one of the below travel resources without any extra charge to you.

Travel Resources
Click to book your flight on Skyscanner.com
Click to book your accommodation on Stay22
Click to book a comprehensive travel insurance on Safety Wing
Click to book your tours and travels on Viator or GetYourGuide
If you liked this article and if it was helpful in your planning or traveling, do share, tweet, or pin this post.

Follow me on Instagram | Facebook | YouTube | Twitter | LinkedIn
Do you have a question? Or want any suggestions, and tips for travels, hikes and scuba dives? Use the Subscription box below to sign-up and get updates by email.
PIN for later reference