Travel guide to Kodaikanal
I am in love with Kodaikanal. It is one hill station that is less crowded than the other hill stations like Ooty. I have been to this amazingly beautiful place twice and I have loved it both the times.
PIN for later reference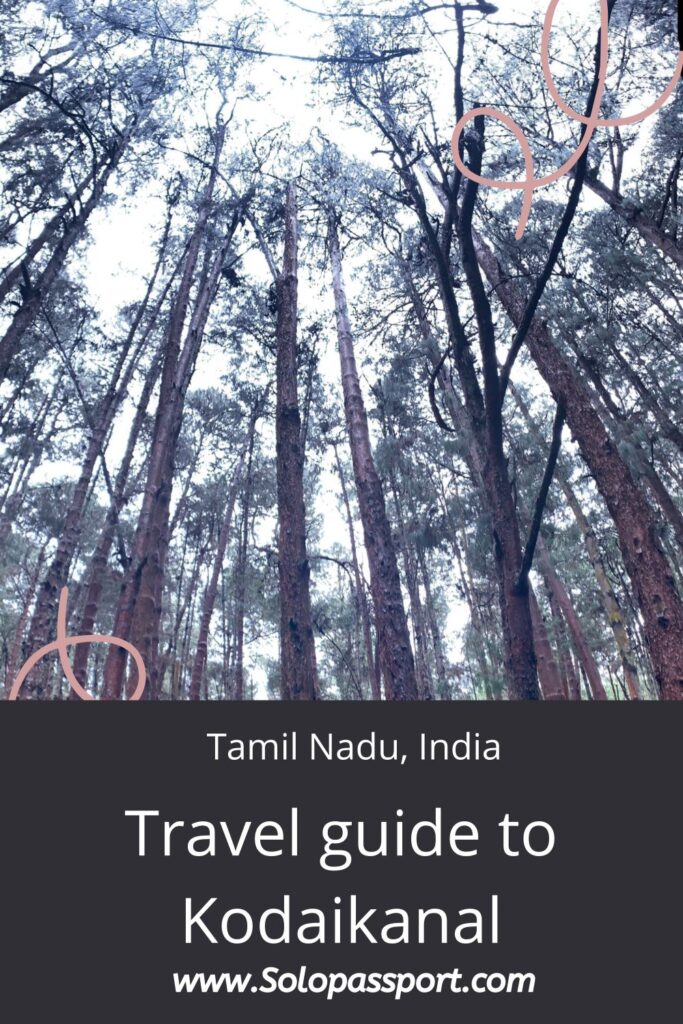 This article may contain affiliate links. For full information, please see our affiliate disclaimer here.
About Kodaikanal
Known as the Princess of Hill stations, Kodaikanal is located in the Dindigul district of Tamil Nadu state in India. Kodaikanal is an amalgamation of two words, kodai and kanal and in Tamil language, Kodaikanal means the Gift of the Forest. At an elevation of 2133 metres, the hill station was established in 1845 as an escape from high temperatures. The earliest residents of Kodaikanal were the Paliyar tribal people.
Kodaikanal can be visited throughout the year but the best time is in the summer season, between the months of April and June. One needs around 3 to 4 days to explore the places in and around Kodaikanal.
How to get to Kodaikanal?
Airport
The nearest airport is at Madurai, which is around 120 kilometres from Kodaikanal. Some of the airlines that operate at Madurai are Air India and IndiGo.
Driving from Bangalore
The distance between Bangalore and Kodaikanal is about 460 kilometres and the drive takes about 9 hours. The best route is along the Hosur road and the conditions of the road is very good except a few sections on the ghats.
Route: Bangalore - Hosur - Krishnagiri - Salem - Karur - Dindigul - Kodaikanal.
Last 100 kilometres is the ghat (hill) section where one needs to be an experienced driver to drive, especially at night, as the roads are windy and narrow.
There are many fast food chains along the way and it is best to have breakfast and lunch at Krishnagiri and Salem respectively.
The route has many tolls and the cost is approximately around INR 500.
There are many monkeys and cows on the roads, so drive slowly and carefully.
Public transportation
The nearest train station is at Kodai Road, which is about 80 kilometres from the hill station. Up to date information on trains can be found on IRCTC website.
Things to do in Kodaikanal
Note:
The entrance fee mentioned in the post does not include the camera charges and there is an extra fee for cameras.
The entrance fee are purchased at the entrances of the places.
Up to date information on the entrance fee can be found at the entrances of the places.
Lakes
Kodaikanal lake
Built in 1863, the Kodaikanal lake is an artificial lake, roughly in a star shape. It is a great place to hang out for a few hours. One can hire either a row or pedal boats for 30 minutes (pedal boat cost INR 150 per boat accommodating 2 people). There is also a walkway around the lake where one can stroll around.
Berijam lake
Located around 26 kilometres from Kodaikanal, Berijam lake is a serene lake surrounded by nature. One needs permission from the forest department to visit the lake and there is an entry fee of INR 150 per vehicle.
Update! The lake is closed as of now because of the pandemic.
Museums
Wax museum
A museum of wax statues of Indian and famous personalities. Even though I would not say it is the best, but it is still a good place to see the wax statues and spend about an hour.
The museum is open between 10 AM and 5:30 PM everyday.
There is an entrance fee of INR 50 per person.
Solar observatory museum
Owned by Indian Institute of Astrophysics, the Solar observatory museum is a solar observatory that collects data on solar activities. The observatory has telescopes that is used to observe the sun.
The best time to visit the observatory is in the morning between 9 AM and 12:30 PM.
There is no entrance fee.
Coaker's walk
Constructed in 1872, Coaker's walk is a one kilometre walk that provides stunning views of the city and the valley.
The walkway is open between 7 AM and 7 PM.
There is an entrance fee of INR 10 per person.
Pillar Rocks
Pillar Rocks is a popular tourist point in Kodaikanal. The viewpoint provides lovely views of the cliff formations.
The viewpoint is open between 9 AM and 4:30 PM.
There is an entrance fee of INR 10 per person.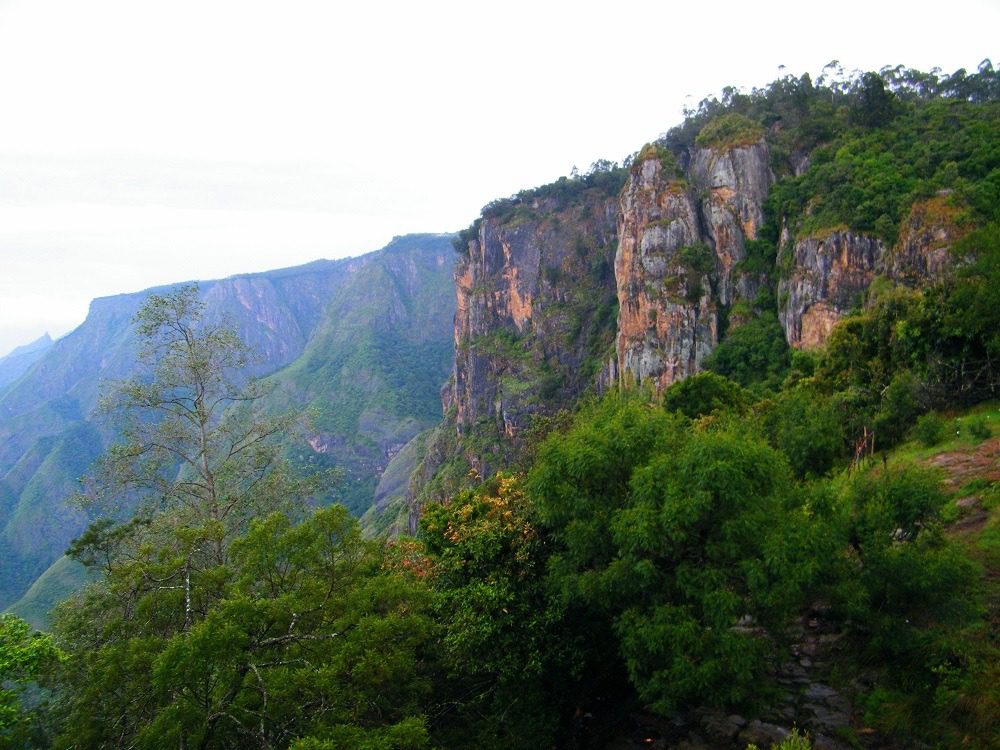 Waterfalls
Silver Cascade falls
The Silver Cascade falls is a natural steep waterfalls, overflowing from the Kodaikanal lake. It is at a height of 180 feet.
Vattakanal falls
Located around 3 kilometres from Kodaikanal city, Vattakanal falls is a cascade with a series of rocky steps. It is around 10 minutes hike down the parking lot.
There is no entrance fee.
One of the best hikes I have done in South India is hike to Vattakanal falls.
Lookouts
Upper lake view
The Upper lake view is a viewpoint that provides a spectacular bird eye view of the Kodaikanal lake.
There is no entrance fee.
Green Valley view
Located around 5.5 kilometres, the Green Valley viewpoint provides stunning views of the valley. Note: There are lots of monkeys at the viewpoint.
There is no entrance fee.
Pine forest
The Pine forest is a forest known for its amazing tall trees. There are hundreds of pine forests and is perfect for photography.
Guna caves
Guna caves is very popular tourist attraction in Kodaikanal. Discovered in 1821, Guna caves is famous for the 3 pillar type rock.
The caves are open between 9 AM and 4:30 PM.
There is an entrance fee of INR 5 per person.
Churches and temples
Kodaikanal also has some beautiful South Indian Hindu temples and churches. It is definitely worth visiting a few of these temples.
Respect the religious beliefs and dress appropriately.
Poombarai village
Known for its bricked red tiled houses, Poombarai village is a small village famous for its garlic production. The village is situated around 18 kilometres from Kodaikanal.
Ideal tours of the sightseeing places
Valley tour
The Valley tour is perfect to soak in the valley views and to see the sight seeing spots and viewpoints.
Path: Coaker's Walk – Green Valley viewpoint – Pillar Rocks – Guna Caves – Pine forest – Moier point – Upper lake viewpoint.
City tour
The city tour goes through the landmarks in the Kodaikanal city.
Path: Kodaikanal city view – Temple – Chettian park – Bryant park – Kodaikanal lake.
Stay at Kodaikanal
During my two visits to Kodaikanal, I stayed at two different places and both these resorts were absolutely beautiful.
Ensure to check respective websites to see the up to date cost and availability.
Sterling Holidays valley view resort
I stayed at Sterling Holidays valley view resort during my first stay at Kodaikanal. With breath taking views of the valley, the Sterling Holidays valley view resort is one of the best resorts I have ever stayed at. The service at the resort during my stay was very good and the staff were friendly. The stay for one standard room (for two people) had costed me INR 4000.
Le Poche by Sparsa
I stayed at Le Poche by Sparsa during my second visit to Kodaikanal and I stayed here as part of my Club Mahindra membership. The resort is a collection of 2 storey cottages with four rooms in each cottage. The cost for one room is about INR 5000. I loved staying in this resort. The staff were very friendly and the views from the resort were beautiful. The food was also very delicious and they provide buffet for all the meals as a package.
Safety for solo female travelers
Kodaikanal is definitely very safe for solo female travelers. The roads are windy and hence if you are driving alone, then definitely be very careful. Other than that, I did not have any issue whatsoever. However, like any other place, be careful at nights.
Closing Notes
As I mentioned, I love Kodaikanal. It is a beautiful getaway from the busy cities. The people are simple and lead a simple life and the place has so many things to do. I highly recommend visiting Kodaikanal.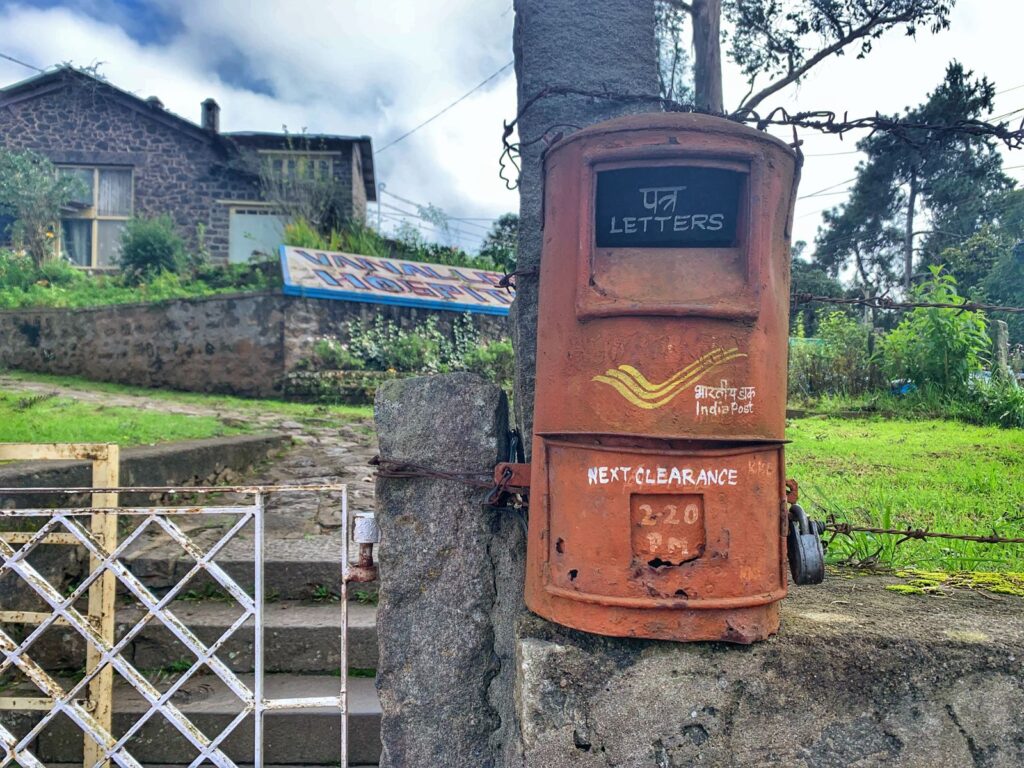 How can you support me?
You know how much I love coffee, so you can buy me coffee – Buy me Coffee!
Or you can purchase from one of the below travel resources without any extra charge to you.

Travel Resources
Click to book your flight on Skyscanner.com
Click to book your accommodation on Stay22
Click to book a comprehensive travel insurance on Safety Wing
Click to book your tours and travels on Viator or GetYourGuide
If you liked this article and if it was helpful in your planning or traveling, do share, tweet, or pin this post.

Follow me on Instagram | Facebook | YouTube | Twitter | LinkedIn
Do you have a question? Or want any suggestions, and tips for travels, hikes and scuba dives? Use the Subscription box below to sign-up and get updates by email.
PIN for later reference