4 Reasons why Kolkata must be on your Travel List (2023)
Kolkata is one of my most favourite cities in India. I have been there multiple times, and I still crave to visit the city more often. It may be because of the memories I have had or the people I have met during my travel. I simply love everything that the city offers. For me, there may be many reasons why Kolkata is my favourite. But in this post, I will give you the top 4 reasons why Kolkata must be on your travel list.
PIN for later reference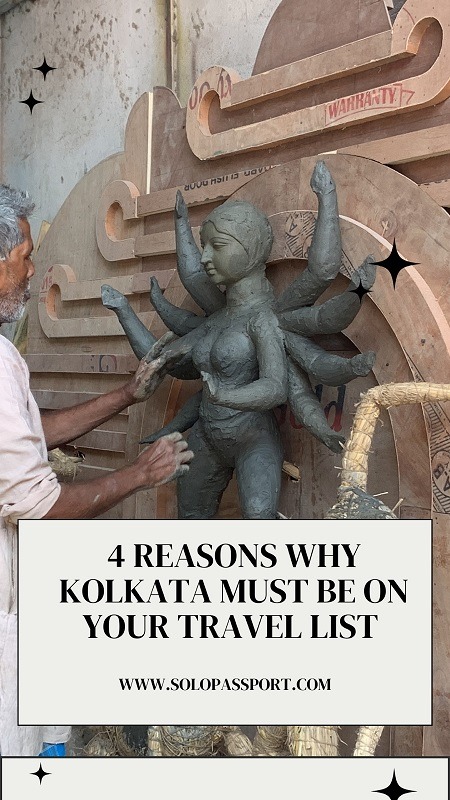 This article may contain affiliate links, meaning if you decide to make a purchase via my links, I may earn a commission at no additional cost to you. For full information, please see our affiliate disclaimer here.
About Kolkata
Kolkata, formerly known as Calcutta, is the capital city of West Bengal state in India. It is the seventh most populous city in India. Famous for its architecture, food, sports and theatre, Kolkata has a history of more than 350 years.
4 reasons why Kolkata must be on your travel list
Reason 1 – Because of the iconic yellow taxis
In the year 1907, a car business man John Hertz decided to start a taxi business. As he wanted the taxis to stand out from the normal cars, he selected yellow and that's how the colour yellow with taxis came into being.
Kolkata city is ruled by the yellow taxis. The yellow taxis, mainly of Ambassador brand, is one of the prominent things you will see on the streets of Kolkata. Taking a ride in these yellow taxis must be on the list of things to do in Kolkata.
There is no other city in India that has yellow taxis, except Kolkata and since they are super cute and unique to the city, it makes it as a number one reason why you need to visit Kolkata.
Reason 2 – Because the city takes you back in time
Kolkata reminds me of a movie from the 70s where everything, including the people move slow. The city feels as though it is stood in time and has never moved at par the fast paced cities in India.
There are also many landmarks and monuments that take you back to the old era as well. From the museums housed in old styled Victorian buildings to the restaurants that were opened decades ago, the city has maintained its history and culture.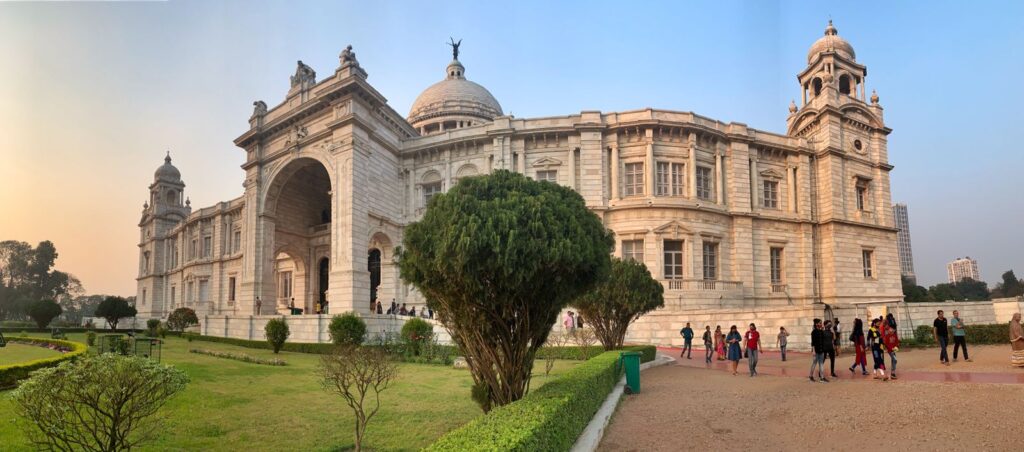 Reason 3 – Because you can relish on Bengali cuisine
The reasons to visit Kolkata is incomplete without mentioning the Bengali cuisine and sweets. The city is a heaven for food lovers, especially fish and sweets. Bengali cuisine is one of its kind and is absolutely mouth-watering.
I highly recommend trying Macher Jhol (fish cooked in an authentic Bengali style), puchka (pani puri) from a street vendor, rasagullas (sweet) and jalebis (sweet).
Reason 4 – Because many popular celebrities hail from Kolkata
Kolkata has been the birthplace for many famous personalities, including the poets, artists, actors, scientists, philosophers, noble laureates and many others. And because of this Kolkata is known as the cultural capital of India.
Even though there are many personalities, including the Gallantry award winners and freedom fighters, who are as important and notable as others. Here, I would specifically like to mention Rabindranath Tagore.
Known for reshaping the Bengali literature, Rabindranath Tagore was born in Kolkata in 1861. He was the first non-European and first lyricist to with the Nobel Prize in Literature. India's national anthem 'Jana Gana Mana' and Bangladesh's national anthem 'Amar Shonar Bangla' were Tagore's compositions.
Bonus Reason 1
One of the other amazing reasons to love Kolkata is that it is so close to many other attractions that you can visit as part of one day or weekend trips. And here are the top beaches that you can visit as a weekend tour from Kolkata. You can also visit Mayapur, the place where ISKCON started and is the birth place of Sri Chaitanya Mahaprabhu. This can be done as a one day trip but beware that it will be a long trip.
Bonus Reason 2
Kolkata is also popular for the art and culture. There are many art galleries and paintings that are even today present at some of the landmarks. For example, there is a portrait of Raja Sri Thanjavore Madhava Rao painted by Raja Ravi Varma at Victoria Memorial. And one of the popular Indian culture paintings such as Pattachitra still exists in Kolkata.
Closing Notes
If you are still not convinced as to why you need to visit Kolkata, then I am not sure what else will. Kolkata is a city that is unique in many ways and has plenty of things it can provide to the tourists and travelers.
How can you support me?
You know how much I love coffee, so you can buy me coffee – Buy me Coffee!

Or you can purchase from one of the below travel resources without any extra charge to you:
Travel Resources
Book your flight on Skyscanner.com or Trip.com
Reserve your accommodation on Stay22
Buy comprehensive travel insurance on SafetyWing and WorldNomads
Book your tours and travels or purchase tickets on Viator or GetYourGuide
For a universal SIM card, use DrimSim
If you liked this article and if it was helpful in your planning or traveling, do share, tweet, or pin this post.

Follow me on Instagram | Facebook | YouTube | Twitter | LinkedIn
Do you have a question? Or want any suggestions, and tips for travels, hikes and scuba dives? Use the Subscription box below to sign-up and get updates by email.
PIN for later reference