Every South Indian would have heard stories of Raja Ravi Varma, while growing up. Raja Ravi Varma was a very common famous name that was discussed at our homes, movies and galleries. He was a legend and all of us at least had one copy of his painting at our homes.
There are many Indian art forms that have so much of history and one of them is Pichwai art form. Read the story of Nathdwara's Pichwai paintings.
PIN for later reference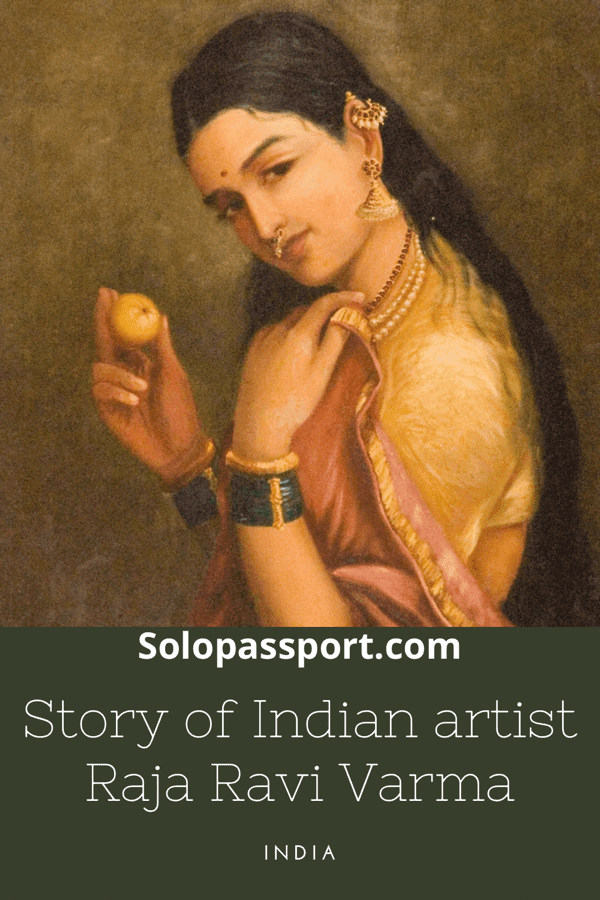 This article may contain affiliate links. For full information, please see our affiliate disclaimer here.
Who was Raja Ravi Varma?
Born in April 1848 at Kilimanoor Palace in Tavancore (presently known as Kerala), Raja Ravi Varma was related to the royal family of Travancore. He was the son of Ezhumavil Neelakanthan Bhattatriipad, scholar of Sanskrit and Ayurveda, and Umayamba Thampurratti, a poet and writer. At the age of 18, Raja Ravi Varma was married to Bhageerathi Bayi from the royal house of Mavelikkara. It was an arranged marriage and the couple were later blessed with 5 children.
The Kingdom of Travancore was an Indian kingdom ruled by the Travancore Royal Family from Padmanabhapuram.
Raja Ravi Varma is a greatest artist in the history of Indian art and paintings. He learned the basics of paintings in Madurai and later was trained in water painting by Rama Swami Naidu and in oil painting by Dutch artist Theodor Jenson.
What was his painting style?
Raja Ravi Varma was known for the fusion of European art with Indian sensibility and iconography. He was also famous for making lithographs of his paintings, that were available to public. His painting styles depicted Hindu Gods and works from Indian poetry and mythology.
Varma received many awards for his paintings. His arts were famous for showcasing the episodes from Mahabharata especially of Dushyanta and Shakuntala, and Nala and Damayanti. All his paintings portrayed a common theme of "desire".
Where can we see the original Raja Ravi Varma's paintings now?
Raja Ravi Varma's originals are housed at multiple places across India. It is also present internationally at Victoria and Albert museum in London.
Laxmi Vilas Palace in Vadodara. The Laxmi Vilas Palace was constructed by the Gaekwad family in 1890. The palace is known for its intricate details and the spectacular artworks. According to history, the Maharaja (the King) had built an art studio for Raja Ravi Varma in the palace complex.
Salar Jung Museum in Hyderabad. Opened in 1951, the Salar Jung Museum is the third largest museum in India. The museum is home to 39 galleries spread across three buildings. It also has one of the Raja Ravi Varma's paintings called the Stolen Interview, a painting set in a romantic mood where an Indian woman is listening to her lover.
If you love forts and history, then you would definitely enjoy the Golconda Fort in Hyderabad.
National Gallery of Modern Art (NGMA) in New Delhi. Established in 1954, the NGMA is a premier art gallery housing the collection of modern and contemporary art. The gallery has 19 art works from Raja Ravi Varma's paintings collection.
For other things to do in New Delhi, read my post 3 days in Delhi.
Victoria Memorial in Kolkata. Built between 1906 and 1921, the Victoria Memorial is a large prominent landmark in Kolkata. It is dedicated to the memory of Empress Victoria and is now a museum. A portrait of Raja Sri Thanjavore Madhava Rao, painted by Raja Ravi Varma is currently present at the museum.
Closing Notes
I am a huge fan, like everyone else, of Raja Ravi Varma. He was truly a brilliant artist and an idol for all the Indian artists. There are many artists who try and imitate some of his paintings and some are taught at art classes too. But there is no one like Raja Ravi Varma.
If you loved this article, then you would love the different types of Indian art as well. Give it a read, Different types of Indian paintings.
PIN for later reference