Kumartuli, Potter's Town in Kolkata (2023)
Seeing and interacting with the potters was one of the best things during my trip in Kolkata. Kumartuli is a potters paradise. Known for its clay statues, this place is surely a must visit when in Kolkata.
As suggested by my travel blogger friend, I reached Kumartuli very early to see the potters at work. The streets were free of tourists with just the men (potters) at work. This was surely the highlight of my travel in Kolkata.
PIN for later reference
This article may contain affiliate links, meaning if you decide to make a purchase via my links, I may earn a commission at no additional cost to you. For full information, please see our affiliate disclaimer here.
Disclaimers:
The prices mentioned in the post are valid only at the time of publication. Ensure to check the booking websites for up to date information and prices.
Opinions and views expressed solely mine and are unbiased. If the post is a collaboration, then they are specifically mentioned.
Ensure to check the relevant websites for up to date information on COVID protocols.
For any adventurous activities, please note that there is a risk that can be dangerous. Ensure to read the terms and conditions with individual agencies recommended and do them at your own risk.
For visas, it is best to see the embassy website for any changing rules.
About Kumartuli
Kumartuli, also spelt as Kumortuli, is a pottery town in Kolkata, known for all the clay pots and sculptures that are made from clay, mud and fibre. Kumartuli originates from a Bengali word Kumore which loosely translates to potter in English. There are over 500 workshops in the area, and it is a place where all the clay statues are made during the festivals in Kolkata.
All the clay statues for festivals in Kolkata come from Kumartuli. The potters make all the images of gods and goddesses, worshiped in large numbers at mansions and community pujas in the city and world.
History of Kumartuli
The history of Kumartuli, which was once pronounced as Coomartolly, goes back to the British East India Company. Under the orders of the British East India Company, one of the employees called Holwell allotted separate districts to the company's workmen. These neighbourhoods which were located in the heart of Indian quarters took names based on the work done by the men. And hence came Coomartolly, meaning the potters' quarters. Ever since the potters who lived by the river have survived.
Process of making the clay statues
The best thing about Kumartuli is that you can walk around the streets observing the artists/ potters at work. You can also see the entire process of making these clay statues, which is considered very religious. The mixture that is used to make the statue is mud, soil and the cow's urine or dung. These are done with the right tools that is religious too.
By the way, did you know that the mud which is used to make clay is taken from the bottom of the River Ganga? When the clay sculptures are immersed back in River Ganga, they form a full circle.
There are a number of steps that is done by these potters to complete each of these clay statues.
Step 1 – The initial step of the process is to make a shape out of a straw.
Step 2 – Clay is added on top of the straw structure by hand which gives a nice outline to the shape.
Step 3 – Next step is to detail the work by painting the statue and the features.
Step 4 – The clay statues are also decorated with clothes, jewellery and wigs.
Another fact that I learned is that the if someone wishes to make a clay statue, then the soil that is used along with the clay must be taken by a priest from outside the home of a prostitute.
How to get to Kumartuli?
Kumartuli is located in the north of Kolkata, near Sovabazar and River Hoogly. The area is around 5 kilometres from Kolkata main city.
Metro – Kumartuli can be reached by metro which is the easiest way to reach. The metro stop Shobhabazar Sutanuti is around 10 minutes' walk from Kumartuli. More information can be found on the Kolkata Metro Rail Corporation Ltd. (KMRC).
Ferry – You can also take a ferry to BagBazar and then walk for 15 minutes to reach Kumartuli. More information can be found on the Transport Department Government of West Bengal.
Taxis – The fastest way to get to Kumartuli is by taking a taxi. Ensure to haggle with the taxi drivers before getting into the taxi. Kolkata also has Uber and Ola, so best to book the taxis on the respective apps.
Tram – There was a tram that would run between north Kolkata and Esplanade. But I was informed by one of the stall owners in Sovabazar that the trams have been stopped and are no longer taking passengers between the stops.
Best time to visit Kumartuli
The best time to visit this place is 15 days before the Durga puja, which happens in October every year. But be prepared for a lot of crowds during the time. It is specifically famous among the photographers and travelers. Also, you could be asked to pay money to walk around the streets and to take pictures.
One of the potters whom I spoke to during my walk gave me his contact number. He mentioned that he would be happy to take me around and show the workshops.
Note: He may charge you money to take your around during the Durga puja.
Potter's name: Samuel Pal.
Contact number: +91 93319 04114.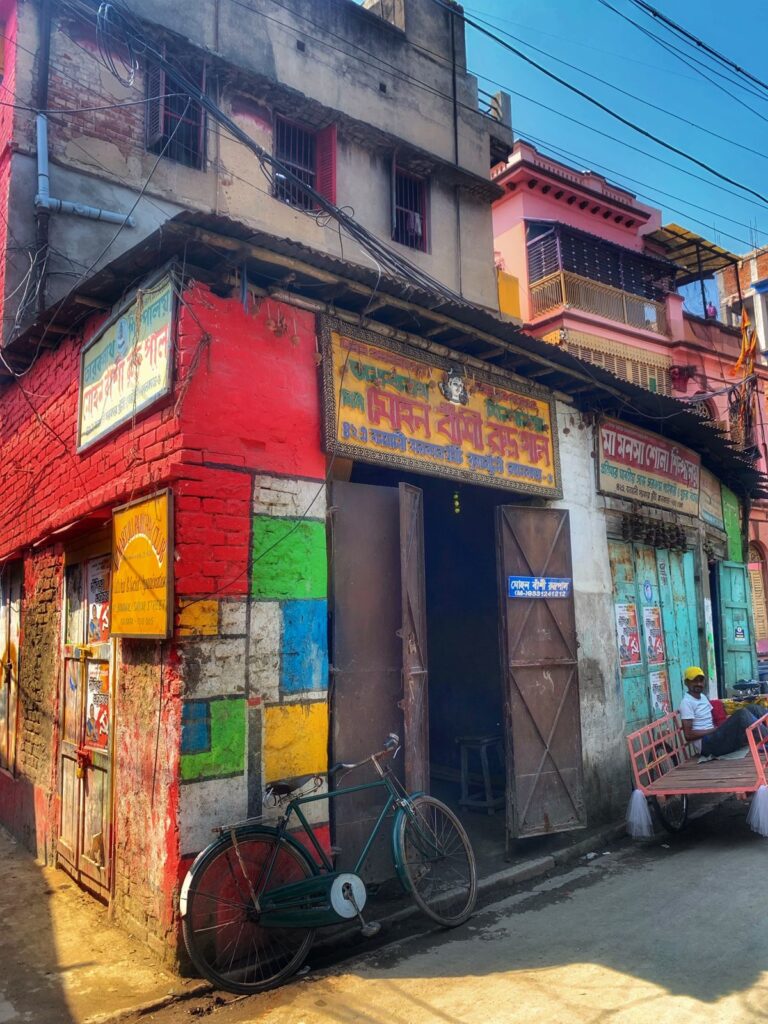 Safety for solo female travelers
Kumartuli is very safe for solo female travelers. The potters are usually seen doing their work and they never bother anyone. However, like any other place in the world, be cautious and know your surroundings, especially at night.
Are you new to solo traveling? Or do you have a lot of questions about solo traveling? Read frequently asked questions (FAQ) about solo traveling.
Closing Notes
I am in love with Kumartuli. Being an artist myself who loves to create art, I appreciate all kinds of art and I love watching the artists at work. So this place was perfect for me and I spent a couple of hours just walking around and cherishing each and every clay structure that was in the making. I tried to interact with a few of the potters but it was difficult as they were really busy at work. Anyway, I highly recommend visiting Kumartuli when you are in Kolkata.
Have you visited Kumartuli? What did you love about it? Let me know in the comments below.
How can you support me?
You know how much I love coffee, so you can buy me coffee – Buy me Coffee!

Or you can purchase from one of the below travel resources without any extra charge to you:
Travel Resources
Book your flight on Skyscanner.com
Reserve your accommodation on Stay22
Buy a comprehensive travel insurance on SafetyWing and WorldNomads
Book your tours and travels or purchase tickets on Viator or GetYourGuide
If you liked this article and if it was helpful in your planning or traveling, do share, tweet, or pin this post.

Follow me on Instagram | Facebook | YouTube | Twitter | LinkedIn
Do you have a question? Or want any suggestions, and tips for travels, hikes and scuba dives? Use the Subscription box below to sign-up and get updates by email.
PIN for later reference