Island Hopping Adventure: Day Trip to Jolly Buoy Island from Port Blair (2024)
I am in love with Jolly Buoy Island. A definite visit from Port Blair is to the spectacular island called Jolly Buoy Island. With transparent pristine blue waters and amazing coral reefs, Jolly Buoy Island is one of the untouched and protected islands of Andaman and Nicobar islands.
PIN for later reference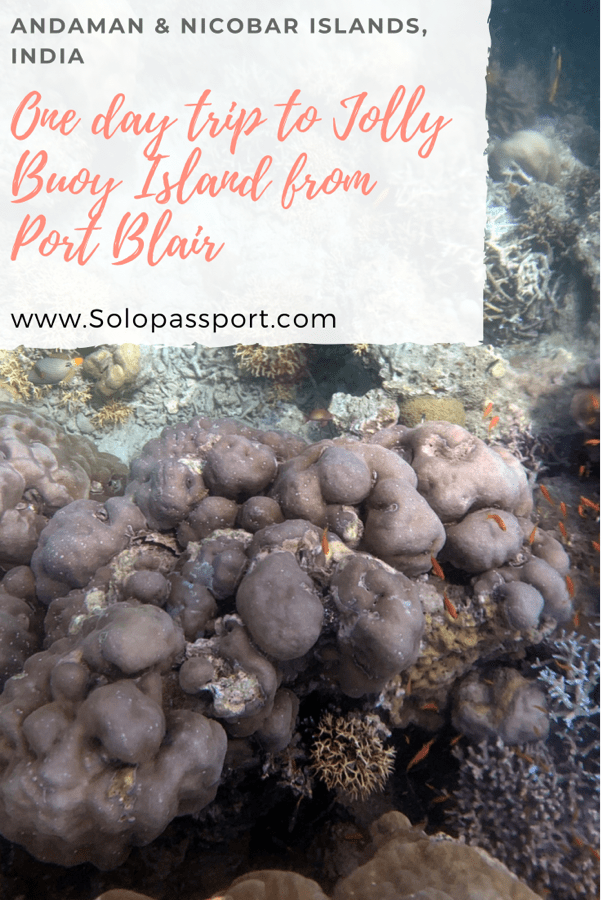 This article may contain affiliate links, meaning if you decide to make a purchase via my links, I may earn a commission at no additional cost to you. For full information, please see our affiliate disclaimer here.
Disclaimers:
The prices mentioned in the post are valid only at the time of publication. Ensure to check the booking websites for up to date information and prices.
Opinions and views expressed solely mine and are unbiased. If the post is a collaboration, then they are specifically mentioned.
Ensure to check the relevant websites for up to date information on COVID protocols.
For any adventurous activities, please note that there is a risk that can be dangerous. Ensure to read the terms and conditions with individual agencies recommended and do them at your own risk.
For visas, it is best to see the embassy website for any changing rules.
Andaman and Nicobar Islands Travel Resources
For Best Hotel Deals in Andaman and Nicobar Islands, use Booking.com or Goibibo
For Hostels in Andaman and Nicobar Islands, use HostelWorld
Use Skyscanner or Trip.com to get affordable flight tickets to Andaman and Nicobar Islands
Viator and GetYourGuide are your best tour operators
Rentalcars and Discover cars are the best agencies to rent out cars at lowest prices
For comprehensive travel insurance, use SafetyWing or WorldNomads

Travel Blogs:
One Week in Andaman and Nicobar Islands
Travel Guide to Havelock Island
Scuba Diving in Havelock Island
Travel Guide to Neil Island
Scuba Diving in Neil Island
Plan Your Visit to Chidiya Tapu
One Day Trip to Baratang Island
One Day Trip to Ross Island from Port Blair
Never Forgotten Tales of Cellular Jail
One Day Trip to Jolly Buoy Island from Port Blair
Reasons To Skip North Bay Island
Where is Jolly Buoy Island?
Part of Mahatma Gandhi Marine national park, the Jolly Buoy island is one of the islands in Andaman and Nicobar Islands of India. Famous for its coral reefs and the marine life, Jolly Buoy island is one of the delightful islands in Andamans. The island is around 30 kilometres from Wandoor beach.
For my detailed guides for islands in Andaman and Nicobar Islands, refer the section, Andaman and Nicobar Islands travel diaries.
The best time to visit Jolly Buoy island is during the winter season (between the months of October and February) and of course when the island is open for tourism. One can visit the island as a one day trip from Port Blair as the island does not have any accommodation facilities.
Permission to Visit Jolly Buoy Island
The Jolly Buoy island is open only for 6 months and for the remaining 6 months of the year, a different island called Red Skin Island is open. This is a step taken by the Andaman government to protect both the islands, Jolly Buoy and Red Skin islands from over tourism.
To visit Jolly Buoy or Red Skin Islands, one must take a permit prior to the date of travel. The permits can be obtained from Andaman and Nicobar Tourism office. A valid identification proof will need to be submitted to obtain the permit. And the permit costs INR 950 per person, that includes the entrance fee to the island and the boat ride. The entire trip is a one day trip to the island and return.
Note: Usually there are long queues at the tourism office to obtain the permits.
Things to Note Before Visiting Jolly Buoy Island
Jolly Buoy island is a small island.

On the island, there is only glass bottom boat rides available.

Glass bottom boats are the boats with glass viewing on the floor of the boats. One can sit comfortably and dry in the boats and view the corals underwater.
No scuba diving or snorkelling allowed on the island.
There is no restaurant or a single shop on the island. So ensure to carry sufficient water and food.
Take care of your belongings as there is no shelter to protect your things.
Make sure to reach the Wandoor Jetty before 8 AM to board the boat.
The department checks for plastic prior to boarding the boat as no plastic is allowed. The plastic water bottles must be converted to the water bottles given by the department. To rent these water bottles, one must pay INR 100 as deposit and INR 5 as the rental charges. The deposit is returned when the water bottle is returned after the trip.
There is no place to change clothes on the island.
There are toilet facilities on the island but they are not the cleanest.
Do not dirty the island and the ocean. Take your garbage with you or dispose them in proper bins.
How to get to Jolly Buoy Island?
The only way to get to Jolly Buoy is by taking a boat that is run by the government. Boat leaves (at around 8 AM) from Wandoor Jetty, which is about 20 kilometres from Port Blair.
Note: Be careful at the Wandoor Jetty as there are frequent sightings of crocodiles in the area.
The best way to reach Wandoor Jetty is by hiring a taxi. We hired the taxi from the hotel travel desk as it was easier that way and it cost us INR 2000 for one day. Usually, the taxis are hired for the entire day as the taxi drivers wait till the boat return from the island in the afternoon (at around 2 PM) and they drop you off back at the hotels.
There are also regular government owned buses that run between Aberdeen Bazaar bus stop in Port Blair and Wandoor Jetty. The bus journey takes about one hour and the fare is about INR 20 which needs to be paid by cash.
Glass bottom boat
The glass bottom boat is totally worth and it costs around INR 1000 per person. The boat ride is only for 20 to 30 minutes and they take you around the island to show as much as they can. It is a great way to see the corals and the beautiful underwater world. As the water is so clear that the corals are easily visible. I also saw a turtle from the glass bottom boat, which was a pretty cool experience.
Safety for solo female travelers
Visiting Jolly Buoy Island is very safe for all travelers including the solo female travelers. The island is monitored and protected by the Andaman government and hence it is very safe. However, be a bit cautious on the road trip to the jetty. Ensure to take a trusted taxi or a ride. Best is to hire a taxi from the hotel you are staying at as they are usually very trust worthy. Also, be careful while returning as it can get dark.
Closing Notes
It is definitely worth visiting this amazingly beautiful island. Even if you do not take the glass bottom boat, ensure to visit the island. I loved even just playing in the crystal clear warm water here. I wish I could visit the island again some day and hope to scuba dive if it is ever allowed by the government.
Have you visited Jolly Buoy Island? Did you like it? Let me know in the comments below.
How can you support me?
You know how much I love coffee, so you can buy me coffee – Buy me Coffee!

Or you can purchase from one of the below travel resources without any extra charge to you:
Travel Resources
Book your flight on Skyscanner.com or Trip.com
Reserve your accommodation on Stay22
Buy comprehensive travel insurance on SafetyWing and WorldNomads
Book your tours and travels or purchase tickets on Viator or GetYourGuide
For a universal SIM card, use DrimSim
If you liked this article and if it was helpful in your planning or traveling, do share, tweet, or pin this post.

Follow me on Instagram | Facebook | YouTube | Twitter | LinkedIn
Do you have a question? Or want any suggestions, and tips for travels, hikes and scuba dives? Use the Subscription box below to sign-up and get updates by email.
PIN for later reference