UNESCO World Heritage Site Rani Ki Vav, the Queen's stepwell
Are you a sucker for architecture and history? Are you one of those who chase the UNESCO world heritage sites? Then Rani Ki Vav must be on your list. It is one of the most spectacular sites I have ever seen. The architecture and the carvings at the stepwell are truly spectacular and I would definitely say this as a must visit site in Gujarat. As part of the travel influencers and bloggers to Gujarat, I had the opportunity to see this amazing stepwell.
PIN for later reference
This article may contain affiliate links. For full information, please see our affiliate disclaimer here.
Disclaimers:
The prices mentioned in the post are valid only at the time of publication. Ensure to check the booking websites for up to date information and prices.
Opinions and views expressed solely mine and are unbiased. If the post is a collaboration, then they are specifically mentioned.
Ensure to check the relevant websites for up to date information on COVID protocols.
For any adventurous activities, please note that there is a risk that can be dangerous. Ensure to read the terms and conditions with individual agencies recommended and do them at your own risk.
For visas, it is best to see the embassy website for any changing rules.
About Rani Ki Vav
Located in Patan city of Gujarat state, Rani Ki Vav is a stepwell. The stepwell was built in the 11th century by Queen Udayamati, daughter of Khengara of Saurashtra, in memory of her husband King Bhima I. It is a unique structure as the stepwell was built by a queen in memory of her husband. There are references of the queen building the stepwell for her husband is mentioned in collection of Sanskrit narratives, written in the 14th century, called Prabandha Chintamani.
Did you know that the stepwell was destroyed by floods and this monument received very little attention till the late 1980s? Archaeological Survey of India excavated and restored the structure to its present form.
The stepwell is designed as an inverted temple and has seven levels of stairs out of which two levels have disappeared. It also has more than 500 sculptures with thousands of minor ones. In 2014, the site was listed as one of the UNESCO World Heritage Sites in Gujarat. The photograph of the stepwell is also printed on the 100 Indian Rupees note.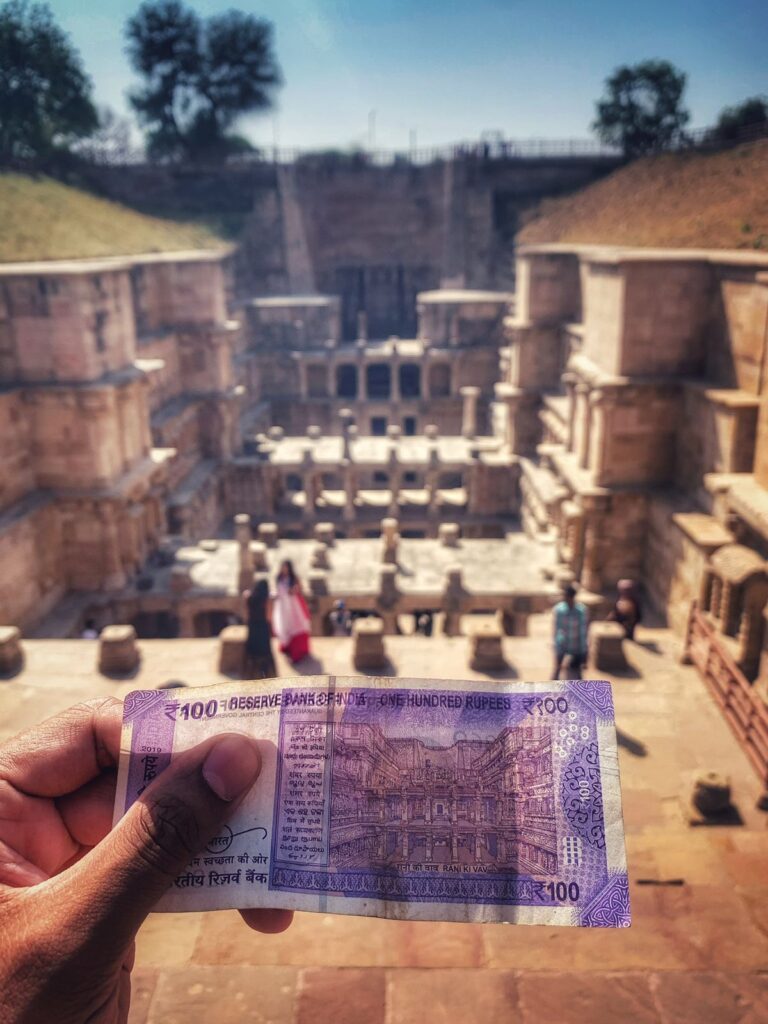 Architecture of Rani Ki Vav
Rani Ki Vav is built in the Maru-Gujara architecture style, which is similar to the Modhera Sun temple. Spread over 12 acres of land, Rani Ki Vav, an east facing memorial, is 64 metres long, 20 metres wide and 27 metres deep. The stepwell is divided into seven levels of stairs which goes down to the circular well. Every corner of the stepwell including the walls and pillars are decorated with carvings. And the stepwell has 212 pillars. There are more than 500 main sculptures and more than 1000 small sculptures.
The carvings and the statues are of Hindu gods and celestial beings. There are more number of sculptures that depict Lord Vishnu. One of the fascinating sculptures is that of Sheshashayi Vishnu where he is sleeping on thousand hooded snake Shesha in the celestial ocean. Unfortunately, we cannot go closer to the sculpture as this section of the stepwell is closed for public visitors.
Apart from the sculptures of Lord Vishnu, there are also sculptures of Lord Ganesha, Rama, Vishnu, Rama and Vamana. There are also large sculptures of Apsaras (female celestial beings who are gorgeous looking) and of women in their every day life activities. The women sculptures are adorned with ornaments including bangles, earrings and necklaces.
Interesting facts about Rani Ki Vav
It was believed that the stepwell was used for curing fever and other diseases as the water in the stepwell contained medicinal characteristics. Also, it is believed that the stepwell was surrounded by many medicinal plants.
There is a mystery that the last step of the well opens up to a 30 metres tunnel that has the exit at Sidhpur.
It is also believed that the queen built this stepwell to provide water to the poor and needy. Vav means well.
In India, there are many men rulers and kings who have built amazing structures in memory of their wives. However, Rani Ki Vav is that prominent structure that is built by a queen.
The stepwell was declared as the UNESCO World Heritage site in 2014.
In 2018, Reserve Bank of India (RBI) decided to print the photograph of the stepwell on INR 100 note.
Visitor Information
The stepwell is open between 8 AM and 6 PM every day.
There is an entrance fee of INR 20 for Indian nationals and INR 300 for foreign nationals. The payment is made at the entrance by scanning a QR code and paying the amount required online.
The best time to visit Rani Ki Vav is during the winter season (November to March) as the summer is very hot. Also, it is advisable to visit the site in the morning as the afternoons are extremely hot.
Dress appropriately as it is a religious site even though the sculptures and structures are not worshipped.
How to get to Patan?
Rani Ki Vav is in Patan city of Gujarat. Patan was the capital of Gujarat's Chavda and Chalukya dynasties.
Airport – The nearest airport is at Ahmedabad which is about 130 kilometres. Most airline providers operate from Ahmedabad.
Driving – Patan is around 130 kilometres from Ahmedabad city and the journey by road takes about 3 hours.
Public transportation –

Train – There is a train that connects between Ahmedabad and Patan that goes through Mahesana Junction. Up to date information on routes and availability can be found on IRCTC website.
Bus – There are also frequent buses between the major cities and towns in Gujarat and Patan. These buses are operated by private and government. I advise taking the buses run by Gujarat State Road Transport Corporation (GSRTC).
Closing Notes
Rani Ki Vav is truly a very beautiful monument and I highly recommend visiting it when you are in Gujarat. Each corner and pillar is spectacular and has a story to tell. These monuments also need to be one of the reasons why Gujarat must be on your bucket list.
Have you visited Rani Ki Vav? Let me know in the comments below.
How can you support me?
You know how much I love coffee, so you can buy me coffee – Buy me Coffee!
Or you can purchase from one of the below travel resources without any extra charge to you.

Travel Resources
Click to book your flight on Skyscanner.com
Click to book your accommodation on Stay22
Click to book a comprehensive travel insurance on Safety Wing
Click to book your tours and travels on Viator or GetYourGuide
If you liked this article and if it was helpful in your planning or traveling, do share, tweet, or pin this post.

Follow me on Instagram | Facebook | YouTube | Twitter | LinkedIn
Do you have a question? Or want any suggestions, and tips for travels, hikes and scuba dives? Use the Subscription box below to sign-up and get updates by email.
PIN for later reference