One day trip to Shivanasamudra Falls
The Shivanasamudra waterfalls makes a very good day trip from Bangalore. This is one of the famous spots among the Bangaloreans as it is closer to Bangalore and is an easy trip to do in one day. It is also very popular among the bike riders. I have been to Shivanasamudra falls twice and I fell in love with it the second time. There has been dramatic progress in maintaining and managing of the falls from the first time I visited.
For other places that can be traveled in one day from Bangalore, refer the section of my blog – One day travels from Bangalore.
PIN for later reference
This article may contain affiliate links. For full information, please see our affiliate disclaimer here.
About Shivanasamudra Falls
Shivanasamudra falls is a waterfall, located along the Cauvery River, is on the borders of Chamrajanagara and Mandya districts of Karnataka. The literal translation of Shivanasamudra is Sea of Shiva. At a height of 90 metres, the Shivanasamudra waterfall is a twin waterfall, Gaganachukki (Mandya district) and Barachukki (Chamrajanagara district) waterfalls. Commissioned by the Diwan of Mysore, Sir K. Seshadri Iyer, India's first hydro electric and functional power station is at the waterfall.
You can extend your travel to also visit Talakadu, which is just around 30 kilometres from Shivanasamudra waterfall.
The best time to visit Shivanasamudra falls is during the monsoon season/ immediately after the monsoon and winter season. It is between the months of July and February.
How to get to Shivanasamudra?
Driving – Shivanasamudra falls is around 130 kilometres from the Bangalore city and takes 3 hours to get there by car or motorbike. The route is through the Mysore Road. The falls is closer to Mysore, which is just 70 kilometres from the falls.
Public transportation – There are frequent buses between Bangalore K R Market and Satya Gala Hand Post at Malavalli/ Milega. The ticket can be purchased on the bus from a conductor and the fare needs to be paid by cash. Even though the buses are operated by government and private operators, it is best to travel by Karnataka State Road Transport Corporation (KSRTC).

The best way to know the stop to get down, ensure to talk to the conductor or the driver.
if you are traveling alone, make sure to get back to main town or accommodation before dark (sunset).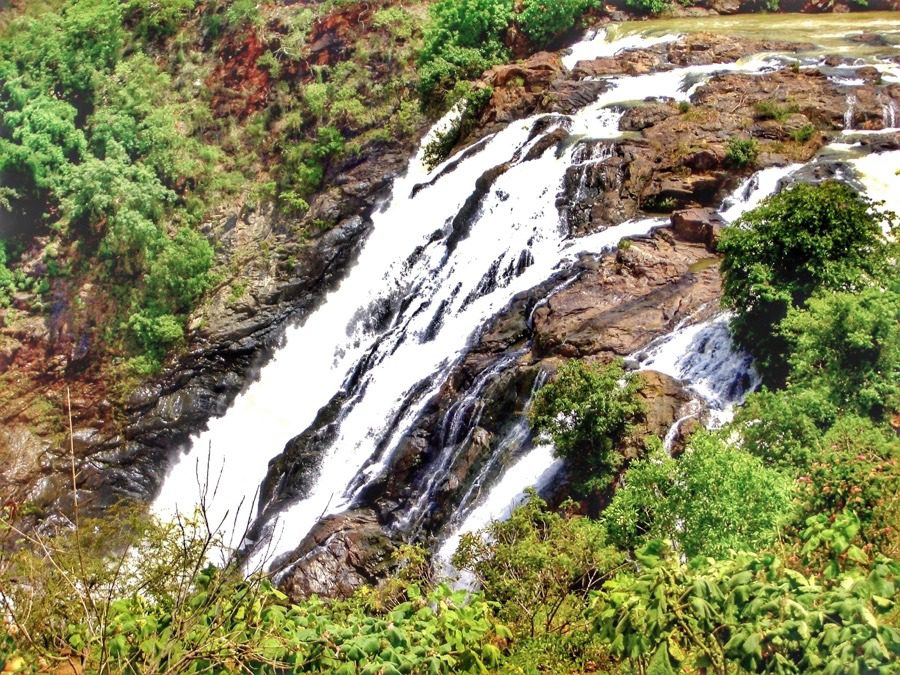 Important things to remember before visiting Shivanasamudra
There is an entrance fee of INR 20 per car or bike to get into the gates that lead to Shivanasamudra.

Note: Only cash is accepted.

An additional fee of INR 5 per person is also collected if you wish to go to the view point. The view point provides a panoramic view of the falls.
The waterfalls can be visited between 8 AM and 5 PM.

Be careful of the monkeys, especially when you are carrying food as they usually try to snatch the food or drinks.
Do not climb on the rocks. They are dangerous and it has caused fatal accidents.
Do not get into the water. It is very deep especially near Gaganachukki and can be really dangerous. There is some shallow water by the Barachukki falls. Talk to the locals before entering the water. And if you do not know how to swim, then definitely do not get into the water.
The weekends are very crowded and beware of the pick-pocketers.
As mentioned, there is considerable amount of progress in developing the area. There are many fruit and sugarcane juice vendors, opposite to the parking lot.
There is also a local restaurant at the waterfalls run by Karnataka State Tourism Development Corporation (KSTDC).
If you wish to stay near the waterfalls, then there are many hotels and resorts that have come up that offer good accommodation.
Do not throw garbage. Take your rubbish with you or throw them in proper dustbins.
Is it safe for solo female travelers?
I would say definitely yes. It is safe for solo female travelers. The first time around, the falls was not that safe but now it is very well monitored and it is absolutely safe. However, like any other place, be careful at night and keep a watch on the pick-pocketers and monkeys around.
If you are looking for a travel buddy, then I suggest looking for a travel agency (local) that has trips to Shivanasamudra or you can also find travel partners either on meetup or couch surfing websites. However, be careful with whom you go as there are all kinds of people on meetup and couch surfing.
Closing Notes
Even though I would not say Shivanasamudra is the best of the places around Bangalore, I still would love to go here again and see the spectacular waterfalls, especially during monsoons.
Have you visited Shivanasamudra yet? Let me know in the comments below.
PIN for later reference