3 reasons why moms are best travel buddies
Finding the right travel buddy is hard. There are many a times where you could be best friends with someone but cannot travel with them, especially if it is for longer travels. Over the years, I have traveled for about 40 countries in 6 continents. I have traveled solo, with friends and family, strangers and acquaintances.
After traveling with so many people, I have had only a few (single digits) travel buddies with whom I can comfortably and reliably travel with. Even though my mother and me are poles apart, I still feel that my relationship with my mother has improved because of our mother-daughter travels. She is definitely one of my best travel buddies. Be it our road trip in Tasmania or a birthday celebration travel in Cambodia, we have had such amazing memories together. In this post, I would like to tell you why your mother is your best travel buddy.
This post is my way of showing my gratitude towards having such an amazing mother and it is also her birthday today!
PIN for later reference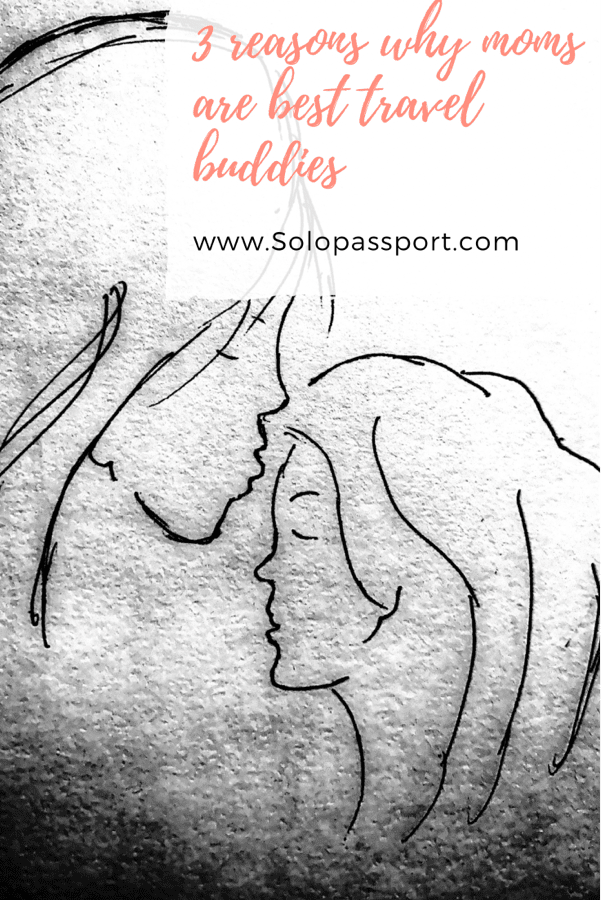 This article may contain affiliate links, meaning if you decide to make a purchase via my links, I may earn a commission at no additional cost to you. For full information, please see our affiliate disclaimer here.
3 reasons why moms are best travel buddies
Did you know that the relationship between mother and daughter is known as the maternal bond? And this maternal bond is considered as the purest form of bond in the world.
Are you looking for ideas to gift something to your mother? Sometimes it is important to make your mom special and give your mother a perfect travel gift.
Because your mom is your childhood and best friend
There were times when… I didn't have a lot of friends. But my mom was always my friend. Always. ~Taylor Swift.
Your mom is probably the only person who has stood by you from the time you are born. She is your best friend and the first childhood friend you have ever had. Being that pillar of strength, she is the one who has celebrated with you when you achieved something and has cried with you when you have had failures.
My mom has been my strength at all times. No matter what life has thrown at me, my mom has always stood by me. I am so blessed to have had that one person in my life who shows so much support by just being beside me.
Because your mom is the best personal photographer
Photography is a way of feeling, of touching, of loving. What you have caught on film is captured forever.. it remembers little things, long after you have forgotten everything. ~ Aaron Siskind.
Your mom is your personal photographer who is always ready to take your pictures. From your childhood, she has been collecting the precious memories and has never said no for taking a picture of you.
My mom has always taken very good pictures of me. I have had such precious childhood references because of her. Some of the pictures she has taken has been featured in a few tourism pages. If I travel with my mom, I do not have to think twice about the best social media pictures I can get.
Because your mom cares too much about you
A mother's love is like an everlasting bed of roses, that continues to blossom. A mother's love bears strength, comfort, healing, and warmth. Her beauty is compared to a sunny day that shines upon each rose petal and inspires hope. ~ Ellen J. Barrier.
Your mom is that one person who cares way too much about you than herself. She will spend endless nights if you fall ill and she will go to any extent to make you comfortable during bad days. And she cares too much about you and she is the best person you can rely on during your travels.
When I travel with my mom, I do not have to remind her about my likes or dislikes. She will remember and she will ensure that I am taken care of as she loves and cares about me too much.
Closing Notes
A few years ago, I made a promise to myself that I would travel with my mother every single year to a new destination. I have tried to keep my promise and I have traveled with my mother to new places, internationally and within India. During these travels with my mother, I have learned a lot of things and understood that everyone travels differently. And it is important to come to a middle ground if you wish to travel with a person who is very close to you.
Do you travel with your mom? Let me know in the comments below.
How can you support me?
You know how much I love coffee, so you can buy me coffee – Buy me Coffee!

Or you can purchase from one of the below travel resources without any extra charge to you:
Travel Resources
Book your flight on Skyscanner.com
Reserve your accommodation on Stay22
Buy a comprehensive travel insurance on SafetyWing and WorldNomads
Book your tours and travels or purchase tickets on Viator or GetYourGuide
If you liked this article and if it was helpful in your planning or traveling, do share, tweet, or pin this post.

Follow me on Instagram | Facebook | YouTube | Twitter | LinkedIn
Do you have a question? Or want any suggestions, and tips for travels, hikes and scuba dives? Use the Subscription box below to sign-up and get updates by email.
PIN for later reference