2 unique things to do in Siem Reap
During one of my birthday trips, I visited Cambodia for 6 days. The first place that I visited was the capital city of Phnom Penh and the second place was Siem Reap. Both of these places had its own charm and have so much to offer to the tourists and travelers.
This article may contain affiliate links. For full information, please see our affiliate disclaimer here.
The best time to visit Cambodia is between the months of November and April/May as the weather is dry during that period. Note that Cambodia is hot and humid throughout the year. The rainy season is between May and October.
Cambodia has plenty of things to offer and the ideal time required to explore and see the places is at least 2 weeks. You can visit many places that suit you in the country, ranging from the most famous Angkor Wat to Krong Siem Reap (beach).
If you are short on time and want a perfect itinerary for 5 days, then see 5 days in Cambodia.
About Siem Reap
Siem Reap is the gateway to the Angkor Wat temples. It is the capital city of Siem Reap Province in Cambodia. The city has plenty of hotels, resorts, and restaurants as it is a popular tourist destination in Cambodia.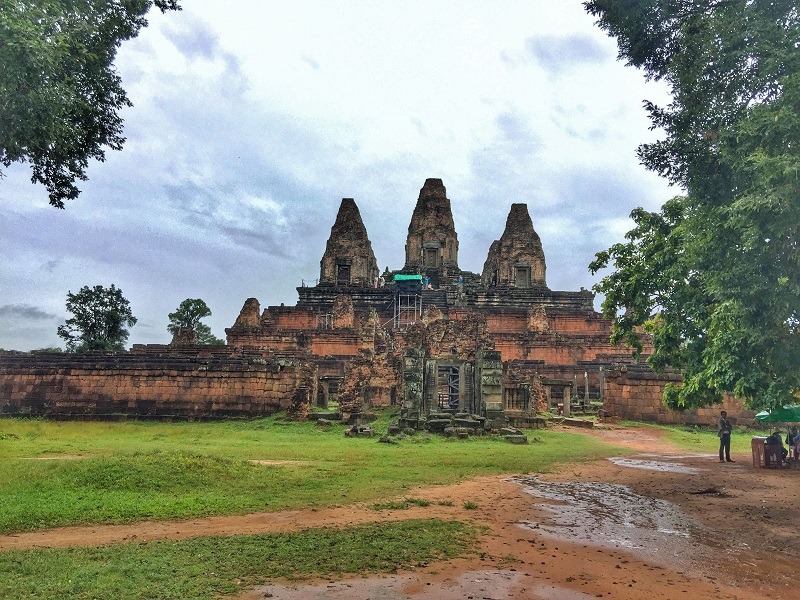 Of the two places I visited, Siem Reap in Cambodia is definitely one of my favourite cities. I suggest spending at least 4 days in Siem Reap to cover most of the touristy places. For a detailed itinerary on what can be done for 5 days in Siem Reap, refer Best 5 days itinerary in Siem Reap.
PIN for later reference
How to get to Siem Reap?
I really liked the local transportation in Cambodia. The transportation ranges between buses to taxis. And the best part is they accept payment in USD or Cambodian Riel or both.
Transportation in Cambodia between the cities
I took the Giant Ibis buses to travel between the cities, Phnom Penh and Siem Reap. Their booking is very simple and is online. The process is to select the route, date, and number of passengers and to make the payment using a credit or debit card.
The buses are completely safe and one can also book the sleeper seats for the night journey.
Note: I had booked them even before I landed in Cambodia.
Transportation within the city
The best way to travel within the city is Tuk Tuk. They are cheap, fast, and most importantly fun. As an example, I paid only USD 7 for a Tuk Tuk ride for two people from Phnom Penh city to Phnom Penh International Airport – Yes, it's that cheap! Note: They accept only cash and they do accept USD.
Tip: Haggle with the Tuk Tuk driver and you sometimes end up paying half the price he/she asked for.
Just a word of caution for taking a Tuk Tuk in Angkor Wat. Angkor Wat is a very huge complex with lots of temples and hence it can get a bit uncomfortable riding the Tuk Tuk. So, when my mother and I visited the Angkor Wat, we took a bus tour and we were seated comfortably on the bus.
Stay in Siem Reap
A great place to stay at Siem Reap is the Spring Palace boutique hotel. I absolutely loved this property and I had a good time during my stay. But the location can be a bit challenging as it is far from Angkor Wat.
Some of the other hotels to consider are:
Review of Spring Palace Boutique Hotel
The property overall is a big property. They have many classes of rooms. The rooms are spacious and clean. And the bathrooms are big and there were no issues whatsoever.
Note: The hotel arranged for a pickup and drop from/to the bus stop.
The property also has a swimming pool and a spa, an in-house restaurant. The restaurant makes good Cambodian dishes and is a perfect for trying the local Cambodian cuisine. I did feel the food was a little pricey when compared to the food available at the market.
Staff at the reception were very helpful and approachable. They attended quickly and addressed every concern very diligently. Each and every staff whom I interacted always had a smile. Being a solo female traveler, I always look for safety – and I must say that I felt completely safe with all the staff members at the hotel. The staff also provided us with the information on the sightseeing places. And they arranged for the cycle rickshaws and taxis too.
I booked the property online through the Makemytrip website. The entire booking process is seamless and easy.
Name: Spring Palace Boutique Hotel
Website: http://springpalace.asia/
Address: Thmor Meas Road, Siem Reap, 17254, Cambodia
Cost: USD 150 for 3 nights for double deluxe room
I loved the rooms, bathrooms, amenities, cats, and the staff. In a nutshell, I loved everything about this hotel. If I visit Siem Reap again, I would stay at this hotel again as I loved it so much.
2 Unique Things to do in Siem Reap
Apart from the routine of visiting Ankor Wat temples, there are two other interesting things that have to be done while in Siem Reap. Also, I also suggest trying out the amazing cafes that serve breakfast in Siem Reap.
Phare, The Cambodian Circus
My mother clapped cheerfully every time an artist jumped high on a tray held by other artists or an artist went high up performing aerobatic stunts on a rope. She had seen the artists perform in awe and we were at a Cambodian Circus.
A bit of context
In the morning, I had asked my mother if she had ever been to a circus. My mother had replied that she had been to one when she was very little. And immediately, I had booked two tickets for Phare, the Cambodian Circus (thanks to my colleague's daughter who had given me this recommendation about the famous Cambodian circus).
Cost for circus: USD 18 per person for general admission (Seat C).
Cost for Tuk Tuk: USD 6.
Purchase: Tickets can be purchased at any tour agency in Siem Reap or online.
Ask the Tuk Tuk rider, he/she will take you to any travel agent that sells the tickets.
We reached the place at around 7:30 PM and the show started at 8 PM. The circus was very minimalistic with no big sponsors or amazing costumes. But the performances were awesome. The artists were splendid. Each segment of the show was better than the previous one. The vibe, effort and energy was jaw-dropping. And the music was so catchy. In a nutshell, this is something that one should never miss when in Siem Reap.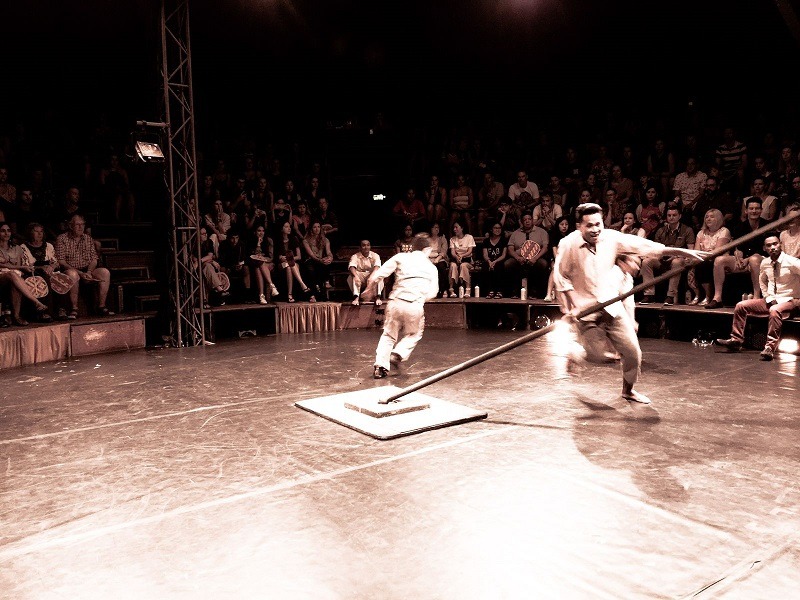 Pleasing my mother is not only difficult but close to impossible. Nothing impressed my mother other than her soap operas on television. Okay, that's a bit exaggeration. To sum it up, I can never please my mother. But this time I had hit the bullseye, she had loved the circus.
Apsara Dance Show
From the time I have landed in Cambodia, I have been chanting about the Apsara Dance show. Even my mother, who is traveling with me now, is tired of listening about how good the show is. I had booked the dance show at Phnom Penh on the day we arrived, but since my mother was very tired, we had to cancel the show.
On one of the initial days in Siem Reap, the plan was to go to see the Cambodian Circus. Unfortunately, we did not get the tickets we wanted for the circus. But – guess what? We are here at Koulen restaurant to watch the Apsara dance show.
What is Apsara dance?
The show portrays the Khmer heritage of Cambodia. It is a mix of the ballet of Apsara, the dance of Mekhala, and the Hindu mythological tale of Ramayana.
The performance was really splendid. The costumes were grand and beautiful. But the only thing I felt missing was some kind of booklet or a single sheet of paper explaining the dance performance. That would have been helpful in following what each of the dance segment was.
How to book and how much does it cost to see the Apsara dance?
There are plenty of places in Siem Reap where one can watch the Apsara dance. We went ahead with the one suggested by our Tuk Tuk driver at Easy Tour.
The show cost USD 12 with the buffet dinner. And the show lasts for an hour starting from 7:30 PM till 8:30 PM. The Tuk Tuk ride cost another USD 4.
Bonus thing to do – Night Markets at Siem Reap
Siem Reap also has a number of night markets that you can visit to buy local products and souvenirs. These night markets are a great way to engage and support the local community.
Safety for Solo Female Travelers in Siem Reap
Even though I traveled with my mother, I traveled through to various places in Siem Reap alone. And I would say that I did not have any issues as such. The city is very safe for solo female travelers. However, like any other place, be cautious especially at nights and trust your instinct.
Closing Notes
As I mentioned earlier in the post, I loved traveling in Siem Reap. I had a great time there visiting all the temples of Angkor Wat, including the Bayon Temple and especially doing the things that are unique and not every traveler does when they visit Cambodia. I would definitely suggest having these two things in your list of things to do while in Siem Reap.
How can you support me?
You know how much I love coffee, so you can buy me coffee – Buy me Coffee!
Or you can purchase from one of the below travel resources without any extra charge to you.

Travel Resources
Click to book your flight on Skyscanner.com
Click to book your accommodation on Stay22
Click to book a comprehensive travel insurance on Safety Wing
Click to book your tours and travels on Viator or GetYourGuide
If you liked this article and if it was helpful in your planning or traveling, do share, tweet, or pin this post.

Follow me on Instagram | Facebook | YouTube | Twitter | LinkedIn
Do you have a question? Or want any suggestions, and tips for travels, hikes and scuba dives? Use the Subscription box below to sign-up and get updates by email.
Also read:
PIN for later reference