Sree Someshwara Temple at Shivanasamudra
There are certain places that you visit by chance. It is as though you were destined to visit them and cross paths unknowingly. And this is exactly what happened with Sree Someshwara temple. I had never heard of the temple or seen it before on any internet website, but while driving towards Shivanasamudra waterfalls, I accidently crossed the Sree Someshwara temple. And I was instantly intrigued and drawn towards the temple. The main attraction was the colourful and huge Nandi that welcomed the devotees into the temple.
PIN for later reference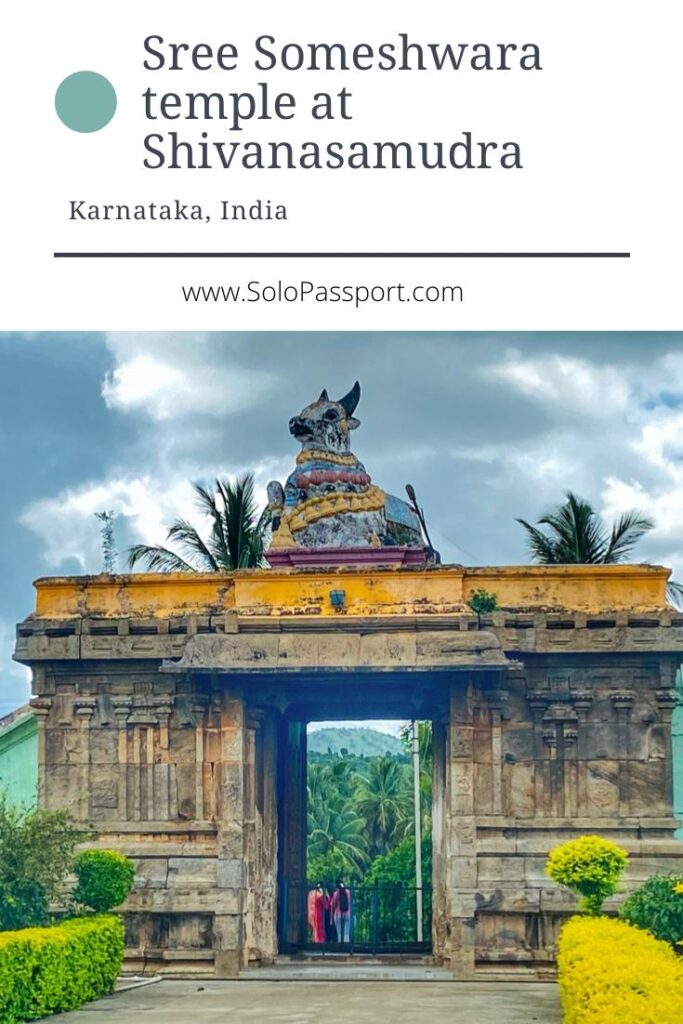 This article may contain affiliate links, meaning if you decide to make a purchase via my links, I may earn a commission at no additional cost to you. For full information, please see our affiliate disclaimer here.
About Sree Someshwara temple
Built in the Chola architectural style in an octagonal shape, the Sree Someshwara temple is dedicated to Lord Shiva called Someshwara in the form of linga. Located in Mandya district, very close to Shivanasamudra, Sree Someshwara temple is one of the most beautiful temples I have visited in Karnataka state. I especially loved the two entrances of the complex on either sides as the entrances have a well carved and colourful Nandi sitting on top.
The temple is open everyday between 9 AM and 7:30 PM.
The best time to visit the temple is in the morning or early afternoon to avoid crowd.
There is an annual festival that happens just before the Ugadi (harvesting) festival.
Stories of Sree Someshwara temple
The Sree Someshwara temple has inscriptions dating back to 12th or 13th century. It is believed that Adi Guru Sree Shankaracharya is said to have visited this temple and established a Sri Chakra in this place.
There is another ancient temple close to Sree Someshwara temple called Sree Ranganatha Swamy temple and it is believed that Sree Someshwara temple is older than Sree Ranganatha Swamy temple. The Saptarishis were performing the yagnas, poojas and worshipping this linga.
How to get to Sree Someshwara temple?
Driving – Sree Someshwara temple is around 130 kilometres from Bangalore and the journey by road takes about 3 hours. The route is along the Mysore road.
Public transportation – There are many buses, operated by Karnataka State Road Transport Corporation (KSRTC) and private operators, between K R Market in Bangalore and Satya Gala Hand Post in Malavalli/ Milega.

Return journey could be a bit tricky if you are using the public transport. Make sure to ask the bus driver or locals about the return journey so you know the timings.
Bus fares are paid only by cash. Carry exact amount of change for the bus fare.
Places to see around Sree Someshwara temple
Shivanasamudra waterfalls (Gaganachukki and Barachukki)
At a height of 90 metres, Shivanasamudra is a twin waterfalls called Gaganachukki and Barachukki. The waterfalls is located on the Cauvery River and is on the borders of Chamarajanagara and Manday districts.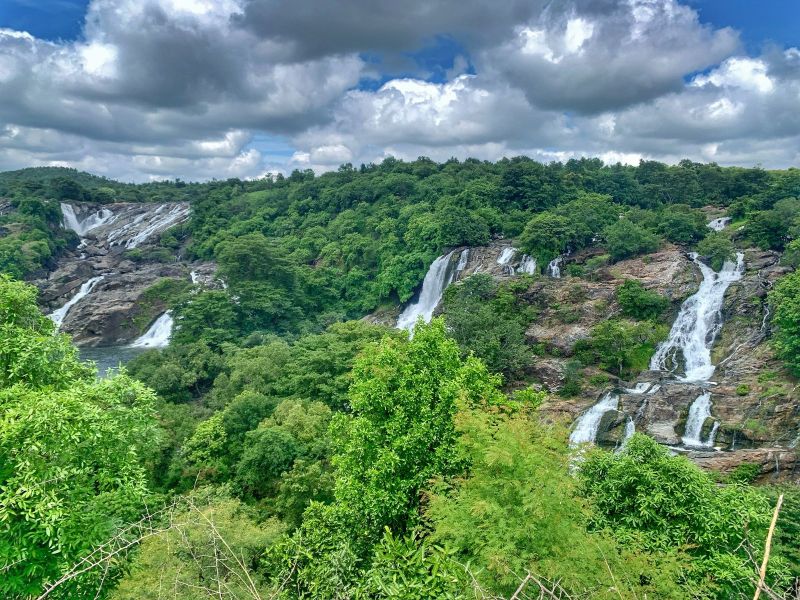 Talakadu
Located on the banks of Caurvery River, Talakadu is one of the mysterious towns in Karnataka with so many legends and stories. There are many temples at Talakadu but are now buried under sand. Among all the temples, only five temples have been excavated and can be visited. These temples are dedicated to Lord Shiva in the form of five lingas.
Belakavadi village
Located in the Malavalli taluk in Mandya district, Belakavadi village is one of the picturesque villages that has records of Hoysala rulers. It is situated on the banks of Cauvery River and still retains the village culture without too much of modernisation. The village has homes that are quite old and have retained the village style of architecture with a courtyard in the middle of a living space.
Srirangapatna
Just around 70 kilometres from Sree Someshwara temple is the town of Srirangapatna. Once a river island, Srirangapatna was part of the Kingdom of Mysore from 1610 to 1947. There are many things to see and do at Srirangapatna and has so much of history, especially from Tipu Sultan's era.
Mysore
Famous for its palace, Mysore or Mysuru is located on the foothills of Chamundi hills. The city has gone through many changes over the centuries and was ruled and passed on by many rulers. There are many things to do in Mysore and one can easily spend a weekend at this beautiful city.
Stay near Sree Someshwara temple
Chukkimane homestay
Situated in Javanagahalli village, Chukkimane homestay is an accommodation that is in between farms and nature. The property is ideal for families and senior citizens, and it provides a peaceful stay. Even though it is not a luxury stay, Chukkimane is perfect for nature lovers and bird watchers. There are many things one can do at the homestay such as visit the banks of Cauvery River, go bird watching and take a farm tour.
Closing Notes
As I mentioned, Sree Someshwara temple is an amazingly beautiful temple showcasing the Chola architectural style. The temples are surrounded by very pretty gardens and views. I loved visiting the temple and would highly recommend this as a must visit temple in Karnataka.
Do you know of any other beautiful temple that you think I should explore? Let me know in the comments below.
How can you support me?
You know how much I love coffee, so you can buy me coffee – Buy me Coffee!

Or you can purchase from one of the below travel resources without any extra charge to you:
Travel Resources
Book your flight on Skyscanner.com
Reserve your accommodation on Stay22
Buy a comprehensive travel insurance on SafetyWing and WorldNomads
Book your tours and travels or purchase tickets on Viator or GetYourGuide
If you liked this article and if it was helpful in your planning or traveling, do share, tweet, or pin this post.

Follow me on Instagram | Facebook | YouTube | Twitter | LinkedIn
Do you have a question? Or want any suggestions, and tips for travels, hikes and scuba dives? Use the Subscription box below to sign-up and get updates by email.
PIN for later reference