Weekend trip to Belur and Halebidu
Two of the most popular Hoysala temples in Karnataka are the Chennakeshava temple in Belur and Hoysaleswara temple in Halebidu. Both these two temples showcase the history and era of Hoysala dynasty. And they are the most visited temples as well. I have been to Chennakeshava temple several times and only a couple of times to Hoysaleswara temple.
PIN for later reference
This article may contain affiliate links. For full information, please see our affiliate disclaimer here.
About Hoysala dynasty and temples
The Hoysala dynasty ruled between the 10th and 14th century in Karnataka state of India. The capital of Hoysalas was originally Belur and was later moved to Halebidu. And the rulers were originally from Malenadu. The period in which the Hoysalas ruled is very important for the southern part of India because of the art, and architecture. They built many beautiful temples with exorbitant architecture.
Did you know that Halebidu was known as Dorasamudra?
It is believed that the Hoysala rulers had built around 1000 to 1500 structures, but only about 100 temples have survived. The most popular ones are the Chennakeshava temples at Belur and Somnathpura and Hoysaleswara temple at Halebidu. Other notable temples are in Arsikere, Belavadi and Amruthapura.
Read – Hoysala temple trail in Arsikere and Chennakesava temple in Somnathpura.
About Chennakeshava temple
Belur is a small town in Hassan district of Karnataka state in India. The town is famous for its Chennakeshava temple. Built in 12th century, the temple is dedicated to Lord Vishnu and is an architectural marvel showcasing the Hoysala architecture. Also known as Kesava, Keshava or Vijayanarayana temple, the Chennakeshava temple is an active Hindu temple and is a major Vaishnava pilgrimage site.
Started during the era of King Vishnuvardhana, one of the Hoysala kings, in 1117 CE, the temple was built over three generations and took 103 years to finish. The temple is surrounded by sculptures depicting the lifestyle of the 12th century. It has structures of the dancers, and musicians who lived in the 12th century, and also have structures that depict stories from mythological stories of Ramayana and Mahabharata.
Belur is called the Banaras of South.
The complex has two temples. Initially, the main temple was called Vijayanarayana and the smaller temple was called Chennakeshava. But now they are known as Chennakeshava and Chennigaraya temples respectively.
The temple is open between 7:30 AM and 7:30 PM everyday. There is no entrance fee.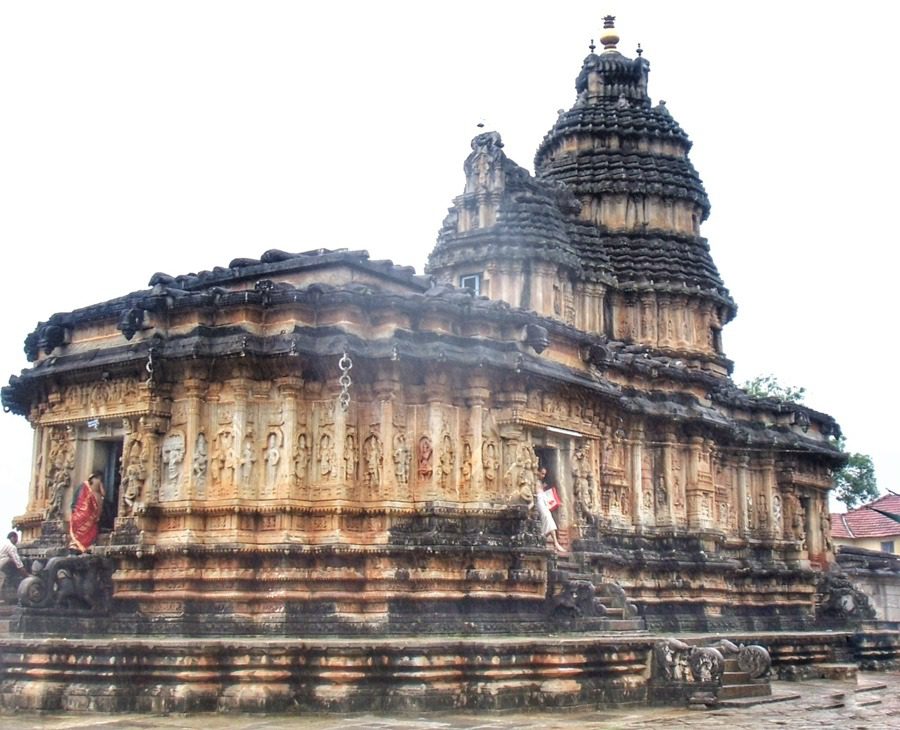 History of Chennakeshava temple
King Vishnuvardhana came into power in 1110 CE and he commissioned the Chennakeshava temple in 1117 CE. The temple is considered as one of the five foundations of King Vishnuvardhana's legacy. The main temple was completed in 1117 CE but the complex was still built and expanded for another 100 years. Unfortunately, King Vishnuvardhana died in 1140 CE, but his descendants continued the work and completed the temple.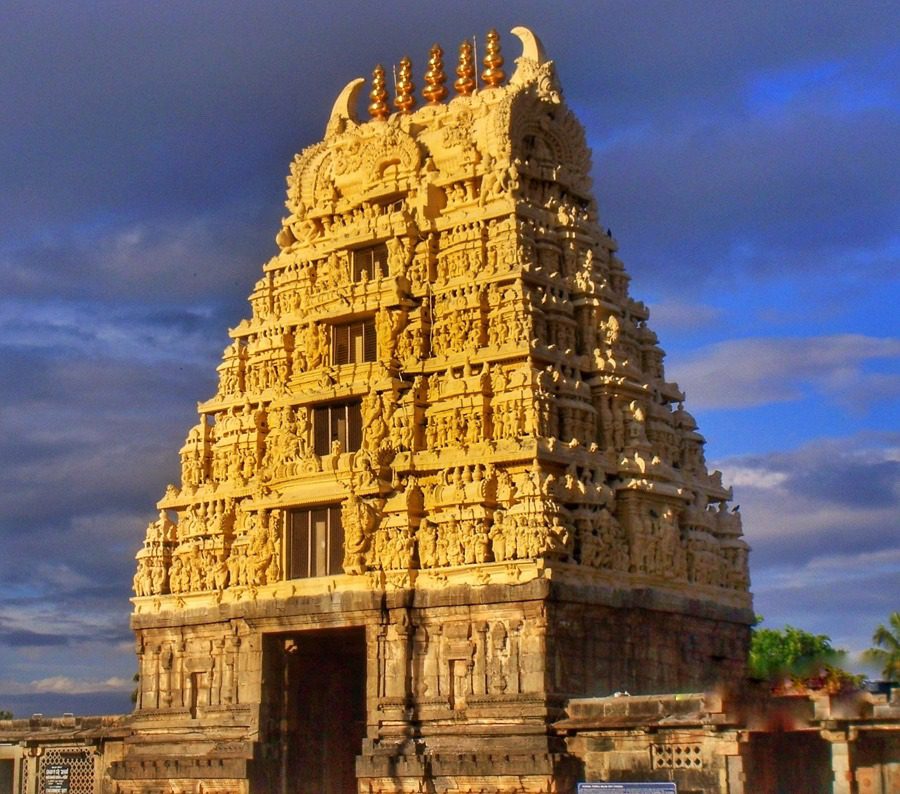 About Hoysaleswara temple
The Hoysaleswara temple was also constructed by King Vishnuvardhana in the 12th century. Also, known as the Halebidu temple, the Hoysaleswara temple is dedicated to Lord Shiva. It is a twin temple with two lingas, Hoysaleswara and Santaleswara Shiva lingas. According to Wikipedia, the Hoysaleswara temple is the largest temple built by the Hoysalas that is dedicated to Lord Shiva in southern part of India.
Made of soapstone, the temple is known for intricate sculptures. The sculptures narrate verses from mythological stories of Ramayana, Mahabharata and Bhagavata Purana. There are also sculptures depicting the life and culture of the 12th century.
The temple is open everyday between 6:30 AM and 9 PM. There is an entrance fee of INR 5 per person.
History of Hoysaleswara temple
As mentioned above, the Hoysaleswara temple was constructed during the reign of King Vishnuvardhana in the 12th century. But unfortunately, in the early 14th century, the Hoysala Empire and Halebidu was invaded by the Delhi Sultanate armies of Alauddin Khilji that led to the destruction of the temple. And the Haledibu town and its temples became ruins. In the 1850s, the temple was one of the earliest to have been surveyed and photographed. The ruins was then restored and repaired protecting its original structure and architecture.
How to get to Halebidu and Belur?
Driving
Halebidu is about 212 kilometres from Bangalore city and the journey by car takes 4 hours 10 minutes. The route is towards Nelamangala and has toll roads.
Belur is around 17 kilometres from Halebidu and the journey takes just 25 minutes by car.
Public transportation
Buses – There are frequent buses between Bangalore and Halebidu/ Belur and the journey takes around 9 hours. It is best to take the KSRTC (Karnataka government) buses as there are less chances of them getting canceled at the last minute. Refer Redbus website for more options on buses.
Train – Arsikere is the closest train station to Belur. One can take a train from Bangalore to Arsikere and then hire a taxi to Halebidu and Belur.

When I visited Arsikere, my friend and I hired the taxi from Renuka Travel Services in Arsikere (+91 98441 74172) and the service was very good. It was safe and the driver was very friendly.
Belur and Halebidu tour
Karnataka State Tourism Development Corporation (KSTDC) organises a one day package tour to Belur, Halebidu and Shravanabelagoa. Costing around INR 1210 per person, this tour is a bus tour and it departs from Yeshwanthpur in Bangalore. I have been on this package and it is a carefree tour where the passengers are taken on this tour and are dropped off at night at Yeshwanthpur. If you are short on time, then this is a perfect way to cover the most iconic landmarks of Karnataka.
It is best to visit on weekdays and in the mornings as it is less crowded. If visiting over the weekends, then be prepared to see lot of people.
Safety for solo female travelers
The temples and temple towns are very safe for solo female travelers. I have been there a few times and I have not had any issues as such. But as any other place in the world, be cautious, especially at night and be aware of your surroundings at all times.
Are you new to solo traveling? Or have a lot of questions related to solo traveling? Read frequently asked questions on solo traveling.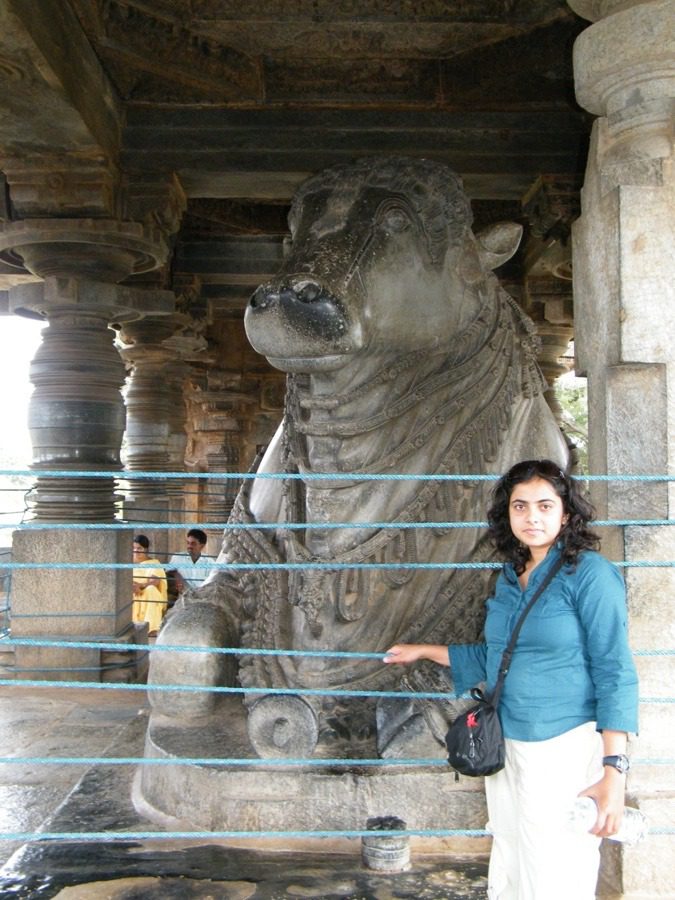 Closing Notes
If you are traveling in Karnataka, then any of these Hoysala temples must surely be on your list. These temples are an architectural marvel and are one of its kinds. I highly recommend visiting both these temples if you can.
How can you support me?
You know how much I love coffee, so you can buy me coffee – Buy me Coffee!
Or you can purchase from one of the below travel resources without any extra charge to you.

Travel Resources
Click to book your flight on Skyscanner.com
Click to book your accommodation on Stay22
Click to book a comprehensive travel insurance on Safety Wing
Click to book your tours and travels on Viator or GetYourGuide
If you liked this article and if it was helpful in your planning or traveling, do share, tweet, or pin this post.

Follow me on Instagram | Facebook | YouTube | Twitter | LinkedIn
Do you have a question? Or want any suggestions, and tips for travels, hikes and scuba dives? Use the Subscription box below to sign-up and get updates by email.
PIN for later reference