Chennakesava temple in Somnathpura (2024)
"Where is this Somnathpura?"
"Why are we going to Somnathpura?"
"We need to walk a lot, Chinnu!"
"It's like a school trip!"
"We can probably go somewhere else, a little more far from Bangalore."
"We need to go to Wonderla."
These were all the statements that my family made or asked.
PIN for later reference
This article may contain affiliate links, meaning if you decide to make a purchase via my links, I may earn a commission at no additional cost to you. For full information, please see our affiliate disclaimer here.
A little bit of context
After several planning, bookings, re-bookings, and cancellations in the past, I never ended up going to Somnathpura. I was visiting my family in Bangalore from Sydney, after a year, so we decided to plan for a day trip with them. A perfect way to blend as a family! I shared the thought with two of my cousins, who were equally excited. After a lot of planning, re-planning, voting, negotiating and the number of people responding, 12 ladies ended up for the family trip.
About Chennakesava temple in Somnathpura
There are two Chennakesava temples built during the Hoysala Empire, the big one is at Belur and the mini version is at Somnathpura. The latter is what I am currently talking about.
Hoysala architecture is known for its beautiful carvings and sculptures. Witnessing this architecture must be one of the reasons why you need to have Karnataka on your bucket list.
To give a bit of history, the Chennakesava temple was built in the 13th century and is one of the marvellous examples of Hoysala architecture. The temple was built by Somanatha Dandanayaka, a general of Hoysala King.
The temple is open between 9 AM and 5:30 PM every day and there is an entrance fee of INR 5 for Indian nationals and INR 100 for foreign nationals.
You need at least 3 hours to explore the temple.
Please respect the religious sentiments and do not wear short clothes. Wear appropriate clothing.
There are plenty of Hoysala temples around Karnataka and my friend and I recently went on an exploration trip to Arsikere, read Hoysala trail in Arsikere.
How to get to Somnathpura?
Public transportation –

Trains – There are many trains that connect between Srirangapatna and Bangalore. The train tickets can be booked on IRCTC website. Once you reach Srirangapatna, you can either take a local bus or a taxi. The distance between Srirangapatna and Somnathpura is just 35 kilometres (which is just less than hour by road).
Buses – There are also many buses, operated by Karnataka State Road Transport Corporation (KSRTC) and private operators, that run frequently between Satellite bus stop in Bangalore and Somnathpura.
Our itinerary
We were driving from Bangalore. Three of my cousins had coordinated and organized a tempo traveler that would accommodate all of us in one vehicle. The trip started off with the family updates and catching up. As and when we drove farther away from Bangalore, everyone settled in and became more comfortable. We had some music, singing and dance on the way.
After 3 hours of drive, we finally reached the temple. The temple has a minimal entrance fee, which we purchased at the gate. The guard at the entrance did not allow my tripod to be taken inside the premises (Not sure why). Even though I was upset a little, I was distracted and deviated by the beautiful high walled enclosure that was surrounding the temple. Being the photographic addict family we are, we clicked some pictures in front of the walled enclosure.
As we entered the temple, I realized why it was one of the finest examples of Hoysala architecture. The temple is at an elevated platform and is in a star shape.
You can only take photographs and videos of the exterior of the temple. Taking pictures of videos inside the temple is not allowed.
The outer walls of the temple are decorated with marvellous pieces of big sculptures.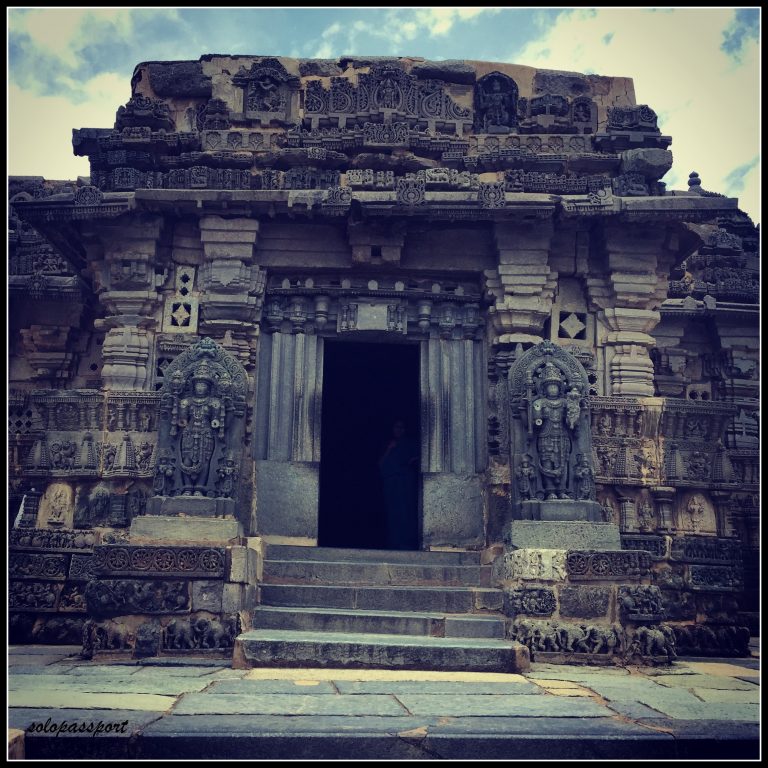 The lower part of the walls have sculptures of soldiers on horses, elephants and scenes from Hindu mythological stories.
The upper part of the walls have sculptures of various Hindu Gods, especially Lord Vishnu in his different avatars.
We hired a guide as we wanted to know the history and details of the temple. The guide seemed knowledgeable but he was short-tempered and had a problem with me specifically. He was angry with me, because of my inquisitiveness. Well, I asked him too many questions. Nevertheless, he explained the history, details, and importance of the temple and sculptures.
Tip: Hire a guide as the guide will give you a lot of details and history about the temple. There are government authorised guides, so make sure you hire only them.
One of the most interesting sculptures that the guide spoke about was that of Lord Vishnu and Goddess Lakshmi. In that sculpture, the Goddess Lakshmi sits on Lord Vishnu's lap, resting one of her feet on a lotus flower. And the lotus flower is supported by an elephant, to hold the weight of her feet. The sculpture showed the sculptor's eye to detail and how skillful the sculptor was.
There are many pillars inside the temple, each one designed differently from the other. The octagonal ceilings resemble the lotus flower. And the temple is said to have had three idols: Lord Kesava, Lord Janardhana and Lord Venugopala. Unfortunately, the idol of Lord Kesava is missing currently.
All of us were clearly overwhelmed by the beauty of the temple. The structures and the sculptures, showed the amazing artistic skills the craftsmen carried. Each sculpture has been well thought through and has every little detail that anyone can think of. This makes me realize how rich India is with respect to the history and the skills. We have such spectacular monuments that we must be really proud of.
Coming back to my family, the giggles, gossips, dancing and the ongoing snacks helped all of us bond more closely with each other. Some of us were quiet and the rest was super talkative. A few of us introverts and the rest extroverts. But in a nutshell, it was an awesome fun-packed day and one of the best trips I have had with my family in recent times.
Is it safe for solo female travelers?
Yes, visiting this temple is very safe for solo female travelers. It is a religious place and hence any kind of nuisance is not tolerated. However, like any other place in the world, trust your instinct and be cautious, especially at night.
Closing Notes
As the Chennakesava temple in Somnathpura is not as popular as the other Hoysala temples, the temple is untouched and less crowded. I would definitely say that this is the place to explore and practise your photography skills. The temple offers so many opportunities that can be captured with your camera. Also, this temple makes a perfect one day trip from Bangalore as it can easily be covered within a day.
How can you support me?
You know how much I love coffee, so you can buy me coffee – Buy me Coffee!

Or you can purchase from one of the below travel resources without any extra charge to you:
Travel Resources
Book your flight on Skyscanner.com or Trip.com
Reserve your accommodation on Stay22
Buy comprehensive travel insurance on SafetyWing and WorldNomads
Book your tours and travels or purchase tickets on Viator or GetYourGuide
For a universal SIM card, use DrimSim
If you liked this article and if it was helpful in your planning or traveling, do share, tweet, or pin this post.

Follow me on Instagram | Facebook | YouTube | Twitter | LinkedIn
Do you have a question? Or want any suggestions, and tips for travels, hikes and scuba dives? Use the Subscription box below to sign-up and get updates by email.
Also read
PIN for later reference