Guide | Hoysala Temple Trail in Arsikere
Hoysala temples are not just limited to Belur, Halebidu and Somnathpura temples. I am absolutely in love with these temples. I was amazed to find that there are more than 100 Hoysala temples built around Karnataka. And Arsikere is one such place in Karnataka that also has these hidden Hoysala temples. My friend Divya and I decided to do a Hoysala Temple Trail in Arsikere and explore these architectural marvels.
Thanks to Divya who organised this whole trip and ensured all the research was done prior to us traveling.
PIN for later reference
Please note: This post may contain affiliate links which means I may earn a commission if you make a purchase by clicking a link on this post. This will be at no additional cost to you. Affiliate links help me keep this website up and running. Thank you for your support.
Hoysala Dynasty
Hoysala Dynasty or the Hoysala Empire were the rulers of Southern Deccan India, now known as Karnataka, between 1006 and 1346 CE. The rulers were originally from Malenadu and the followers of Hoysalas spoke the common language of Kannada. The dynasty saw some great rulers such as Vishnuvardhana and Veera Ballala II. Hoysala empire is remembered for its architecture and there are so many temples around Karnataka that were built by the Hoysalas.
Hoysala Emblem
There is a legend that says that a young man Sala saved his Jain guru Sudatta by striking dead a tiger near the temple Sosevuru. In the word Hoysala, 'Hoy' translates to strike in Hale (Old) Kannada and hence the name Hoy-sala came into existence. This legend is said to be present in the inscription of Vishnuvardahana in Belur, as the legend became famous after the King Vishnuvardhana defeated the Cholas at Talakadu.
The Hoysala emblem depicts the fight between Sala and the tiger, the tiger being the emblem of Hoysalas.
Hoysala Architecture
The Hoysala architecture is an architectural style that was developed under the Hoysala dynasty, between the period of 11th and 14th centuries. Temples built by Hoysalas were mostly dedicated to Lord Shiva or Lord Vishnu. Records indicate that they built almost equal number of temples dedicated to Lord Shiva as that of Lord Vishnu, to maintain religious harmony.
The focus of the temple is the Garbhagriha (centre) where the deity resides. So the architecture ensures that the devotees enter the Garbhagriha from outside through the halls of mantapas (chambers). All Hoysala temples resemble each other structurally. The complete list of Hoysala architecture temples can be found on Wikipedia.
Unique Hoysala architecture features
There are some of the distinct features that determine if a temple was built by the Hoysala dynasty. To name a few are:
Exquisite detail and highly skilled craftmanship.
Sculptures of women, performing different activities.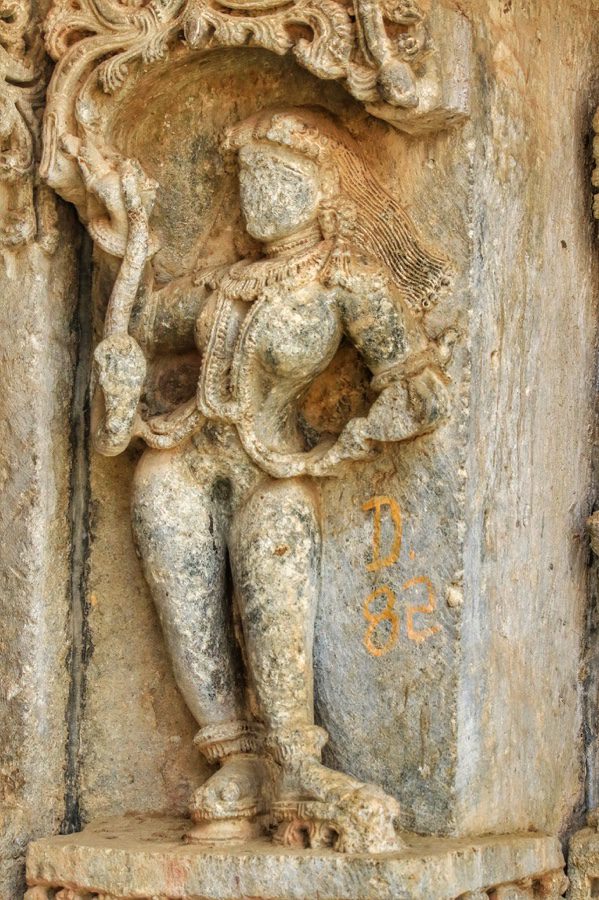 Temples built between the 11th and 14th centuries.
Arsikere
Arsikere is a town in the Hassan district in Karnataka state of India. Arasiya and kere means 'Queen's pond' in Kannada. The name originated from one of the princesses of Hoysala dynasty who built a pond/lake near the town.
Arsikere is the central place for tourists exploring Belur and Halebidu temples.
Getting to Arsikere
By Road
Arsikere is around 166 kilometres from Bangalore city. It takes about 3.5 hours drive one way.
By Train
Trains run between Bangalore city (City Railway station) and Arsikere Junction (Arsikere Railway station). The fastest train is the Jan Shatabdi Express.
The train tickets can be purchased on IRCTC website.
One way ticket costs about INR 250 per adult.
Cab details
We had booked a cab for 8 hours. The cab charges included the pick up and drop from/to Arsikere Junction. The cab driver was extremely friendly and the car was neat and well maintained. I recommend going with this cab service.
Vinayaka Tours and Travels
Mobile: +91-9152566513
Hoysala Temple Trail in Arsikere
Itinerary
We explored the four Hoysala temples in Arsikere in one day. These temples can easily be covered in one day, along with two more temples (not Hoysala) and below is the itinerary that we followed:
6 AM – Take the train from Bangalore city railway station to Arsikere railway station.
9 AM – Reach Arsikere.
9:30 AM – Visit the below temples:
Lakshminarasimha Temple
Veeranarayana Temple
Someshwara Temple
Shivalaya
6:30 PM – Take the train from Arsikere railway station to Bangalore city railway station
10 PM – Reach Bangalore city railway station
Lakshminarasimha Temple
The Lakshminarasimha Temple (Javagal) is an example of 13th century Hoysala temple. The temple stands on a raised platform and is meant for devotees a path to circumambulation around the temple. It was built in 1250 A.D. by the Hoysala King Vira Someshwara and the main deity of the temple is Narasimha, an avatar of Lord Vishnu.
The temple is protected by Archaeological Survey of India.
Veeranarayana Temple
The Veeranarayana Temple (Belavadi) was built in 1200 C.E. by the Hoysala King Veera Ballala II. The temple has three shrines and is one of the largest temples of Hoysala dynasty. According to legend, Belavadi, is a place mentioned in Mahabharatha, where Bheema ( Pandava prince) killed the demon Bakasura and protected the village and its people.
This surely is my most favourite temple among the four. It was absolutely breathtaking.
Someshwara Temple
The Someshwara Temple (Haranahalli) is said to have been built in 1235 A.D by Hoysala King Vira Someshwara. The temple is dedicated to Lord Shiva. This temple is less beautiful and famous than the other Hoysala temples.
The temple is not very well maintained.
Shivalaya or Ishvara Temple
The Shivalaya or Ishvara temple dates back to circa. 1220 CE. Dedicated to Lord Shiva, this temple is considered as the most complex Hoysala temple. This is due to its 16-point star shaped hall.
Vlog
I created a vlog capturing the trail and interviewing the localities.
Note: In the vlog the purohit (preist) says that the Lakshminarasimha temple was built by Vishnuwardhana, where as based on my research the temple was built by King Vira Someshwara.
Special thanks to my friend Divya and the local artist who sang at the temple for contributing in the video.
Where to eat?
Hallimane is the one of the best restaurants I have been to in Karnataka. They serve simple and delicious home cooked vegetarian food. The hospitality is absolutely brilliant. And the food is an authentic Malnad style food, which has Chapati, Holige (Obattu), Palya, Rice, Sambar and Rasam.
Address: Near Railway Gate Mysore Road, Channarayanapatna-Arsikere Road, Arsikere, Karnataka 573103.
Timings: Everyday 9 AM to 8 PM.
Mobile: +91-9980159150.
Safety for Solo female travelers
My friend or I did not face any issue while we traveled here. Even though I traveled with a friend, I can vouch that this place is safe for solo travelers as well. Arsikere is extremely safe for female travelers and people here are very friendly.
Note: Like any other place, please take precautions and trust your instinct.
Important Information
Priests
Generally the priests stay close to these temples, so if the temple is closed, inquire for the priest. The priests in these villages are very good, they will open the temple just for you.
Littering and nuisance
It was very disheartening to see some of the sculptures and pillars being destroyed by people. There were names written and the structures of the temples had lot of scratches. Please do not destroy our history. These monuments are some of the most important piece of history we have.
Expenses
Below are the breakdown of expenses for Hoysala Temple Trail:
Train tickets return = INR 460
Cab charges = INR 2800
Breakfast = INR 148
Lunch = INR 400
Total expenses for 2 people = INR 3808
Conclusion
Even though I am not a very religious person, I have loved going to Hindu temples because of its architecture and history. I enjoyed seeing the sculptures and the temple complexes. All the temples that we explored as part of this trail was absolutely amazing and beautiful. They have so much history and I totally recommend doing this trail. If you are an architecture lover like us, then this Hoysala Temple trail is definitely for you.
Let me know in the comments section if you know of more Hoysala temples around the area.
PIN for later reference