Sri Aprameya Swamy temple, one of the rare temples of Bala Krishna
On my way back from Melkote to Bangalore, my taxi driver suggested that I stop over at Sri Aprameya Swamy temple. Just a short deviation from the highway, stood this amazingly beautiful temple with an entrance covered with pink flowers. It is one of those temples that is popular among the locals but not so famous outside the area. As I have been visiting various temples in India and learning about the history and architecture, I decided to spend sometime exploring the beauty.
PIN for later reference
This article may contain affiliate links, meaning if you decide to make a purchase via my links, I may earn a commission at no additional cost to you. For full information, please see our affiliate disclaimer here.
Disclaimers:
The prices mentioned in the post are valid only at the time of publication. Ensure to check the booking websites for up to date information and prices.
Opinions and views expressed solely mine and are unbiased. If the post is a collaboration, then they are specifically mentioned.
Ensure to check the relevant websites for up to date information on COVID protocols.
For any adventurous activities, please note that there is a risk that can be dangerous. Ensure to read the terms and conditions with individual agencies recommended and do them at your own risk.
For visas, it is best to see the embassy website for any changing rules.
About Sri Aprameya Swamy temple
Built in the 11th century by Chola King Rajendra Simha, the Sri Aprameya Swamy temple is one of the beautiful temples in Mallur village near Channapatna town of Karnataka state in India. The temple is named after the Chola general Aprameya. Also known as Sri Ramaprameya temple, Sri Ambegalu temple and Navneetha Krishna temple, this temple was built on a sandy banks of River Kanva. It is believed that Sage Vyasa did pratishtapna (installation) of baby Krishna here.
Structure of Sri Aprameya Swamy temple
The temple is dedicated to Lord Aprameya which is in a standing position with a Shanka – Chakra in upper hands and Padma – Gadha in lower hands. It is believed that Sri Rama had stayed here for many years. He worshiped Lord Aprameya and conducted homas and yagnas. This temple is also called as South Ayodhya.
The main feature of the temple is the sanctum dedicated to Bala Krishna (baby Krishna) in a crawling posture carrying butter in one hand. It is believed that this is one of the rare temples where Krishna is in his baby form. The idol can be seen without any decorations (in Kannada language alankara). According to locals, any childless couple who prays to baby Krishna will soon be blessed with baby. And after the child is born, the couple visits the temple again and thank the lord by hanging a silver or wooden cradle in the sanctum.
The temple is a very ancient temple constructed in the Dravidian architecture style and it is facing east with a 5 tier Rajagopuram.
Did you know that Sri Cheluvanarayana Swamy temple in Melkote is also built in the Dravidian architectural style?
How to get to Sri Aprameya Swamy temple?
Flight – The closest airport is in Mysore's domestic airport that caters to flights between major cities in India and Mysore. The distance between the temple and Mysore airport is about 90 kilometres.

Note: The temple is around 110 kilometres from the Bangalore International airport.

Driving – The most convenient way to reach the temple is to drive. The temple is just 60 kilometres from Bangalore city and the journey takes 1 hour 30 minutes by car.
Bus – The Mallur village is well connected with buses that are run by government and private operators. It is best to get down at Channapatna on the Mysore-Bangalore highway and walk to the temple. Refer Karnataka State Road Transport Corporation (KSRTC) website for government operated bus information.
Train – There is also a train that connects Bangalore and Mysore with a stop at Channapatna. refer IRCTC website for more information on trains.
Visitor Information
The temple is open everyday between 8 AM and 1 PM, and between 4 PM and 8 PM.
There is no entrance fee to get into the temple. But with an extra cost, devotees are allowed to cradle the baby Krishna. There are also special darshanas that can be done by paying extra amount.
Photography is not allowed inside the temple.
It is a religious place, so wear appropriate clothes.
Respect the sentiments of locals.
Leave your footwear outside before entering the shrine.
Channpatna is famous for its wooden toys and there are a few street vendors selling them near the temple.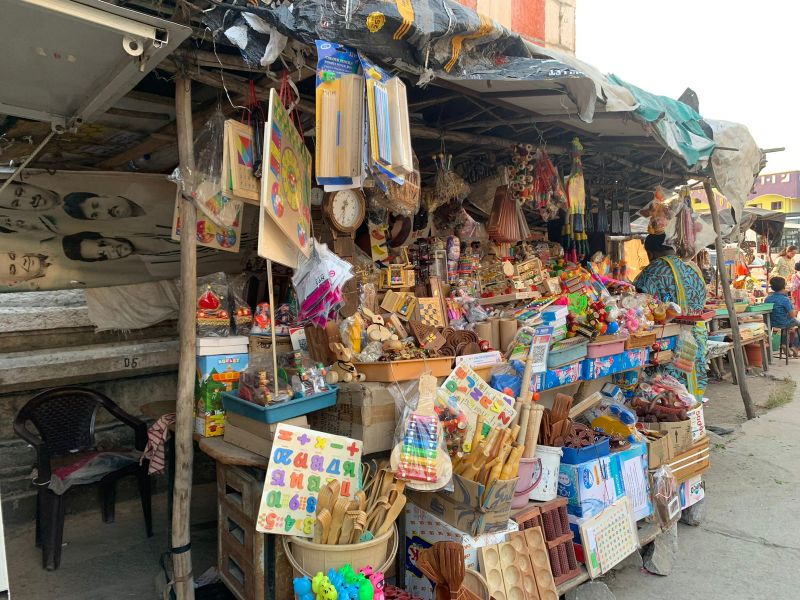 Closing Notes
Sri Aprameya Swamy temple is surely one of the beautiful temples in Karnataka. It has many deities inside and the vibes of the temple is truly mesmerising. The temple makes a perfect stop over on the way between Bangalore and Mysore. I also suggest spending sometime looking around at the wooden toys made by the local artists in Channpatna.
Have you visited Sri Aprameya Swamy temple? Let me know in the comments below.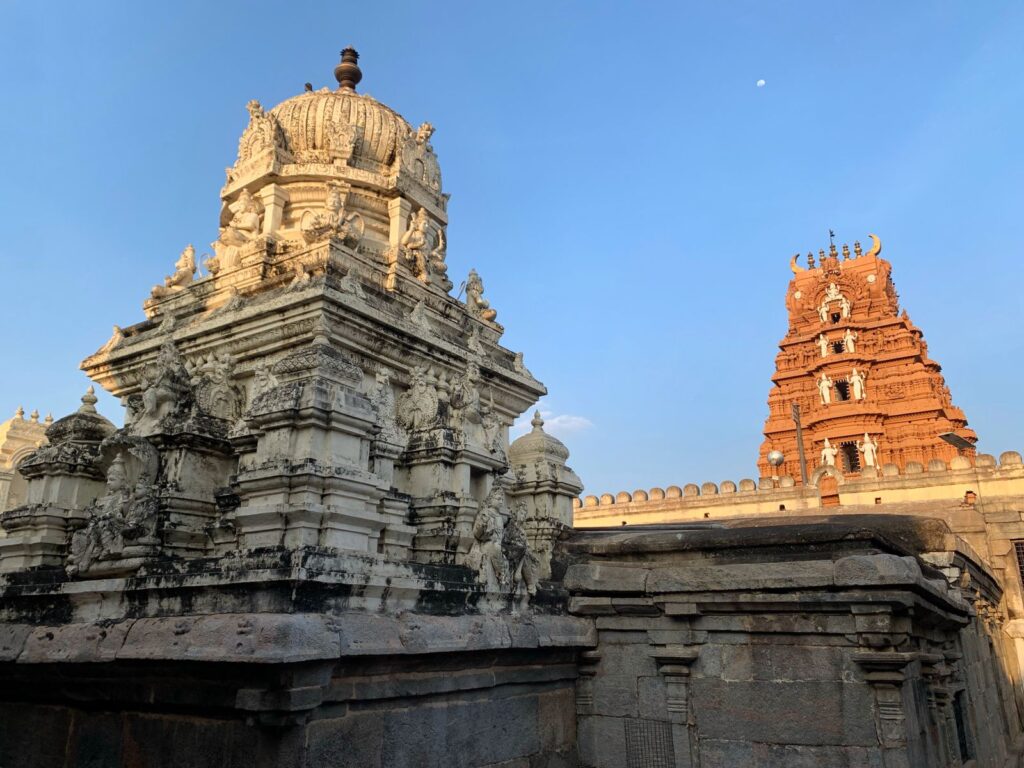 How can you support me?
You know how much I love coffee, so you can buy me coffee – Buy me Coffee!

Or you can purchase from one of the below travel resources without any extra charge to you:
Travel Resources
Book your flight on Skyscanner.com or Trip.com
Reserve your accommodation on Stay22
Buy comprehensive travel insurance on SafetyWing and WorldNomads
Book your tours and travels or purchase tickets on Viator or GetYourGuide
For a universal SIM card, use DrimSim
If you liked this article and if it was helpful in your planning or traveling, do share, tweet, or pin this post.

Follow me on Instagram | Facebook | YouTube | Twitter | LinkedIn
Do you have a question? Or want any suggestions, and tips for travels, hikes and scuba dives? Use the Subscription box below to sign-up and get updates by email.
PIN for later reference