The toy town of Channapatna
The toy town of Channapatna brings in a lot of pleasant memories for me. I remember stopping by the small shops to purchase toys, every time my family and I drove past the city on our way to Mysore. As a child, I had collected all kinds of Channapatna toys with variety of sizes and shapes. But my favourite was the rocking horse that I had. It has always been such a beautiful childhood memory and I will always cherish them.
PIN for later reference
This article may contain affiliate links. For full information, please see our affiliate disclaimer here.
About Channapatna
Known as Gombegala Ooru (toy town in Kannada language) and the land of toys, Channapatna is famous for its wooden handicraft toys. Channapatna is a city in the Ramanagara district of Karnataka state in India. The traditional craft of toy making in Channapatna is protected as a geographical indication (GI) under the World Trade Organisation.
When you are in Channapatna, extend your travel to visit one of the unique and oldest temples in Karnataka, the Sri Aprameya Swamy temple. It is one of the rare temples of Bala Krishna.
Making of Channapatna toys
Channapatna wooden toys are made up of special woods called Aale mara, which means ivory wood, and Dhoodi wood, which means Milk wood. The toys are coloured using the vegetable dyes and are safe for the kids unlike any other toys available in the market. Manufacturing of these toys include several stages such as procuring the right wood, seasoning and cutting the wood, pruning and carving the toys, applying colours and finally polishing the finished toy.
History of Channapatna toys
The origin of the toys can be traced back to the 18th century under the rule of Tipu Sultan, the historic ruler of Mysore and Srirangapatna. It is believed that was when the monarch brought Persian toymakers to train the local handicraft workers and artisans. These skills were passed on through generations. And as the art was passed on through generations, the art learned from the Persian toymakers went through dramatic changes over the years and decades. And this impacted the production and selling of the wooden toys.
Later, Bavas Miyan, known as the father of Channapatna toys, took initiative and introduced Japanese doll making techniques to improve production of these toys. Unfortunately, not much of information is known about Bavas Miyan.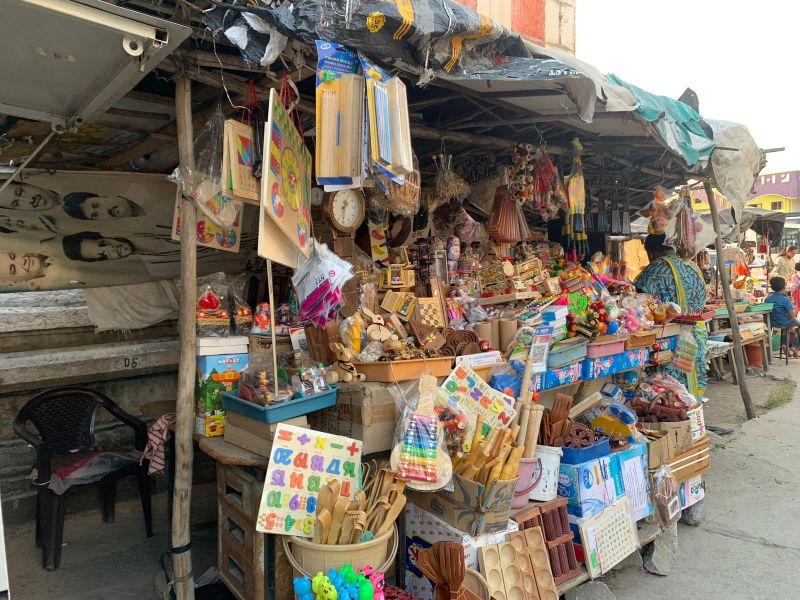 Where to buy Channapatna toys?
Shops – Channapatna city has plenty of shops that sell Channapatna toys. These toys are authentic and can easily be purchased.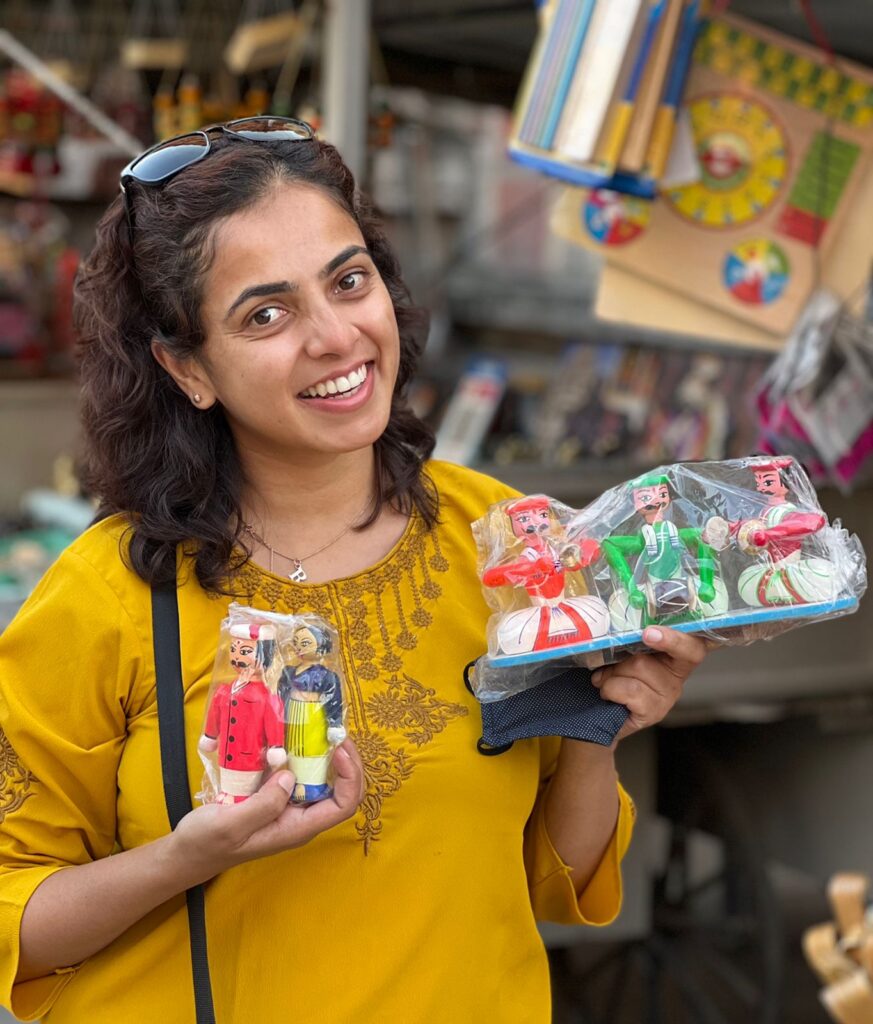 How to get to Channapatna?
Airport – The nearest airport is in Bangalore and the distance between Bangalore International airport and Channapatna is around 95 kilometres. All airline providers operating in India have a stop over in Bangalore.
Driving – Channapatna is around 60 kilometres from Bangalore city and the journey by road takes about 2 hours. The route is towards Mysore city.
Buses – There are frequent buses between Bangalore city (Satellite bus stop) and Channapatna. These buses are operated by Karnataka State Road Transport Corporation (KSRTC) and private operators. I highly recommend KSRTC buses as they are safe.
Trains – The nearest train station is in Mandya. There are frequent trains between Bangalore and Mandya. Manya is around 35 kilometres from Channapatna. For up to date information on trains, refer IRCTC website.
Closing Notes
Channapatna is surely one of the most beautiful and interesting cities to visit in Karnataka. If you love art, then this place is surely for you as the entire city seems like an open museum with many artisans doing their work. You can see many shops displaying the colourful toys in the city. Ensure to stroll through the streets to enjoy the spectacular display of art.
Have you purchased any Channapatna toy? Which was your favourite toy? Let me know in the comments below.
How can you support me?
You know how much I love coffee, so you can buy me coffee – Buy me Coffee!
Or you can purchase from one of the below travel resources without any extra charge to you.

Travel Resources
Click to book your flight on Skyscanner.com
Click to book your accommodation on Stay22
Click to book a comprehensive travel insurance on Safety Wing
Click to book your tours and travels on Viator or GetYourGuide
If you liked this article and if it was helpful in your planning or traveling, do share, tweet, or pin this post.

Follow me on Instagram | Facebook | YouTube | Twitter | LinkedIn
Do you have a question? Or want any suggestions, and tips for travels, hikes and scuba dives? Use the Subscription box below to sign-up and get updates by email.
PIN for later reference