Sri Cheluvanarayana Swamy temple, deity worshipped by Lord Rama and Krishna
Melkote is a religious town that has some of the very beautiful temples of Karnataka. It is just around 150 kilometres from Bangalore and hence makes a perfect one day trip. Sri Cheluvanarayana Swamy temple is one of the main temples of Melkote town.
I always wanted to go to Melkote but unfortunately every time I planned, something came up and I never ended up going. But a few weeks ago, I decided to go on a one day trip to cover Sri Cheluvanarayana Swamy temple and a few other places that Melkote has to offer.
PIN for later reference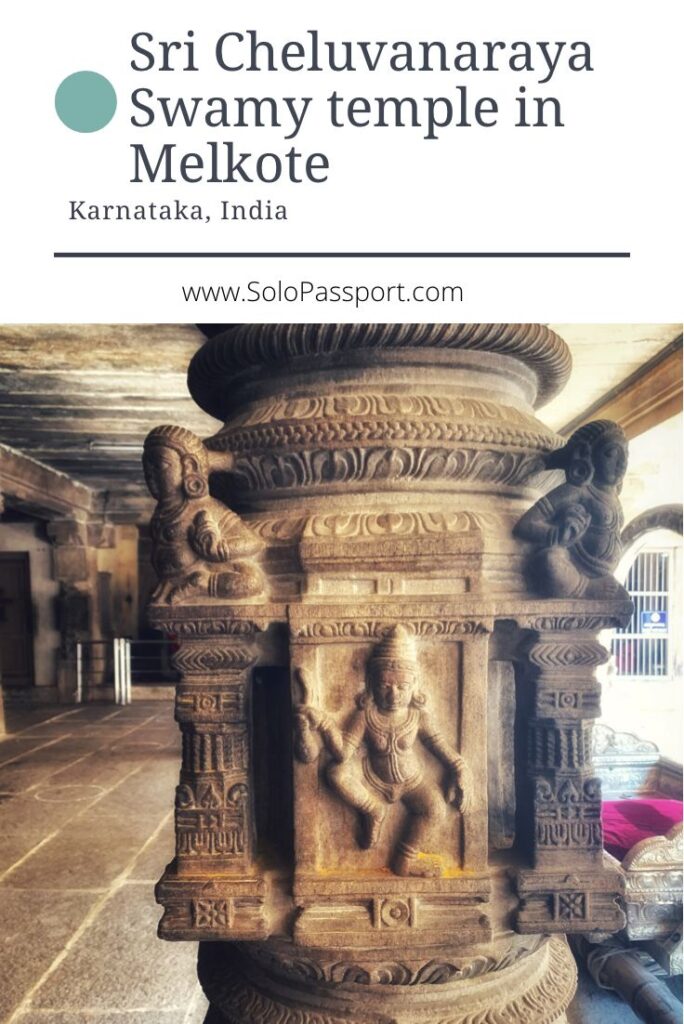 This article may contain affiliate links. For full information, please see our affiliate disclaimer here.
Disclaimers:
The prices mentioned in the post are valid only at the time of publication. Ensure to check the booking websites for up to date information and prices.
Opinions and views expressed solely mine and are unbiased. If the post is a collaboration, then they are specifically mentioned.
Ensure to check the relevant websites for up to date information on COVID protocols.
For any adventurous activities, please note that there is a risk that can be dangerous. Ensure to read the terms and conditions with individual agencies recommended and do them at your own risk.
For visas, it is best to see the embassy website for any changing rules.
About Sri Cheluvanarayana Swamy temple
Also known as Thirunarayanapura, Sri Cheluvanarayana Swamy temple is a temple built on the rocky hill of Melkote town overlooking the Kaveri valley. The temple is dedicated to Lord Vishnu in the form of Cheluvanarayana Swamy, a deity who loves to look beautiful.
It is believed that the deity Cheluvanaraya Swamy was worshipped by Lord Rama and the King of Surya Vamsa dynasty. Later the same deity was given to the Chandra Vamsam dynasty and was worshipped by Lord Krishna. Because this deity was worshipped by both Lord Rama and Lord Krishna, the deity is very unique.
Built in the Dravidian architecture style, the temple is decorated with beautiful pillars and carvings. It also features a dome like top with detailed sculptures of gods and goddesses.
The temple has inscriptions written in Old Kannada indicating that the temple is around 1000 years old and that the deity was known as Ramapriya. One of the columns that have the inscriptions also mention the name of Raja Wodeyar, belonging to the Wodeyar dynasty. The Wodeyar dynasty ruled Mysore between 1399 and 1947 and is the only royal family who have ruled a kingdom for more than 500 years. It is recorded that the temple's most valuable jewels including the two crowns, Vairamudi or Vajramukuta, and Krishnaraja-mudi were gifted by Mysore King Raja Wodeyar.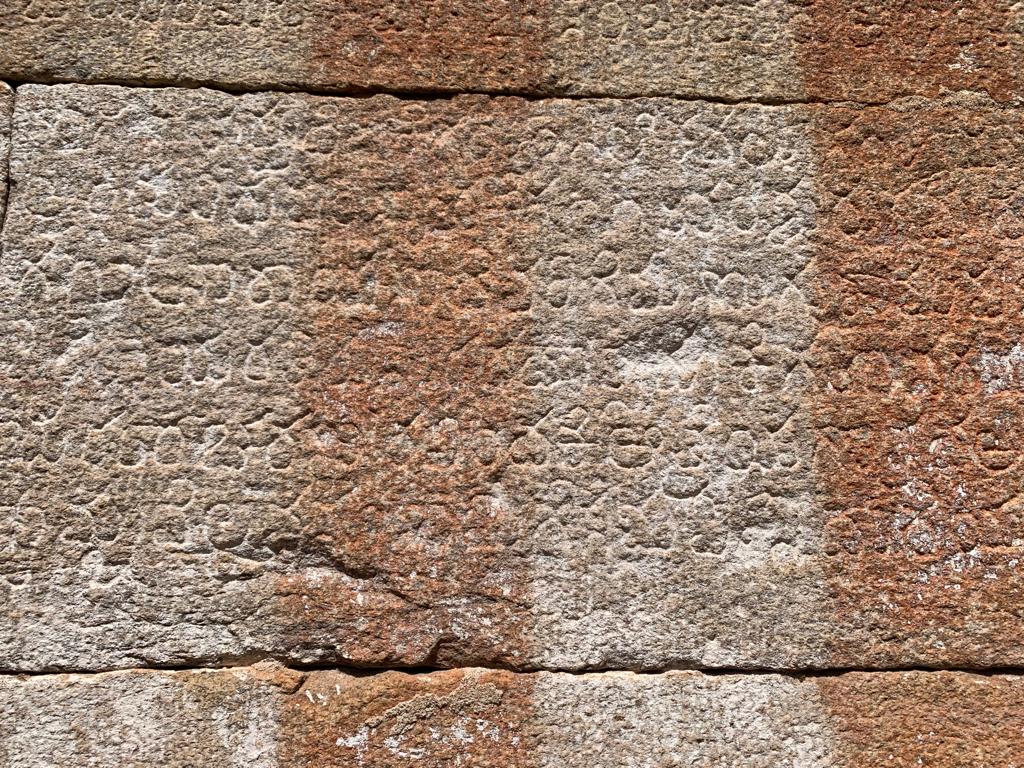 Vairamudi Brahmotsava
Vairamudi Brahmotsava is an annual festival in Melkote. Vairamudi, also known as Vajramukuta, is a crown decorated with diamonds. The festival or brahmotsava is held for 13 days, during the summer months of March or April, where the deity is decorated with the legendary diamond studded crown and is taken on a procession around the Melkote town. It is usually held either on the 3rd or 4th day of the festival.
The procession is a night long event as it is believed by the locals that the crown must not be exposed during the day to sunlight. There is also a tradition that even the head priest cannot look at the crown with naked eyes till it is fitted on the Lord and the hence the priest covers his eyes with a piece of cloth while fitting the crown.
Note: I have referred the priest as "he and his" because unfortunately in Karnataka we only have male priests for some reason.
How to get to the temple?
Sri Cheluvanaraya Swamy temple is located in the Melkote town of Karnataka state. Melkote is around 150 kilometres from Bangalore city.
Airport – The nearest airport to the temple is at Mysore. The Mysore airport is a small airport and not all airline providers operate from the airport. Sri Cheluvanaraya Swamy temple is around 69 kilometres from the Mysore airport.
Drive – The distance between Bangalore and Melkote is about 150 kilometres and by road, the journey takes up to 3 hours. The route is towards Mysore.

Mysore city is just 48 kilometres from Melkote and one can easily extend the trip to include Mysore and make it a weekend getaway.
On the way to Bangalore, you can also visit one of the rare temples of Bala Krishna called Sri Aprameya Swamy temple in Channapatna town.

Public transport –

Train – The closest train station to Melkote is Pandavapura railway station. It is about 25 kilometres from Melkote. Up to date information on availability and fares can be found on IRCTC website.
Bus – There are plenty of buses that operate between Bangalore and Mandya. Mandya is about 40 kilometres from Melkote town and there are local buses that are available. It is best to take Karnataka State Road Transport Corporation (KSRTC) buses.

Taxis – There are outstation taxis that are available which can be either booked directly from taxi providers or through MakeMyTrip website. The cost for Bangalore return with 8 hours journey cost INR 4500.
Visitor Information
The temple is open every day at different time slots:

From 7:30 AM to 1 PM.
From 4 PM to 6 PM. Over the weekend, the temple opens from 3:30 PM to 6 PM.
From 7 PM to 8 PM.

There is no entrance fee to enter the temple. However, there is an express fast darshan that one can take to avoid large queue. The ticket cost for the fast darshan is just INR 50 per person and can be purchased near the gate, outside the temple.
This is a religious place, so ensure to dress appropriately and leave your footwear outside before entering the premises.
Photography is not allowed inside the Garbagruha (main sanctum) where the deities are.
There are many street vendors outside the temple who sell different local food. Must try is the Puliogre (tamarind chutney).
The temple does have many monkeys outside so be careful of your belongings.
Closing Notes
Sri Cheluvanarayana Swamy temple is undoubtedly one of the most beautiful temples I have seen in Karnataka. The architecture of the temple is mesmerising. I absolutely loved visiting this beautiful temple and the town of Melkote and I highly recommend anyone visiting Karnataka to definitely spend a day at Melkote.
Have you been to Sri Cheluvanarayana Swamy temple? How did you find it? Let me know in the comments section below.
How can you support me?
You know how much I love coffee, so you can buy me coffee – Buy me Coffee!
Or you can purchase from one of the below travel resources without any extra charge to you.

Travel Resources
Click to book your flight on Skyscanner.com
Click to book your accommodation on Stay22
Click to book a comprehensive travel insurance on Safety Wing
Click to book your tours and travels on Viator or GetYourGuide
If you liked this article and if it was helpful in your planning or traveling, do share, tweet, or pin this post.

Follow me on Instagram | Facebook | YouTube | Twitter | LinkedIn
Do you have a question? Or want any suggestions, and tips for travels, hikes and scuba dives? Use the Subscription box below to sign-up and get updates by email.
PIN for later reference