Chukkimane homestay, a weekend getaway from Bengaluru
Are you passionate about nature? Do you love waking up to the sounds of peacock calls? And do you want to get off the grid from the busy city life? Then Chukkimane is surely for you. This homestay is a place where you can experience the rural and experiential tourism and have a cultural connect. Last weekend, I had an opportunity to visit Chukkimane and spend my weekend connecting with nature. I must say it was a pleasant getaway from Bangalore city.
PIN for later reference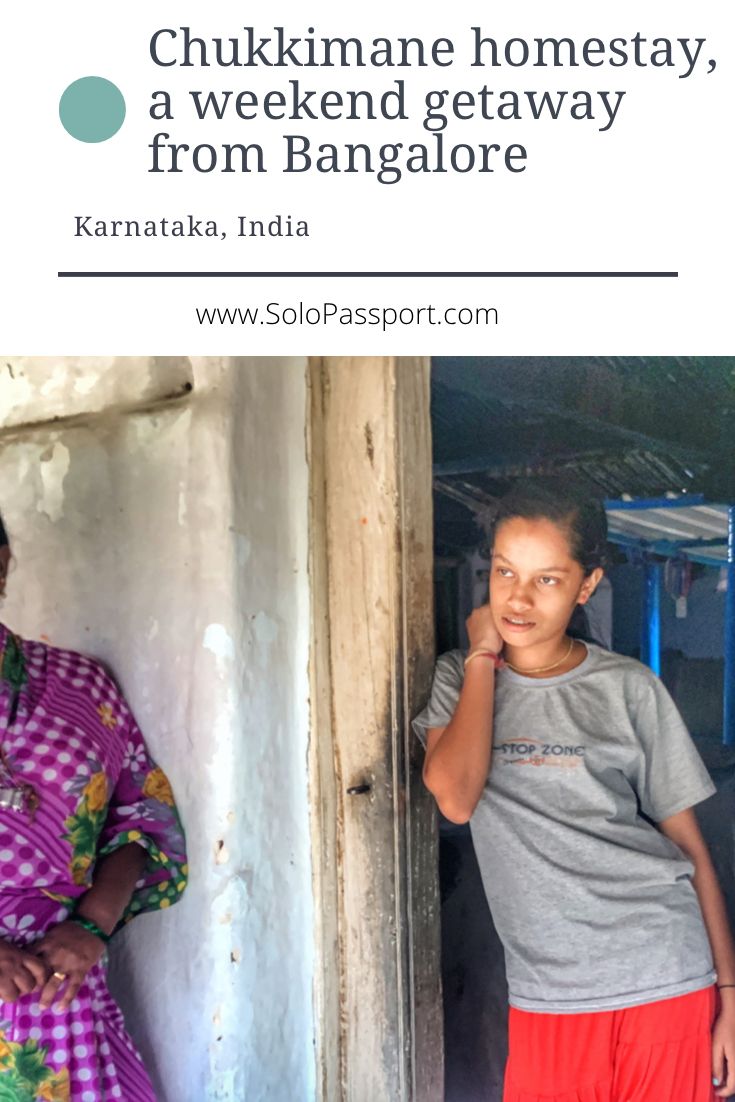 This article may contain affiliate links. For full information, please see our affiliate disclaimer here.
About Chukkimane
Located in Javanagahalli village, Chukkimane is a place to stay amidst farms and is a heaven for passionate nature lovers. It is a place to culturally immerse and connect with nature. Ideal for families and senior citizens to unwind and relax, the property is pet friendly too. The property, even though minimal, provides a peaceful ambience.
The owner of the homestay is Sanjay Shankarappa. His story is anything but inspiring. He is the person who converted a barren land into a mini forest as it is currently. The land now has around about 8000 trees and it is based on a concept of multi culture (society) which means it has multiple tree and plant species.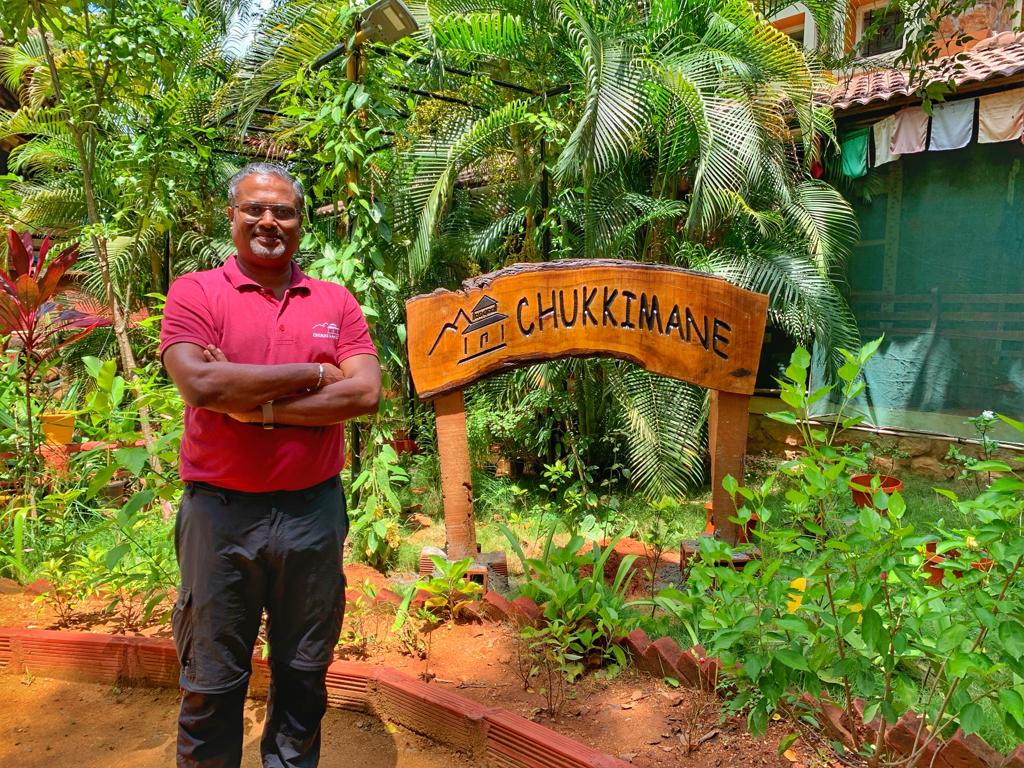 How to get to Chukkimane?
Drive – Chukkimane is located at Javanagahalli village, which is in Mandya district. It is around 110 kilometres from Bangalore city towards Mysore and the journey by road takes around 3 hours. Most of the route has very good road except some parts of the village roads that are a bit broken.
Public transportation – There are frequent buses, operated by Karnataka State Road Transport Corporation (KSRTC) and private operators, between Bangalore's Satellite bus stop or Majestic and Hosahalli. From here, the property is just a few hundred metres.

Ensure to talk to the bus driver or conductor to know the route and the stop to get off.
Only cash is accepted on the buses and ensure to carry exact change.
Rooms at Chukkimane
The main focus of Chukkimane is to provide the responsible and rural tourism because of which there are only a few cottages and rooms on the property. There are a total of 7 stays.
Cottages
There are 4 cottages that accommodate around 8 people. It is suitable for families and friends who wish to travel together. The lower floor has two large double beds and the upper floor has two large double beds. They are connected by a ladder and the upper floor is good for youngsters only. The bathroom is spacious and has good ventilation.
Bungalow
The bungalow is made up of stones and is one large building that can accommodate a huge family. It has three rooms, one on the lower floor and two on the higher floor. The rooms are basic, and are with an attached bathroom each.
Village homes
There are 2 village homes that have thatched roofs, built to give a village like feel. They are made up to look like mud homes.
Food at Chukkimane
Chukkimane has an inhouse restaurant where the food is cooked by a very talented chef, Rajesh. The food is served on a banana leaf to provide the authentic village like experience. The meal contains variety of local food prepared using fresh and organic vegetables, and the food that was served to us was delicious and tasty.
Note:
Only vegetarian food is served.
The food is a set menu, decided by the chef and owner. There is no ala carte option.
There is no alcohol served at the homestay.
Activities in and around Chukkimane
Play local games
Usually on the country side, especially in Karnataka, the men gather and chill in the evenings at a common platform built around a big tree. This place forms the centre of the village. At Chukkimane, the owner Mr. Sanjay has built a platform around a big and old tree, to create a similar village ambience. And this platform has permanently drawn local games where the guests can play and bond with each other.
Playing a few of these local and childhood games, with the other guests, was one of the best things I did at the stay. It was a perfect and breezy evening where we played Chaukobara, a Karnataka version of Ludo.
Take a farm tour
Chukkimane is a homestay surrounded by farms. A good way to connect with nature is to take a tour of this farm. If you are lucky, you will spot peacocks on this tour.
Visit the nearby village
Belakavadi is the nearby village. The village takes you back in time where people are simple, houses are basic and still have the authentic style of architecture. We had the opportunity to interact and visit the local houses. As cliched as it sounds, the villagers surely have big hearts. They welcome the strangers into their homes and lives without any inhibitions.
Go bird watching
My most favourite thing to do when I visit villages outside of the big city is to go bird watching. The surroundings of Chukkimane have many species of colourful birds. There are local and migratory birds. We spotted herons, Indian rollers, bee eaters and many more.
Ensure to take your cameras with you!
Swim in River Cauvery
We were taken to a secluded place that has a dam (where the gates are now broken) built on River Cauvery. As the speed of the water is controlled by the gates of the dam, the banks of the river makes a perfect place for a swim. The place is not dangerous and deep.
Frequently asked questions (FAQ)
Q: Where is Chukkimane located?
Chukkimane is located at Javanagahalli village in Mandya district. It is around 110 kilometres from Bangalore.
Q: What are the types of rooms available?
There are 3 types of accommodation available:
Cottage.
Bungalow with 3 rooms.
Village room.
Q: How do I book the accommodation at Chukkimane?
The bookings can be done by three ways:
Q: How much does it cost?
The cost varies depending on the type of accommodation and the number of people visiting. According to their website and brochure, the price is around INR 3000 per person for one night stay, including the food.
Q: Does Chukkimane allow pets?
Yes, Chukkimane is a pet friendly accommodation.
Q: What food is served at Chukkimane?
Only vegetarian food is served at the property.
Q: Is smoking allowed at Chukkimane?
No, smoking is not allowed at Chukkimane.
Q: Is alcohol served or allowed at Chukkimane?
No, alcohol is not allowed or served.
Q: What are the different activities to do at Chukkimane?
There are many activities to do at Chukkimane and to name a few:
Play local games.
Visit Belakavadi, local village.
Visit the nearby dam.
Go bird watching.
Take a tour of the farm.
Visit the near by places, such as Shivanasamudra waterfalls and Talakadu.
Note: For some of these activities require your own vehicle as transportation is not provided at the homestay.
Safety for solo female travelers
Chukkimane is absolutely safe for solo female travelers. The staff are very friendly and caring. Not for once did I feel unsafe or uncomfortable. I had a very pleasant stay at the property. However, there are snakes and other reptiles in the property, so be careful and know where you are stepping, especially at night.
Closing Notes
I had a great time staying and experiencing the rural tourism at Chukkimane. The stay provided that complete village life feel and this is a stay for anyone who loves and wants to be in the nature.
Disclaimer: I was hosted by the resort for this beautiful vacation, but all the views and opinions expressed are solely mine and unbiased.
Travel Resources
Click here to book your flight on Skyscanner.com
Click here to book your accommodation on Stay22
Click here to book a comprehensive travel insurance on Safety Wing
Click here to book your tours and travels on Viator or GetYourGuide
If you liked this article, do comment, tweet, or share this post.
Follow me on Instagram | Facebook | YouTube | Twitter
Do you have a question? Or want any suggestions, and tips for travels, hikes and scuba dives? Use the Subscription box below to sign-up and get updates by email.
PIN for later reference