4 things to do in Murdeshwara
Murdeshwara is one of my favourite coastal towns. Not only the town offers stunning scuba diving sites, it also has world's second tallest Lord Shiva statue. The town is a great place to have a relaxed holiday enjoying the never ending views of Arabian Sea. I have been to Murdeshwara many times and each time, I have loved the town a little more.
PIN for later reference
This article may contain affiliate links. For full information, please see our affiliate disclaimer here.
Disclaimers:
The prices mentioned in the post are valid only at the time of publication. Ensure to check the booking websites for up to date information and prices.
Opinions and views expressed solely mine and are unbiased. If the post is a collaboration, then they are specifically mentioned.
Ensure to check the relevant websites for up to date information on COVID protocols.
For any adventurous activities, please note that there is a risk that can be dangerous. Ensure to read the terms and conditions with individual agencies recommended and do them at your own risk.
For visas, it is best to see the embassy website for any changing rules.
About Murdeshwara
Murdeshwara is a town in the Bhatkal taluk of Karnataka state in India. It lies on the west coast of southern part of India. The coastal town is hot at all times during the year. However, it is best to visit between the months of October and February as the weather is pleasant. One needs just a weekend to explore Murdeshwara.
There is a story behind Murdeshwara that dates back to the Hindu mythological story of Ramayana. The story goes that the Hindu Gods attained immortality by worshiping a divine Linga called Atma Linga. Ravana wanted to attain immortality as well and hence worshipped Lord Shiva to get a boom of Atma Linga. Pleased with his prayers and devotion, Lord Shiva granted the boon of Atma Linga on one condition that it never be placed on the ground.
Lord Vishnu on hearing this incident decided to seek help from Lord Ganesha, decided to prevent from Ravana attaining the immortality. Lord Ganesha knew that Ravana performed daily rituals every evening during sunset. As Ravana was approaching Gokarna with the Atma Linga, Lord Vishnu blocked the sun to give an appearance of dusk. Just when Ravana was in a confusion as to how he would perform the rituals as he had Atma Linga in his hands, Lord Ganesha disguised as a local Brahmin boy approached. Ravana and Lord Ganesha struck a deal and Lord Ganesha agreed to hold the Atma Linga but on one condition. He would call out for Ravana three times and if Ravana does not return, then Atma Linga would be placed on the ground. Unfortunately, Ravana did not return within the three calls and Atma Linga was placed on the ground.
Lord Vishnu removed the illusion and it was day again. On realising, he had been tricked, Ravana tried to uproot and destroy the Atma Linga. Due to the force of destruction, the pieces of the linga were scartted all around. The piece of the head fell at Suratkal, the case covering fell at Sajjeshwara, the lid of the case at Guneshwara, now called Gunavanthe, and Dhareshwara. Finally, the cloth covering the linga fell at Mrideshwara, now called Murdeshwara.
How to get to Murdeshwara?
Flights
Murdeshwara does not have an airport. The closest airport is at Mangalore, which is about 140 kilometres by road. The popular airline providers are SpiceJet and Indigo. One can take a taxi from Mangalore to Murdeshwara.
Driving
Murdeshwara is around 490 kilometres from Bangalore and the journey takes about 9 hours 30 minutes by road. The route from Bangalore is towards Tumkur and has toll roads.
Public transportation
Bus – There are many overnight buses that travel between Bangalore and Murdeshwara. The best provider is Karnataka State Road Transportation Corporation (KSRTC), Karnataka state government run buses as the chances of them getting cancelled at the last minute is less.
Train – Murdeshwara has a train station. The station is on the train journey Mangaluru Mumbai Konkan train line. Up to date information can be found on IRCTC website.
4 things to do in Murdeshwara
Murdeshwara is a religious town that is centred around the Shiva temple. So, there are not many things to do in Murdeshwara. In spite of it, the town definitely makes for a good relaxing getaway from Bangalore.
Note: The town is extremely crowded during the weekends, public holidays and during Hindu festivals.
Murdeshwara temple
Surrounded by Arabian sea from the three sides, Murdeshwara temple is one of its kind. Dedicated to Sri Lokankara (Lord Shiva), the Murdeshwara temple was built on Kanduka Hill. At a height of 37 metres, the Shiva statue is the world's second tallest statue. Built by Kashinath and other sculptors, it is estimated that the statue took about INR 50 million and took around 2 years.
The temple is open everyday between 6 AM and 1 PM and between 3 PM and 8:15 PM.
There is no entry fee to visit the temple.
Ensure to dress appropriately as it is a religious place.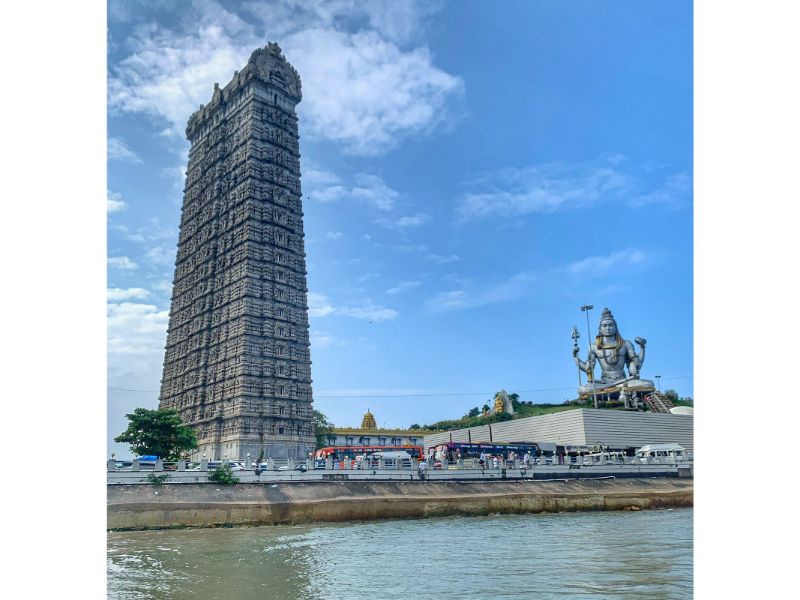 Panoramic views from the Gopuram
The main attraction of Murdeshwara temple is the 20 storied Gopuram. Gopuram or Raj Gopura is the monumental entrance tower. The temple authorities have installed two lifts to get to the top floor. The views from the top are absolutely breath taking.
There is an entrance fee of INR 10 per person.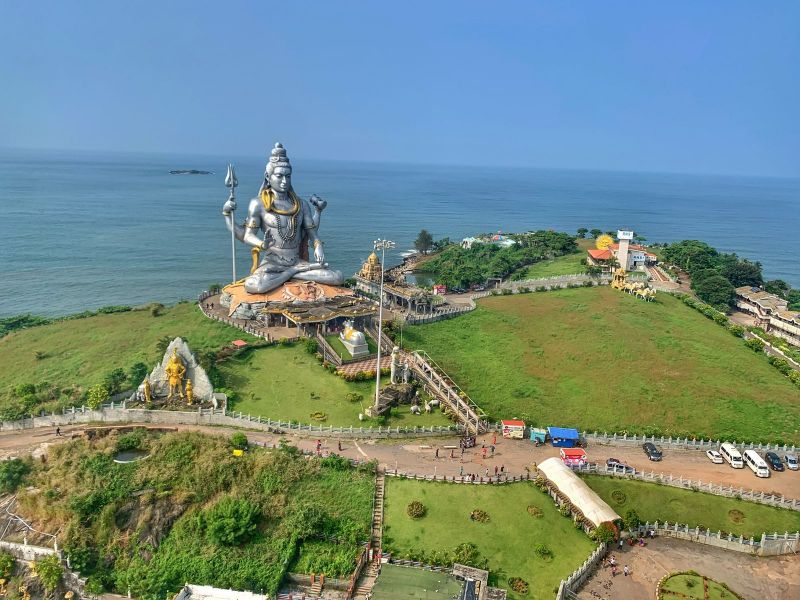 Honavar is closer to Murdeshwara and hence can be added as an extended trip. Read - day trip to Honavar.
Scuba diving
Murdeshwara is on the coast of Arabian sea and is a gateway to many beautiful dive sites. Just off the coast of Murdeshwara town is a heart shaped island called the Netrani Island. Known for its coral reef and clear visibility, the dive sites at Netrani Island there provide unique and abundant marine life.
Murdeshwara beach
Murdeshwara beach is just beside the Murdeshwara temple and one can just walk down to the beach. There are many water activities that are available at the beach for a cost. Some of the water activities are speed boating, water scooter and paragliding.
Ensure to haggle before getting on to a water sport. There is a lot of competition so there are many of them who offer these water sports.
Stay at Murdeshwara
Rama Nagappa Shetty (RNS) Residency
The only decent and good accommodations in Murdeshwara is the RNS Residency. Some of the rooms have ocean views and is a comfortable stay. It has its own in-house restaurant and the food is delicious. The cost of a room is a bit pricey and ranges between INR 3000 to 4000 per room.
Ensure to book the room well in advance as it is a very popular hotel and gets booked out very soon.
RNS Guest house
Since the rooms at RNS Residency was completely booked, we stayed at RNS Guest house, which is a cheaper and extension of RNS Residency. Even though the view from the rooms was amazing and had a huge balcony, I did not like the stay there at all. There is less staff at the property as everyone is at RNS Residency and the room was very dirty. I do not suggest staying at RNS Guest house unless you have no other option.
Safety for solo female travelers
Murdeshwara is very safe for solo female travelers. I have traveled to the town alone once and I never had any issues. It is a religious town so people do not harass or trouble anyone. However, like any other place, be cautious and know your surroundings, especially at night.
Closing Notes
Murdeshwara is surely one of the beautiful towns in Karnataka. It is perfect for making it as base as it is closer to other coastal towns like Honnavar and Gokarna. I highly recommend having this beautiful town on your list when you are in Karnataka.
Have you been to Murdeshwara? What did you like about it? Let me know in the comments below.
How can you support me?
You know how much I love coffee, so you can buy me coffee – Buy me Coffee!
Or you can purchase from one of the below travel resources without any extra charge to you.

Travel Resources
Click to book your flight on Skyscanner.com
Click to book your accommodation on Stay22
Click to book a comprehensive travel insurance on Safety Wing
Click to book your tours and travels on Viator or GetYourGuide
If you liked this article and if it was helpful in your planning or traveling, do share, tweet, or pin this post.

Follow me on Instagram | Facebook | YouTube | Twitter | LinkedIn
Do you have a question? Or want any suggestions, and tips for travels, hikes and scuba dives? Use the Subscription box below to sign-up and get updates by email.
PIN for later reference