Bangalore Fort, a step back in time
Would you believe me if I said that Bangalore has a fort of its own? Yes, in the heart of Bangalore city lies a spectacular piece of history. Bangalore Fort is one of the hidden gems that is surely one of the must visit places in Bangalore if you are a history or a fort lover. As I have been exploring my own city these days, I decided to explore Bangalore Fort and Tipu Sultan's Summer Palace. Both of these landmarks are in walking vicinity of each other and can easily be covered in a few hours.
PIN for later reference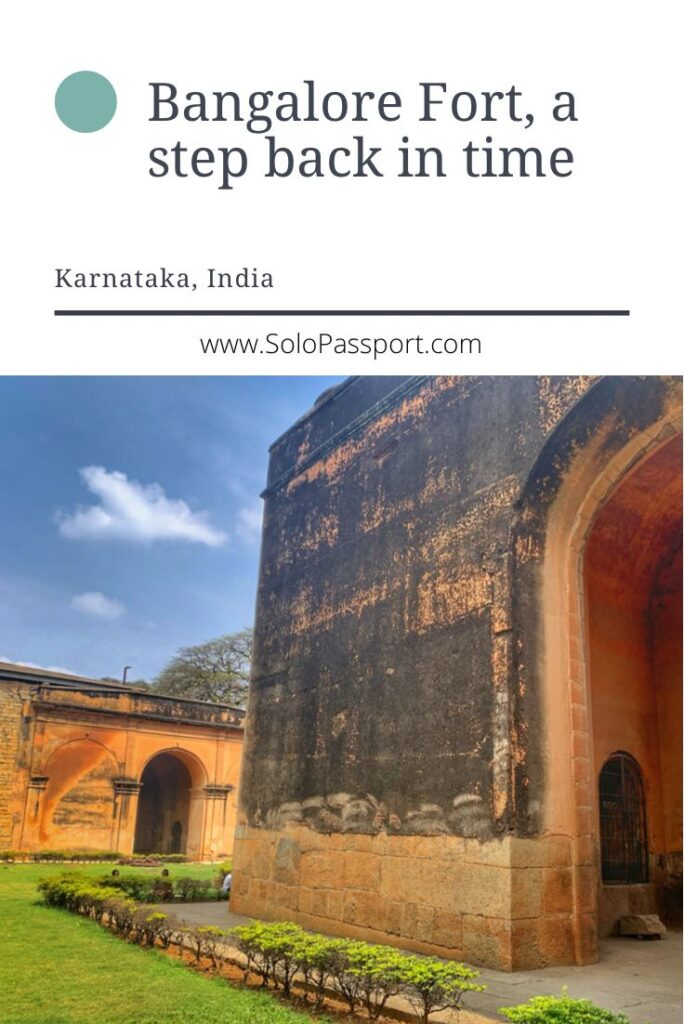 This article may contain affiliate links. For full information, please see our affiliate disclaimer here.
Disclaimers:
The prices mentioned in the post are valid only at the time of publication. Ensure to check the booking websites for up to date information and prices.
Opinions and views expressed solely mine and are unbiased. If the post is a collaboration, then they are specifically mentioned.
Ensure to check the relevant websites for up to date information on COVID protocols.
For visas, it is best to see the embassy website for any changing rules.
About Bangalore Fort
Bangalore Fort was initially built as a mud fort in 1537 by Kempe Gowda I, chief of Vijayanagara Empire and the founder of Bangalore city. In 1761, Hyder Ali replaced the mud fort with a stone fort. It was later improved in the 18th century by Hyder Ali's son Tipu Sultan. During the Third Mysore War in 1791, the fort was captured by the army of the British East India Company.
The fort is a good example of the 18th century military fortification. Initially, the Bangalore fort had a fortified town outside of it. Within the Bangalore Fort were the Fort Church, Victoria hospital, Kote Venkataramana Swamy temple, Tipu Sultan's palace, Makkala Koota park, cemetery and school. It also had eight dates.
Another notable fort that was built by Kempe Gowda I is the fort at Uttari betta.
Most of the buildings in the Bangalore Fort have been demolished and all it remains today is the Delhi gate, the remnants of two bastions and an old temple dedicated to Lord Ganesha. The Tipu Sultan's palace is a separate entity now, which is a short distance away from the fort.
The best time to visit the fort is in the morning as it is less crowded and the weather is pleasant. It is also best to visit during the winter season (between December and February) to avoid the heat.
Do you love forts? Did you know that Bangalore is surrounded by many hills that have forts. Refer the section, Forts in India.
Legend of Bangalore Fort
According to a popular legend, during the construction of the fort, the southern entrance gate collapsed as soon as it was built. The priests at that time suggested human sacrifice in order for smooth completion of the fort. Kempe Gowda was against this but one night his daughter-in-law escaped and beheaded herself with a sword near the southern gate. It is believed that the daughter-in-law had overheard the suggestion by the priests and wanted the hardships to go away from her father-in-law because of which she scarified herself. After the completion of the fort, Kempe Gowda built a temple in memory of his daughter-in-law in Koramangala.
Note: There is no any evidence of this legend that has been documented.
Visitor Information
The fort is open everyday between 8:30 AM and 5:30 PM.
There is no entry fee for Bangalore fort.
You can capture videos and photographs. But you cannot use a tripod or a camera stand.
For commercial video shooting and pre-wedding photography, you need to take permission from Film Facilitation Office (FFO).
One needs just around 30 minutes to see the fort as there is not much left.
The fort is located on a very busy street in KR Market.
There are many street vendors just outside the fort where one can purchase food and water.
DO NOT litter or touch anything in the fort. Take your rubbish with you and discard them only at dedicated bins.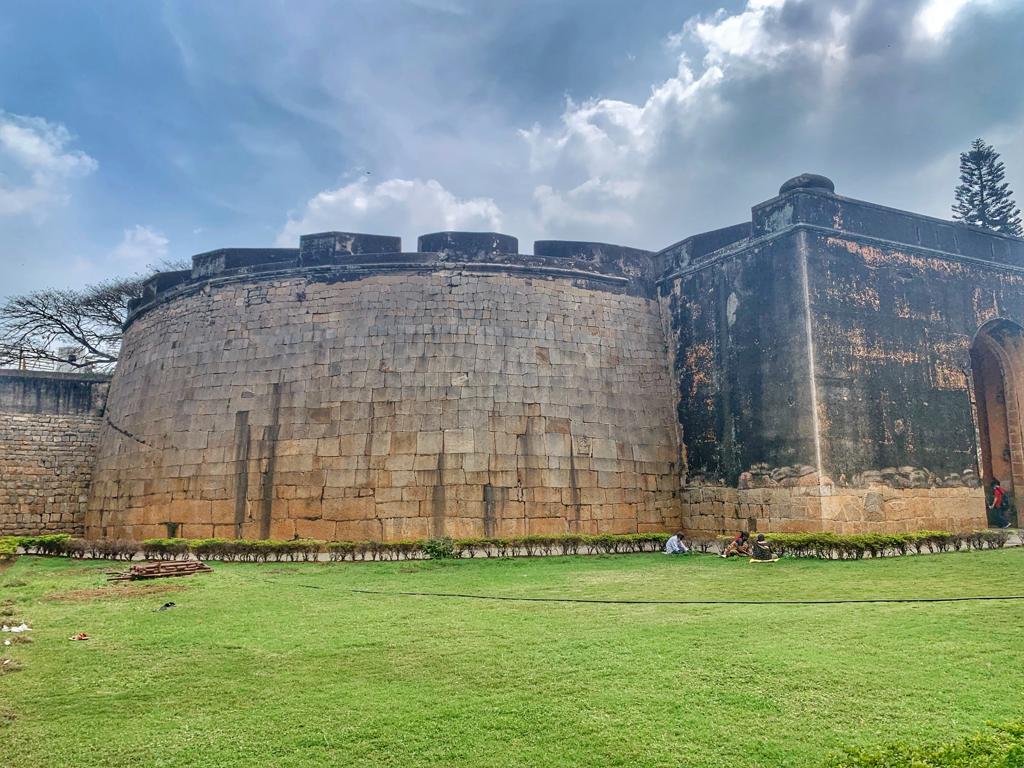 Temple inside Bangalore Fort
Inside the premises is an old temple dedicated to Lord Ganesha. It is believed that in 1690, the Wodeyars bought Bangalore from Aurangazeb and constructed the temple in the fort. But according to an architect and researcher Yeshaswini Sharma, the temple's architecture is very different and is more recent than the fort. She states that the tiles used in the temple dates back to 1883 AD.
How to get to Bangalore Fort?
Carry cash to pay the fare on all these modes of transport.
Metro – Bangalore fort is in the heart of the city and the nearest metro station is the Krishnarajapura (KR Market). The metro station is only a few hundred metres from the entrance of the fort. For up to date information on metros, refer Namma Metro website.
Bus – There are many Karnataka State Road Transport Corporation (KSRTC) buses that stop at KR Market and the city of Bangalore has a good connectivity of buses.
Auto rickshaw – You can also take an auto rickshaw to the entrance of the fort. This could be an easiest way to get to the fort. However, make sure that the auto driver only changes based on the metre amount. Ensure to clarify that before getting into the auto.
Driving – You can also drive to the Bangalore fort. However, the parking may be an issue as the fort is located on the busy streets.
Safety for solo female travelers
The Bangalore fort is very safe and is monitored at all times. So, yes it is absolutely safe for solo female travelers. The fort is in an area that is very crowded at all times and hence there is always someone who will help. However, be cautious outside the premises, especially at night.
Are you new to solo traveling? Or do you have a lot of questions related to solo traveling? Read frequently asked questions on solo traveling.
Closing Notes
Bangalore fort is an amazing and one of the iconic landmarks of Bangalore. It is a place where one can go back in time and relive the history of this wonderful city. I highly recommend visiting this historical monument when you visit Bangalore.
Have you been to Bangalore Fort? Let me know in the comments below.
Travel Resources
Click here to book your flight on Skyscanner.com
Click here to book your accommodation on Stay22
Click here to book a comprehensive travel insurance on Safety Wing
Click here to book your tours and travels on Viator or GetYourGuide
If you liked this article, do comment, tweet, or share this post.
Follow me on Instagram | Facebook | YouTube | Twitter
Do you have a question? Or want any suggestions, and tips for travels, hikes and scuba dives? Use the Subscription box below to sign-up and get updates by email.
PIN for later reference