7 landmarks to see on Fort Kochi Heritage Walk
Do you love heritage walks? Are you a sucker for history and something old? Then the Fort Kochi heritage walk is a perfect walk for you. It is a walk in the Fort Kochi neighbourhood of Cochin or Kochi city of Kerala.
The vibes of Fort Kochi are something to die for. The old rustic Dutch houses, now converted into hotels and resorts, with lots of greenery and a laid back neighbourhood is what Fort Kochi offers.
I have been to Fort Kochi twice. The first time I was here, I spent one day exploring the streets and cafes of Fort Kochi. During my second visit, I spent a lot more time, appreciating the old heritage buildings and churches of Fort Kochi. And the Fort Kochi heritage walk was the perfect way to see these amazing old and heritage landmarks.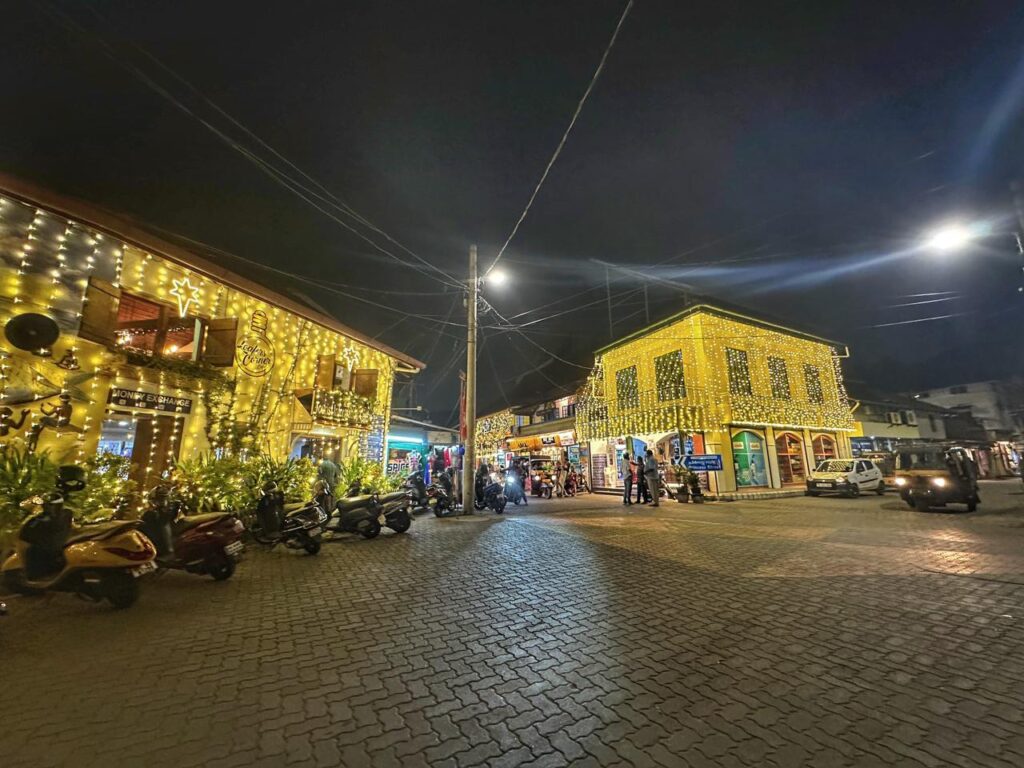 PIN for later reference
This article may contain affiliate links. For full information, please see our affiliate disclaimer here.
Disclaimers:
The prices mentioned in the post are valid only at the time of publication. Ensure to check the booking websites for up to date information and prices.
Opinions and views expressed solely mine and are unbiased. If the post is a collaboration, then they are specifically mentioned.
Ensure to check the relevant websites for up to date information on COVID protocols.
For any adventurous activities, please note that there is a risk that can be dangerous. Ensure to read the terms and conditions with individual agencies recommended and do them at your own risk.
For visas, it is best to see the embassy website for any changing rules.
About Fort Kochi
Located about 16 kilometres from Cochin city, Fort Kochi is a locality in Ernakulam district of Kerala state in India. It takes the name from Fort Manuel of Cochin, a ruined and the first European fort on Indian soil. Known for its old houses and cafes built by Portuguese, Dutch and British in the colonial periods, the locality is adjacent to Mattancherry, which houses the Dutch or Mattancherry Palace.
Also read | Dutch Bungalow, a heritage stay in Fort Kochi.
How to get to Fort Kochi?
Airport – The city of Kochi has an international and domestic airport. Kochi airport is the world's first airport to be operated entirely on solar power. Almost all domestic airline providers, including Indigo and SpiceJet operate from Kochi airport. The distance between Kochi airport and Fort Kochi is around 37 kilometres and the journey time by road is around 1 hour 20 minutes.
Train – Kochi has a railway station, Ernakulam Junction railway station, that is connected to most of the railway lines. Being one of the biggest railway stations in Kochi, most trains have a stop at this train station. The distance between the railway station and Fort Kochi is about 10 kilometres.
Bus – There are frequent buses that operate between most cities and towns of India and Kochi. And there are local buses between Kochi city and Fort Kochi. Ensure to have exact amount of change for the local buses as they only accept cash.
7 landmarks to see on the Fort Kochi Heritage Walk
The streets of Fort Kochi are lined up with many historical and heritage landmarks. There are houses converted into hotels or homestays that go beyond 300 to 400 years. A walk along these streets are so fascinating and interesting, especially for heritage lovers. In this post, I am listing down the 7 landmarks to lookout for on the Fort Kochi Heritage walk.
Chinese fishing nets
During the 14th century, Chinese explorer, Zheng He, came to Cochin and installed the Chinese fishing nets. The Chinese fishing nets are the fixed land installations for fishing. With at least 10 metres in height, the Chinese fishing nets are operated by a team of up to 6 fishermen. This way of fishing is unusual in India and is found only in these areas of Fort Kochi.
The fishermen show the demonstration of how these fishing nets work for a charge of INR 100.
Watch out for dolphins in this area. During my first visit to Fort Kochi, I had spotted a pod of dolphins.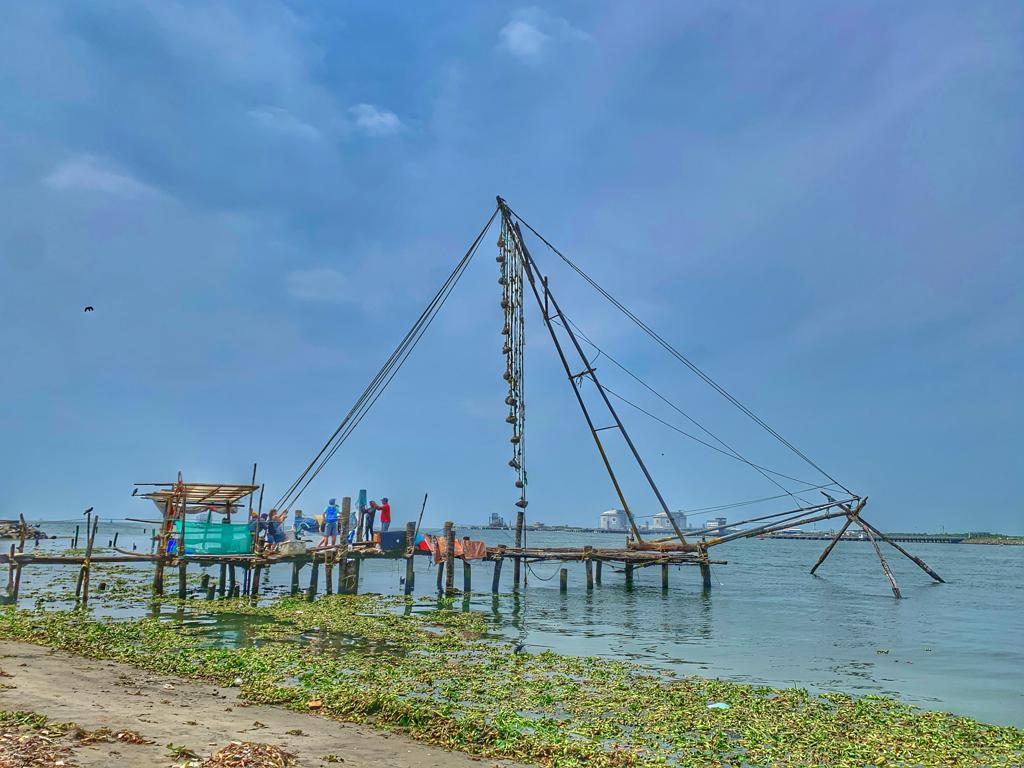 St Francis Church
Originally built in 1503, the St Francis church is where Vasco da Gama was buried in 1524 for 14 years before his remains were moved to Jeronimos monastery in Lisbon in 1538. The church was the first European church to be built in India within the oldest European settlement of Fort Kochi. It is said to have been erected of wood but later rebuilt in stone and roofed with tiles.
The visiting hours are between 10 AM and 5 PM Monday to Saturday and between 12 PM and 5 PM Sunday.
Vasco house
Vasco house is one the oldest Portuguese houses in Fort Kochi. Built in the 16th century, it is believed to be the residence of Vasco da Gama. The house has a typical European paned windows and verandahs of those times. Now converted into a home stay, guests can stay at this old residence.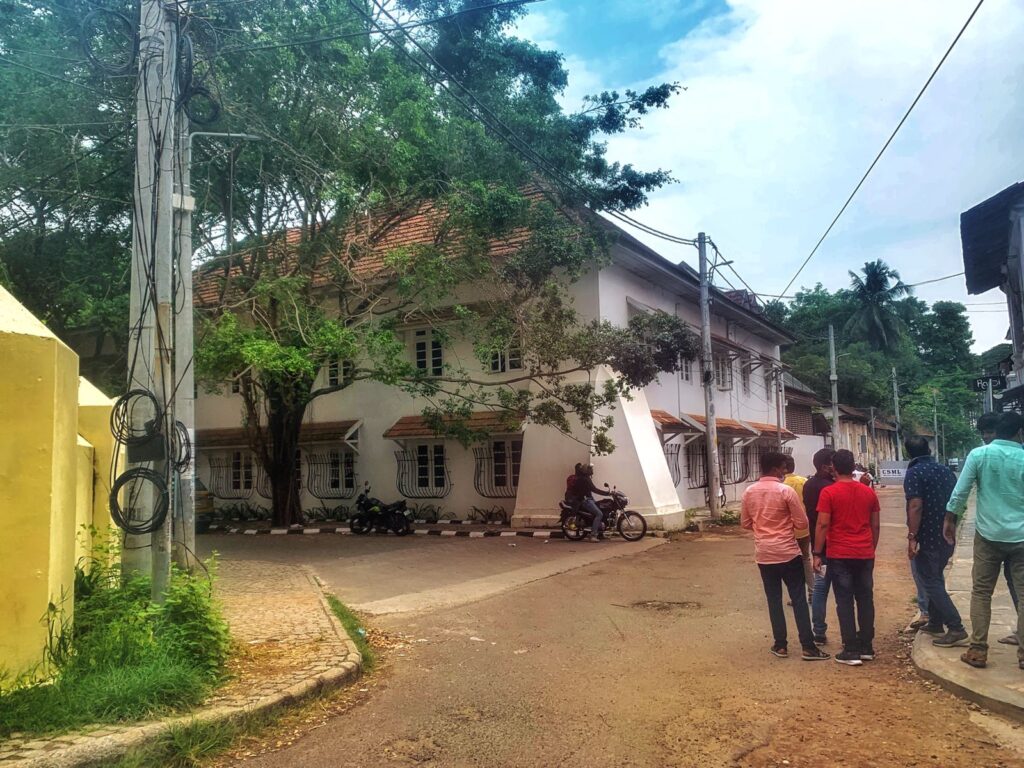 Le Colonial Neemrana hotel
Dating back to 1506, the Le Colonial Neemrana hotel is an upscale boutique with 7 rooms. It is a 500 years old historical property, just across the Saint Francis church. This house is one of those rare houses that were not destroyed by the Dutch and is said to have housed the Saint and Vasco da Gama. Featured in the Real Marigold Hotel, this hotel is now available for guests to stay.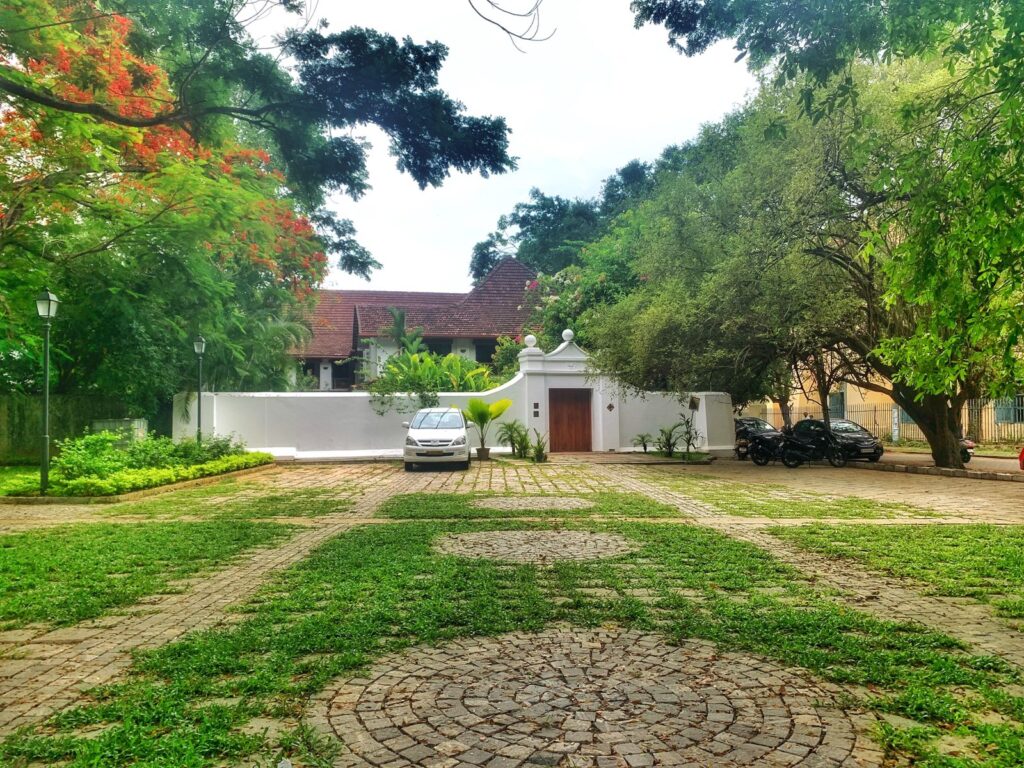 Bastion Bungalow
Built in 1667 by the Dutch, the Bastion Bungalow gets its name from its location on the site of Stromberg Bastion of the old Dutch fort. It is now home to the Dutch heritage museum and the official residence of the Sub-Collector. The Bastion Bungalow is an example of the Indo-European style of architecture with a blend of the Dutch style.
The visiting hours are between 10 AM and 1 PM, and between 2 PM and 5 PM every day.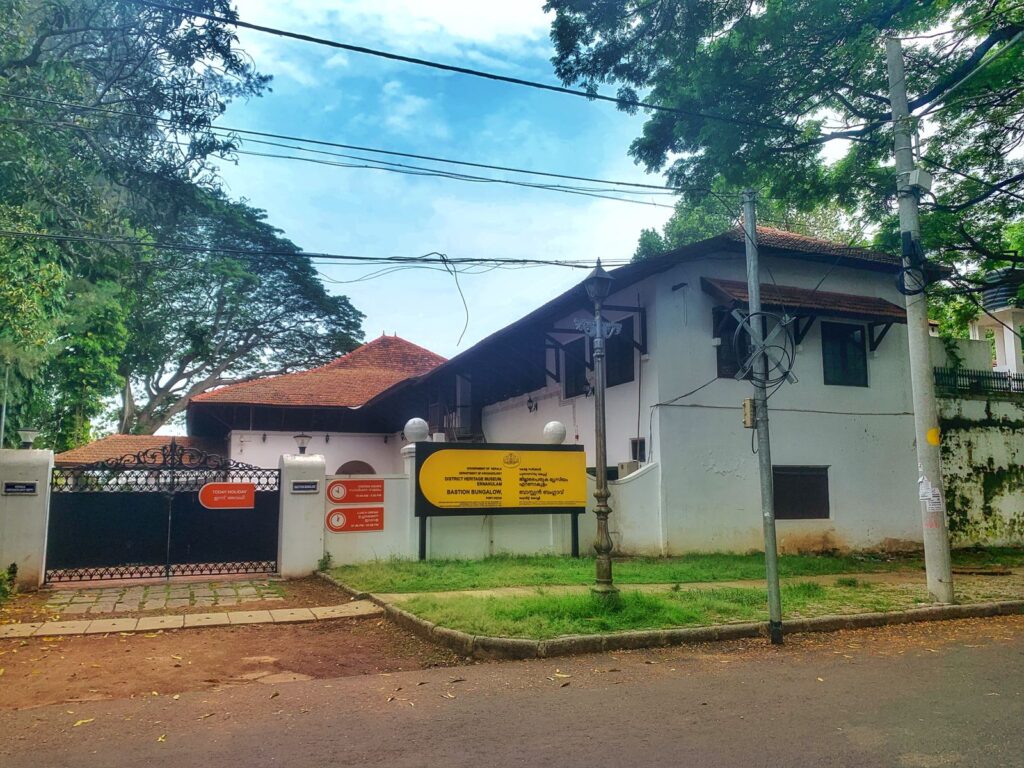 Bishop's house
Built in 1506, the Bishop's house is a former residence of the Portuguese governor. Currently, it is home to the Bishop of Kochi and also has a Indo-Portuguese museum.
The visiting hours of the museum is between 9 AM and 5 PM.
Santa Cruz Cathedral Basilica
Proclaimed as a Basilica by Pope John Paul II in 1984, the Santa Cruz Cathedral Basilica is one of the nine Basilicas in Kerala. With architecture and colours of the gothic style, the basilica serves as the Cathedral church of the Diocese of Cochin.
The cathedral went through series of historical moments. It was initially built by Portuguese and elevated to Cathedral in 1558 by Pope Paul IV. Even though many Catholic buildings were destroyed by the Dutch, this cathedral was spared, which was later demolished by the British. Joao Gomes Ferreira later commissioned a new building in 1887 and was then proclaimed as a Basilica in 1984.
The visiting hours are between 9 AM and 1 PM, and between 3 PM and 5 Pm every day.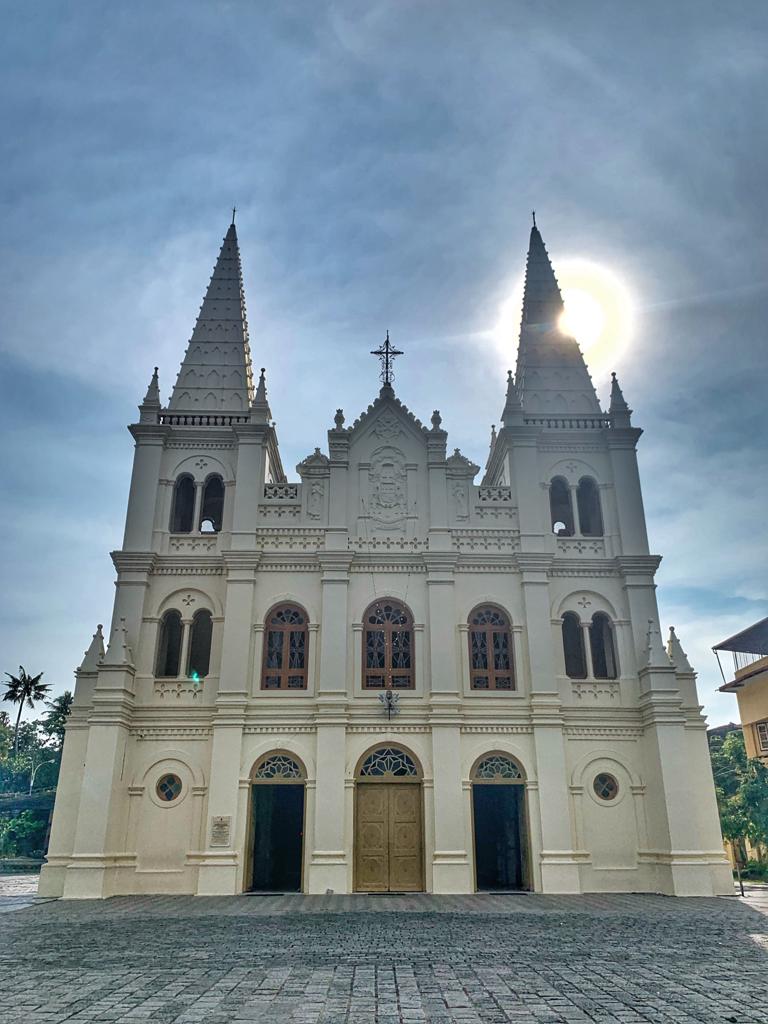 Bonus destination – Cochin Paradesi Synagogue
Even though the Cochin Paradesi Synagogue is in Mattancherry Jew town Kochi, it is a great place to stop by and know the history of Jews in Kochi. Built in 1568 by descendants of Spanish, Dutch and other European Jews, the Cochin Paradesi Synagogue served as a functioning synagogue throughout the centuries and preserves a unique record of Jewish presence in Kerala.
Did you know that that there are less than 25 Jewish people presently living in Kochi?
No photographs are allowed inside the synagogue.
There is no entrance fee to visit the Synagogue.
The visiting time is between 10 AM and 1 PM, and between 2 PM and 5 PM every day except on Friday, Saturday and any other Jewish holidays.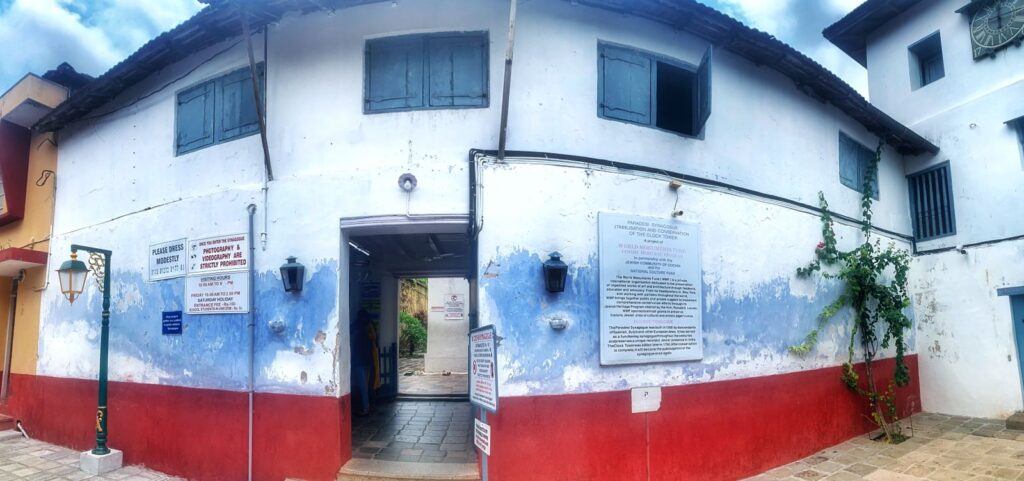 Safety for solo female travelers
Fort Kochi is very safe for solo female travelers. I have been there twice and have traveled around alone. I did not have any issues whatsoever. But like any other place in the world, be cautious and know your surroundings, especially at night.
Are you new to solo traveling? Or do you have a lot of questions regarding solo traveling? Read frequently asked questions (FAQ) on solo traveling.
Closing Notes
Fort Kochi is a lovely place to visit in Kerala. It has so much of history and culture. I do hope to go back again and stay there for a longer period of time. Have you visited Fort Kochi? Let me know what you love about it in the comments below.
I was hosted by Kerala Travel Mart 2022 and partnering hotels and resorts as a media invitee. I did this activity or stayed at the resort as part of their Pre-Mart tour and I thank them for the hospitality. However, all the opinions mentioned in the post are solely mine and unbiased. The information mentioned is based on the inputs provided from various sources and on my personal experience.
How can you support me?
You know how much I love coffee, so you can buy me coffee – Buy me Coffee!
Or you can purchase from one of the below travel resources without any extra charge to you.

Travel Resources
Click to book your flight on Skyscanner.com
Click to book your accommodation on Stay22
Click to book a comprehensive travel insurance on Safety Wing
Click to book your tours and travels on Viator or GetYourGuide
If you liked this article and if it was helpful in your planning or traveling, do share, tweet, or pin this post.

Follow me on Instagram | Facebook | YouTube | Twitter | LinkedIn
Do you have a question? Or want any suggestions, and tips for travels, hikes and scuba dives? Use the Subscription box below to sign-up and get updates by email.
PIN for later reference