A few years ago, I traveled to Madhya Pradesh with my best friend as part of our yearly travel together. Even though we used Jabalpur as a transit point, we did explore this city for a day.
I visited Madhya Pradesh mainly for its forests and as part of our travel, we went on a safari in Pench National Park.
PIN for later reference
Please note: This post may contain affiliate links which means I may earn a commission if you make a purchase by clicking a link on this post. This will be at no additional cost to you. Affiliate links help me keep this website up and running. Thank you for your support.
About Jabalpur
Jabalpur is a small city in the central Indian state of Madhya Pradesh. It is an ancient city on the shores of the holy river of Narmada. The city is best known for its white marble rock formations at Bhedaghat and the Dhuandhar waterfalls.
The best time to visit Jabalpur is between the months of September and March as the weather is pleasant and the temperatures are not too hot. One needs at least 2 to 3 days to explore the places around Jabalpur and to see most of the tourist attractions.
How to get to Jabalpur?
Flight – Jabalpur has its own airport and is the third busiest airport in Madhya Pradesh. The airport is located 25 kilometres from the main city. There are connecting flights to almost all the main cities in India. Major airlines include IndiGo and Air India.
Things to see in one day
As we had only one day to explore the city, we hired a local taxi. The taxi cost us INR 1800 for the whole day for 2 people. Even though the distance we covered was just around 50 to 60 kilometres in total, we were able to visit 5 places throughout the day.
Balancing Rock
The first stop was at the Balancing Rock. It is a rock formation where an oval rock is sitting on top of another rock. Even though it is interesting to see the rock balancing itself over another rock, it is not a place where you can spend more than 15 to 20 minutes.
No entrance fee required.
Open 24 hours everyday.
Rani Durgawati Fort
The second stop was to Madan Mahal Fort or Rani Durgawati Fort. The Rani Durgawati Fort was used as a watch tower by armed forces of Durgawati. And a short hike to the Rani Durgavati fort is definitely worthwhile. This fort is surely one of the best forts I have seen in India.
No entrance fee required.
Open between 8:45 AM and 5:45 PM everyday.
Do you love visiting forts? Then check out the other forts of India: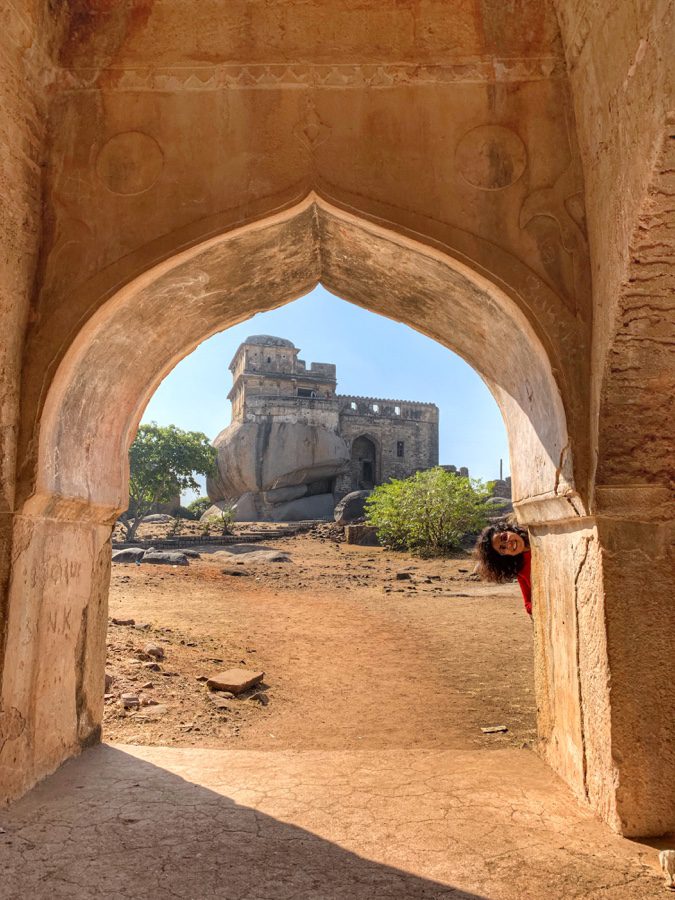 Dhuandhar Falls
The third stop was at Dhuandhar Falls. Dhuandhar waterfalls is a spectacular waterfalls, which is famous for its white marble rock formations. It is massive and is around 30 metres high. The best time to visit Dhuandhar waterfall is during the Narmada Mahotsav (around Sharad Purnima).
No entrance fee required.
Open between 6:30 AM and 8:30 PM everyday.
Do not forget to try the street food here. The cucumber salad and churmuri (snack made from puffed rice) are amazing and they are available for very minimal cost. Also, if you are not a spicy eater, then ensure to tell the street vendor to not make these snacks spicy.
Marble Rocks or Bhedaghat
The fourth stop was at Marble Rocks or Bhedaghat. After visiting marble rocks, I realised why it was so hyped up. The place is magical. The rock formations and the gorge is truly stunning. The boat ride here is a must.
The cost of the boat ride by Madhya Pradesh tourism is INR 50 per person. But the boat ride ends a certain point. So an additional INR 50 per person will take you to a further point till the waterfalls.
The first INR 50 is bought at the ticketing counter at the wharf and the second INR 50 is directly given to the people who ride the boat.
Other than boat ride, there is no other cost involved.
Open 24 hours everyday. But I suggest visiting this place during the sunset.
Jain temple
The last point was at a Jain temple. It is a beautiful temple and has very pretty structures within the temple. There are about 300 steps to reach to the top where the temple lies.
No entrance fee required.
Is Jabalpur safe for solo female travelers?
We were two females who traveled in the city. There were times where we did feel a bit unsafe with unwanted attention. But overall the city was safe. However, I would definitely stay in a very good location and not explore at nights if I am traveling alone. I would also book the taxi with a reputed taxi provider.
Are you new to solo travel? Or do you have a lot of questions on solo travels? Read frequently asked questions on solo traveling.
Closing Notes
I think one day was sufficient to explore Jabalpur. But I would have loved to have stayed by the Bedhaghat and spent more time at the gorge and the marble rocks. There is also a Madhya Pradesh Tourism Hotel and it is at a very beautiful location.
Have you visited Jabalpur? What all things must be included in this list? Let me know in the comments below.
How can you support me?
You know how much I love coffee, so you can buy me coffee – Buy me Coffee!
Or you can purchase from one of the below travel resources without any extra charge to you.

Travel Resources
Click to book your flight on Skyscanner.com
Click to book your accommodation on Stay22
Click to book a comprehensive travel insurance on Safety Wing
Click to book your tours and travels on Viator or GetYourGuide
If you liked this article and if it was helpful in your planning or traveling, do share, tweet, or pin this post.

Follow me on Instagram | Facebook | YouTube | Twitter | LinkedIn
Do you have a question? Or want any suggestions, and tips for travels, hikes and scuba dives? Use the Subscription box below to sign-up and get updates by email.
Also read
PIN for later reference