3 Days Road Trip in the North Island
New Zealand has been one of my favourite countries. From backpacking in the South Island to visiting some of the spectacular places in the North Island, I have traveled in New Zealand extensively. During one of my travels, I spent 3 days in the North Island driving around to Tongariro National Park and back.
As it was a long weekend in Australia, my friend and I decided to do a road trip in the North Island, specifically traveling to Tongariro national park. I was very excited but was nervous as well. This was the first time I was attempting to drive 850+ kilometres in 3 days. I had never driven a car on a highway, let alone such a long drive.
Note that I was the only one driving for the whole trip as my friend did not know how to drive.
We drafted a tentative itinerary and after the bookings, we were set to go. We did stick to the plan, but the number of kilometres and the time of the drive increased as we had underestimated them.
Also Read | As part of another travel, I have also backpacked in the South Island for 10 days, read my post Backpacking in South Island.
This article may contain affiliate links. For full information, please see our affiliate disclaimer here.
Flights to Auckland
Auckland is one of the major cities in New Zealand. There are frequent flights between Sydney and Auckland. Air New Zealand and Jetstar are the main flight providers and Jetstar is the budgeted airline.
Tip: Watch out for deals on Jetstar website. There are plenty of amazing and cheap tickets, especially when you travel off peak season.
3 Days Road Trip in the North Island
Day 1 (Friday) – Auckland to Taupo
After reaching Auckland, we picked up the car from eZi car rentals and started for Taupo at about 4 PM. It took us a while to get out of the city as we had a bit of a problem in understanding the roundabouts and the GPS. We had decided to take constant breaks every one hour. The first break that we took was at Waikato to have our dinner. Even though Waikato is a small little town, it was very lively, even at 7 PM.
Auckland to Waikato - 110 kilometres.
One of the other things that you can do is to hire a campervan as New Zealand is perfect for camping and driving campervans. There are many places around the country that providing campervan parking spots and facilities. You can hire them at Jucy Rentals in New Zealand.
After having our dinner, we started for Taupo. My GPS had a little bit of glitch and took us through some country roads where we were lost. But this was a good thing as we had the opportunity to see the Aurora Australis (The Southern lights). We saw the beautiful orange lights along the horizons. Wow, it was stupendous. Unfortunately, we could not take pictures as we were awestruck and we just admired the beauty of the sky changing colours. After a long day, we reached Taupo at 12 AM and called it a night.
Waikato to Taupo - 195 kilometres.
At Taupo, we stayed at Taupo Haka lodge backpackers which is a great place to stay as it has private rooms even though it is for backpackers. You can also look for YHA Taupo Finlay Jack's Backpacker, The White House, Wharewaka Bach, and Lake Vista at Two Mile Bay.
Day 2 (Saturday) – Taupo to Tongariro National Park
Since we had had a hectic start of our trip on day 1, we started our second day at 7:30 AM. The view from our room was so beautiful with the autumn colours.
We started for Tongariro National Park at 9 AM from Taupo. The distance between the Taupo and Tongariro National Park was close to 100 kilometres. And the drive and landscapes along the way was breathtakingly beautiful. I loved the drive.
Taupo to Tongariro National Park - 100 kilometres.
We were welcomed by the beautiful volcanic mountain, Mount Ngauruhoe in the Tongariro National Park. Since, we did not have sufficient time to do the Tongariro Alpine crossing, we decided to do a 6 hour return walk to the Lower and Upper Tama lakes in Tongariro. The walk provided us with the astonishing and amazing views of the volcanic mountains in the national park, Mount Ruapehu and Mount Ngauruhoe.
I also had to add some bit of drama to my walk, so I turned on my Bollywood music on full volume, of course with headphones on. I danced like nobody was seeing while walking to the lakes.
After walking for close to 2.5 hours, we reached the first milestone, Lower Tama lake. Oh my God! It was stunning. The pictures that we captured did not do any justice of the beauty we witnessed. The second milestone was the Upper Tama lake. The walk from Lower Tama lake to Upper Tama lake is quite steep and takes up to an hour. But the walk is definitely worth as the Upper Tama lake is even more beautiful than the Lower Tama lake.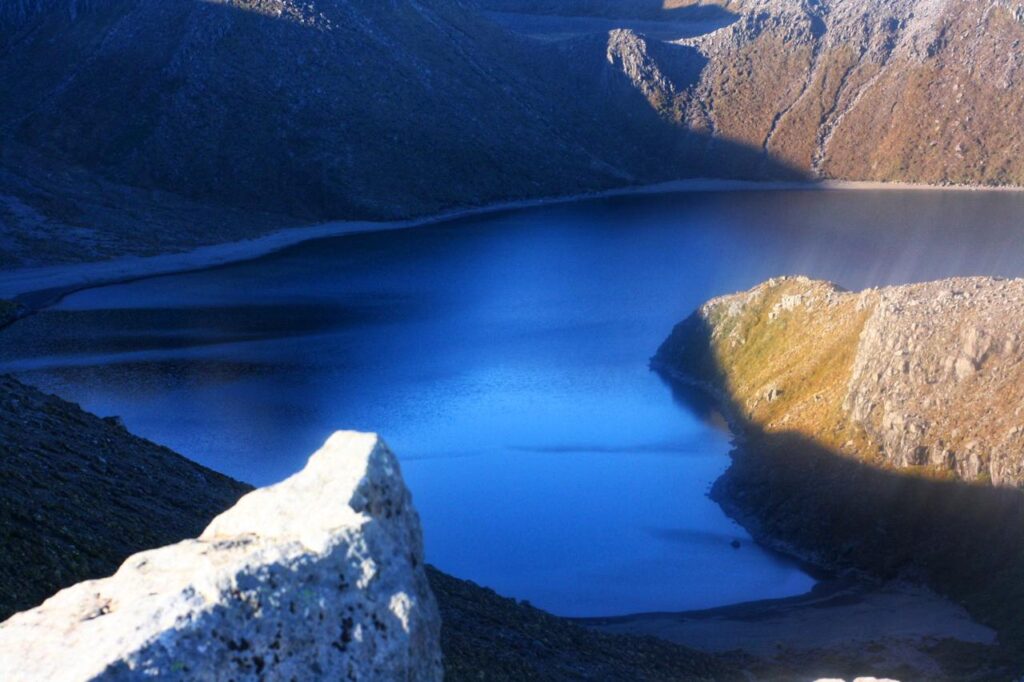 If you are an avid hiker, then North Island is famous for its Great North Walks and one such walk is the Lake Waikaremoana Track. This hike is absolutely gorgeous and so are the other Great North Walks.
After enjoying the views of the two volcanic mountains and the two lakes, it was time to head back. The sunsets along the way was very impressive. The last 30 minutes of our walk was the highlight of our walk, we walked under the Milky Way and that was the memorable moment of my day. For some magical reason, I have always been fascinated of the Milky Way.
At Tongariro, we stayed at Youth Hostel Association (YHA) Tongariro National Park. The hostel was quite busy and it had the proper backpacking vibes. You can also look for other places such as Tongariro River Motel, Tongariro Crossing Lodge and Tongariro Suites.
Also, note that just 75 kilometres from Rotorua is a town called Waikato which is where the Hobbiton movie set is located. If you are a Lord of the Rings or Hobbiton fan, then you can take a deviation here to visit the Hobbiton movie set. There are also various one day tours that are organised by Viator.
Day 3 (Sunday) – Tongariro National Park to Auckland
Starting our day late, we were set out to explore the Wai-O-Tapu geothermal wonderland in Rotorua. Known for its geothermal activity, pristine and beautiful lakes, Rotorua is one of the most beautiful towns of New Zealand. If you have time, I suggest staying in Rotorua for a couple of nights before heading to your next destination. You can look at staying in Figtree Bungalow, Paradise in Rotorua, and Novotel Rotorua. Here are some of the other affordable accommodation options in Rotorua.
The distance between Tongariro National Park and Rotorua was about 185 kilometres.
Tongariro National Park to Rotorua - 185 kilometres.
The Wai-O-Tapu geothermal wonderland is definitely a wonderland which must not be missed. It is an active geothermal area at the southern end of the Okataina Volcanic Centre. Wai-O-Tapu supposedly means 'sacred waters' in Maori.
Also Read | New Zealand has many geothermal parks, another one to visit is Waimangu Volcanic valley.
After lunch, we started from Wai-O-Tapu to Auckland. The distance between the two places was close to 258 kilometres. We made a quick photo session at the Lake Taupo.
Rotorua to Taupo - 80 kilometres.
For some unknown reasons (maybe the settings which we could not work out), the GPS took us through the country roads which was a lovely thing for us as the drive was fantastic.
Day 4 (Monday) – Auckland to Sydney
We dropped the car at the eZi car rentals and took an early morning flight from Auckland to Sydney. We landed in Sydney to a wet Sydney morning.
Closing Notes
I will definitely remember this road trip for a long time. I had driven 850+ kilometres in just 3 days and was super elated to complete my first self driven road trip. The views and the drive were stunning and I definitely suggest driving in New Zealand because of its landscapes and scenaries.
Have you driven in New Zealand? Let me know by emailing me at Solopassport@gmail.com.
How can you support me?
You know how much I love coffee, so you can buy me coffee – Buy me Coffee!
Or you can purchase from one of the below travel resources without any extra charge to you.

Travel Resources
Click to book your flight on Skyscanner.com
Click to book your accommodation on Stay22
Click to book a comprehensive travel insurance on Safety Wing
Click to book your tours and travels on Viator or GetYourGuide
If you liked this article and if it was helpful in your planning or traveling, do share, tweet, or pin this post.

Follow me on Instagram | Facebook | YouTube | Twitter | LinkedIn
Do you have a question? Or want any suggestions, and tips for travels, hikes and scuba dives? Use the Subscription box below to sign-up and get updates by email.