Scuba diving in Dolphin Wreck (Brunei)
Last year as part of my yearly birthday travel, I traveled to a tiny nation in South East Asia Brunei. While researching for all the things to do in Brunei, I realised that Brunei is famous for its shipwrecks (as many as 30 of them) and scuba diving at these wrecks is the most amazing thing one can do at Brunei. It has many of the ships that have gone down and are spectacular sites for divers, especially for the experienced divers. While most of these sites are for advanced divers, there are some of them for open water divers as well. One such wreck is the Dolphin Wreck.
PIN for later reference
Please note: This post may contain affiliate links which means I may earn a commission if you make a purchase by clicking a link on this post. This will be at no additional cost to you. Affiliate links help me keep this website up and running. Thank you for your support.
About Dolphin Wreck..
Dolphin Wreck is a shipwreck that sunk only 5 to 6 years ago. The ship is known as Dolphin88. Supposedly, the ship was carrying stones and that resulted in breaking the ship and sinking it. The government cut the front part completely and removed it, allowing the rear of the ship to sink. And that is the part of the ship that is available for divers. The wreck is steady and strong and not dangerous.
Note: All the 11 people on board were rescued and no life was lost during the sunken of this ship.
How to get there?
Taxi or Drive – The best way to get to the dive centre is by taking a taxi or drive. It is the quickest and expensive way to reach. Once the paperwork is filled at the dive centre, the dive staff takes you to the bay where the boat picks you up.
Dive details
The open water scuba divers are allowed to dive only the top two decks of the shipwreck. The shipwreck starts at a depth of 15 metres and goes to 22-24 metres. Since I am not allowed to go beyond 18 metres, I dived to a depth of 15 metres and for 35 minutes.
It is definitely the best shipwreck dive I have done so far, even though this is just the second shipwreck dive.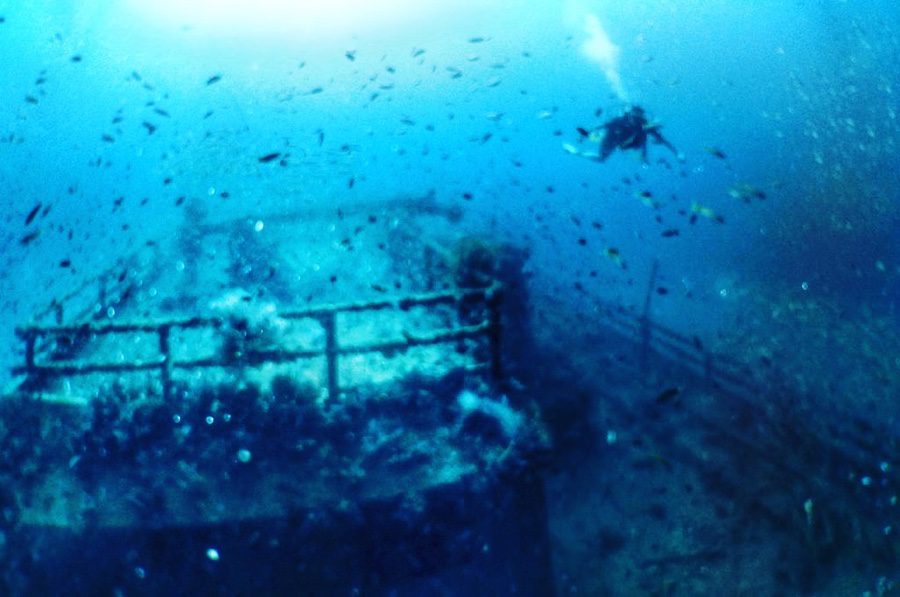 Dive statistics
Type of dive: Boat dive
Dive site: shipwreck (Dolphin wreck)
Depth: 15 to 22 metres
Visibility: Around 10 to 15 metres
Ideal for advanced scuba divers. However, open water divers can dive at this site.
Wet suit: Even though the water temperature is warm and nice, it is advisable to dive with a wet suit as there are plenty of ocean bugs that bite you really hard.
The best time to dive at the Dolphin wreck is early morning as it is less hot and is pleasant to dive. Be prepared for humidity during the day and the water gets quite warm as and when the day progresses.
Dive Centre
There are very few diving centres in Brunei. I dived with 'Oceanic Quest'. The dive centre is owned by a guy named Steven. The entire experience with the dive centre and staff were amazing. The entire staff is very friendly and chilled out. Steven himself is a very genuine and nice person. I recommend this dive centre to all the divers who wish to dive in Brunei.
My diving instructor Roger was absolutely brilliant. He was friendly, and he allowed the divers to be themselves exploring the site on their own, not forcing things on anyone. Even though he gave us the freedom, he did keep a watch on us all the time. I can definitely say that Roger is one of the best instructors I have had to date.
Scuba diving provider details
Below are the details of the provider:
Provider name: Oceanic Quest
Cost: Brunei $ 100 + $40 (the recent up-to-date information can be found on their website). The cost includes transportation between the dive centre and the bay where the boat picked us.
Contact details:

PADI 5 Star Centre (S 22803)
Oceanic Quest Travel and Tour Company
No. 6 and 6A, Simpang 46, Jalan Perusahaan,
Serasa, Muara BT 1928,
Negara Brunei Darussalam Tel/Fax +673 2771190
Mobile +673 8933110
Marine life
In general, shipwrecks attract abundant marine life. And the Dolphin wreck is no different. The marine life is absolutely amazing and when I dived, there were lots and lots of fishes in all colours. The site is mostly famous for its macro photography. However, my instructor Roger mentioned that he has seen some of the big ones such as cuttlefishes and octopuses.
There are fishes everywhere at the wreck because of which I got a lot of noise in my pictures. There are just schools of fishes swimming around. So if you love to see such busy underwater life, then this wreck is definitely for you. I loved seeing so many fishes.
Is it safe for solo female divers?
I would definitely say Yes. My diving instructor Roger was extremely good and I enjoyed diving with him. I did not have any such issues with the other diving staff as well. The overall experience of diving in Brunei was pleasant and enjoyable. So, I do recommend diving with Oceanic Quest for solo female travelers. Also, there were female instructors as well at the dive centre.
However, like any other place, always trust your instinct and take precautions. And ensure to read the reviews on the internet before booking a dive with a dive centre.
Conclusion
I enjoyed diving at Dolphin Wreck and would definitely recommend that divers have this wreck as part of their shipwreck bucket list. My instructor Roger mentioned that the visibility at Dolphin wreck is much better than the other shipwrecks in the area. But I do wish to go back now and dive in the other famous wrecks such as Australia Wreck.
For all the other sightseeing places and a guide to travel in Brunei, refer my post 2 days in Brunei.
If you know any other cool diving sites in Brunei, then please drop a comment or send me an email on Solopassport@gmail.com.
Also read:
PIN for later reference