Dive into Adventure: Swimming with Dolphins in Kaikoura
Are you looking to do something cool to at Kaikoura? Do you love dolphins? Then Swimming with Dolphins in Kaikoura is perfect for you. The experience is mind blowing and the one that you will remember for your life. Kaikoura has some of the unique and spectacular activities, the other things you may add to your list is the whale watching scenic flight to see the sperm whales from above and kayaking with dolphins during sunset.
This article may contain affiliate links. For full information, please see our affiliate disclaimer here.
Disclaimers:
The prices mentioned in the post are valid only at the time of publication. Ensure to check the booking websites for up to date information and prices.
Opinions and views expressed solely mine and are unbiased. If the post is a collaboration, then they are specifically mentioned.
Ensure to check the relevant websites for up to date information on COVID protocols.
For any adventurous activities, please note that there is a risk that can be dangerous. Ensure to read the terms and conditions with individual agencies recommended and do them at your own risk.
For visas, it is best to see the embassy website for any changing rules.
My Story of Swimming with Dolphins in Kaikoura
'I can manage in the ocean' I said.
'I am not sure, the sea is moderate today and we are not letting any non-swimmers go inside the water', one of the staff at Dolphin Encounter said.
'Please, I really think this would be easy and I have done it once in the past. If you say that your wet suits create enough buoyancy that I don't sink and if you can give me a kickboard, I should be good.'
'Are you sure you can swim back to the boat when the horn goes off?'
'Yes, 100%'
'Okay, let me ask my supervisor.'
'Thank you!'
In 10 minutes, my friend and I had filled the declarations form and were excited to go our adventure of swimming with dolphins in Kaikoura. My other friend who was also joining us was as a spectator on the boat.
I have been to New Zealand, especially the South Island, many times and I must say that one of my favourite places to visit is Kaikoura. There are plenty of adventurous things that you can do in this beautiful coastal town. I did three of them when I was in Kaikoura:
Swimming with Dolphins.
Whale Watching Scenic Flight.
Kayaking with Dolphins.
Also read – Backpacking in South Island
About Swimming with Dolphins in Kaikoura
The swimming with dolphins tour was divided into two parts:
One the induction and
The second the actual swimming with dolphins.
Induction about Swimming with Dolphins in Kaikoura
The induction was for about 30 minutes which included:
The briefing about the equipment.
Trying on our equipment (wet suit, snorkeling mask, and fins).
A short video of what to expect and what are the important signals used in water.
Tip: Make sure you take the sea sickness tablet as the ocean can be quite rough.
Swimming with Dolphins in Kaikoura
After about 10 minutes bus ride to the boat and 30 minutes boat ride, we saw the dolphins. They were the dusky dolphins, the most acrobatic dolphins that exist.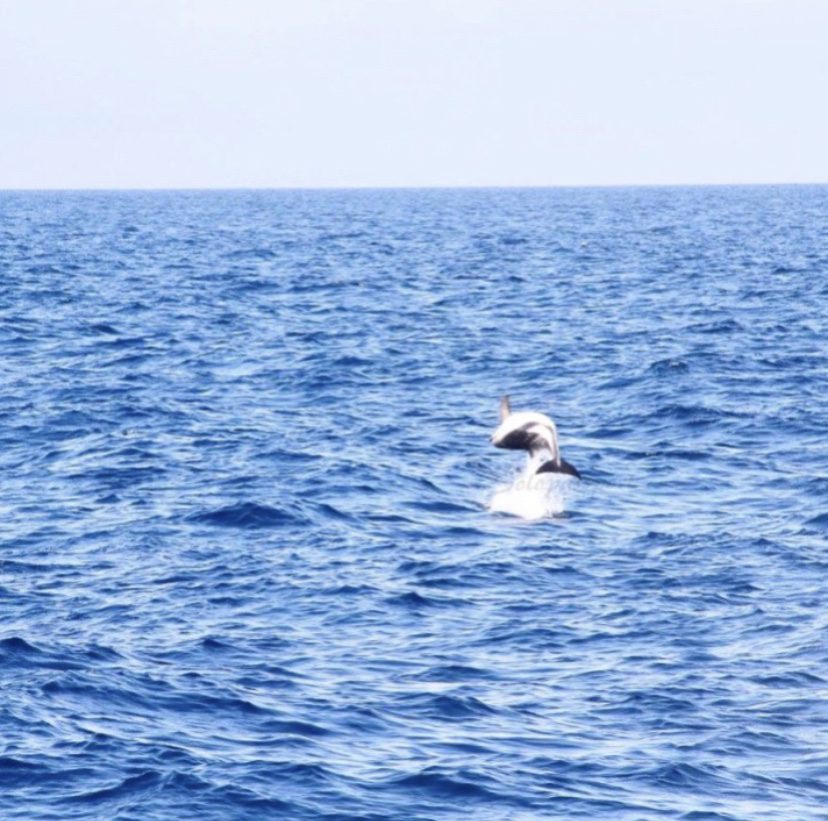 The crew instructed us to get ready to jump into the water. I was very excited, even though I am not a good swimmer, all I was thinking was were these beautiful dolphins. I was given an extra kick board to manage in the ocean.
Tip: Make sure you take the extra kick board or a floater, if you are not comfortable swimming.
As soon as the horn blew (indicating we could jump into the water), I held my orange kick board tight and took a big step – into the ocean.
My heart was beating fast and I was not sure what was happening with my mask and snorkel. And the water was cold, which was definitely not helping a non-swimmer like me. It took me about 10 minutes in the water to settle and stabilise.
After settling in, I started to look around and then I saw these dolphins under water. I was awed. They looked spectacular under the water. They were larger than what I had always imagined. I have always been in love with dolphins and whales and here this was my chance of getting close to the wild ones. I was swept away (not quite literally) by this wonderful moment.
We were told earlier in the induction to make some noise or shout through our snorkelling masks, so the dolphins get curious. We remembered and of course we made the weird loud sounds through our masks. It was a competition – who would attract more number of dolphins. Yes, it's a bit silly. But it worked! The dolphins were inquisitive and they started swimming and circling around us.
At one point, there were three dolphins that were circling under me – I mean I was at the surface floating and the dolphins were exactly under me in a circle. I was overwhelmed but I got an evil thought. If only dolphins were dangerous and could eat humans, I can definitely vouch that I would have been the afternoon meal.
There is absolutely nothing to be scared of the dolphins. They are the most gentle, intelligent and amicable creatures.
The horn blew again and we returned to the boat. This time the crew asked us to sit on the steps, at the back of the boat so we could jump into the water again.
Another 15 minutes ride, the horn blew again. This was our second swimming stop. When I entered into the water, I saw in a far distance, there were larger number of dolphins (more number than in our first stop). They were plenty in number and they looked like they were dancing under water. It was in a rhythm, just that there was no music. Oh-My-God! What a sight that was. It was wonderful and I laughed and cried like a small child. I couldn't do much under water, else I would have had a little dance as well. It was truly an experience to remember.
Swimming with Dolphins in Kaikoura Tour details
Activity: Swim with dolphins.
Cost: 175 NZD (Approx. 120 USD).
Closing Notes | Swimming with Dolphins in Kaikoura
I am glad that my friend had this experience on his birthday! And the other friend of mine had a relaxing time on the boat looking at these dolphins jump and splash out of the water. All in all, this was one of the best experiences we had in our travel to Kaikoura.
How can you support me?
You know how much I love coffee, so you can buy me coffee – Buy me Coffee!
Or you can purchase from one of the below travel resources without any extra charge to you.

Travel Resources
Click to book your flight on Skyscanner.com
Click to book your accommodation on Stay22
Click to book a comprehensive travel insurance on Safety Wing
Click to book your tours and travels on Viator or GetYourGuide
If you liked this article and if it was helpful in your planning or traveling, do share, tweet, or pin this post.

Follow me on Instagram | Facebook | YouTube | Twitter | LinkedIn
Do you have a question? Or want any suggestions, and tips for travels, hikes and scuba dives? Use the Subscription box below to sign-up and get updates by email.