Tales of Yowie | Myth or Truth?
Australia is a country of tales. There are plenty of stories, myths and legends that one can spend their lifetime learning about them. I was lucky to have heard of one story during my Barangaroo Aboriginal Cultural walk. Tim Gray, a guide belonging to the Aboriginal tribe had reference Banksia flower to a hairy creature called Yowie. This story had intrigued me and I wanted to hear and learn about them more.
PIN for later reference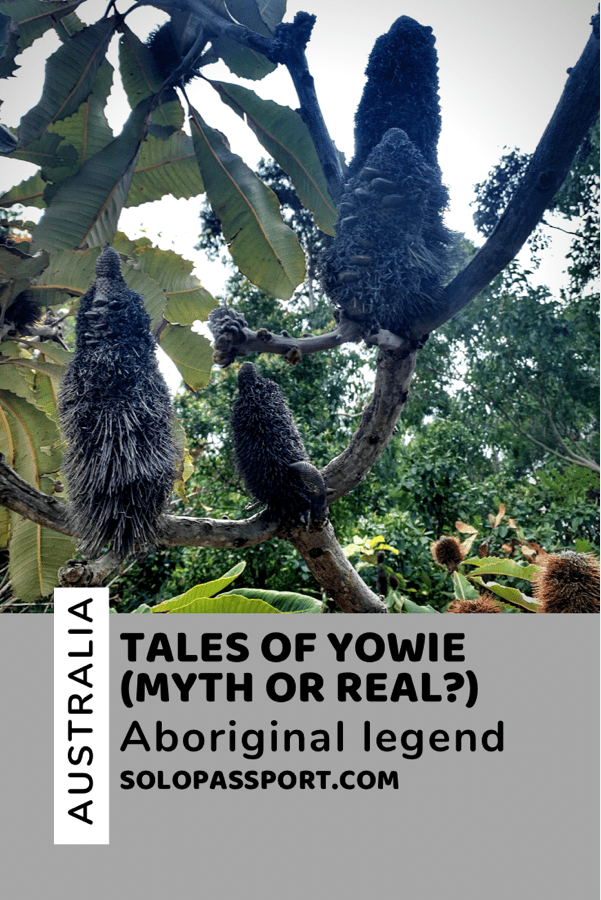 This article may contain affiliate links, meaning if you decide to make a purchase via my links, I may earn a commission at no additional cost to you. For full information, please see our affiliate disclaimer here.
What is a Yowie?
Yowie is a hairy creature that has its roots in the Aboriginal history. They are common in the legends of Australian folktales, especially in the eastern part of Australia. The Yowie is an ape like creature that is hairy and has a bigger foot than that of a human. It is believed that Yowies are of a height in between 2 and 3.5 metres. And some who have reported sighting them has mentioned that Yowies are shy where as others have reported them as aggressive.
Legend of Yowie
The term Yowie was used in the year 1875 among the Kamilaroi people. The Kamilaroi people are from the northern parts of New South Wales (NSW) and southern parts of Queensland (QLD). They believed that Yowie is a spirit that roams over the Earth at nights.
The Kuku Yalanji Tribe of far north Queensland claims to have coexisted with the Yowie for centuries. They have a long and detailed history of attacks by the Yowie in their legends.

taken from SBS website
Do you love travel related books? Then click below link to purchase some of the best travel books:
Sighting in Australia
There have been multiple sightings across Australia. The truck drivers and the people staying in the Outback state that they have seen Yowies. There have been reports of sighting them around the areas of The Blue Mountains, Lismore and the south coast of NSW. Woodenbong, the border town of NSW and QLD has a reputation of being the Yowie capital of Australia. Most sightings have been along the highways. The details and accounts of the sightings can be found on Wikipedia.
"Yowie thumbed the bonnet of his truck has been plagued by nightmares and says spotting the creature was the worst experience of his life."

– A Queensland truck driver who gave an interview on Mandurahmail website.
There is a research organisation in Australia that is dedicated to the research of Yowie.
Tale beyond Australia
Yowie is America's Bigfoot/ Sasquatch and New Zealand's Moehau. They all are referred to a hairy ape-like creature found in those parts of the World that are inhabiting the forests.
In Native America, the folktales have believed the Bigfoot's existence and had names meaning the wild man or a hairy man. The name Bigfoot was derived because of the enormous foot size of the creature. A huge population in America claim that they have sighted the Bigfoot in the Pacific Northwest regions. There are several organisations dedicated to the research of Bigfoot. The biggest and oldest is the Bigfoot Field Researchers Organization (BFRO).
Read the non-fiction book Bigfoot: The Life and Time of a Legend, published by University of Chicago Press, to learn more about the Bigfoot.
In New Zealand, the Maori folktales believe that there exists a creature called Moehau, who is half man and half animal. The creature is said to be a terrible creature who has very aggressive temperament. It is believed that these creatures usually inhabit the Coromandel Moehau ranges in the North Island of New Zealand.
Closing Notes
I have never seen a Yowie. But I do wish to sight it someday if at all it does exist in Australia. They have been known to Aboriginal tribes for centuries and yet there have so little evidence of being sighted. I would also love to learn more stories about these ape like creatures.
Do you think they exist? Drop me a comment or send me an email on Solopassport@gmail.com.
How can you support me?
You know how much I love coffee, so you can buy me coffee – Buy me Coffee!

Or you can purchase from one of the below travel resources without any extra charge to you:
Travel Resources
Book your flight on Skyscanner.com or Trip.com
Reserve your accommodation on Stay22
Buy comprehensive travel insurance on SafetyWing and WorldNomads
Book your tours and travels or purchase tickets on Viator or GetYourGuide
For a universal SIM card, use DrimSim
If you liked this article and if it was helpful in your planning or traveling, do share, tweet, or pin this post.

Follow me on Instagram | Facebook | YouTube | Twitter | LinkedIn
Do you have a question? Or want any suggestions, and tips for travels, hikes and scuba dives? Use the Subscription box below to sign-up and get updates by email.
PIN for later reference