Do you know that there are a few places in this World that you accidentally discover but you fall in love with them? You start feeling grateful for that pleasant accidental discovery. One such place or a walk that I discovered by chance was the Comic Walk in the Milsons Point. I was on my regular Sunday weekend walk from Balls Head Reserve to North Sydney and that's when I stumbled upon this walk. All I wanted to do after this short walk was to tell the people in Sydney so they can go and discover this amazing hidden treasure.
A reason why I love Sydney so much is that the lively city has plenty of such hidden treasures and every place or a walk surprises you each time. For a detailed travel guide on what to do in Sydney, refer my ultimate guide to travel in Sydney.
PIN for later reference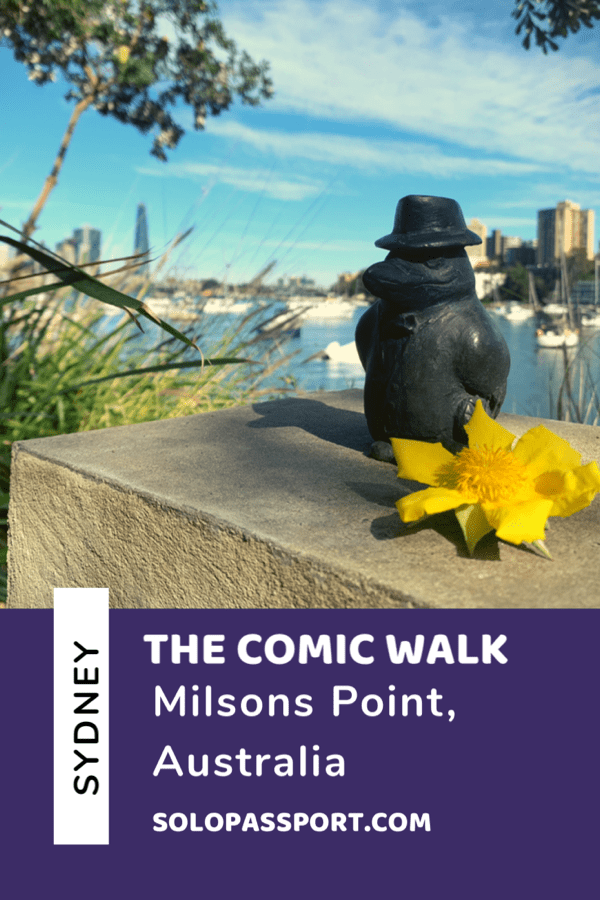 Please note: This post may contain affiliate links which means I may earn a commission if you make a purchase by clicking a link on this post. This will be at no additional cost to you. Affiliate links help me keep this website up and running. Thank you for your support.
What is Comic Walk?
The Comic Walk is an outdoor display of sculptures, honouring the golden age of Australian comics and children's literature figures from the early 20th century. The walk showcases mini sculptures of these comic characters created by the local artist Peter Kingston. The walk is also known as the Peter Kingston Walkway and is in the park that is dedicated to Arthur Barton.
How to get there?
The Arthur 'Art' Barton park is right behind Luna Park in North Sydney that goes towards Lavender Bay. The nearest train station and ferry point are Milsons Point. The train and ferry timings and up-to-date information on public transport in Sydney can be found on the Transport for NSW website.
Arthur 'Art' Barton
Arthur Barton was an artist who worked at Luna Park for 33 years. One of his biggest art accomplishments was the happy face at the Luna Park entrance gate. The art was built in the year 1959. Arthur Barton, after losing his one eye in World War I, became an artist and was one of the 35 artists employed at the Luna Park. His journey on how he became an artist and how he created the happy face of the Luna Park can be found on the Sydney tourism website.
Peter Kingston
Also a former Luna Park artist, Peter Kingston created these comic series to celebrate and cherish his childhood heroes. His works are in bronze and the mini sculptures on the Peter Kingston walkway are created to reflect the fun and good memories.
Only one of the mini sculptures is a stand-alone work created by the artist Chris O'Doherty. The sculpture is of Ken – the Dugong.
Kingston's sculptures of classic Australian cartoon characters line the boardwalk and are popular with children and adults alike.

Cited on the article – ARTIST Peter Kingston is set to be honoured by the North Sydney community on Daily Telegraph.
PIN for later reference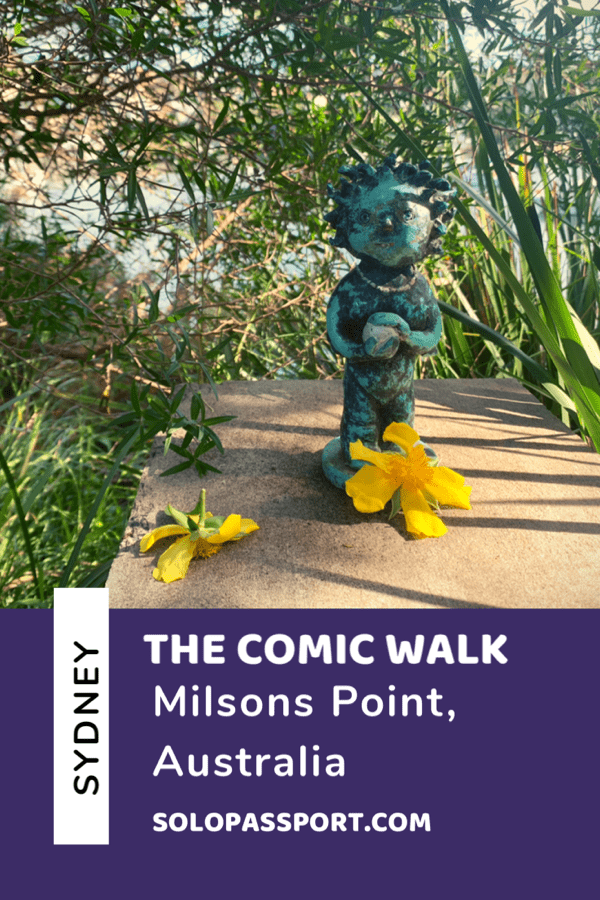 Exhibits
Banksia Man
The villains of the Gumnut series, Banksia Men are the ones always plotting wicked ways to capture Mr. Nut and Blossoms. This character was created by an Australian children's author Mary Gibbs.
Bib & Bub
Bib and Bub are the two comic characters created by Mary Gibbs. And Bib and Bub are the two Gumnuts living in a Gumnut town and have lots of fun adventures.
Blinky Bill
Blinky Bill is a koala, a fictional character created by a New Zealand born children's books author Dorothy Wall. The character first appeared in the book Jacko – the broadcasting Kookaburra and then featured in a series of Blinky Bill books.
Boofhead
Boofhead is a cartoon character that featured in the 1940s, created by R B Clark. Boofhead translates to buffalo-head which means a stupid person.
To know more about its origin and the details of the comic strip, refer to the article Eddie Everywhere And The Origins Of The Boofhead published by Newmatilda.
Felix the cat
This exhibit was my favourite as I love cats and I love the name, Felix. Felix, the cat is a popular black cat created in the silent film era. He was created by an Australian cartoonist Pat Sullivan.
Did you know that Felix first appeared in Master Tom in the year 1919 and he is older than Mickey Mouse by 9 whole years?
Ginger Meggs
Ginger Meggs is a popular comic character, created by an Australian cartoonist Jimmy Bancks in the early 1920s.
The life and times of Ginger Meggs recorded by ABC radio can be heard here:
Ken – the Dugong
The sculpture of Ken, the Dugong is created by a contemporary artists Chris O'Doherty. The art work is a symbol to support the conservation campaign for the declining population of Dugongs in Queensland's Hinchinbrrok Island.
Magic Pudding
The Magic Pudding is a story of a magic pudding that no matter how many times its eaten, it reforms itself to be eaten again. The character was created by an Australian author Norman Lindsay.
Mr. Lizard
Mr. Lizard is a character created by Mary Gibbs. He is strong, brave and fast and often saves the other characters Nuts and Blossoms from the perils.
Mr. & Mrs. Kookaburra
Mr. Kookaburra and Mrs. Kookaburra were created by Mary Gibbs and are friends with Mr. Lizard.
Splodge
How can Australian comics be complete without a kangaroo? Splodge is a kangaroo who is Blinky Bill's friend. He was created by Dorothy Wall.
The Ghost who walks
Unfortunately, I could not find this comic character's connection with Australia. The only information I found was that the Ghost who walks is a comic character in an American adventure comic strip called the Phantom, published by Lee Falk.
The Rembrandt of Luna Park
A replica of Luna Park's smiling face and its towers also exists as a display on the Comic Walk.
Statistics of the walk
The distance of the walk: 100 to 200 metres.
Time taken to complete the walk: 15 minutes.
The walkway is along the wooded boardwalk and is an extremely easy walk.
Look out for the sculptures as some of them are covered by bushes and plants.
Closing notes
I absolutely loved this walk as it was like a treasure hunt. Actually my friend who was accompanying me during walk planned a fun activity for her kids to find the characters based on the pictures. How cool an activity is that! Even though the kids will enjoy this walk, I am sure adults would appreciate the various comic characters too and enjoy learning about them.
PIN for later reference