Kas was never on my travel list. It is one of those off beat places that usually is missed from the typical itinerary of Turkey. While researching about Kas, I realised that there are many things to do in Kas and in fact it is one of top destinations for scuba diving in Turkey.
Being an adventurous female traveler, I am always attracted to destinations that offer adventures and hence was immediately drawn towards Kas in Turkey. I was in Kas for 2 days and in this post, I am listing down the top 10 things to do in Kas.
PIN for later reference
This article may contain affiliate links. For full information, please see our affiliate disclaimer here.
About Kas
Located in the Antalya province in Turkey, Kas is a coastal town with spectacular coast line and mountains. Situated on a hill along the Turquoise coast, the town is one of the most untouched and off beat destinations in Turkey.
Did you know that during the Middle Ages, Kas was an important stop on the pilgrimage route to Jerusalem?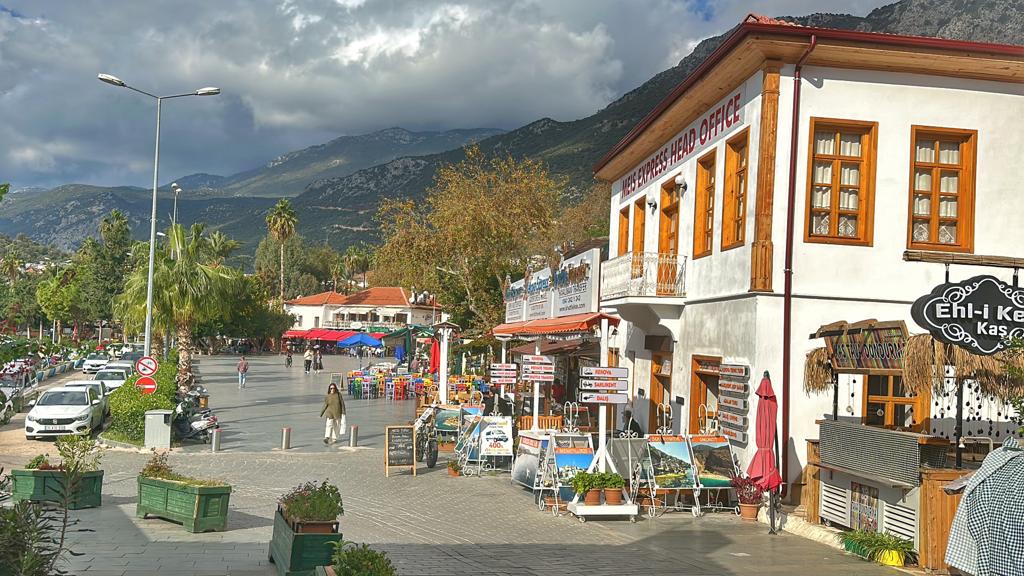 History of Kas
Founded by Lycians that date back to Bronze Age, the town of Kas was initially known as Habesos or Habesa in Lycan language. The town was later then named to Antiphellos (or Phellos) derived from a Greek word meaning stony place. Phellos was the name of the city across Kas town.
Visitor Information
Best time to visit Kas
Summer season – The best time to visit Kas is

between June and August

as it is summers in Kas and most of the activities/ cafes are open for tourists. As this is the perfect time to enjoy Kas, be prepared to spend higher prices and to see lots of tourists.
Spring season – March to May is the spring season which is also a good time to travel but be prepared for some occasional rain.
Winter season – The winter season is between December and February and the weather is cold during these months. Also, because this is a holiday season, many activities/ cafes are closed. I traveled to Kas in December. Even though many activities were closed, the coastal town was amazingly beautiful with very few people.
Autumn season – September to November is not very pleasant as it can be very humid at the time.
Note: Most of the activities are closed during winter season.
How many days are sufficient for Kas?
I was in Kas for about 2 days and I did feel it was a bit less of a time to enjoy what the town offers. There are many things to do and see in the town and I suggest spending at least 3 days in the town.
Currency used and Money exchange
Unfortunately, there are not many money exchange counters/ providers in Kas. The only place where one can exchange money to local currency is at PTT (which is the post office). However, the town has many ATMs where you can use your debit or credit cards to withdraw Turkish Lira (local currency).
Note:

At PTT (post office), they do not accept Indian Rupees. The only place where Indian Rupees is accepted is at the airport. Try the money exchange centres at the airport if you are carrying only Indian Rupees.
Most shops, restaurants and cafes accept Euros and USDs, so if you are carrying those money, then you will not have much of a problem.
If you are using your credit or debit card, ensure to check with your banks on the conversion charges.
Other information
Drinking water –

I was surprised to see that the locals do not encourage tourists to drink the tap water and I had to buy drinking water. Note not that many but there are a few drinking water outlets in the town centre where you can refill your water bottle.
You can also purchase drinking water bottles at the supermarket as it is economical than buying them at restaurants or cafes. The prices of water also vary between supermarkets. One supermarket charged 9 Liras where as the other charged just 7 Liras.

Super market – There are many supermarkets around the town centre. You get almost everything you need at these market, even though these supermarkets are not very huge.
How to get to Kas?
Dalaman airport
Situated in the city of Dalaman, the Dalaman airport is the closest airport to Kas. It is an international (new terminal) and domestic (old terminal) airport, that connects Istanbul to Kas. Turkish airlines is the best for traveling between the cities in Turkey.
Dalaman airport to Kas
The distance between Dalaman airport and Kas is around 150 kilometres and by road, the journey takes a little more than 2 hours. There are shuttle buses that run between the airport and Kas and the cost for one ride is 400 Turkish Lira.
Public transportation to Kas
Bus – Flixbus provider runs frequent buses between Istanbul Esenler and Ortaca. Ortaca is around 120 kilometres from Kas and you can either take a taxi or a shuttle from Ortaca to Kas.
Train – Kaklik is the nearest train station to Kas, which is around 150 kilometres from Kas town centre. You can take trains operated by Turkish trains from Yenikapi in Istanbul to Kaklik.
Transportation within Kas
Bike rental
The easiest way to commute within Kas is by renting a motor bike. The bikes are available for 99.99 Turkish Liras per day. All you need is a valid international licence to hire a bike. There are many outlets around the town centre where you can hire a motor bike.
Taxi
Taxis are the most expensive way to commute within Kas. There are yellow taxis available near the town centre where you can hail a taxi.
Shuttle
The shuttle buses, which are shared between other passengers, are another way to go around in Kas. These are economical than the taxis and motor bikes. But these have set times and you need to plan in advance to ensure you take the right shuttle to reach a destination.
The main bus terminal of Kas is located just around 400 metres from the town centre.
Accommodation at Kas
Medusa hotel
One of the best hotels to stay at Kas is Medusa hotel. The rooms have spectacular views of the Small Pebble beach on the Mediterranean coast. It is also conveniently located at just around 400 metres from town centre and there is a super market just 200 metres from the concierge.
The hotel facilities include a swimming pool overlooking the ocean, 24 hours reception or concierge, free Wi-Fi, car parking and baggage storage. There is also free breakfast included, even though the breakfast served was not one of the best I had in Turkey. The staff at Medusa hotel are very friendly and they help you out with any kinds of queries regarding the hotel and the town.
Note: There is no lift facility from the second floor to the rooms, but the staff at the hotel do help you out with the luggage.
Budgeted Stay in Kas
I am a big fan of hostels, especially when you are traveling solo as you meet such amazing people at hostels. Kas also has some of the beautiful and solo friendly hostels and homestays. Some of the hostels are Sole'n Blu, and Kas Joy Glamping.
10 things to do in Kas
Disclaimers:
The prices mentioned in the post are valid only at the time of publication. Ensure to check the booking websites for up to date information and prices.
Opinions and views expressed solely mine and are unbiased. If the post is a collaboration, then they are specifically mentioned.
Ensure to check the relevant websites for up to date information on COVID protocols.
For any adventurous activities, please note that there is a risk that can be dangerous. Ensure to read the terms and conditions with individual agencies recommended and do them at your own risk.
For visas, it is best to see the embassy website for any changing rules.
Take the sunset cruise
One of the best things to do in Kas is to take a sunset cruise. The private cruise cost 1500 Turkish Lira for 2 hours of ride. There are many boat and cruise providers at the wharf near town centre where you can walk up and hire the boat.
Even though the boats are available throughout the day, the best time to take the cruise is in the evening at around 4:30 PM so you can enjoy the mesmerising sunset.
The fare for the boat ride is paid in cash only.
Explore the beaches
Kas is famous for its crystal clear and pristine beaches. The beaches in Kas have different shades of blue with white sand. With a backdrop of the mountains, the beaches look even more magical. Most of the beaches, especially during the winter season, have no people and you can enjoy the beach all to yourself.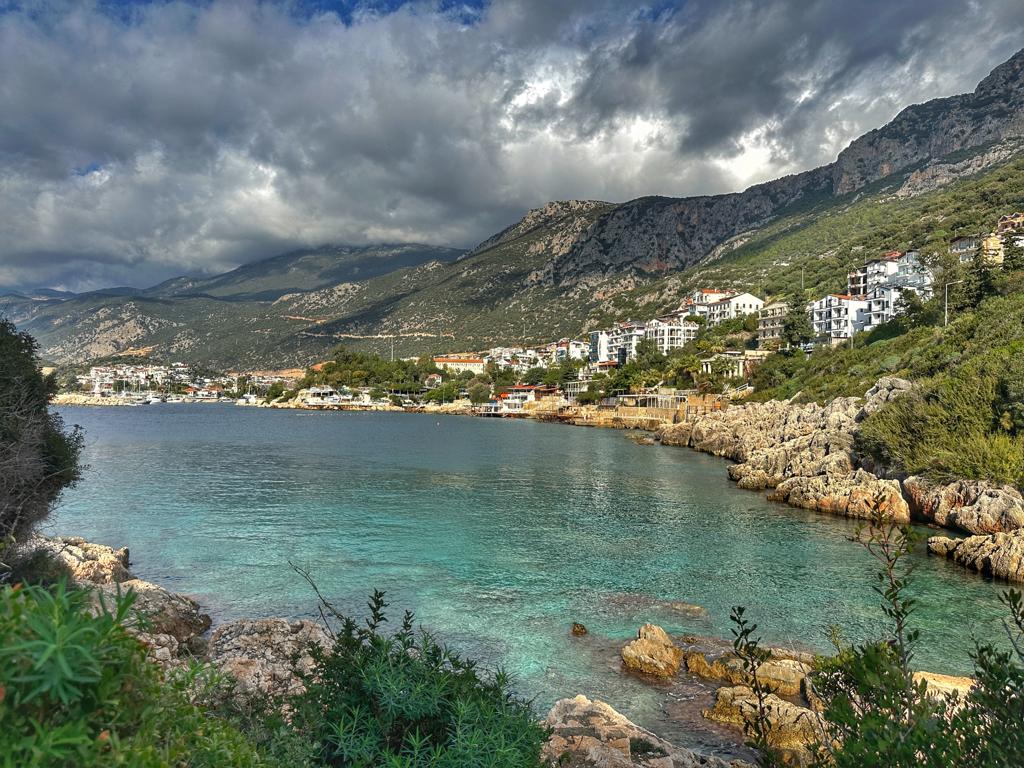 Visit Antiphellos amphitheatre
Built in the 1st century B.C, the Antiphellos amphitheatre is an awesome place to go back in time. The amphitheatre is around 10 minutes walk from the town centre and one of the free things to do in Kas.
Shop at local markets
The places around the town centre have many shops that sell local souvenirs and items. I found many shops that had pretty things created by the locals. As Turkey is famous for its ceramic bowls, and plates, do not forget to purchase them for your home.
Kayak in the ocean
Sea kayaking, operated by Sea Kayak Turkey, is one of the outdoorsy things to do in Kas. It is also a perfect way to see the ruins of Kekova that is lying underwater. The kayak tours depart from Kas daily at around 9 am and the tour lasts for about 8 hours.
Relish Turkish food
Being a food lover, Turkish cuisine is one of my favourite cuisines. The food is rich of flavours and delicious. I especially enjoyed the kebabs and the dips. Kas has many cafes and restaurants where you can try various food and relish on the tasty flavours and meat.
Note: Even though Vegetarians do not have too many options, there are still many cafes and restaurants that cater for vegetarian food. There are also vegan restaurants (one of them is Pisekar) that serve amazing falafel wraps and salads.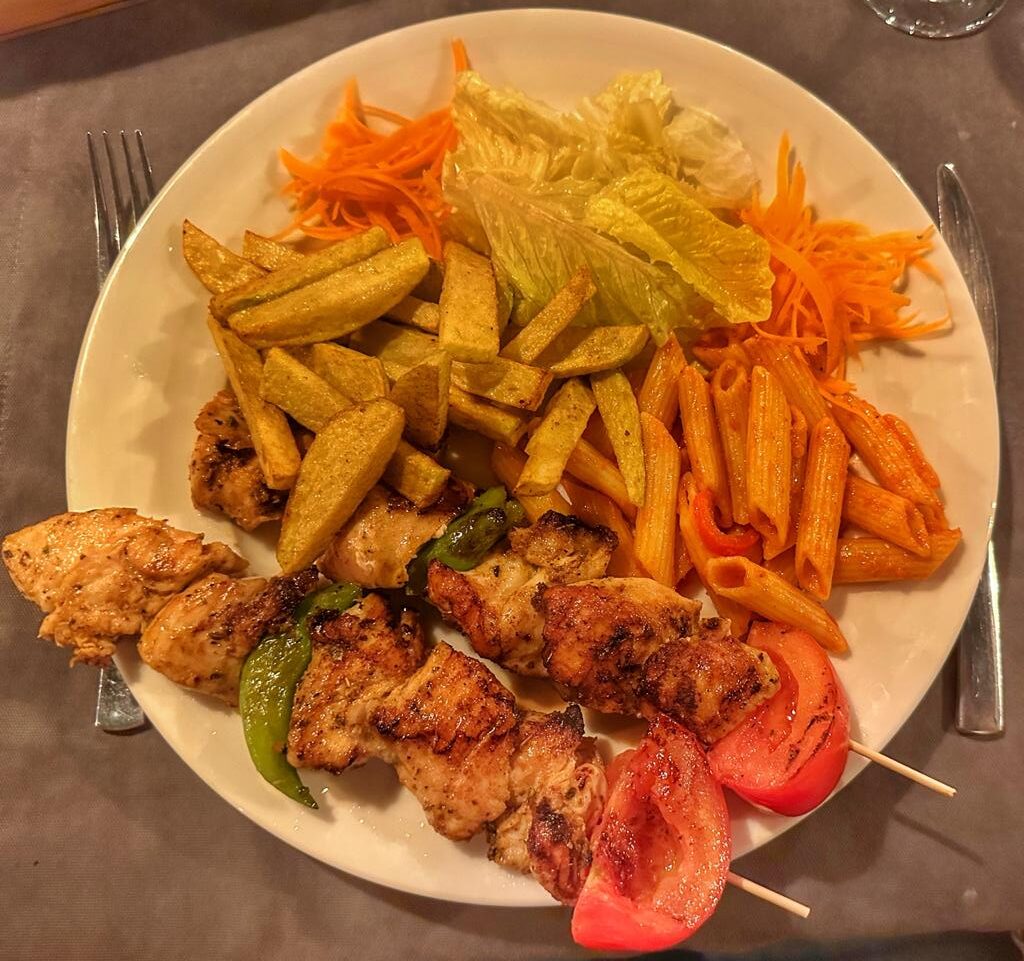 Go tandem paragliding
With great views of the ocean and town, tandem paragliding in Kas provides the required adrenaline rush for all the adventurous travelers. The paragliding happens from Asas mountain and the tour lasts for about 2 hours, including the transfers from the hotels. With 20 minutes flight time, the paragliding happens at about 600 metres above the town. The cost for tandem paragliding is 90 Euros per person and one of the providers is Excursion Mania.
Scuba diving in Kas
As I mentioned earlier, Kas is very popular for the dive sites. There are many dive sites with ancient pots and crockeries, and wrecks. In fact, Kas is home to three plane wrecks. All these dives are boat dives and Kas has plenty of dive centres. The boats leave every morning from the wharf at around 9 am and are back by 1 pm. I did two dives with SubAqua dive centre and the dives were at Lighthouse and Plane wreck dive sites and both of these were stunning and awesome.
For try dive, the cost is 40 Euros and for recreational dive, the cost is 30 Euros. These have to be paid by cash only.
The visibility is around 15 to 20 metres.
During the winter season, be prepared for very cold water.
Visit the lighthouse at town centre
One of the best spots to sit and watch the coast is at the lighthouse near the wharf. It is an old lighthouse that is fenced and it overlooks the ocean and the town.
Be prepared for lot of crowd, especially at sunset.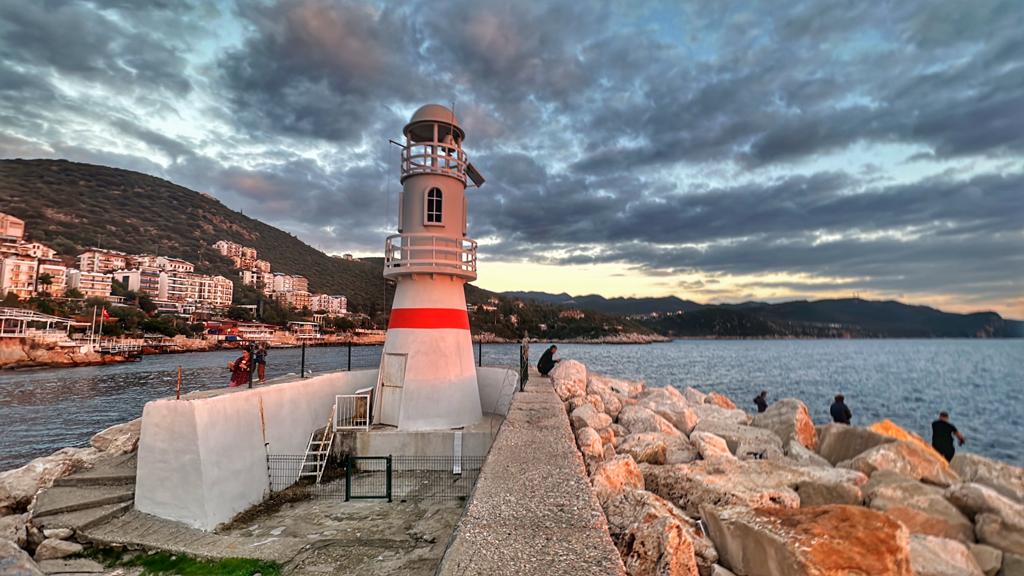 Enjoy Saklikent jeep safari
Kas offers one day tour to Saklikent national park that is famous for gorges and Kaputas beach. The jeep safari, costing 40 to 50 Euros, to the national park is a perfect one day tour from Kas where you can enjoy seeing the longest gorge of Turkey and swim at the most beautiful beach. The national park also has canyons and villages that is open to tourists.
Bonus: Make local friends
Kas has many cats and dogs. The people of Kas just adore these animals and they are taken good care of. I made many furry friends during my visit to Kas. So, do not hesitate to interact with these lovely cuties if you love animals.
Safety for solo female travelers
Kas is safe for solo female travelers. Even though I was traveling there with a friend, I walked around the town centre alone on both the days and I was fine without too many issues or problems.
But I do have to warn you about some of the guys who try to approach you. At first, these guys offer to take your pictures on your phone, and then ask if you can take their pictures as well from your phone. After taking the pictures, they insist that you send those pictures then and there either through Telegram or WhatsApp. At the end of the that picture exchange, they ask you out for a coffee or a drive to a panoramic point in their car. I politely refused to the guy and walked away from the place. This happened to both my friend and me at different instances and places. Just trust your instinct and be careful at all times.
Closing Notes
I loved visiting Kas and I am glad that I added this pretty coastal town to my itinerary. I hope I can visit the town in summer to explore more of outdoors and the dive sites. If you are visiting Turkey and have a few days to spare, then surely add Kas to your list. Trust me you will not regret!
How can you support me?
You know how much I love coffee, so you can buy me coffee – Buy me Coffee!
Or you can purchase from one of the below travel resources without any extra charge to you.

Travel Resources
Click to book your flight on Skyscanner.com
Click to book your accommodation on Stay22
Click to book a comprehensive travel insurance on Safety Wing
Click to book your tours and travels on Viator or GetYourGuide
If you liked this article and if it was helpful in your planning or traveling, do share, tweet, or pin this post.

Follow me on Instagram | Facebook | YouTube | Twitter | LinkedIn
Do you have a question? Or want any suggestions, and tips for travels, hikes and scuba dives? Use the Subscription box below to sign-up and get updates by email.
PIN for later reference