Mediterranean Paradise: Is Kusadasi Worth Visiting? (2023)
If you are looking for a cute and lively town on the coast of Turkey to relax and sun-bathe, then Kusadasi is the perfect place for you. With a line of restaurants and cafes by the beachfront, this town is surely the one to impress you. It all comes down to the big question 'Is Kusadasi worth visiting?' Come, let's find out!
Kusadasi was the second place we stopped at on our 7-nights cruise. After visiting Thessaloniki in Greece the previous day, I had got a gist of how things work and how to plan my day. And I was ready to explore this lovely town of Kusadasi.
This article may contain affiliate links, meaning if you decide to make a purchase via my links, I may earn a commission at no additional cost to you. For full information, please see our affiliate disclaimer here.
About Kusadasi
Located in Aydin Province of Turkey, Kusadasi is a coastal resort town on the Aegean Coast. Name Kusadasi is derived from the Turkish words kus and ada meaning bird and island. The name is given Kusadasi because the island is in the bird's head shape.
Another coastal town that you can explore in Turkey is Kas in the Antalya Province. Known for spectacular dive sites, Kas is worth visiting.
History of Kusadasi
Dating back to ancient times, Kusadasi was founded by the Leleges people in 3000 BC. Later settlers included the Aeolians and the Ionians. In the 2nd century BC, the town was taken over by the Romans and the town was made the provincial capital. It is believed that in the early Christian period, Saint John the Evangelist and Virgin Mary lived in Kusadasi.
If you love Roman history and architecture, then you must visit Bath in the United Kingdom (UK).
Best Time to Visit Kusadasi
With temperatures ranging between 20 and 30 degrees centigrade, the best time to visit Kusadasi is from June to October. The town has a Mediterranean climate where the days are dry and warm. July is the hottest month and February is the coldest month of the year.
How many days are required for Kusadasi?
You need at least 2 days to explore the town of Kusadasi. There are heaps of things that can be easily done in those 2 days. But if you are arriving as part of a cruise tour like me, then you are usually given only a few hours to explore this town.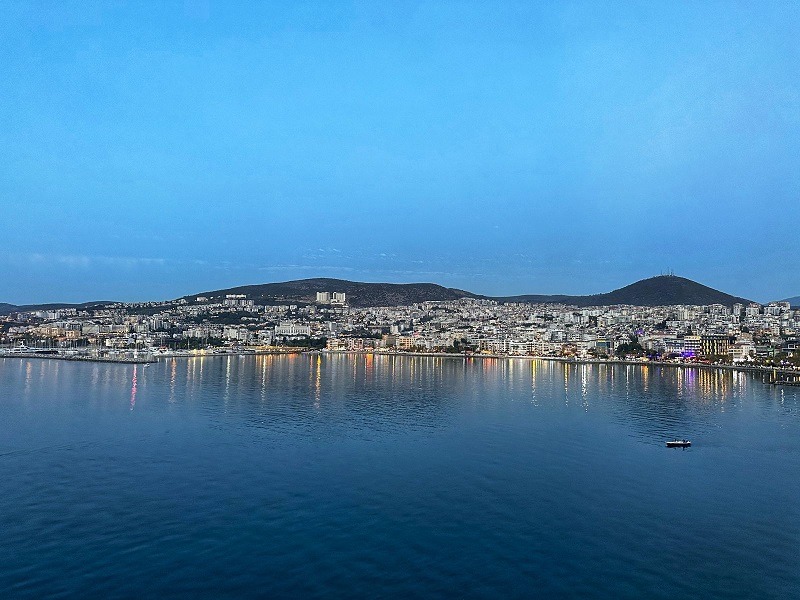 Mediterranean Paradise: Is Kusadasi Worth Visiting?
Absolutely yes! Even though Kusadasi acts as a gateway to the ancient city of Ephesus, there are still many things that you can experience in the town itself. You will find the below reasons as to why Kusadasi is worth visiting.
Reason 1 – Beaches and Natural Beauty
Known for stunning and beautiful beaches, Kusadasi has many popular beaches with golden sand and clear blue waters. From Ladies beach to Paradise beach, the town boasts of pretty beaches that provide perfect spots for adventurous water sports and mesmerising sunsets.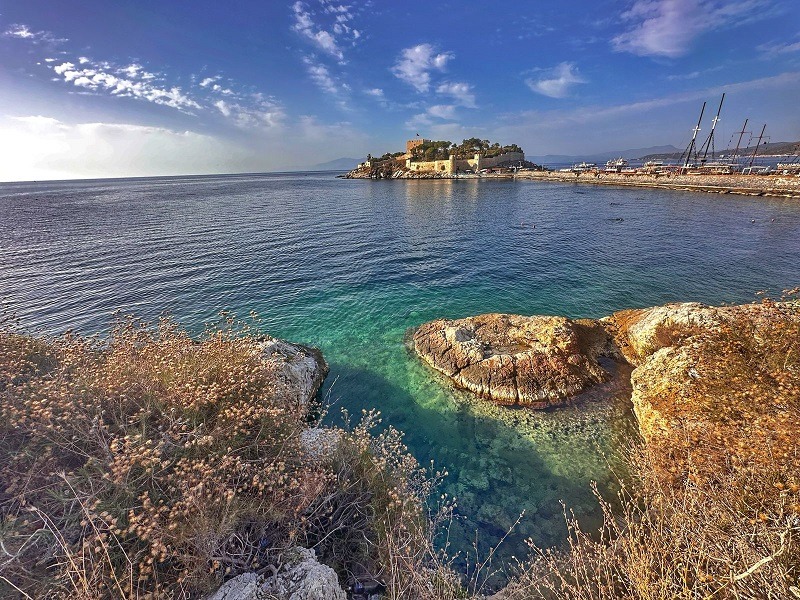 Ladies Beach
With a series of beachfront cafes and restaurants, you can visit the Ladies beach which is quite popular among the locals and tourists. It has fine sand and crystal blue waters.
Long Beach
Stretching for miles along the coastline, Long beach is an ideal place to relax and unwind. The water is calm at this beach which is perfect for swimming in the open sea.
Dilek Peninsula National Park
With rugged and rough cliffs, and green lush forests, the Dilek Peninsula National Park is located on the south of Kusadasi. Celebrated for diverse and spectacular landscapes, the national park is home to many hiking trails and wetlands. The park also has abundant wildlife such as foxes, wild boars, and many species of birds.
Reason 2 – Cultural and Historical Significance
Showcasing the rich cultural and historical heritage, Kusadasi's history can traced back to the 3rd millennium BC. With unique blend of diversity, traditions, and culture, Kusadasi celebrates many events and festivals pertaining to art and culture.
Ephesus Ancient City
As I mentioned earlier, Kusadasi is the stopover point to get to Ephesus ancient city. The ancient city is around 17 kilometres from Kusadasi town centre.
Recognised as an UNESCO World Heritage Site, Ephesus Ancient City dates back to the 3rd millenium BC. Also known as Efes in Turkish, Ephesus Ancient City is one of the most well-preserved and significant archaeological sites in the world. The most iconic and notable landmarks in the city are Library of Celsus, Great Theatre, House of Virgin Mary, and Artemis Temple.
The site is open every day between 8 AM and 6:30 PM.
Each of these monuments have entrance tickets. You can purchase the tickets online. The Ephesus is around Euros 23.5 per person and House of the Mary is around Euros 8.5 per person.
Ensure to buy the Skip the Line tickets as the queue for buying the tickets are extremely long in Europe.
The local (yellow) taxi driver quoted Euros 60 for a return trip, including the wait time at Ephesus. Ensure to haggle with the drivers to get better deals.
Reason 3 – Must-See Attractions
Even though Kusadasi is a small, and cute town, it has a character of its own and offers many must-see attractions to its visitors. It is an ancient city with diverse set of activities and attractions for tourists.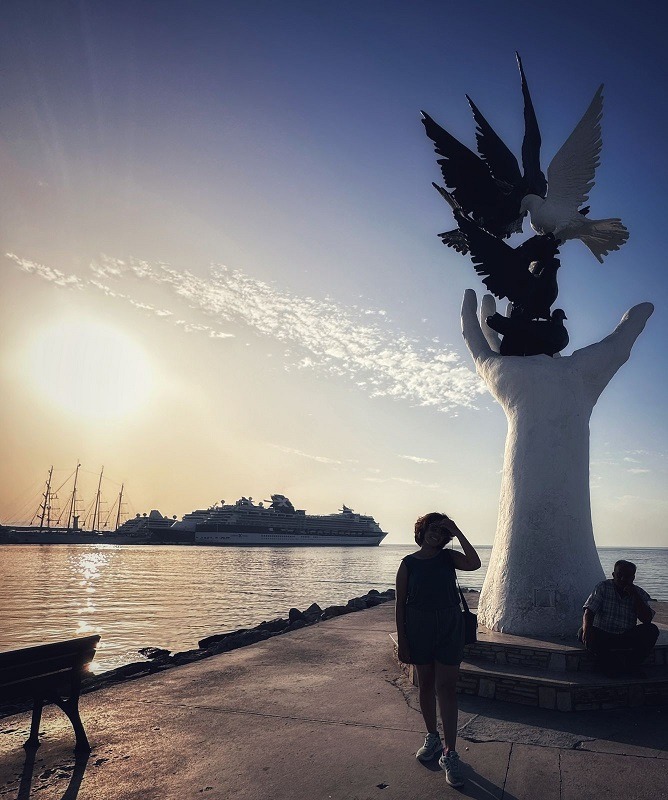 Pigeon Island (Güvercinada) & Kusadasi Castle
Located on a small island named Pigeon Island, Kusadasi Castle is a beautiful and picturesque castle. The name Pigeon Island originates because of the numerous pigeons that inhabited the area. Dating back to the 13th century, the Kusadasi Castle or the Fortress was built by the Knights of St. John during the medieval period.
Flying drones are not allowed. However, there are locals who have a small stall at the entrance that sell drone video (about a minute long video) for Euros 20.
Kusadasi Marina
Providing the lovely views of the town and a hub for locals and tourists to relax and enjoy, Kusadasi Marina is known for its state-of-the-art facilities and services. Buzzing with restaurants and cafes, the marina is a perfect place to sit down and watch the cruises or boats in the bay.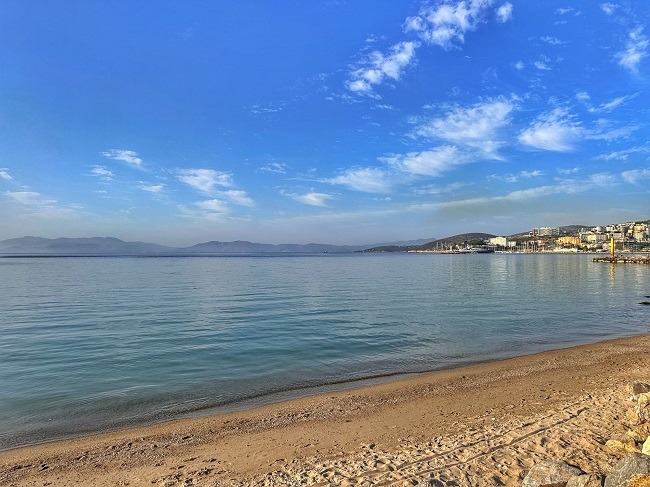 Grand Bazaar
With many shops and markets selling local products, the Grand Bazaar is in the heart of the town centre. You can buy many things including the souvenirs such as Turkish jewellery, lamps, spices, and ceramics. Ensure to haggle at the markets to get the correct price. The place is also perfect to get some nice photographs as the markets are very colourful.
Reason 4 – Local Cuisine
Turkish cuisine is one of my most favourite cuisines. The flavours and the spices added to their food is mouth-watering. They reflect the rich traditions of Turkey and Aegean regions. You need to try their Turkish delights (lokum), Sea food (if you love), Olive Oil dishes, Pide, Kebabs, and Turkish coffee. I especially love the Baklava and the variety of dips they have.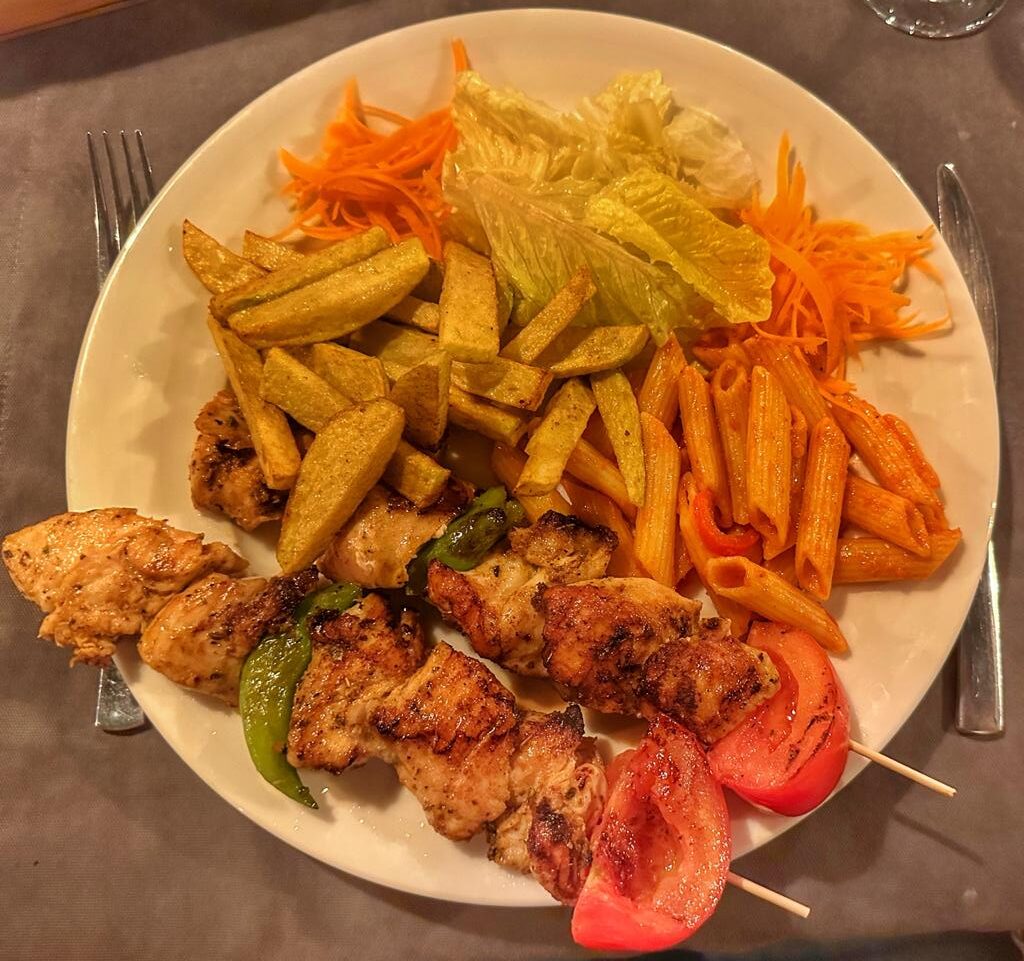 How to Get to Kusadasi?
By Cruise
For ships and cruises sailing in the Aegean and Mediterranean, Kusadasi is one of the popular ports to stop by. As part of the 7-nights Idyllic Aegean cruise travel by Celestyal Cruises, we stopped at Kusadasi port for half a day.
If you are cruising for the first time, then here are the 100+ cruise tips for beginners.
By Air
The closest airport to Kusadasi is at Izmir. There are many domestic flights that operate between Istanbul airport and Adnan Menderes Airport at Izmir. From the Izmir airport, you can take a bus that connects to Kusadasi. The distance between Izmir and Kusadasi is around 100 kilometres and the journey by road takes up to one hour 30 minutes.
By Public Transport
You can take a bus from Istanbul to Kusadasi via Izmir. The distance is around 500 kilometres and the journey will take around 7 to 8 hours.
By Road
Kusadasi is around 560 kilometres from Istanbul and the journey by road takes up to 7 hours. You can stop over at Izmir and Bursa along the way to Kusadasi.
If you do not have a car, then you can hire a self-driven car at the airport or in the city.
Where to Stay in Kusadasi?
Kusadasi is used to getting tourists, especially from cruises. And hence the town has a wide range of accommodation options. From budgeted hotels to the 5-star luzury hotels, the town has it all.
If you are looking for a luxurious and comfortable holiday in Kusadasi, consider staying at either Le Bleu Hotel & Resort or Ramada Hotel & Suites By Wyndham Kusadasi.
Transportation Within Kusadasi
Kusadasi has buses that travel between the places in the town. You can pay the fare by cash and there are bus stops everywhere. If you do not want to go by buses, then there are yellow taxis at all places. Ensure to haggle with the taxi drivers for better rates.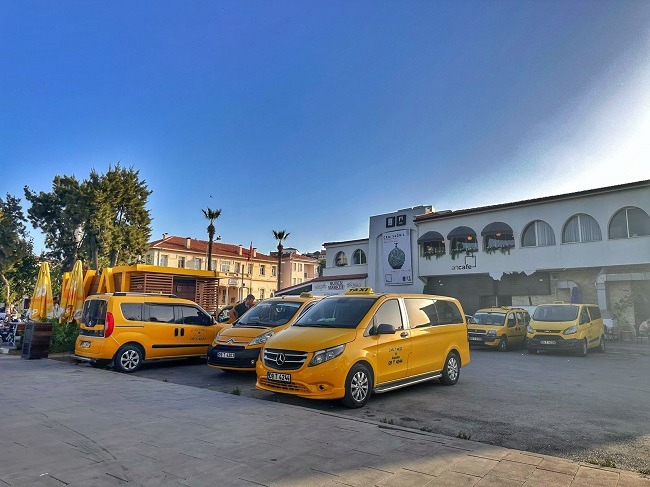 Is Kusadasi Safe for Solo Female Travelers?
I found Kusadasi to be safe for solo female travelers. But there were a few instances where I did find it a bit uncomfortable with people staring and trying to interact with you for no reason. Other than those, it was a lovely town where I walked around alone. I would just say that don't let your guards down completely and be a bit cautious while walking in the town centre.
Closing Notes
Is Kusadasi worth visiting? Hope this article has helped you in deciding whether to travel to Kusadasi. It is a lovely town with so many things to offer. If not for anything, you need to at least come here for the blue waters that it has.
Note: The 7-night Idyllic Aegean cruise travel was courtesy Celestyal Cruises.
Thanks to Celestyal Cruises for providing me with this opportunity to work and collaborate with them. And special thanks to Irene from Celestyal Cruises for arranging and coordinating everything on behalf of the cruise company.
Note: Each of the cities and towns were explored by me and they were not a collaboration with anyone.
How can you support me?
You know how much I love coffee, so you can buy me coffee – Buy me Coffee!

Or you can purchase from one of the below travel resources without any extra charge to you:
Travel Resources
Book your flight on Skyscanner.com or Trip.com
Reserve your accommodation on Stay22
Buy comprehensive travel insurance on SafetyWing and WorldNomads
Book your tours and travels or purchase tickets on Viator or GetYourGuide
For a universal SIM card, use DrimSim
If you liked this article and if it was helpful in your planning or traveling, do share, tweet, or pin this post.

Follow me on Instagram | Facebook | YouTube | Twitter | LinkedIn
Do you have a question? Or want any suggestions, and tips for travels, hikes and scuba dives? Use the Subscription box below to sign-up and get updates by email.
PIN for later reference | Mediterranean Gem: Is Kusadasi Worth Visiting?