One Day in Thessaloniki: Must-See Sights and Itinerary (2023)
Do you love cities that are ancient? Cities that spill of rich culture and history? Then you must visit Thessaloniki when you are in Greece. In this post, you will find itinerary for one day in Thessaloniki.
Thessaloniki is one of the most beautiful and quaint cities I visited in Greece. As part of the 7-nights Idyllic Aegean cruise by Celestyal cruises, I had an opportunity to visit and explore this lovely city of Thessaloniki.
This article may contain affiliate links, meaning if you decide to make a purchase via my links, I may earn a commission at no additional cost to you. For full information, please see our affiliate disclaimer here.
Greece Travel Resources
Peloponnese region: Travel Guide to Trikala Korinthias
Second largest city: One Day in Thessaloniki
Greek Islands: Places to see on Heraklion Hop On and Hop Off Bus, Nea Kameni Boat Tour: Hike on an Active Volcano, Mykonos Solo Travel Guide
Bucket List Stays: Pera Alonia Guest House in Trikala Korinthias
7-night Idyllic Aegean Cruise: 5+ reasons to take Idyllic Aegean by Celestyal Cruises
For Best Hotels in Greece, use Booking.com
For Hostels in Greece, use Hostel World
Use Skyscanner or Trip.com to get affordable tickets in Greece
For tours and travels, use Viator or GetYourGuide
Rental Cars and Discover Cars are the best rental companies to hire cars at lower prices.
About Thessaloniki
Home to several UNESCO Heritage Sites, Thessaloniki is the second largest city in Greece. Located on the Thermaic Gulf of the Aegean Sea, Thessaloniki is a cultural hub. With rich culture and diversity, the city hosts many events and festivals, including the International Thessaloniki Film Festival.
Known for its culinary heritage and nightlife, you must have Thessaloniki on your list when you visit Greece. Thessaloniki is the only city that has more than 15 monuments under UNESCO World Heritage. The city is an open museum that has several monuments from early Christian and Byzantine periods.
Another area to explore is the Peloponnese region of Greece. The countryside and the food is excellent in that area. Definitely do visit the Trikala Korinthias!
History of Thessaloniki
Named after the half-sister of Alexander the Great, Thessalonike, the city of Thessaloniki was founded in 315 BC by Cassander of Macedon. During the Byzantine Empire, Thessaloniki was the second largest and wealthiest city. The city then was conquered by various empires. First passed on to Ottomans, and then to Kingdom of Greece.
Best Time to Visit Thessaloniki
With Mediterranean climate, the summer season in Thessaloniki is extremely hot and humid. July is the hottest month in Thessaloniki. The best time to visit the city is between mid-August and mid-October. I visited Thessaloniki in September, and the weather was perfect.
How many days are required for Thessaloniki?
As I mentioned earlier, Thessaloniki is Greece's second largest city and hence, you need at least 3 days to cover most of the sight-seeing places. But usually as part of the cruise's itinerary, you have only one day to explore the city. And exploring the city in that one day gives you a glimpse of the coastal city.
Must-See Sights in Thessaloniki
Some of the monuments specified in this section have entrance tickets. And if you visit these monuments on the below days, you get free entry.
Memory of Melina Mercouri on 6 March.
International Day of Monuments on 18 April.
International Day of Museums on 18 May.
European Days of Cultural Heritage on last weekend of September (2 days).
28 October.
First Sunday of the month between 1 November and 31 March.
I was fortunate to visit the monuments during the last weekend of September when Greece was celebrating European Days of Cultural Heritage and I got a free entry into all of these monuments.
Lefkós Pýrgos (White Tower)
Completed in the 15th century by the Ottomans, the present White Tower replaced the older tower that was mentioned in the 12th century. In the form of a cylindrical drum, the white tower is a monument and a museum located on the waterfront.
The timings of the opening hours differ based on the season. During winter season, the museum is open between 8:30 AM and 3:30 PM, and during the summer season, the museum is open between 8:00 AM and 8 PM.
There is an entrance fee to the museum. The general admission cost Euros 4 per adult.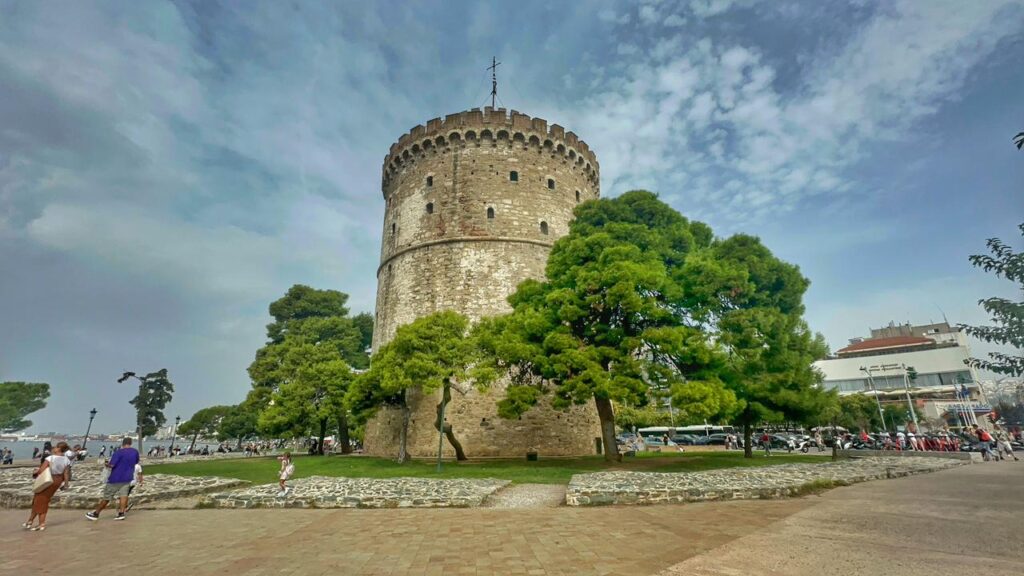 Arch of Galerius (Kamara)
Constructed in 305 AD, the Arch of Galerius was built to celebrate the final victory of Roman General Galerius over the Persians. The monument is one of the UNESCO World Heritage Sites in the city and is a fine example of Byzantine architecture.
Rotunda of Galerius
Also known as Rotunda of Saint George, Greek Orthodox Church of Agios Georgios, the Rotunda of Galerius is another UNESCO World Heritage Site built around 306 AD. An example of a church from early Christian period, the Rotunda is the oldest of the city's churches.
The monument is open Wednesday to Monday between 8 AM and 8 PM.
There is an entrance ticket of Euros 6 per adult.
Aristotelous Square
Designed by Ernest Hebrard, French architect, in 1918, Aristotelous Square is the city centre of Thessaloniki. With 12 major buildings, the Aristotelous Square is one of the famous places in Greece.
During Christmas, you can see the Celebration of the Angels, official lighting ceremony for the Christmas tree, organised by the municipality.
Ano Poli (Upper Town)
With ancient monuments from Byzantine and Ottoman eras, Ano Poli is the heritage and old town of Thessaloniki. Translating to Upper Town, Ano Poli is located on a hill that provides panoramic views of the city. The notable monuments in Ano Poli are Latomou Monastery, Eptapyrgio Fortress, Vlatadon Monastery, and Trigonion Tower.
Holy Church of Hagia Sophia
Constructed in the late 7th century under Emperor Justinian II, Holy Church of Hagia Sophia is one of the several churches with the same name Hagia Sophia. Featuring a classic basilica design, the church is a perfect example of Byzantine architecture. Hagia Sophia translates to Holy Wisdom and this church is part of the early Christian and Byzantine monuments, which means that the church is also a recognised UNESCO World Heritage Site.
Note: Do not mistake this church to be the same as the Hagia Sophia mosque in Istanbul.
The church is open every day between 7 AM and 10 PM.
You need to dress modestly to enter the church.
Archaeological Museum of Thessaloniki
Founded in 1962, Archaeological Museum of Thessaloniki is one of the significant museums of the country. With a huge collection of artefacts dating back to pre-historic times and Byzantine period, this museum is totally worth visiting.
The museum is open every day between 8 AM and 8 PM.
There is an entrance fee of Euros 8 per adult.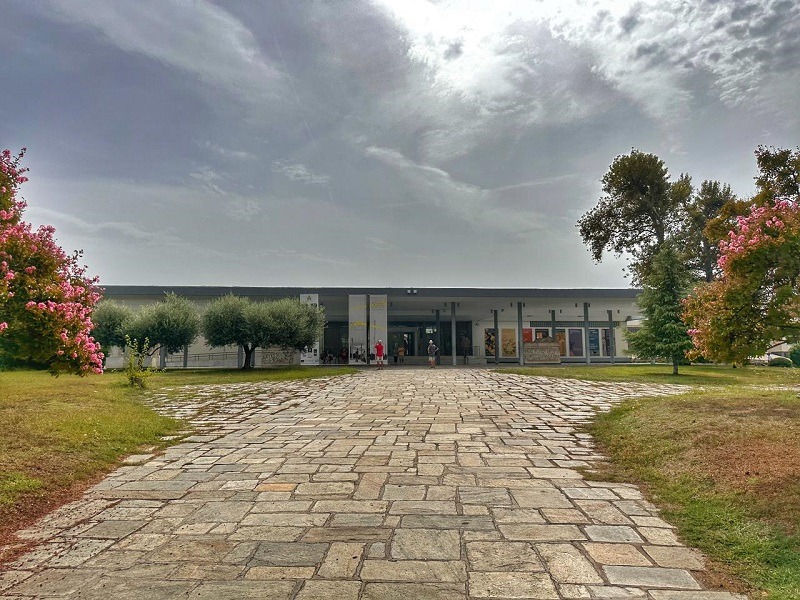 Ladadika District
With lively and colourful atmosphere, Ladadika District dates to the Ottoman period. The district has cobblestoned streets, picturesque squares, and ancient neoclassical buildings. It is a great place to hang out with friends, especially at night as the nightlife is awesome with many bars and restaurants.
Maritime Museum
Situated right next to the port is a tiny place that showcases the photographs and artefacts dedicated to the maritime history and sports. The museum was opened in 1993 and is also known as Thessaloniki Museum of Photography.
One Day in Thessaloniki Itinerary
If you plan to walk like me, then the total distance for the entire route to cover the monuments listed in the itinerary is about 7.5 kilometres.
Click here to view the route on Google maps
Morning – White Tower, Archaeological Museum of Thessaloniki
If you are stopping at the city as part of your cruise travel, then you will disembark the cruise at the port. From the port, you can walk to the city centre and then follow the waterfront to reach the White Tower. The walk is around 2 kilometres. If you are not up for a walk, then you can take a public bus cost about Euros 1.5 to 2 per person that will drop you off close to the White Tower.
Spend some time exploring the White Tower and the museum. Once you are done with both of these, walk to the Archaeological Museum of Thessaloniki. The walk is just around 750 metres and takes less than 10 minutes. You need at least one to two hours to explore the museum as it is massive and has many artefacts.
Afternoon – Rotunda of Galerius, Arch of Galerius, Holy Church of Hagia Sophia
From Archaeological Museum of Thessaloniki, walk up to the Rotunda of Galerius. You can have your lunch in this area as there are some nice cafes and restaurants.
Visit the Rotunda of Galerius after your lunch. You need around 30 minutes to see and observe the old church. Later, you can walk down to the Arch of Galerius and take some pictures.
From the Arch of Galerius, you can walk to the Holy Church of Hagia Sophia. The walk is about a kilometre, and it passes through some shops and cafes.
Evening – Aristotelous Square, Ladadika District, Maritime Museum
Your last stops for the day will be at Aristotelous Square and Ladidika District. Both are very vibrant and happening places with lot of people. You can have some coffee or dinner at the cafes and restaurants in these areas.
On your way back to the port, you can visit the Maritime Museum which is a very small place with pictures and displays. There is also a cafe with the museum to have cocktails or coffee.
How to Get to Thessaloniki?
By Cruise
One of the major ports to stop by on a cruise travel in Aegean is Thessaloniki. The cruise stops at Port of Thessaloniki or Thessaloniki Port which is situated close to the city centre. The Idyllic Aegean cruise by Celestyal Cruises had their first stop at Thessaloniki.
If you are arriving to Thessaloniki by cruise, then you get one day in Thessaloniki. With just one day at hand, it is best to preplan and follow an itinerary to make best use of the day, which is one of the 100+ cruise tips for beginners.
By Air
Thessaloniki has an international airport where you can fly into. The airport is connected to major cities domestically and internationally. From Athens, the flight time to Thessaloniki is an hour.
From airport, you can take a public bus to the city centre. The journey is around 45 minutes, and the cost is Euros 2 per person. You can also take a taxi that will cost you around Euros 25 per trip.
By Public Transport
There are trains that operate between cities and Thessaloniki. From Athens, you can take the scenic train, operated by Hellenic Train, and the journey to Thessaloniki is around 5 to 5.5 hours.
By Road
The distance between Athens and Thessaloniki is around 550 kilometres and the journey by road takes up to 5.5 hours. On your way to Thessaloniki, you can make stops at Mount Olympus, Delphi, or Corinth Canal.
If you do not have a car, then you can hire a self-driven car at the airport from any car provider agency. You will need a valid full driver's licence to drive in Greece.
Transportation within Thessaloniki
Thessaloniki is best explored by walk. It is a city which has most of its attractions around the city centre. But if you do not want to walk, you can take the public transportation which are the buses and metros. The buses are operated by Organization of Urban Transportation of Thessaloniki (O.A.S.TH.).
The city also has taxi services that you can book online or through your accommodation. And yes there is Uber in the city but the number of Uber cabs are less.
If you love driving by yourself, then you can hire a self-driven car in the city and airport. You will need a valid international driver's licence and a credit card.
Where to Stay in Thessaloniki?
Thessaloniki has many different options for accommodations. From budgeted options to luxurious 5-star hotels, the city has heaps of stays. It is best to stay in the city centre.
One of the 5-star hotels to consider is the Electra Palace Thessaloniki, which is conveniently located in Aristotelous Square. It is a luxury hotel providing views of the Thermaikos Gulf.
Click here to check for availability on Booking.com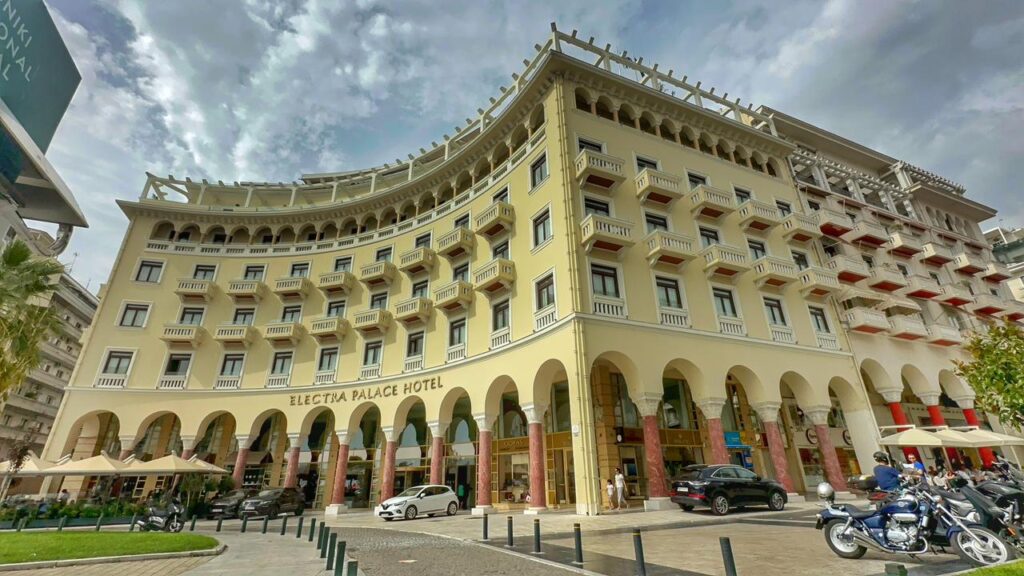 Is Thessaloniki Safe for Solo Female Travelers?
Yes and yes! I traveled around the city all by myself and I had an amazing time. There were no issues whatsoever and the people of Thessaloniki were so welcoming. However, like any other city in the world, I suggest you to be cautious and know your surroundings, especially at night.
Is Thessaloniki Worth Visiting?
Absolutely! If you are a history buff or a person who likes anything old, then Thessaloniki is your answer. With history all around the city, you are basically walking and breathing history and culture. The city is beautiful and totally worth visiting.
Closing Notes
In conclusion, I would like to say that Thessaloniki is surely a attractive and pleasing coastal city with plenty of things to offer to its visitors. You can either indulge in the history and culture, or just chill and relax by the waterfront. With just one day in Thessaloniki, you can see only the main highlights of the city and scratch the surface.
Note: The 7-night Idyllic Aegean cruise travel was courtesy Celestyal Cruises.
Thanks to Celestyal Cruises for providing me with this opportunity to work and collaborate with them. And special thanks to Irene from Celestyal Cruises for arranging and coordinating everything on behalf of the cruise company.
Note: Each of the cities and towns were explored by me and they were not a collaboration with anyone.
How can you support me?
You know how much I love coffee, so you can buy me coffee – Buy me Coffee!

Or you can purchase from one of the below travel resources without any extra charge to you:
Travel Resources
Book your flight on Skyscanner.com or Trip.com
Reserve your accommodation on Stay22
Buy comprehensive travel insurance on SafetyWing and WorldNomads
Book your tours and travels or purchase tickets on Viator or GetYourGuide
For a universal SIM card, use DrimSim
If you liked this article and if it was helpful in your planning or traveling, do share, tweet, or pin this post.

Follow me on Instagram | Facebook | YouTube | Twitter | LinkedIn
Do you have a question? Or want any suggestions, and tips for travels, hikes and scuba dives? Use the Subscription box below to sign-up and get updates by email.