Greece Unexplored: Travel Guide to Trikala Korinthias
Are you a huge fan of quaint and beautiful European villages? The one that make you believe that fairy tales exist? Trikala Korinthias or Trikala village is one of them and you do not want to miss this village when you are in Greece. In this post, you will find the complete guide to visiting and exploring the Trikala Korinthias village.
Trikala Korinthias was a surprise to me as I had never heard of this place before. In fact, I had only seen pictures of Greece with pretty blue roofs and white buildings. I was introduced to this magnificent part of the country as part of a FAM trip.
This article may contain affiliate links. For full information, please see our affiliate disclaimer here.
About Trikala Korinthias in Greece
Situated on the slope of Mount Kyllini (also known as Mount Ziria) in the Peloponnese region of Greece, Trikala Korinthias / Trikala Corinthia is a village comprising of three settlements. It is a village where the ancient Myseos civilisation was built in the 10th century.
Belonging to the Municipality of Xylokastro-Evrostini, the name Trikala means three beauties that refer to the three settlements:
Ano (Upper) at a height of 1100 metres – Only couple of people stay in the upper region of Trikala village.
Mesaia (Middle) at a height of 1000 metres.
Kato (Lower) at a height of 900 metres – Most of the families stay at the lower region of Trikala village. Many cafes and restaurants are located in this region as well.
With spectacular landscapes, warm people and beautiful animals, the Trikala Korinthias is truly one of the most amazing places I have been to. There is also another theory of what the three beauties (derived from the name) refer to. These speak about the wine, oxygen and the water in the region which are pure and pristine.
Note that Greece has another place by the same name as Trikala which is a city in the north west of the country.
By the way did you know that Greece's official name is the Hellenic Republic and this is one of the interesting Greece facts.
I am sure you must have heard "You know you are Greek when you are able to text in Greek using the English keyboard". Greeks have one of the best sense of humour. Other interesting thing about Greece is that over the years and centuries, there have been many quotes written on Greece and Greeks. And some of these are inspiring and unique to the country.
It is believed that around 100 years ago, Trikala Korinthias was used as a summer destination but due to urbanisation and locals moving to bigger cities, the village lost its charm. But in early 2000s, the families living in the village decided to revamp and reconstruct the buildings giving it a new life. Today, the village is enjoyed even during the winter as a ski destination.
Fun Trivia: Locals say that around 50 years ago, doctors in Greece used to advise asthma patients to visit and live in Trikala Korinthias so they could inhale pure air and get cured of asthma.
Best time to visit and number of days required
Even though Trikala Korinthias can be visited throughout the year, the best time is during the autumn, spring and summer seasons.
Autumn – September to November.
Winter – December to February.
Spring – March to May.
Summer – June to August.
You need at least 2 to 3 days to enjoy Trikala Korinthias village. The small village offers plenty of things to do to its visitors.
How to get to Trikala Korinthias?
By Air
The closest airport is Athens International airport and there is connectivity to the airport from all around the world (directly or with stop overs).
By Road
The village of Trikala Korinthias is around 150 kilometres from Athens city and the journey by road takes up to 2 hours. The fastest way to get to the village is either by hiring a self-drive car or by hiring a taxi.
By Public Transport
Train – The closest train station to the village is at Kiato and Kiato is around 30 minutes drive to the Trikala Korinthias. Operated by Trainose SA, the Hellenic train journey is around 1 hour 20 minutes from Athens.

Once, you reach Kiato, you can hire a taxi to reach the village and the cost is approximately USD 120 for one way.
Places to stay in Trikala Korinthias
Trikala Korinthias has plenty of cute guest houses and homestays which are run by the locals. And each one of these accommodations is charming and lovely.
I stayed in Pera Alonia guest house of Kato (Lower) settlement of Trikala Korinthias and I am in love with that property. With great views of Mount Ziria, the guest house is surely one of the best.
Click here to check for prices on Booking.com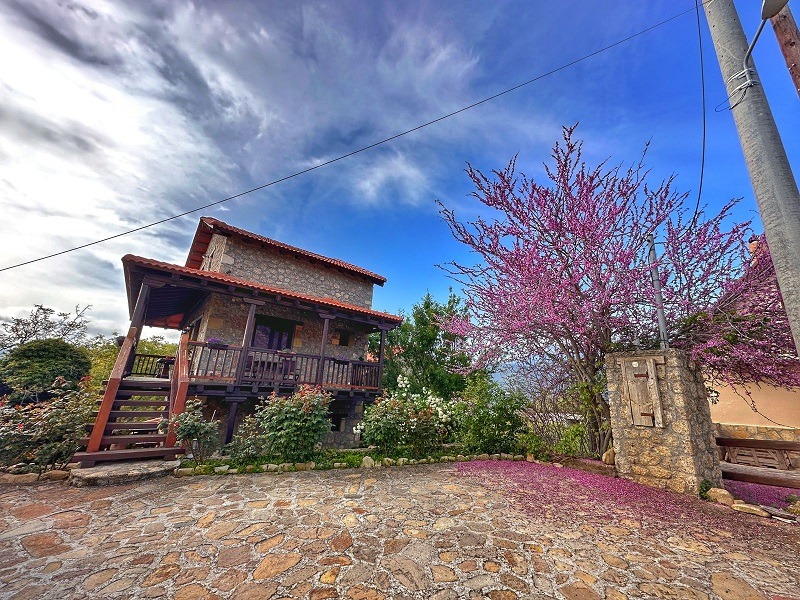 The other guest houses that you can consider are:
Places to Visit in Trikala Korinthias
Monastery of Saint Vlassios
Situated in the Ano (Upper) part of Trikala Korinthias is this beautiful monastery for Saint Vlassios. It is a Greek orthodox monastery that was initially founded in the 14th century. The current monastery dates back to the 17th century.
Open only for few hours during the day (mostly in the afternoons between 1 and 4 PM), the visitors are required to dress appropriately.
Cave of Hermes
Viewing from the monastery of Saint Vlassois is the Cave of Hermes or Hermes Cave. Located at an altitude of 1750 metres on Mount Ziria, this cave is supposedly where the Greek God Hermes was born.
Ziria Ski centre
The Ziria ski centre, ideal for kids and beginners who want to ski and learn skiing, is just around 2 hours from Athens and is a very popular destination during the winter season. It is a small and operational ski centre with great views and ski trails.
Note this ski centre does not have any accommodation facilities and the guests are required to stay at Trikala Korinthias village where the guest houses and homestays are.
Lake Dasiou
A hidden and spectacular gem in the Korinthias region is the Lake Dasiou. With an altitude of 1600 metres, this lake is shallow and ideal for swimming activities. It is also quite popular for picnic during lovely sunny days. Note that the lake is frozen during the winter season.
Things to do in Trikala Korinthias
Even though Trikala Korinthias is a village, it has so many things that it can offer to its visitors. Ranging from adventurous activities to relaxed vibes, the village has it all.
Go Skiing
During the winter season, the village is famous for skiing. With ski trails that are suitable for kids and beginners, skiing in this area is a very popular thing to do.
Take a Buggy ride
One of the fun activities to do at the Ski centre is riding these snow buggies. I had so much fun just driving them on muddy roads and terrains. If you are adventurous, you can also ride them on steep hills.
Note: The driving in Greece is on the right side of the road.
Off-roading with Four wheel drives
The area has a lot of off-roading terrains and places, and what better way to enjoy than driving the four wheel drives for off-roading. You can hire these four wheel drives from the ski centre.
Hiking to Saint Vlassios' waterfall
The village has many hiking trails perfect for all hikers, including beginners and experienced hikers. The one that I hiked was to the hidden waterfall called the Saint Vlassios waterfall. Originating from the monastery of Saint Vlassios, this waterfall is an offbeat and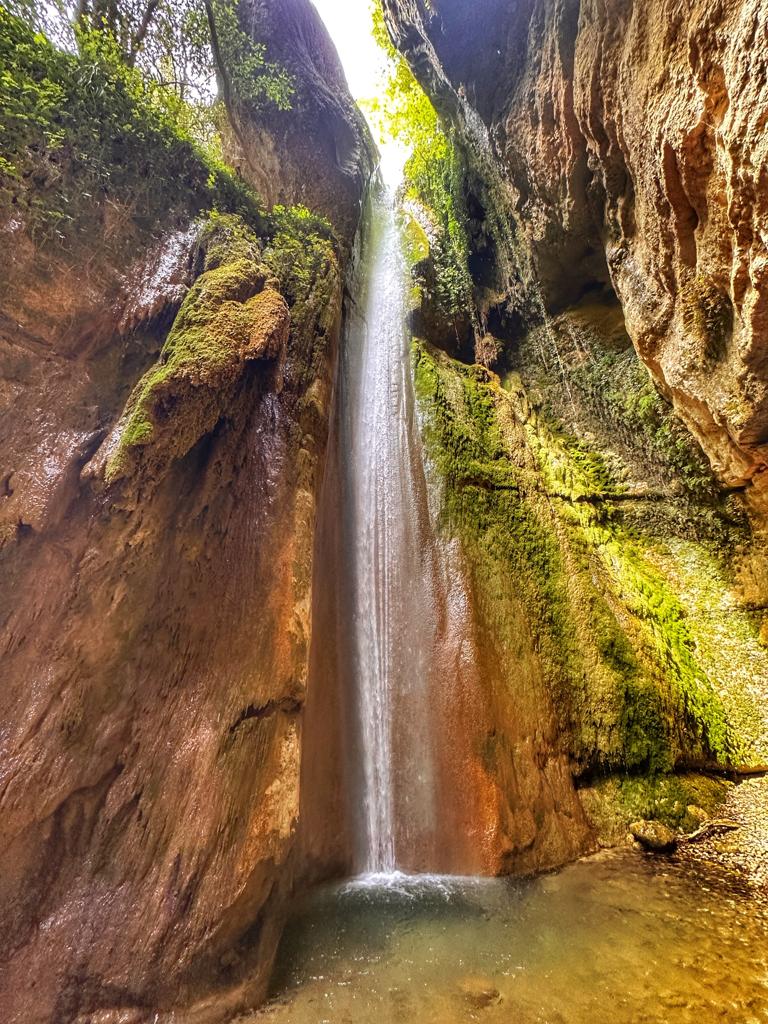 Swimming at Lake Dasiou
During the spring and summer seasons, swimming at Lake Dasiou is a very popular activity. With clear and blue waters, swimming in the lake must surely be on your list.
Horse riding
The horses in the village are extremely good looking. There are horse riding centres where you can ride and learn horse riding. We visited Orinesdrastiriotites horse riding centre at Rethi in Corinthia.
Note that I do not like to ride animals, including the horses. And hence I did not ride any horse but I had a chance to pat, take pictures and interact with them.
Drink herb tea
The tea made from the mountain herb (scientific name Sideritis Scardica) is very popular in the region. Known to naturally heal the cold and flu, this tea is adored by locals. The herbs are boiled and the extract is taken as tea. I had an opportunity to taste it and even though it has a strong flavour, I really loved it. This tea is usually taken along with honey to sober the strong flavour.
Get some love from the stray animals
There is nothing more affectionate than the cuddles from the animals (especially from cats and dogs). The village has many stray animals which are super friendly and cute. So definitely give and take some love from these strays.
Places to eat in Trikala Korinthias
When you are in Greece, be prepared to eat a lot, especially their cheese. The Greeks believe in feeding their guests, similar to what we Indians are. Our Indian families prepare special and delicious food for their guests and that is exactly what happened when I was in Greece.
Irrespective of which café or restaurant I visited in Trikala Korinthias, there was so much of food and we were served the food with so much of love. The cafes and restaurants that I tried in the village are: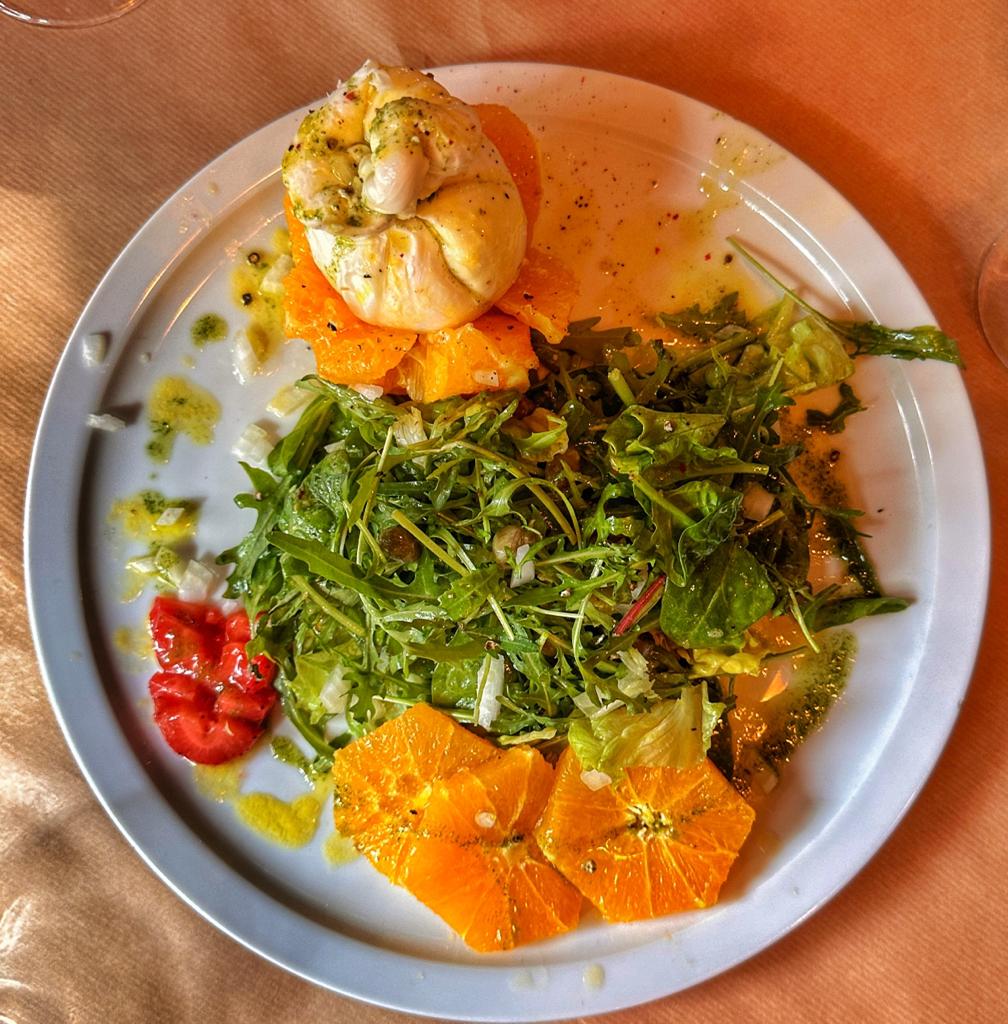 My warm memory of Trikala Korinthias
I had an awesome time at the village. The hospitality and the locals are just too amazing. With beautiful smiles and greetings in Greek to the love of stray animals, I received so much of affection. However, one incident made me very emotional that I cried. It was just too much of kindness for me.
Trikala village has a lot of stray animals (cats and dogs). And they are very friendly and adorable but they do not have permanent homes (unfortunately) and live on the streets. The villagers have hand built a small house so that the stray animals can take shelter at night and during the rainy days. How lovely is that!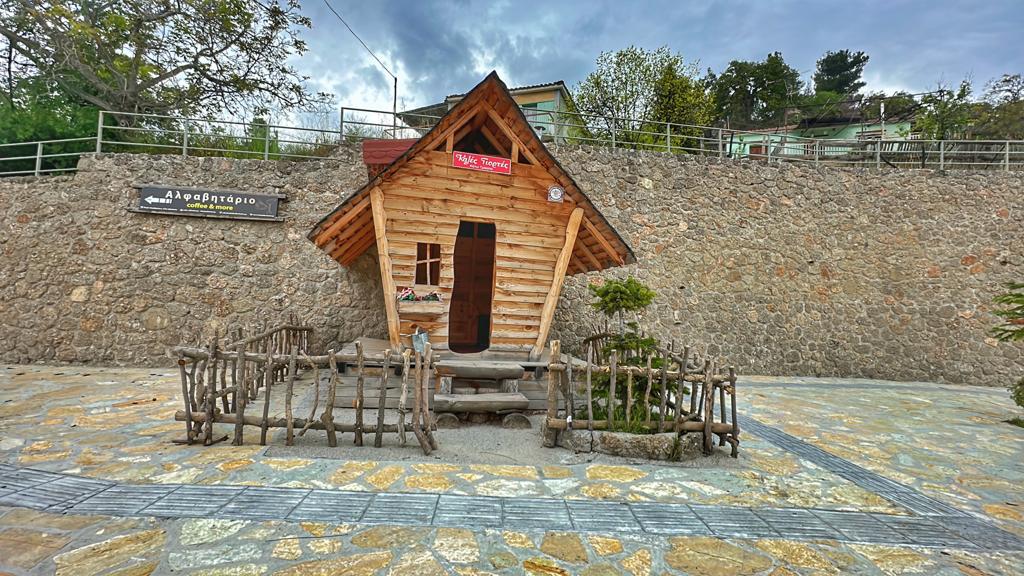 Safety for Solo Female Travelers
As I have mentioned plenty of times in the post, the people of the village are extremely friendly and nice. They are really warm and give you a lot of affection. So I can vouch that this village is one of the safest places to travel for solo female travelers. However, be cautious at night as the village does become isolated after sunset.
Frequently asked questions (FAQ) – Trikala Korinthias
Q: Where is Trikala Korinthias located?
Trikala Korinthias is a village located in the Municipality of Xylokastro-Evrostini in the Peloponnese region of Greece.
Q: How can you get to Trikala Korinthias?
Trikala Korinthias village is just about 2 hours from Athens. The best and fastest way is to either hire a taxi or self-drive to the village. However, if you do not have a car of your own, you can take a train that runs hourly to Kiato and then take a taxi to the village.
Q: Where can you stay at Trikala Korinthias?
The village, divided into three settlements, has plenty of guest houses and homestays. You can book them on Booking.com.
Q: What is the best time to visit Trikala Korinthias?
The best time to visit the village is during the autumn, spring and summer seasons.
Q: How many days do you need for Trikala Korinthias?
You need 2 to 3 days just to explore the village.
Q: What to do in Trikala Korinthias?
The village provides plenty of things that can be done:
Visit ski centre for skiing, buggy ride and many other activities that the ski centre offer.
Hiking to hidden gems such as waterfall.
Visit the monastery.
Drink the mountain tea.
Swim in the lake.
Try various cafes and restaurants.
Walk around the village.
And many more.
Q: How safe is Trikala Korinthias for solo female travelers?
The village is very safe for solo female travelers as the people are very friendly and approachable.
Closing Notes
Trikala Korinthias is totally worth adding to your itinerary when you are visiting Greece. It is an offbeat and different side of the country that is raw and pristine.
Do you have more questions about the village and the area? Email me on Solopassport@gmail.com so I can get back to you with answers.
Note: This familiarisation travel was courtesy of Greece Tourism, Region of Peloponnese, TBEX, Municipalty of Xylokastro-Evrostina. Special thanks to our guides Ionna and Maria who tried their best to make this travel special for all of us. They were just too awesome.
How can you support me?
You know how much I love coffee, so you can buy me coffee – Buy me Coffee!
Or you can purchase from one of the below travel resources without any extra charge to you.

Travel Resources
Click to book your flight on Skyscanner.com
Click to book your accommodation on Stay22
Click to book a comprehensive travel insurance on Safety Wing
Click to book your tours and travels on Viator or GetYourGuide
If you liked this article and if it was helpful in your planning or traveling, do share, tweet, or pin this post.

Follow me on Instagram | Facebook | YouTube | Twitter | LinkedIn
Do you have a question? Or want any suggestions, and tips for travels, hikes and scuba dives? Use the Subscription box below to sign-up and get updates by email.
PIN for later reference | Trikala Korinthias