5 Things to Do in Kuala Lumpur (2023)
Kuala Lumpur is another city that is my favourite in Asia continent. I have visited the city many a times. A few of the times it has been solo travels, and at other times I have visited the city with my friends and family. Every time, I have been to Kuala Lumpur, I have fallen in love with the city and the things that it has to offer.
PIN for later reference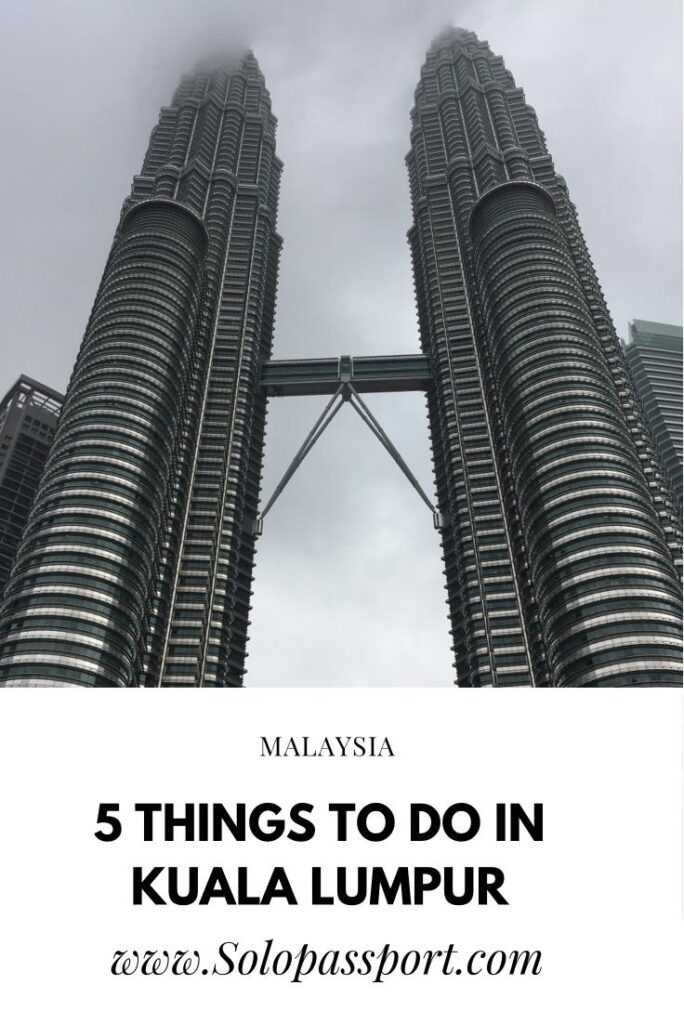 This article may contain affiliate links. For full information, please see our affiliate disclaimer here.
About Kuala Lumpur (KL)
Kuala Lumpur is the capital city of Malaysia. The city is the cultural, financial and economic centre of the nation. In Malay language (which is the official language of Malaysia), Kuala Lumpur means "muddy confluence" where Kuala is the point where two rivers merge and Lumpur means mud.
Kuala Lumpur is also the largest city in Malaysia with 8 divisions and 42 local areas. The city is famous for its stunning landmarks and buildings.
Even though Kuala Lumpur is very modern, still dress appropriately while traveling in Malaysia as it is a Muslim country. And respect their local culture and traditions.
Kuala Lumpur can be visited any time of the year as the city enjoys a tropical weather. However, the best time to visit are between May and July, and between December and February.
You need at least 3 to 4 days to enjoy the city and all the things it has to offer. Here is the perfect 3 days itinerary to explore Kuala Lumpur. But if you are short on time and have just two days, refer the perfect two days itinerary in Kuala Lumpur so you can make the best use of those two days.
Did you know that Malaysia is one of the countries where you can backpack and travel around at affordable prices? Here is a quick guide to backpack in Malaysia.
Flights to Kuala Lumpur
Kuala Lumpur airport (KLIA) is one of the hub international airports to travel in Asia. Most flights have transit stops at Kuala Lumpur airport. The KLIA airport has two terminals and has flights from all over the world. Air Asia and Scoot are the budgeted airlines to travel to Kuala Lumpur.
If you have a few hours or a day at KLIA, then there are many things that you can do at the KLIA airport during transit.
Note: You can also travel to Kuala Lumpur by buses from Singapore.
Also, read Tips for traveling in budgeted airlines.
5 things to do in Kuala Lumpur
Petrona Towers
The Petrona towers or the Twin towers, is one of the iconic landmarks of Kuala Lumpur. The twin skyscrapers are built to house the headquarters of the national petroleum company of Malaysia called Petrona. They are the tallest towers in Malaysia. One needs to purchase a ticket to enter and it is open everyday (except Mondays) between 9 AM and 9 PM.
Every evening, there is a light and fountain show between 7 PM and 9 PM and is definitely the best time to visit the towers.
Genting Highlands
At an elevation of 1800 metres, the Genting Highlands is a hill station city, located on the peak of Mount Ulu Kali. The city has many facilities, including restaurants, cafes, apartments, and hotels. The Genting Highlands is popular for its casinos and resorts (Resorts World Genting). Best way to reach the Resorts World Genting is by taking a 15 minutes ride on a cable car.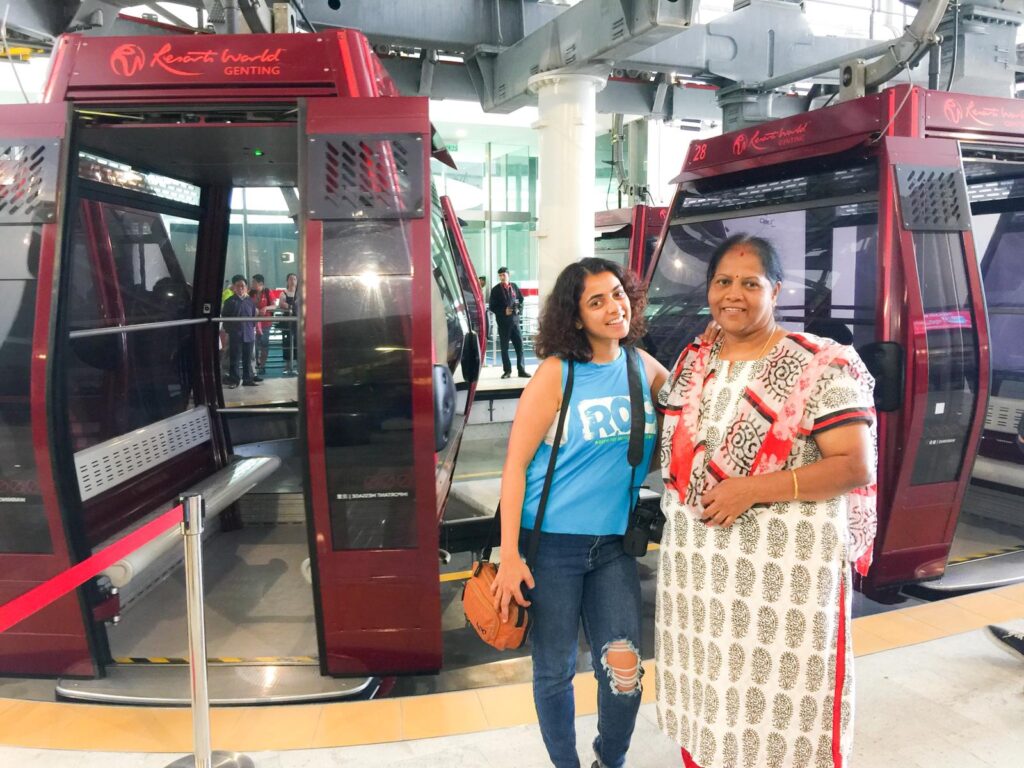 Shopping at Chinatown
Known for its street shopping, Chinatown in Kuala Lumpur is a great place to buy affordable and variety of stuff. Located on the Petaling Street, Chinatown has everything ranging from bags to clothes. It is open everyday between 10 AM and 9 PM. There are also many street vendors that sell street food at Chinatown.
Note: All the things sold here are not original and branded. Ensure to haggle while purchasing.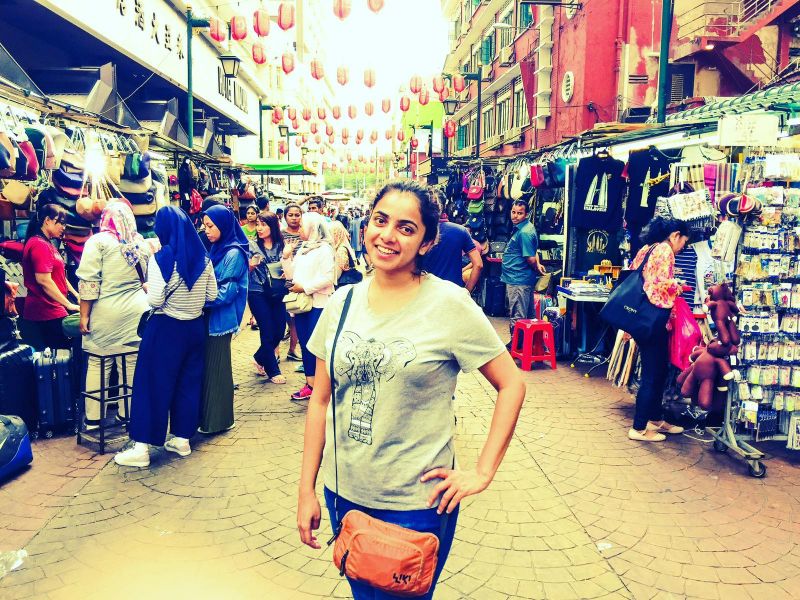 Little India
Little India is part of the area called Brickfields in Kuala Lumpur. As the name suggests, the area is filled with Indian restaurants and shops. It is a colourful area with Indian clothes and jewelleries. The area also has a Hindu temple called Sri Kandaswamy Kovil.
One day trip to Batu Caves
Batu caves makes a perfect one day trip from Kuala Lumpur. It is a series of caves located on a limestone hill. The name batu is derived from Malay word which means rock. At the top of the hill, there are many cave temples dedicated to Hindu gods, mainly to Lord Murugan.
There are 272 steps to reach the top of the hill. The steps are colourfully painted and are not that hard if you are used to climbing the stairs. Batu caves are around 11 kilometres from Kuala Lumpur city. Visiting the main temple is free but if you wish to visit other caves then there is a small entrance fee of RM 15 per person.
It is believed that some of the cave entrances of Batu caves were used as shelters by indigenous Temuan people. And it is also said that the Batu caves have been existing for around 400 million years.
From Kuala Lumpur, you can extend your trip to Langkawi where you can scuba dive at Pulau Payar isalnd.
Being an avid traveler, I really like visiting and seeing places that are free of cost and the best thing about Kuala Lumpur is that the city also has many things along with Batu Caves that can be done for free. Read 15 things to do in KL that you can do for free.
Review of Backpackers Travellers Hostel (Chinatown)
During one of my solo travels to Kuala Lumpur, I though I would try out a hostel. After searching on the Hostel World, I ended up booking the Backpackers Travellers hostel. The reason I booked is because it was right in the city centre and it was closer to Chinatown. The hostel is in the first floor that is connected by a narrow set of steep steps, which means if you are carrying a heavy suitcase like me (as Kuala Lumpur was a transit stop during that trip), you need to lift up and down by yourself.
First impression of the interior of the hostel was not good as it was dirty and it is a home converted into a hostel that does not have any open space. Even though it was a hostel, I had hired a twin private room (costing MYR 64). The room was very dirty with dim lights. And for some reason, the hostel (not really a hostel but a multiple room unit) was very noisy even at night. I do not recommend staying at this hostel at all.
Safety for solo female travelers
As I mentioned earlier, I have been to Kuala Lumpur alone a few times and I have not had any issues. I have used the public transportation, walked alone and stayed in a hostel (which I don't suggest). Kuala Lumpur is relatively safe for solo female travelers. However, like any other place in the world, I suggest being cautious and knowing your surroundings at all times.
Closing Notes
Kuala Lumpur is surely one of the beautiful cities in Asia continent. I love visiting and spending time in the city. But most often I use it to take a day or two in between transit stops before heading to some other part of the world.
How can you support me?
You know how much I love coffee, so you can buy me coffee – Buy me Coffee!
Or you can purchase from one of the below travel resources without any extra charge to you.

Travel Resources
Click to book your flight on Skyscanner.com
Click to book your accommodation on Stay22
Click to book a comprehensive travel insurance on Safety Wing
Click to book your tours and travels on Viator or GetYourGuide
If you liked this article and if it was helpful in your planning or traveling, do share, tweet, or pin this post.

Follow me on Instagram | Facebook | YouTube | Twitter | LinkedIn
Do you have a question? Or want any suggestions, and tips for travels, hikes and scuba dives? Use the Subscription box below to sign-up and get updates by email.
PIN for later reference