Langkawi's Marine Marvels: Scuba Diving Adventures at Pulau Payar (2024)
When I scuba dived in Malaysia, I was very new to scuba diving. The only thing I wanted during the dive in Pulau Payar was to see the clown fishes (Nemo). From the time I had seen the Finding Nemo movie, I had been dreaming about seeing the clown fish colony during my dives. Since Nemo gets lost in Sydney, Australia, I was sure I would see in Australia and hence I had specifically done the scuba diving in Gold Coast with a hope to see Nemo. Unfortunately, that did not happen.
This article may contain affiliate links, meaning if you decide to make a purchase via my links, I may earn a commission at no additional cost to you. For full information, please see our affiliate disclaimer here.
About Nemo
Nemo is a baby clownfish in the movie Finding Nemo. In the movie, Nemo is taken by a set of divers (scuba divers) and his father finds out that the divers have taken Nemo to Sydney, Australia.
I saw Nemo and the entire clown fish colony in Pulau Payar, how amazing! I was elated by the experience and I had finally ticked one of my bucket list items which was to see the clown fish colony in the wild. And then my crazy photo shoot started under the water with the clown fish colony.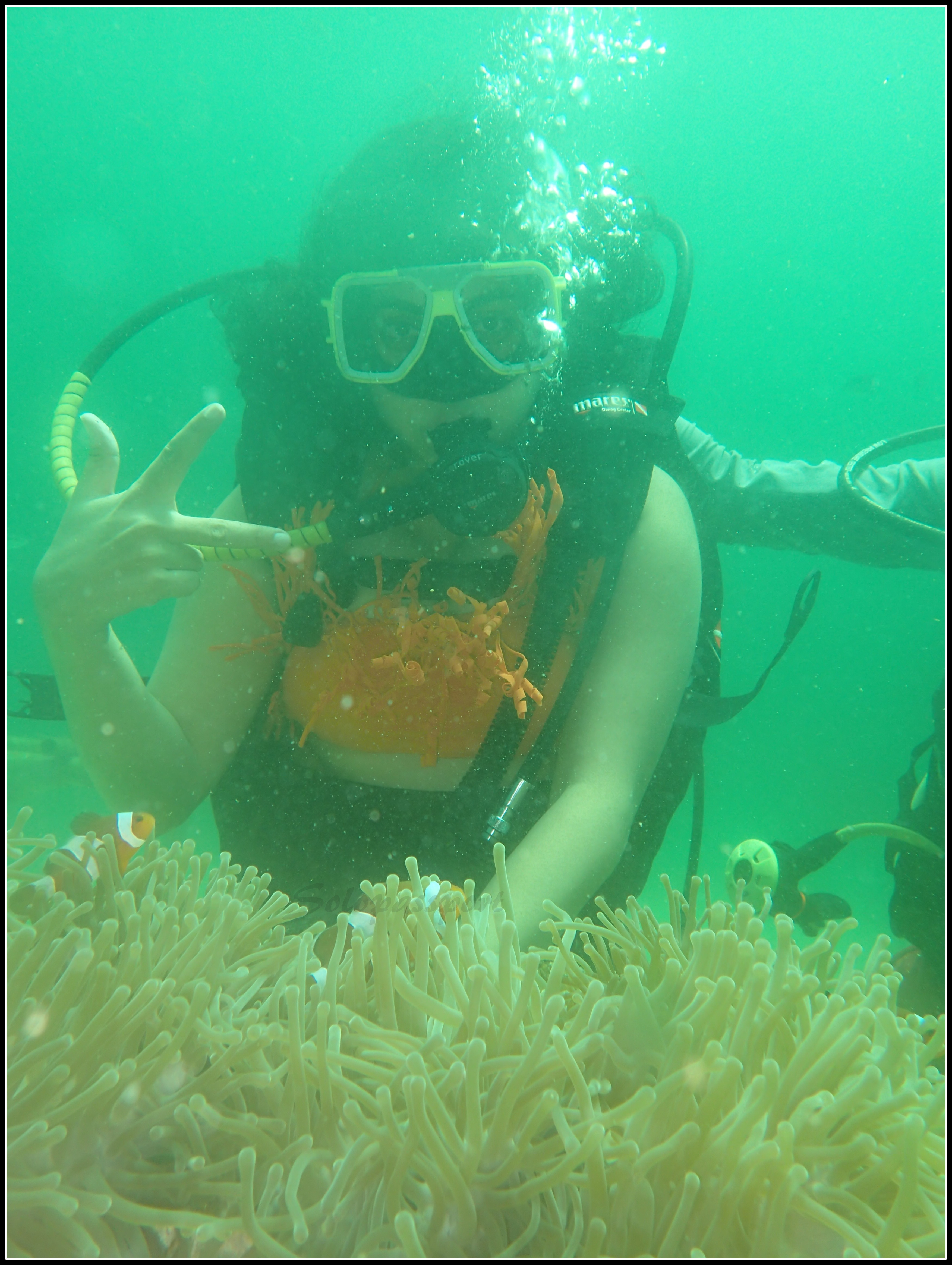 About Pulau Payar
Pulau Payar is 30 kilometres (one hour boat ride) off the coast of Langkawi. Known for its pristine and well preserved marine park, this island is definitely one of the most popular sites to dive at. When booked with a scuba diving provider, the transportation from and to Langkawi is included.
Note: There is no accommodation at Pulau Payar. You need to stay at Langkawi and then travel back and forth.
My first impression of the Pulau Payar
When I arrived at the island, I was disappointed. The island itself is extremely crowded and dirty. I did not like it at all. The tourists do not care and they dirty the place. The beach is dirty as well and the baby sharks do come close to the beach so they can get free food. There are change rooms and toilets at the wharf, which are again very dirty.
How to get to Pulau Payar?
By Air
Langkawi has an airport of its own and there are frequent flights between Kuala Lumpur and Langkawi. The flight distance is just a little over one hour. Air Asia and Malindo Air are the budgeted airlines.
If you have a few hours at KLIA airport (Kuala Lumpur International Airport), then you can see the things that you can do at KLIA during transit.
By Ferry
You can also take a ferry from Kuala Lumpur to Langkawi and the ferry ride is around 10 hours.
By Train
You can also take a train from Kuala Lumpur to Langkawi. The trains leave from KL Sentral and arrive at Arau train station. From Arau train station, you can take a ferry to Langkawi from Kuala Perlis Ferry Terminal. The ferry ride is about one hour 15 minutes.
Scuba Diving at Pulau Payar
Do you have a stop over at Kuala Lumpur before heading to Langkawi? Read the things that you can do at Kuala Lumpur (KL).
Marine Life
Even though the island is dirty, the marine life underwater is abundant in Pulau Payar. There are plenty of clown fish colonies and I saw lots of them during my scuba dives. There are snappers, damsels and other small fishes.
Dive centre and expenses
I booked the scuba diving after I arrived in Langkawi. There are plenty of dive centres from where you can book. You can also talk directly with the resort or the hotel staff and they help you out with the bookings. The dive centre that I went with was East Marine Holidays.
Cost: 300 Malaysian Ringgit per person, includes pick up from Langkawi and lunch. The food was horrible though. It was packed food and not at all tasty.
Contact details:
Unlike the island, I loved the dive in Palau Payar. The dive sites that are short boat ride from the main beach which is good because the visibility of those dive sites are fine. The corals are soft and lively. I had loved the first dive so much that I had ended up going for the second. The instructors who dived with my friend and I were extremely patient and friendly.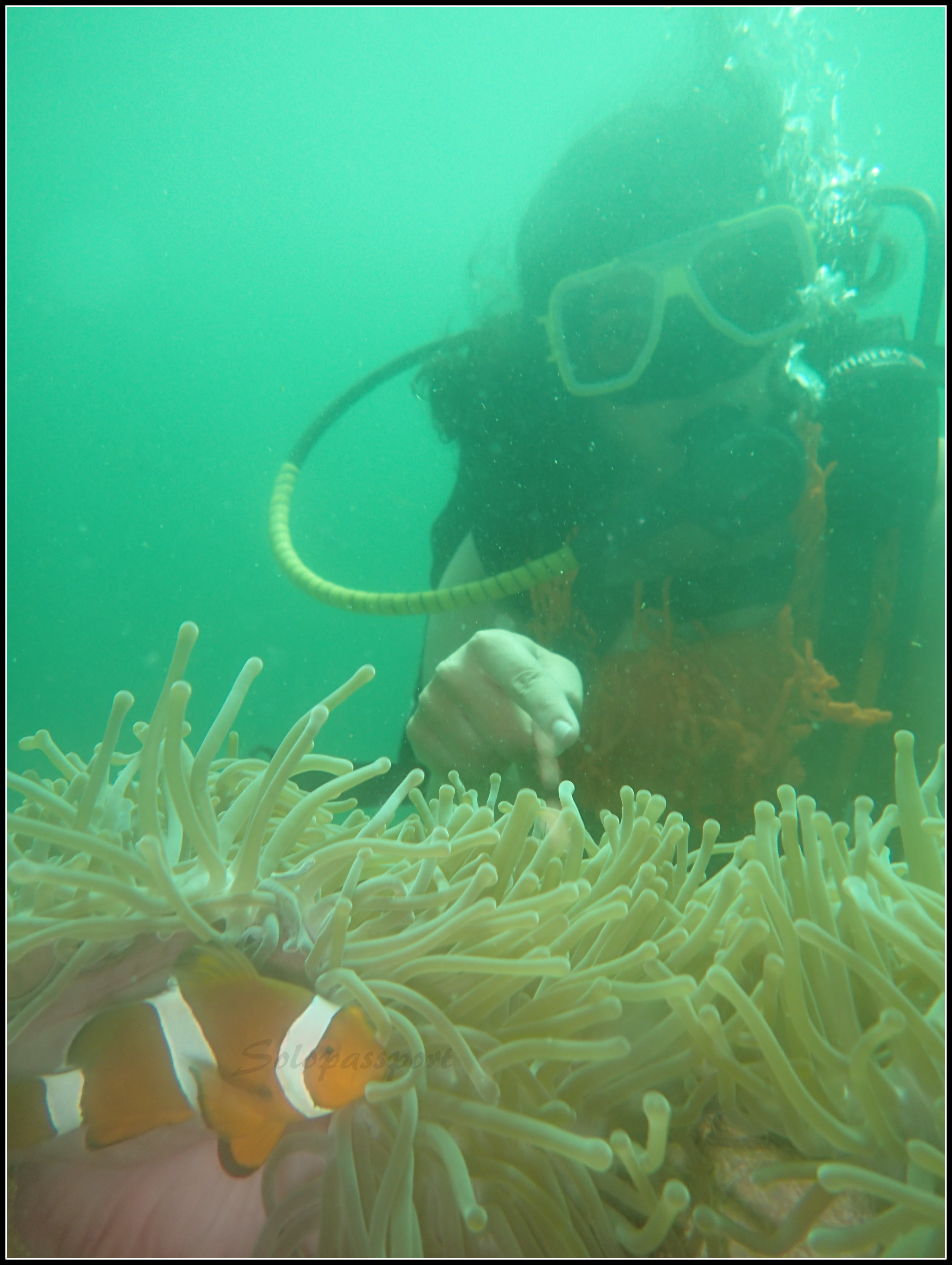 Closing Notes
Even though the island and the beach itself was very dirty and crowded, I still loved diving at Pulau Payar Marine Park. The visibility of water was amazing and the temperature of the water was ideal for divers. I did only the introductory dives at Pulau Payay, and I still enjoyed the whole experience. Now, I would love to go back and do some more diving now, especially after my PADI certifications.
How can you support me?
You know how much I love coffee, so you can buy me coffee – Buy me Coffee!

Or you can purchase from one of the below travel resources without any extra charge to you:
Travel Resources
Book your flight on Skyscanner.com or Trip.com
Reserve your accommodation on Stay22
Buy comprehensive travel insurance on SafetyWing and WorldNomads
Book your tours and travels or purchase tickets on Viator or GetYourGuide
For a universal SIM card, use DrimSim
If you liked this article and if it was helpful in your planning or traveling, do share, tweet, or pin this post.

Follow me on Instagram | Facebook | YouTube | Twitter | LinkedIn
Do you have a question? Or want any suggestions, and tips for travels, hikes and scuba dives? Use the Subscription box below to sign-up and get updates by email.