One of the things that defines Varanasi is the number of ghats that it has. These ghats give a lot of character and colour to the vibrant city. Most of these ghats are used for puja (religious worship) ceremony. And each of these ghats are associated with a religious story. These ghats were rebuilt in the 18th century under the Maratha patronage. Visiting a few (if not all) of these ghats must surely be on your list when you are in Varanasi.
A ghat is a flight of steps leading down to a river.
PIN for later reference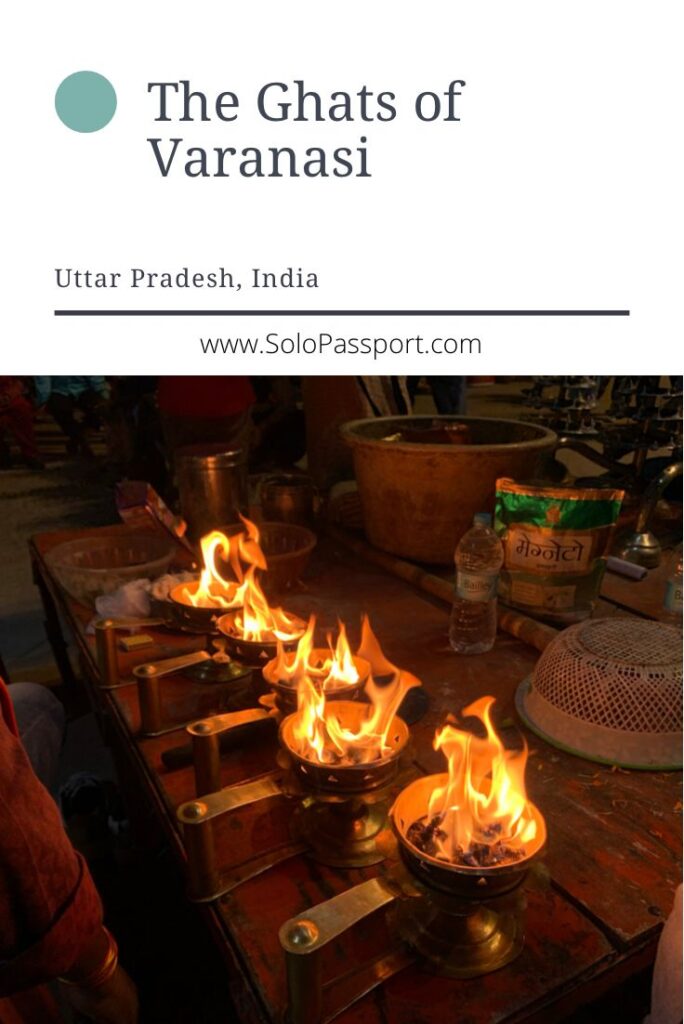 This article may contain affiliate links. For full information, please see our affiliate disclaimer here.
Disclaimers:
The prices mentioned in the post are valid only at the time of publication. Ensure to check the booking websites for up to date information and prices.
Opinions and views expressed solely mine and are unbiased. If the post is a collaboration, then they are specifically mentioned.
Ensure to check the relevant websites for up to date information on COVID protocols.
For any adventurous activities, please note that there is a risk that can be dangerous. Ensure to read the terms and conditions with individual agencies recommended and do them at your own risk.
For visas, it is best to see the embassy website for any changing rules.
Ganga Aarti at the Ghats
The most beautiful and spectacular thing to do in Varanasi is to see the Ganga Aarti at the ghats. The Ganga Aarti is a huge celebration with lots of chanting and it is absolutely amazing. Many priests perform the puja, worshiping the River Ganga, by carrying deepas (lamps) and moving them in a rhythmic tune of bhajans. The pooja starts at 6 PM in winter and 7 PM in summer and lasts for around 45 minutes. It is free to see the Ganga Aarti.
For other things to do in Varanasi, read 4 things to do in Varanasi.
There are multiple ways to see this striking Ganga Aarti. One from the steps of the ghat itself (which is free) and the other from the river on a boat (which is not free). Both of these ways give a different perspective of the Ganga Aarti and I suggest doing both when you are in Varanasi.
6 Ghats of Varanasi
Varanasi has around 88 ghats and out of which only a few of them are famous and important. Most of these ghats are used for religious puja ceremonies, except the two ghats, Manikarnika and Harishchandra Ghats which are used as cremation sites.
Assi Ghat
Assi Ghat is the southernmost ghat in Varanasi and one of the biggest ghats. The locals and the Hindus believe that Assi Ghat is the place where Tulsidas left for his heavenly abode. Tulsidas was a renowned Hindu saint and poet, devoted to Lord Rama. He spent most of his life in Varanasi and Ayodhya.
Assi Ghat is the best place to see the aarti as it is less crowded when compared to other Ghats during the Ganga Aarti. The Aarti starts at 6 PM. If you arrive a bit early, then you can comfortably get a chair to sit very close to the Aarti.
Dashashwamedh Ghat
Dashashwamedh Ghat is the main ghat of Varanasi, which is located close to the Vishwanath temple. The ghat was built in 1748 by Peshwa Balaji Baji Rao and was later rebuilt in 1774 by Ahilyabahi Holkar. There are two Hindu legends associated with the Dashashwamedh Ghat. One is that the ghat was created by Lord Brahma to welcome Lord Shiva. And the other is that Lord Brahma sacrificed ten horses during the Dasa Ashwamedha yajna that was performed at this ghat. According to the locals, Dashrath performed Ashwamedha 10 times at this ghat.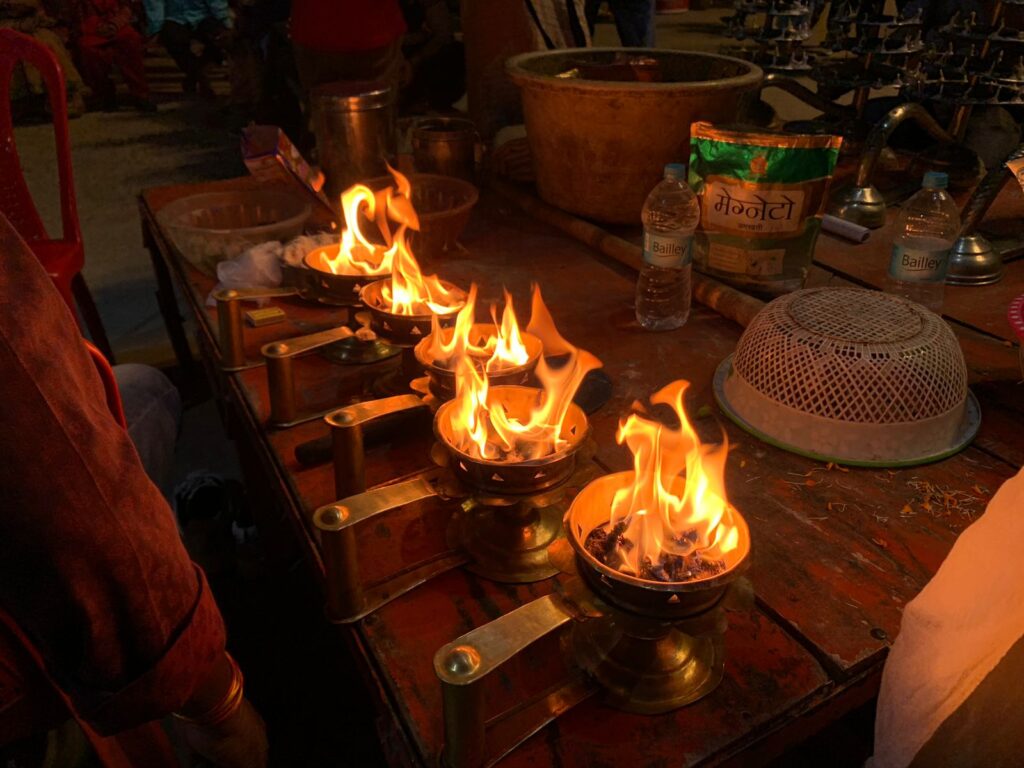 Kedar Ghat
Kedar Ghat is the second most crowded ghat after the Dashashwamedh Ghat. The ghat is home to Kedareshwar temple, dedicated to Lord Shiva and Gauri Kund (pond).
We took a boat ride from Kedar Ghat to see the Ganga Aarti at Dashashwamedh Ghat. The boat ride included the Aarti and all the other panch (five) ghats. It cost INR 1800 for a private boat (not sharing).
Manikarnika Ghat
Manikarnika Ghat is one of the two ghats where dead bodies are cremated. Hindus believe that if a body is cremated at this ghat, then the soul attains moksha, a liberation from the cycle of rebirth and death. There are many Hindu mythological stories associated with the Manikarnika Ghat.
One story is that Goddess Sati sacrificed her life and set her body on fire after Daksha Prajapati (one of the sons of Lord Brahma) humiliated Lord Shiva. Lord Shiva took her burning body to the Himalayas and started the Tandava. To end the sorrow of Lord Shiva, Lord Vishnu sent his Sudarshana Chakra to cut the body into 51 parts. These parts fell on Earth at different places, which are called Ekannya Shaktipeethas. Lord Shiva established Shakti Peetha where each body part had been fallen. At Manikarnika Ghat, Sati's earring fell.
Manikarnika in Sanskrit language means earring.
The second story is that Lord Vishnu performed thousands of years of tapasya to please Lord Shiva. This was to convince him not to destroy the city of Varanasi when he destroys the world. Lord Shiva and Goddess Parvathi appeared in front of Lord Vishnu to grant him his wish. Lord Vishnu dug a well (kund) on the banks of River Ganga for the couple to bathe. While bathing, Lord Shiva's earring fell into the well and hence the name Manikarnika.
The third story is that when Lord Shiva was dancing angrily, a jewel from his ear fell on earth at this place.
Harishchandra Ghat
Harishchandra Ghat is the other ghat that is used for cremation. The ghat is named after the mythological king Harishchandra. According to legend, the king worked at the ghat to get truth and clarity. One day a sage named Rishi Vishwamitra asked the king to pay the ritual fee called Rajsuya Dakshina.
As the king was known for his generosity, he gave up all his wealth, kingdom, and everything else he owned. In spite if this the rishi was not happy, he demanded him to pay more fee. The king feeling helpless, sold his son and wife into slavery and offered himself up for bondage. He later never met his wife and son until his wife, broken down with hardship and suffering, visited the cremation ground with their son's dead body in her arms. The son had died from a snake bite. This was the final test for the king. He showed extreme strength and honesty. Due to his dedication and courage, the gods were impressed with him and rewarded him with his lost throne, kingdom and brought his son back to life.
Panchganga Ghat
Panchganga Ghat marks the sangam (merge) of five rivers, River Ganga, River Yamuna, River Saraswati, River Kirana and River Dhupapapa. The ghat also is a perfect example of how Hindus and Muslims co-exist and live in harmony. There is a mosque near the ghat, a mosque of Alamgir known as Madhav-ka Dera.
Closing Notes
Visiting the ghats is surely one of the unique things to do in Varanasi. There is so much of energy, emotions, celebrations and chaos that it is a wonder just being there in the moment. I highly recommend spending a few hours if not days at a few of these ghats. There are also many cafes that provide stunning views of the ghats.
Which of these ghats have you visited till date? Let me know in the comments below.
How can you support me?
You know how much I love coffee, so you can buy me coffee – Buy me Coffee!
Or you can purchase from one of the below travel resources without any extra charge to you.

Travel Resources
Click to book your flight on Skyscanner.com
Click to book your accommodation on Stay22
Click to book a comprehensive travel insurance on Safety Wing
Click to book your tours and travels on Viator or GetYourGuide
If you liked this article and if it was helpful in your planning or traveling, do share, tweet, or pin this post.

Follow me on Instagram | Facebook | YouTube | Twitter | LinkedIn
Do you have a question? Or want any suggestions, and tips for travels, hikes and scuba dives? Use the Subscription box below to sign-up and get updates by email.
PIN for later reference