4 things to do in Varanasi
One of the most interesting places I have visited in India is the city of Varanasi. The streets, vibes and the colours are something that is out of the world. It is an important place in Hinduism that has places of pilgrimage, and it teaches one the cycle of life and death. Varanasi is also one of the world's oldest continually inhabited cities.
PIN for later reference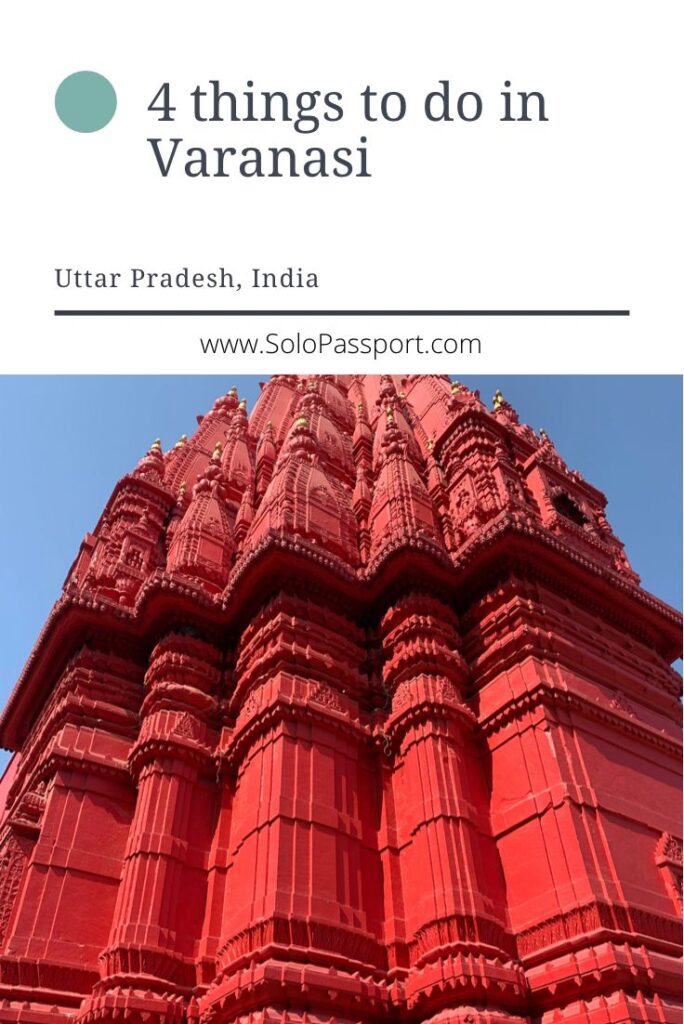 This article may contain affiliate links. For full information, please see our affiliate disclaimer here.
Disclaimers:
The prices mentioned in the post are valid only at the time of publication. Ensure to check the booking websites for up to date information and prices.
Opinions and views expressed solely mine and are unbiased. If the post is a collaboration, then they are specifically mentioned.
Ensure to check the relevant websites for up to date information on COVID protocols.
For any adventurous activities, please note that there is a risk that can be dangerous. Ensure to read the terms and conditions with individual agencies recommended and do them at your own risk.
For visas, it is best to see the embassy website for any changing rules.
About Varanasi
Also known as Benaras or Kashi, Varanasi is a city on the banks of River Ganga in Uttar Pradesh (UP) state of India. Kashi has been associated with a kingdom of same name of 2500 years ago. Regarded as the spiritual capital of the world, Varanasi dates back to 11th century. The city is home to ancient temples, ghats, museums and many religious places.
The city has references in Rigveda and it is referred as Kashi from Sanskrit verbat root kas (meaning to shine). And hence making Varanasi the City of Light.
According to Hindu religion, it is believed that anyone who bathe in the River Ganga's sacred waters and perform rituals will wash out their sins and will attain moksha. The city also has a huge Buddhist influence. Kashi was also used by pilgrims from Buddha's days.
The best time to visit Varanasi is during the winter season (between the months of December and February). Even though the weather is cold, it is suitable for exploring and traveling without getting sweaty and hot. One needs at least 4 to 5 days to scrape the city and see the touristy things.
4 things to do in Varanasi
Visiting the ancient temples
Varanasi has around 2000 temples and each of these temples are beautiful. The main deity worshipped in Varanasi is Lord Shiva. Varanasi is said to have been the point where the first Jyotirlinga broke through Earth's crust and flared through the heavens. Visiting some of these temples must surely be the number one thing to do when you are in Varanasi.
Sree Kashi Vishwanath Temple
Dedicated to Lord Shiva, Sree Kashi Vishwanath temple is the main temple in Varanasi. It is also known as the Golden temple and is one of the twelve Jyotirlingas. This temple is where all the devotional focus lies on.
Vishwanatha means Ruler of the University.
The temple is open everyday between 3 AM and 11 PM.
You can buy special darshan for a price to avoid the queue.
The darshan takes about 2 to 3 hours.
Be prepared for a huge crowd on Mondays.
Seeing the Ganga Aarti
After seeing the historical temples, surely head to see the most beautiful and ravishing thing that Varanasi offers, which is the Ganga Aarti at the ghats. Several priests hold the deepas (lamps) and perform the puja by moving in a rhythmic way to the bajans. Varanasi has around 88 ghats and Ganga Aarti is performed at a number of these ghats. So seeing the Ganga Aarti at one of these ghats must surely be on your list.
Trying the Banarasi paan and Baati Choka
Everyone in India knows that leaving Banaras without eating paan is a sinful act. And definitely the trip is incomplete. Paan is a combination of betel leaves, areca nuts, slaked lime, rose petals and many other things. The city has many paan shops that serve all kinds of paan.
Baati Choka is the most famous dish of Varanasi. Baati is an Indian bread with a filling and Choka is a mixture of mashed potatoes, tomatoes, brinjal and Indian spices.
Visit Sarnath
Varanasi has a lot of Buddhism influence and there are many monasteries and temples dedicated to Lord Buddha. Just 10 kilometres from the main city (Old Varanasi) is Sarnath. It is located near the confluence of Rivers Ganga and Yamuna.
Previously known as Mrigadaya, Sarnath is one of the important places for Buddhism. The Buddha is said to have given his first sermon "The Settling in Motion of the Wheel of Dharma" at Sarnath in 528 BCE and the deer park in Sarnath was where the Buddha first taught the Dharma.
Important Information
Varanasi is a poor city and hence lacks some of the basic infrastructure and services.
The lanes of Varanasi city are very narrow and requires one to walk and climb a lot of steps.
Most of the guest houses and accommodation in Varanasi are very small and basic.
The streets of the city are very dirty.
Wear appropriate clothing and remember to respect the religious sentiments of the people.
Leave your footwear before entering any religious place.
Haggle for everything that you shop and with every auto rickshaw person.
Watch out for scams as they happen a lot.
How to get to Varanasi?
Flights
Varanasi has five airports of its own. There is also an international airport, Lal Bahadur Shastri airport. It is around 20 kilometres from the city. One can take a taxi from the airport to the city. There are 10 domestic flights that operate. Indigo and Go Air are some of the affordable airline providers.
Public transportation
Train – Varanasi has a train station that has connectivity with all major cities and towns across the country. Up to date information on trains can be found on IRCTC website.
Bus – There are also frequent buses between the main cities/ towns and Varanasi. For routes and bookings, refer Redbus website.
Auto driver details in Varanasi
There are two types of rickshaws in Varanasi. One of the cycle rickshaw, which is the best to commute between the temple area as the auto (motor) rickshaw is not allowed. And the other rickshaw is the auto rickshaw. I hired two auto drivers when I was in Varanasi. The first auto driver was a bit greedy and hence had to change my auto driver. The second auto driver was good and friendly. I did not feel unsafe when I was traveling with him. Also, he knew a lot about the city and temples and he explained a lot of things about Varanasi.
Auto driver name: Dubbo.
Contact numbers: +91 98893 56576 or +91 88588 07995.
Safety for solo female travelers
As Varanasi is a religious hub, Varanasi is very safe for solo female travelers. People are friendly and god fearing. So, I never had any issues whatsoever. However, like any other place in the world, be cautious, especially at night.
Closing Notes
Varanasi is undoubtedly a place to be if you are a religious person. The Hindu temples and the rituals at the Ghats are really spectacular and everything is a celebration here. It's really a different and interesting experience to see the way people connect to God and to what extent they go just to get a glimpse of the God in the temple.
How can you support me?
You know how much I love coffee, so you can buy me coffee – Buy me Coffee!
Or you can purchase from one of the below travel resources without any extra charge to you.

Travel Resources
Click to book your flight on Skyscanner.com
Click to book your accommodation on Stay22
Click to book a comprehensive travel insurance on Safety Wing
Click to book your tours and travels on Viator or GetYourGuide
If you liked this article and if it was helpful in your planning or traveling, do share, tweet, or pin this post.

Follow me on Instagram | Facebook | YouTube | Twitter | LinkedIn
Do you have a question? Or want any suggestions, and tips for travels, hikes and scuba dives? Use the Subscription box below to sign-up and get updates by email.
PIN for later reference