5 Adventurous Things to do in Hawaii
Hawaii is one of those dreamy destinations and is the most precious treasure of the United States of America (U.S.A.). The islands of Hawaii are unique and they have plenty of hidden waterfalls and beaches.
These cluster of islands are also great for outdoor activities and is perfect place for adventure seekers as there are many things one can do that provides the required adrenaline rush. In this post, I will list the top 5 adventurous things to do in Hawaii.
This article may contain affiliate links. For full information, please see our affiliate disclaimer here.
About Hawaii
Located around 3200 kilometres from mainland Western United States, Hawaii is a state with more than 130 volcanic islands. The state has 8 main islands:
Ni'ihau
Kaua'i
O'ahu
Moloka'i
Lana'i
Kaho'olawe
Maui
Hawai'i (pronounced same as the state and to avoid confusion the island is referred to as the Big Island, or Hawai'i Island)
Honolulu is the capital city of Hawaii state and is the most populous city in the state. Situated on O'ahu island, the city is the gateway to the Hawaiian islands.
The best time to visit Hawaii is between the months of March and September. This is the time where there are no rains and you can enjoy what the state has to offer.
You need at least a week or 10 days to explore Hawaii. There are plenty of things that tourists can enjoy. From being the most happening party places to serene nature, the islands have it all.
Top 5 Adventurous Things to do in Hawaii
As mentioned above, Hawaii offers many amazing and adventurous things to its visitors. From jumping off from a plane to diving with Manta Rays, this state has everything. Then there are also narrow and dangerous but beautiful highways through secluded islands such as the Highway 340, also called as Kahekili Highway, that provide the required adrenaline rush.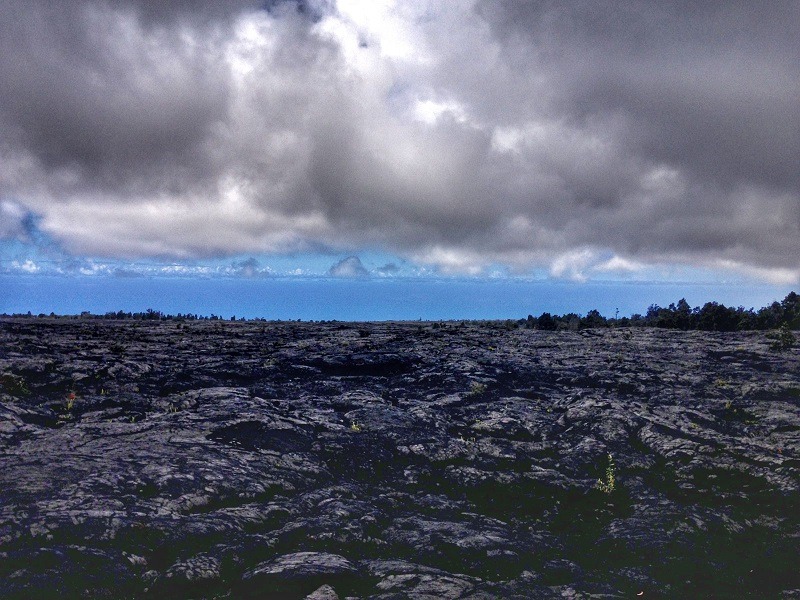 Sky diving
Hawaii is one of those unique places where you can sky dive from a height of 20,000 feet. Everywhere around the world the maximum height offered is around 16,000 feet but in Hawaii you can go higher than that, which is pretty awesome. But tandem skydiving from 20,000 feet is very expensive and can cost up to $1600.
You do have options to skydive from 12,000 and 14,000 feet and these are more reasonable and affordable. The prices start from $250 for a tandem skydive.
Tip: Ensure to book the skydive online as the prices are lesser when compared to the prices you pay at the counter. Also, if you skydive on your birthday, you get an additional discount.
There are a number of skydiving providers, namely Skydive Hawaii, Pacific Skydiving Honolulu, who offer tandem skydives. I did my skydive with Skydive Hawaii and they were awesome.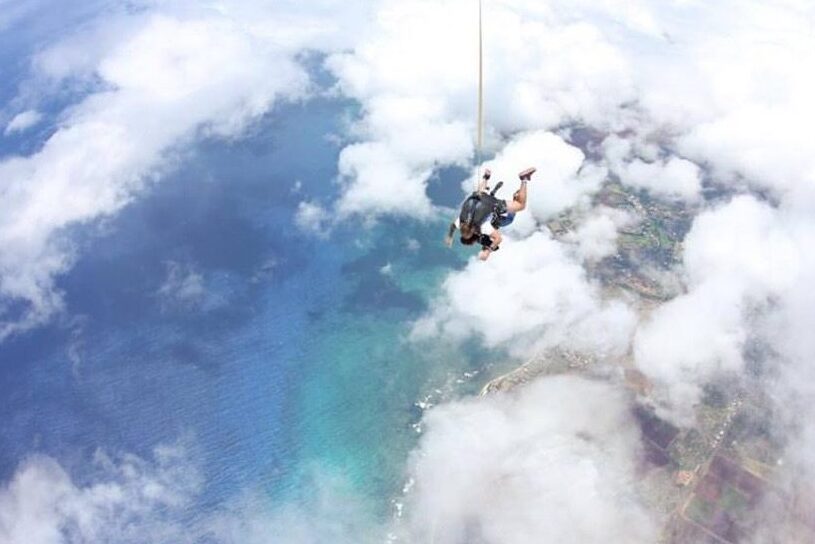 Scuba diving
Hawaii is known to have some of the spectacular dive sites with abundant marine life. Due to its geographical location and rock formations underwater, the dive sites attract Galapagos sharks, sea turtles, Tiger sharks, reef tip sharks, whales, and Manta Rays.
Even though diving in Hawaii is possible the entire year, the ocean conditions are much better during the peak season between the months of December and March.
There are heaps of scuba dive centres that offer discover scuba dive to certifications. Some of them to name are Island Divers Hawaii, Rainbow Scuba Dive and Reef Pirates Diving. The Discover Scuba Dive starts from $150.
Swimming with Humpback Whales
What in case I said that you can swim with humpback whales in Hawaii? Yes, you can snorkel and swim with these gentle giants on the island of Maui. With legit tour agencies such as Hawaii Ocean Rafting and Maui Magic Snorkel, you can go snorkel with humpback whales in their habitat. The prices for the snorkeling tours start from $250.
If you do not want to snorkel with Humpback Whales, you can go on a whale watching tour which is as exciting as swimming with them. There are many whale watching tours that Hawaii offers.
Hiking to the Lava
Have you see the lava up close? In Hawaii, you can hike to the lava and see them up close in Kilauea, a shield volcano in Hawaii. As Hawaii is made up of volcanic landscapes, it is possible to see the lava from recent volcanic eruptions.
There are many hiking trails where you can hike and explore either on your own or with a hiking tour. With the hiking tours, you are guided throughout and sometimes get into restricted access areas.
Tip: Ensure to book these tours when it is closer to your booking date and keep a watch on the volcanic updates.
Shark Cage Diving
Coming up close to Galapagos and Sandbar sharks, the shark cage diving is not for the faint hearted. It is the epitome of adventurous activities where you can face the fear of sharks. Absolutely awesome experience where you can see them from so close.
Also read | Shark Cage Diving in Australia
Closing Notes
Hawaii state is my favourite state in the U.S.A. I had an amazing time when I visited the islands. With so many adventurous things to do in Hawaii, the state surely is a party place for people who love to live on the edge.
How can you support me?
You know how much I love coffee, so you can buy me coffee – Buy me Coffee!
Or you can purchase from one of the below travel resources without any extra charge to you.

Travel Resources
Click to book your flight on Skyscanner.com
Click to book your accommodation on Stay22
Click to book a comprehensive travel insurance on Safety Wing
Click to book your tours and travels on Viator or GetYourGuide
If you liked this article and if it was helpful in your planning or traveling, do share, tweet, or pin this post.

Follow me on Instagram | Facebook | YouTube | Twitter | LinkedIn
Do you have a question? Or want any suggestions, and tips for travels, hikes and scuba dives? Use the Subscription box below to sign-up and get updates by email.
PIN for later reference